A hardworking team stands on the success of the Agile project. Scrum Master is the only responsible person to stand behind the hardworking team and put Scrum processes on a right track.

Definition of the Scrum Master

The Scrum Master acts as an facilitator to an Agile development team. Scrum is a framework that implements the Agile methodology. The team members become self-organized and allow changes quickly to accord the Agile principles. The Scrum Master manages the process in exchanging the information.

According to the State of Agile report 2018, the top five reasons for implementing Agile are:
75% Accelerate software delivery
64% Enhance ability to manage changing priorities
55%Increased productivity
49% Improved business/IT alignment
46% Enhances software quality
But, there is nothing to worry about as these shortfalls can be declined by becoming a professional in Scrum and the chances of finishing a project successfully within a time can be improved as well.

Nowadays, organizations across various industries started implementing the Agile methodology. Considering these benefits of Agile like delivering quick results along with the reduction in the budget by performing endless iterations, organizations are paving their way towards successful Agile implementation.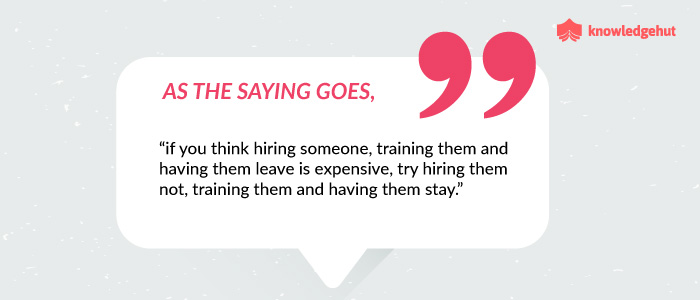 The reason to get the Scrum Master Certification (CSM) is the rising popularity of the Agile and Scrum certified individuals in the IT industry as well as in non-IT sectors. A widely pursued IT certification is the CSM certification, that is being recommended across all the industries. However, you need to know the basic concepts of Agile and Scrum methodologies to gain a CSM certification.

If you are implementing Agile in your project and is being broadly used in your organization then Certified Scrum Master (CSM) deserves to be your first choice as it entails the Scrum fundamentals. This matters a lot in case if you are playing any role from the Scrum team member.



Below is the graph from Google trends, representing the rising demand for CSM certification between the year 2017-2018.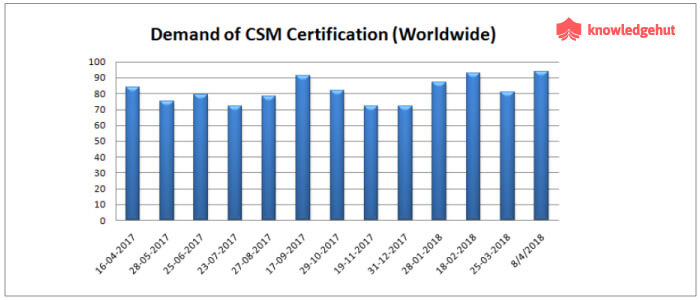 Following Scrum best principles and practices requires a thorough understanding of its concepts and values that can be obtained through credentials such as the Certified Scrum Master (CSM)—a course that provides professionals with knowledge and skills that help them in the long run.

Why you should do the Scrum Master Certification (CSM)?

In reality, we know that certifications provide an additional value once we acquire some experience. The CSM certifications act as an add-on to your career. Listed below are the reasons to get your Scrum Master Certification and the advantages of pursuing the CSM training:

1) Have a strong knowledge of Scrum

If you are not familiar with Scrum, knowing about the certification will educate you with the required skills to utilize it effectively. If you are in the initial stage of using Agile methodology for your project, the CSM certification will provide you the basic knowledge.

2) Update your mindset

To work with the Agile methodology with Scrum effectively, we need to develop an Agile mindset. The Agile mindset is a key factor for the teams to achieve successful Agile and self-sustaining approach. Industry-oriented certification and training will benefit this kind of mindset. As a member of Scrum team, you will think in an Agile way, that will lead to a decrease in disagreements, more successful projects and a better team collaboration.


3) Knowledge of Scrum Artifacts

This certification includes the concepts like the product backlog, sprint backlog, burndown charts etc. which are the pillars of a Scrum project. These Scrum concepts will be an advantage for the organizations to deliver the project in iterations.

4) Be admissible and catch your market

The certifications will provide you an in-depth practical knowledge to improve your career. It makes you relevant and marketable in your field. CSM certifications will improve your career growth across any organization or industry that engages with Agile values. This certification proves that you have an Agile mindset and knowledge of Agile concepts.

5) CSM certification benefits your organization

It is difficult for any organization to adopt a new methodology as it affects the entire structure of the organization including:
Processes
Management
People
Clients
In this regard, it is quintessential for all the customers to achieve some tangible and real benefits in the early stage with self-managing teams and incremental iterations. If you are not a certified member, you might miss the opportunity to establish yourself as a Scrum master in your organization.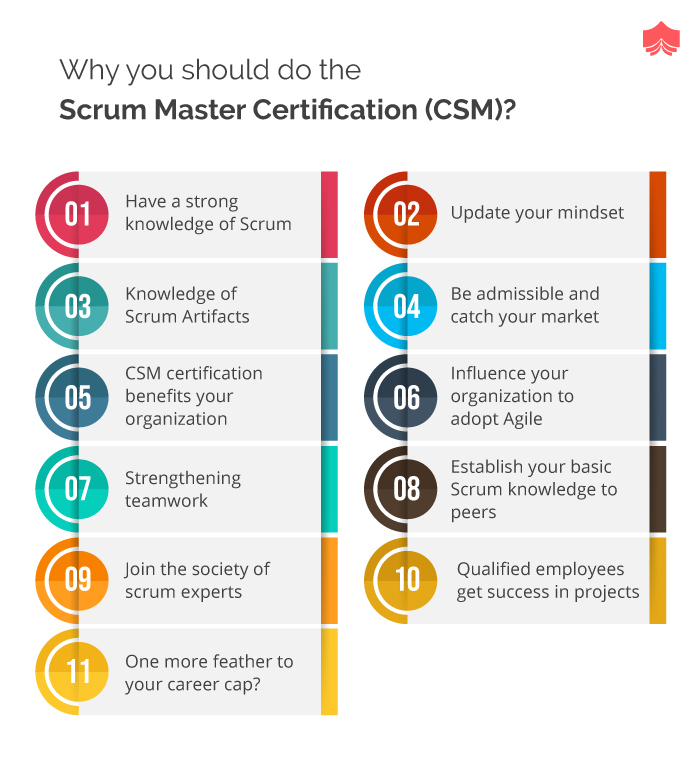 6) Influence your organization to adopt Agile
your organization already has well-trained Agile professionals, the management would be more comfortable to invest in adopting the Scrum methodology. The CSM certification shows the management that you have the knowledge to work with Scrum and implement its approach.

7) Strengthening teamwork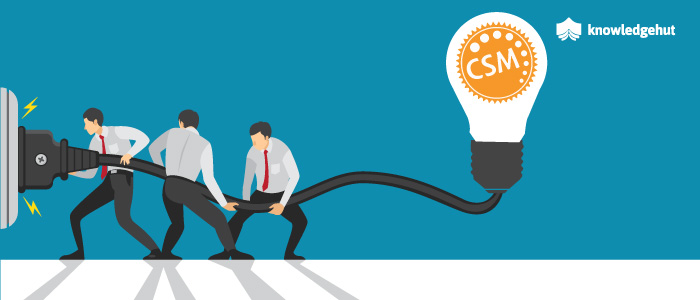 We have a few organizations that consider Scrum master certification for different departments over different people. This certification generally has a positive result when it comes to working with your peers. As a certified Scrum Master, you will have the potential to build and strengthen the core understanding of Scrum while working together with your peers. With multiple Scrum experts along with all departments, the organization gets benefited with Scrum experts in all departments with an instance of knowledge that can lead to the successful execution of Agile and Scrum methodologies.

8) Establish your basic Scrum knowledge to peers

The Certified Scrum Master (CSM) certification shows your efforts and knowledge of Scrum that makes you capable of working within the organization. You don't need to waste your time to show your credibility in your workplace, your certification speaks about that.

9) Join the society of scrum experts

Once you are a Certified Scrum Master (CSM) you will earn the stature to mingle with a society of authorized Scrum experts committed to ensuring continuous improvements with an Agile approach. Scrum Alliance is an authenticated site that has Scrum features in a global network. This community will actively provide knowledge in a way to discover events and provide instructions.

10) Qualified employees get success in projects

If your Agile project is successfully done then a team member of certified Scrum Master will benefit from a huge reward. And also, the clients would recognize the potential value of a Scrum team that work together to apply Scrum in a productive way.

11) One more feather to your career cap?

Certification indicates a sign of honor. If you are being a part of the management, allowing employees to get certified proves your acumen and commitment to enhancing their skills.

Who should take up the CSM course?

Certified Scrum Master training is helpful for everyone who wants to become smart in implementing Scrum in their organizations. Doing a certification course in Scrum strengthens the Scrum Master's experience.

This learning event is highly productive and effective for both leaders and members. As the course is completely revolving around the Scrum Master role, individuals who are planning to take up this role will get benefited more from this course.

There is one reputed company in Denmark that sends all the employees from receptionists to senior management to the Scrum training, in order to make them knowledgeable about Scrum concepts and enhance operations throughout their company.

There is no such fixed set of the target audience for the Scrum Master Certification course. It is designed not only for Scrum Masters but also for the complete project or product delivery teams and anyone interested to work with the Agile teams. The target audience can be a-
Software Engineer
Product Manager
Project Manager
Team Leader
Business Analyst
Development team member
Testers, etc.
Conclusion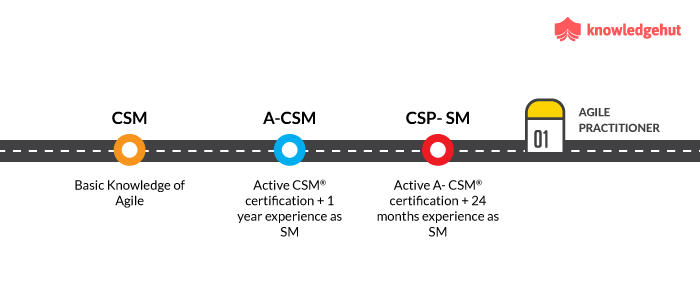 These are many key benefits for obtaining Certified Scrum Master (CSM) training. Unless we have a basic knowledge of the responsibilities of the Scrum Master, we can't move to the advanced levels in CSM. In the end, Certification is the best platform that will help you to become an Agile Leader. Click here If you are really curious to know about each and every certification in detail towards your Agile leadership journey.