How To Work With Agile User Stories?
By
KnowledgeHut Editor
In the software industry, the word "user story" is very commonly used. Not a single day goes by when we don't come across this word during our daily scrum meetings or sprint retrospectives discussions. Our leads and development managers talk about user stories incessantly.  Even when software feature owners or product managers speak to their development or test team or their end customers, their entire focus of conversation is centered around the word, user stories. The word user stories and use cases have existed in the software engineering psyche for almost 30+ years but they found their resurgence especially when the AGILE methodologies, Concepts and Sprints became the bread and butter of entire software industry. In this article on user stories, I would like to bust some myths surrounding this concept and answer the questions that commonly plague even the most experience people of this industry. How am I qualified to write on this topic? While you are welcome to read about my profile in brief at the end of this article; to summarize, I have worked with top companies like Microsoft etc. in the product engineering domain conceptualizing, implementing and supporting multiple products that have been huge success [for example: Windows operating system] and some, not so successful attempts. While it is not easy to credit the success or failure of such software products to just one concept of adequate user stories or lack of them, but they did play an important role in the final outcome of the project. Hence, I am basing this article on my experience with user stories. Let's Start As official definitions across web, user story is an informal story that depicts how a user will move from one aspect of software product to another. And use cases are defined as informal list of actions and events that will happen once a user starts interacting with the product. But we all know that these are textbook definitions. Yet we all falter at one or the other time while trying to explain these two concepts to someone in our team or during an interview. Isn't it? Let us try to understand the differences between these two terms and it will become easy once we all grasp the point of why these two concepts were introduced in the software engineering parlance. Why user stories and Use Cases as concepts came into being? As software products grew in scope and complexity, requirement management started becoming a nightmare for all product managers. It became increasingly common to ship products that did not cover 100% of requirements either due to missed requirements while documentation, or due to the fact that not all requirements were understood completely by development team. This problem became prominent when software started being shipped as service and competition became fierce.  Nowadays, if your software does not satisfy user requirements properly, then it is just a matter of time when a better app will take over your market share as we have seen in multiple cases in recent times. This is the reason why products like Google search engine perform so well. Because they somehow understand what a user is looking for while searching and that shows up in its popularity. As this reality dawned, product managers started thinking of ways to make sure customer requirements did not go missing or were implemented exactly as user would have liked to. Things like traceability matrix etc. helped to some extent but did not solve the problem completely. That's when the concept of user stories and use cases started proving themselves. Someone, or may be a group of intelligent smart people thought, why not capture the requirements, at least the first cut after talking to the customer in the same way as they would have performed the action if they were working with the software as a first person. Boom! That's how the concept of documenting the requirements as user stories came into being. Hence, in simple terms, user story is a short story of a fictitious character, but with a valid role and responsibility using the software or a feature of it and getting the desired results from it. And use cases are nothing but series of actions that the fictitious character performed with respect to the software or a feature of it with the documented desired output. Hence, it can be summarized that user stories depict the way the end user is going to use the system and use cases are short actions with desired outputs, that when collated become a user story. This means, it is possible to derive use cases from user stories. Every good user story should contain following elements: Actor(s): Every user story should contain few actors in it with specific roles and responsibilities. Actors generally correspond to the users who are going to use the system. Role: Every actor of a user story has a role associated with it. The role refers to the position, responsibility of that actor within that scene. It also lists down the privileges that the actor has or does not have. Scenario: Every user story depicts one scenario where we briefly explain the scene setting of where the user(s) is or are, what they are supposed to do and the intended outcome or direction assigned to them. Storyline: This is actually the user story where we depict, how a particular actor was assigned a task and how they are going to proceed with it. It includes the interactions that they will do through the software or the functionality of the software and what desired outcome they got. User Satisfaction Criteria: The final section of user story contains a brief mention of why user and his stakeholders will be happy upon successful implementation of this user story. I will give you one sample of a good user story and a bad user story. First of all, let us understand how a bad user story looks like. Sample for bad user story: Raj has opened the software and he used the report generation feature of the tool to generate the report. The report looks good and satisfies the purpose of his report generation. He sends this report to his manager and completes the task. Why this is a bad user story? This will look like a decent user story as it covers what the user wants to do; but in reality, this is a classic case of bad user story because it leaves lot of margin for error and misinterpretation by the developer during code implementation. How? 1.) Who is Raj? What privilege does he have? What access does he have to the system?   a. These points are not clarified. Hence, the developer can interpret in his/her own way leading to wrong feature development and customer dissatisfaction or Production bugs b. In this case, it will lead to security issues in the product itself. 2.) It does not specify as to how one should use report generation feature and where to find it on the screen. Moreover, there is no accompanying UX or sample screens for developer to know where to place this feature on the screen. 3.) It does not specify how the report looks like and which format it is in. Is it an excel based report or HTML report? If these things are not clear, it might leave a lot of margin for error for the developer during development phase. There are many more other problems with the above user story.  Now let us check a sample for good user story. Sample for good user story: Raj, is a system admin in the XYZ company. He has the admin access to the report generation server and is the only person to have this access. He gets an email request from his manager for report generation in excel format for the period between 1st Jan to 31st March and is supposed to generate this report in 15 minutes and send it to him. Raj opens the software and clicks on the "report generation" tab on the top header of the screen [as shown in the sample UI] and chooses the required fields such as time period for the report, format of the report and clicks on generate. The report is generated in 1 minute and is available for download and save or directly open. Raj saves it on his desktop and opens it. Verifies the report in his MS Office 2016 suite and emails it to his manager. He was able to complete this task in less than 15 minutes and hence, he and his manager both are happy with this report generation feature of this software. Why is this a good user story? It clearly explains Raj's role in the system and mentions the privileges that he should have for this activity. It also clarifies who else has this privilege. In this case, no one apart from Raj has this access. User story is clear in the performance aspect of the feature of this software in terms of time constraints. It also shows the sample screen where developer will know how the button should look like, where it should be placed on screen etc. The user story is clear on what all fields are to be filled in by Raj before generating the report The options that should be presented to the user after report generation are also mentioned explicitly in the user story And most important of all, the user story clearly explains why the user and his stakeholder, Raj and his manager in this case, are happy by the usage of this feature. That is known as user satisfaction criteria. What additional information should be provided along with user story? A functional specification document is the one that acts like a holy guide to the development lead and his team for generation of completely flawless development specification document. However, providing following information along with user story does add credit to your user stories in addition to the ones mentioned above. We will take the same report generation example. 1.) List down all possible formats of the report that should be supported by this feature a. Each format will become a separate use case within above described user story. 2.) List down the range of actions supported by the feature of that software. That will be a separate user story. a. And each range will become a unique use case within that user story. 3.)    Provide all the UX assets i.e. samples for UI to be used by the developer. a.This ensures consistency of the UI This leads to another set of questions: 1.) How to know which aspects of the feature should become a separate user story  2.) How to know which aspects of a user story should become a use case within a particular user story. Let us discuss the first question here. I will cover second question in my future post about use cases. How to know which aspect of a functionality should be a separate user story or not? The golden principle that I generally follow to determine this is:  All the actions related to one aspect of the feature [for example: report generation in prescribed format] will be one user story Working with that same example of report generation feature, if we assume that the report generation feature should have following aspects/benefits as desired by our end customers: 1.) The report generation will take less than 15 minutes 2.) The report can be generated for multiple time periods and are customizable by the user 3.) The feature will support 5 different report format types such as excel, word, HTML, notepad, CSV 4.) Only authorized person will be able to generate the report Then I will make 4 user stories out of these. 1.) User story 1: This will tell the story of how the user [Raj I this case, will use this feature to generate report in different formats as per requirement 2.) User Story 2: Here I will showcase, how user should have access to system before using this feature and what happens if the user does not have access. 3.) User story 3: I will focus on the timing aspects of the feature here. 4.) User story 4: I will work with different supported time ranges and what will happen in different combinations including the boundary cases. 5.) User story 5: Here I will focus on how the user will interact with other controls of this feature such as cancel button etc. And finally, out of these 5 stories, I will generate N number of use cases to provide thoroughness in my user specification document; leading to complete clarity for my development team to generate their design. As a golden principle based on my experience-  A user story is a way to tell the development team on how you expect the user to perform the actions and what is allowed, and what is beyond the scope. User stories lead to use cases; use cases lead to user requirements and user requirements lead to development specifications that can finally be broken into sprints and delivered across project milestones.  
Rated
4.0
/5 based on
20
customer reviews
CSM®️ or PSM™ - Which Certificate Is More Valuable?
By
Frederik Vannieuwenhuyse
What is Scrum?The source of a correct definition of Scrum is the official Scrum Guide, authored and maintained by Jeff Sutherland and Ken Schaber. Scrum has its roots in software development, but nowadays Scrum is applied in several contexts and industries.From the Scrum Guide:"Scrum is a framework for developing, delivering, and sustaining complex products. Scrum is not a process, technique, or definitive method. Rather, it is a framework within which you can employ various processes and techniques. Scrum makes clear the relative efficacy of your product management and work techniques so that you can continuously improve the product, the team, and the working environment."The latest update to the Scrum Guide also lists possible uses for Scrum:- Research and identify viable markets, technologies, and product capabilities;- Develop products and enhancements;- Release products and enhancements, as frequently as many times per day;- Develop and sustain Cloud (online, secure, on-demand) and other operational environments for product use; and,- Sustain and renew products.Origin of ScrumScrum is a process framework that has been used to manage work on complex products since the early 1990s. Ken Schwaber and Jeff Sutherland worked on Scrum until 1995, when they co-presented Scrum at the OOPSLA Conference in 1995. This presentation essentially documented the learning that Ken and Jeff gained over the previous few years, and made public the first formal definition of Scrum.The Scrum Guide documents Scrum as developed, evolved, and sustained for 20-plus years by Jeff Sutherland and Ken Schwaber.  Both, Jeff Sutherland and Ken Schwaber were present at the event when the Agile Manifesto was written.Scrum was one of the several lightweight processes presented at that gathering in 2001. The Scrum Alliance - a non-profit organization promoting Scrum, was also founded in 2009.Throughout the years Scrum has evolved, and in fact, has been become simpler, but therefore not more easy to apply and practice. In case you're interested, you can look at the Scrum Guide revision history, and see the changes since 2010. To me personally, the beauty of Scrum lays in its simpleness, although some people would advocate they still find Scrum too complicated in terms of process.Scrum Alliance vs Scrum.orgIn 2001, Ken Schwaber left the Scrum Alliance and found Scrum.org. There was a bad impression of the Scrum Master about implementing a Scrum in the organization. The Scrum Masters misinterpreted that the 2-day Scrum Alliance CSM®️ certification course is enough to certify them as a Scrum Master.  Even organizations took amiss that those who attended 2-day training are the Scrum experts.The PSM™  certification of Scrum.org is different than CSM®️ certification. For PSM™ certification, attending a workshop is not mandatory. But, it is little harder to clear the PSM™  assessments which at least assures a precise level Scrum understanding. Note: The Scrum.org assessments are based on the Scrum Guide (fabricated by Ken Schwaber and Jeff Sutherland).Let's see these two certifying bodies in details and figure out the difference between the Scrum Alliance and Scrum.org.Scrum Alliance- The CSM®️ certifying BodyFounded in 2001, Scrum Alliance® is the largest membership and certification organization in the Agile community. The Scrum Alliance is a non-profit organization and is governed by the Board of Directors. The Scrum Alliance has certified more than 750,000 practitioners worldwide, clearly contributing a lot to the spreading of Scrum worldwide. But, the Scrum Alliance is not simply a company providing training. The Scrum Alliance also organizes twice a year a global gathering and several regional gatherings and supports agile community events.From the Scrum Alliance website:"Scrum Alliance's vision is to "Transform the World of Work" with a mission to guide and inspire individuals, leaders, and organizations with practices, principles, and values that create workplaces that are joyful, prosperous, and sustainable."Scrum Alliance certificationsAs there are 3 roles in Scrum, the Scrum Alliance offers 3 entry-level (foundational) certifications - there are CSM®️ (Certified Scrum Master), CSPO (Certified Scrum Product Owner), and CSD (Certified Scrum Developer). Next, you could apply for a Certified Scrum Professional (CSP), after indicating your practical experience with Scrum.Recently, the Scrum Alliance has changed the certification path and added an "advanced" certification and course. Today, the Certified Scrum Professional is specific for either Scrum Master, Product Owner, or Developer.These are the certifications:- Certified Scrum Master: CSM®️ --> Advanced CSM®️ --> CSP-SM- Certified Scrum Product Owner CSPO --> Advanced CSPO --> CSP-PO- Certified Scrum Developer (CSD)Next, you can obtain so-called "elevated" certifications, which involves a more rigorous screening and test to validate your knowledge, experience.The elevated certifications target to be an accredited trainer or coach:- CST (Certified Scrum Trainer) - people with this certification can provide official training in Scrum, on behalf of the Scrum Alliance. Trainers go through a rigorous process of co-training, and an application in order to pass the bar of becoming a CST.- CTC (Certified Team Coach) - to be recognized and accredited as a coach on the team level- CEC (Certified Enterprise Coach) - to be recognized and accredited as a coach on the enterprise levelThe coaching certifications involve more than Scrum, but agile & lean coaching in general.The Scrum Alliance also provides an Agile Leadership track - this is relatively new and split into two levels:- Certified Agile Leadership I- Certified Agile Leadership IIThe Agile Leadership courses increase your leadership effectiveness and learn how to be a better leader, no matter what your role.The Scrum Alliance provides also "extended" continuing education, courses.The Scrum Alliance is taking a broad view of how to transform the world of work (e.g. also applications of Scrum outside IT).Scrum.org- The PSM™  certifying BodyIn 2002, Ken Schwaber with others founded the Scrum Alliance and set up the Certified Scrum accreditation series.  Ken Schwaber left the Scrum Alliance in late 2009 and founded Scrum.org which oversees the parallel Professional Scrum accreditation series.On the Scrum.org website, there's a page called "Why Scrum.org?" explaining Ken Schwaber's motivation to separate from the Scrum Alliance and found Scrum.org. These are the motivations as formulated by Ken Schwaber:- I would create a new organization, Scrum.org, to continue developing and sustaining the Scrum Developer program.The program would lead to assessments and certifications based on a body of knowledge.- I would also redevelop a new, more advanced version of the Scrum courseware. This courseware, called Scrum-In-Depth, would focus on how to use Scrum in advanced circumstances. I would publish the Scrum body of knowledge on Scrum.org and formulate beginner, intermediate, and advanced assessments and certifications based on this body of knowledge.- I would form a new group of Scrum Trainers who welcomed openness and transparency.Scrum.org  aims to improve the Profession of Software Delivery and targets its courses and certifications in that area. The Scrum Alliance focuses on Scrum, and takes a broader view, as the Scrum Alliance's slogan is to "transform the world of work".Scrum.org certificationsThe certifications provided by Scrum.org are similar to the certifications of the Scrum Alliance. The certifications are called "Professional" The certification path is as following:- Professional Scrum Master: PSM™  level I --> level II --> level III- Professional Scrum Product Owner: PSPO- Professional Scrum Developer: PSD- Scaled Professional Scrum (SPS), based upon Scrum.org Nexus framework for scaling Scrum- Professional Scrum with Kanban (PSK I): to validate knowledge of how Scrum Teams can use Scrum with Kanban ability to support value creation and delivery. Kanban is a lean method to streamline work. Scrum has its foundations in lean, so it does make a lot of sense for teams to learn and apply Kanban. In fact, agile & lean are blending philosophies.- Professional Agile Leadership (PAL-I): Agile Leadership trackThere's an optional (non-mandatory) PAL-E (Professional Agile Leadership - Essentials). The workshop provides a foundation for the role that leaders play in creating the conditions for a successful agile transformation.In summary,In a comparison to Scrum Alliance, remember the following practical points when you consider one or the other certification:Scrum.org certifications have no expiration date.Scrum.org certifications can be obtained by taking an online test. Physically attending a classroom course is not required.Scrum.org offers "open assessments" which are interesting for anyone to validate your Scrum knowledge, regardless of if you intend to get certified or not.To know more about various Agile and Scrum certifications and paths to learning these certifications to make a career move, you can refer certification pathway.Choosing between the best Scrum Master Certifications: CSM®️ vs PSM™ Agile and Scrum are today's latest trends. Not only IT-based organizations but also non-IT organizations hire individuals who know the concepts of Scrum framework and its applications. Scrum is the Agile framework, focuses on the complex projects.Initially, the Scrum framework was used for software development, but today it is used as any other projects to get the fastest results. So, there is a rising demand for Agile-Scrum professionals in the organizations.CSM®️ and PSM™  are two major Scrum Master certifications. CSM®️ stands for Certified Scrum Master. CSM®️ is a certification issued by the Scrum Alliance. CSM®️ is a first (entry-level) certification for the Scrum Master. PSM™  stands for Professional Scrum Master. PSM™  is a certification issued by Scrum.org. PSM™  and PSM™  both are the entry-level certifications for the Scrum Master.    PSM™  by Scrum.org has a different approach than CSM®️ by Scrum Alliance in the following ways:- According to Scrum.org, there's no need to attend a class, to be able to take an online test to get certified. A practice assessment is available online, called "Scrum Open"- According to Scrum.org, a certification is a proof of knowledge and therefore has no certification dateLet's see the differences between the CSM®️ and PSM™  in the tabular form.Certified Scrum Master (CSM®️)FeaturesProfessional Scrum Master (PSM™)50 multiple-choice questions, usually with four possible answersExam PatternNumber of Questions: 80Format: Multiple Choice, Multiple Answer and True/FalsePassing score: minimum 69%Passing gradePassing score: minimum 85%The test is taken anytime after attending the courseThere's no time limitExam durationTime limit: 60 minutesEvery 2 yearsCertification renewal durationNo expiration (Lifetime certification)Fee: $1295 per attemptCertification costFee: $150 per attemptThere's no practice exam available. In general, after attending and learning during a two-day CSM course, you should be able to pass the exam without issues.Level of the examDifficulty: Intermediate$119,040  per yearSalary$100,500 per yearFinal ThoughtA search on "Scrum Master", in the job title with as prerequisite "Certified Scrum Master" gives more than 1000 jobs results. If you want to get an idea what companies and organizations ask in terms of Certified Scrum Master Course, you can have a look at the AgileCareers website (by Scrum Alliance). (there are mainly USA based jobs listed)This is all about the comparison between the CSM®️ and PSM™  and various certifying bodies like Scrum Alliance and Scrum.org that offer these certifications.In the end, knowledge matters whether it is CSM®️ or PSM™  certification. Both certificates have the same value in the job market. Also, both the programs are highly compatible. It is very crucial what you earned during the certification process and the trainer will definitely help you to make the difference there.
Rated
4.5
/5 based on
19
customer reviews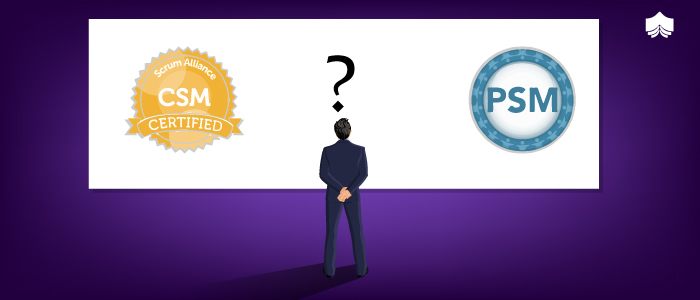 5 Characteristics Of Great Scrum Masters
By
Elizabeth Harrin
Scrum is an Agile methodology that can be applied to any project. It's iterative and highly responsive to change, so it works well in situations where the requirements aren't fully known at the outset. That's why many of the people who have been through our Certified Scrum Master (CSM®) course end up running successful projects in highly complex environments with rapidly changing requirements. And they still manage to consistently deliver usable products at every step. You might know Scrum as a way to get software projects done, but it has a wider application than that. Whatever the industry, the role of the Scrum Master is really important to keeping the project moving in the right direction, making sure teams use the methodology and the supporting tools appropriately and working with the Product Owner so that the team has a clear idea of what's in the next sprint. So what makes a great Scrum Master? Let's look at the 5 characteristics of people who excel in the role.   1. They Understand Scrum This might sound obvious, but it's actually not uncommon to find someone in the role who doesn't live and breathe Scrum. This type of Scrum Master is not the most effective kind, as you can probably imagine. It's also important because they have to help everyone else understand Scrum. It wastes time if you all sit around debating whether the burndown chart is the best way to display progress and "wouldn't it be better if…". If the team has signed up to Scrum, the Scrum Master keeps everyone aligned to the process and is empowered to stop that kind of discussion before it sucks time and energy out of the team. But they can only do that if they know the answers themselves. Find out why the Scrum Master is key to the team's success.   2. They Understand Roles and Responsibilities A great Scrum Master knows what his or her role is on the team. And they know what everyone else should be doing to. They don't have to have done those jobs in the past, but they do need to be able to set clear roles and responsibilities for the people in the team. They know that it's their job to get the roadblocks out of the way and let the team work as effectively as possible. That means deflecting the conflict and office politics away from the team, dealing with the admin or bringing in breakfast: whatever it takes to help the team members do their jobs to the best of their ability individually and collectively. They also contribute to the culture around roles and responsibilities because a lot of that stems from the process.   3. They Have Good Teamwork Skills Scrum is all about working together as a team, perhaps more so than other project management approaches. So a Scrum Master who can't work in a team environment could be a bit of a problem. The Scrum Master isn't in direct control over the management of the team – it's not a project management role which says what tasks have to be done in which order, for example – but they keep the team together and on track. The Scrum Master is the team's guide to the process so they need to be able to execute that role in a way that's sympathetic and effective, without alienating their colleagues. The best Scrum Masters have fantastic teamwork skills. They know how to motivate and lead others from the sidelines and the front when they need to. This extends to taking responsibility and standing up for the team when something is going wrong.   4. They Don't Take Challenge Personally Part of the back and forth of an effective team of any kind is that the team members challenge the leader and the leader challenges back. This is particularly applicable in Scrum teams where it's a very collaborative working style. Even though many would say that Scrum Master isn't a leadership position, it's possible to lead from within the team and to demonstrate leadership. In fact, it helps create a cohesive team, and if you read the management literature today you'll find reams of articles about demonstrating leadership whatever your 'official' position in the team. A great Scrum Master isn't afraid to challenge those higher up the hierarchy, whether that's a senior manager, a customer or his or her own boss. Part of being able to deliver successfully to your client's requirements is being able to properly understand them, and that means having a sensible conversation when you need to. Scrum Masters who take challenge personally and get offended when someone questions what they are doing or how they are doing it are not going to set a good example for the team. Or get very far in the organization, for that matter.   5. They Fight For Continuous Improvement The Scrum Master coaches the team in Scrum practices and that includes making sure that they listen to what's going on – and what is not being said – and take that on board. Then they create opportunities to help the team be better and more effective by using lessons learned to continuously improve the way the team is working. A great Scrum Master will do this instinctively. On top of the iteration retrospectives they'll see what's working and help the team do more of it. They'll see what isn't working so well and help the team work out why that isn't an effective practice for them. By creating open flows of information and knowledge, and having great communication in place, the Scrum Master can positively influence the team to be better every day. Do you want to be a better Scrum Master? Learn more about what it takes to be part of a great Scrum team with the two-day KnowledgeHut, instructor-led Certified Scrum Master (CSM®) course
Rated
4.0
/5 based on
20
customer reviews

5 Characteristics Of Great Scrum Masters
Scrum is an Agile methodology that can be applied ... Read More