A Brief Guide to the Agile Frameworks List
By
KnowledgeHut
What does it mean to 'be agile'? We all want to be agile and nimble. Or in other words a state where we can change quickly, and adapt to the conditions in our environment. The same applies to organizations, where the ability to be agile can spell the difference between success and failure. So, what exactly does "being agile" mean? According to the Agile Manifesto—the holy bible for agile software development, being agile implies a mindset, where we value: Individuals and interactions over processes and tools Working software over comprehensive documentation Customer Collaboration over contract negotiation Responding to change over following a plan Values manifest themselves through the way we think and act in various scenarios. We design and implement certain activities with the mindset and associated values as the guiding light. Let's say someone wishes to be healthy. In this context, being health conscious and the desire to be healthy is the mindset. What do you need to be healthy? Maybe sleep on time, exercise, have a balanced diet, meditate and more such activities. These are "practices" which align with the mindset.What is a framework?Different people may choose a different set of practices with varying degrees of commitment e.g. It may be ok for me if I sleep on time 6 days a week while someone may be ok with good sleep for just 4 days of the week; with varying order Again, I may prefer to exercise at 5 AM followed by a healthy breakfast while someone may prefer to exercise in the evening. Different routines, different activities, different ways of performing these activities-each one has something different that works for an individual. Now, imagine that I have tried the following way of staying healthy – Eating  3 meals a day with no fats along with 3 portions of fruit, cardio exercises for 30 minutes everyday, ensuring a minimum of 8 hours of sleep per day and 30 minutes of meditation in the evening. Also, I completely avoid eating out except on festivals and I give up on taking the elevator completely.Let's say this has worked wonders for me. Now I share this successful template with others. What have I done? I have effectively created a framework. It is a set of activities, done in a specific way and order which might be helpful for others.Agile FrameworksIt is not very different when it comes to agility. We saw the agile mindset and values a little earlier. There are different ways of implementing the values and principles associated with the agile mindset.  Each of these "ways" has its own set of practices, patterns and personas and are classified as agile frameworks. Some of the most popular agile frameworks are Scrum, Scaled Agile Framework®, Nexus, Large Scale Scrum(LeSS). Now the question is which framework is the best? This is similar to asking which is the best way of being healthy? If the focus is on the mindset and values, one would easily figure out that there is no one or "best" way. Each individual is different and a different "way" of staying healthy may work for each individual. The guiding principles may still be the same- they would be some combination of eating well, getting good sleep, work-life balance, exercise and a relaxed mind.So, what are your options? Let's start with Scrum, which is the most popular agile framework. Scrum is a simple framework which is very well suited for small teams which are trying to develop a new product or improve an existing product. Scrum is based on the principle of building incrementally with fast feedback loops, typically every 2 weeks- a period generally referred to as a sprint.There are three roles-Product Owner, who represents the customer to the team and hence helps them prioritize "user stories" or slices of value that the team intends to create. The Scrum Master is the facilitator and coach for the team and guides them to get better every day and every sprint. The team creates a product increment every sprint and demonstrates (a thin slice of) the working system that it developed in the sprint to the stakeholders. Based on the feedback they improve the existing slice or start implementing the next most valuable thing.Extreme Programming, also known as XP is another framework which focusses on technical practices. Very rarely does scrum succeed without the focus on technical excellence that XP champions. Extreme programming promotes techniques like pair programming, behavior driven development, test driven development, etc. Scrum and XP are powerful together. In fact, XP started the concept of User Stories which were later adopted by Scrum.If your work is more flow based and your intention is, to improve the lead time for your work items, then Kanban is a great choice. Kanban is suitable for teams who do not need to reset their work every two weeks through the mechanism of sprints. Kanban helps bring in the discipline of limiting work in progress. This helps us  "stop starting" and "start finishing" work.One of the typical challenges that organizations face is that agile manifesto values and principles as implemented by scrum are hard to apply in the context of large organizations where no one team delivers value to a customer directly. In such a scenario, one needs to think about personas, practices and patterns which can be applied in a scaled organization. It is here that scaling frameworks come into the picture. Some of the most popular scaling frameworks are Scaled Agile Framework(SAFe), Large Scale Scrum(LeSS) and Nexus.What is SAFe? An important thing to note is that a framework would work only if its underlying principles and values are well understood. Let us take a deeper look into Scaled Agile Framework®(SAFe®) in this context. SAFe is the most widely used framework when it comes to the topic of scaling. SAFe is a rich body of knowledge with proven practices, patterns and workflows for Business Agility. SAFe is in fact more than just a scaling framework and provides guidance on how enterprises can achieve business agility through lean agile portfolio management practices and agile practices at team and program levels.Image SourceSAFe can be thought of as an "operating system" for enterprise agility that works in parallel to the hierarchical organization but with a different objective. While the hierarchical structure of organizations is optimized for stability, the second operating system i.e. SAFe is optimized for customer centricity and innovation. SAFe is built heavily on principles of Lean in addition to Agile. The origin of Lean Manufacturing was the Toyota Production System developed by Taichi Ohno in the middle of the 20th century. Lean thinking relies heavily on concepts like working in small batches and applying work in progress limits.SAFe has refined the principles of the agile manifesto and by bringing in Lean thinking into the mix, it has developed its own Lean Agile Principles. These principles are powerful and applicable to every part of the organization including portfolio and programs. The guiding philosophy of SAFe is to orchestrate the organization along value streams- which is a sequence of steps describing customer journey. What is more powerful than a cross functional team that plans, develops and demonstrates value creation in short cycles? The answer is a team of teams. SAFe introduces the construct of an Agile Release Train(ART) which is a team of teams organized along a value stream.The Reasons behind SAFe's successWhat makes SAFe so powerful? It is the acknowledgement of the problem that having agile teams is not sufficient. An agile enterprise needs to be lean and nimble in the way it strategises, hypothesizes, builds and learns from it. SAFe promotes an organization-wide lean agile and systems thinking with lean economics and flow built in. If you are looking for a way to transform an enterprise's way of collaborating and organizing with customer centricity in mind, SAFe is an excellent choice.SAFe's overarching guidance at the enterprise level makes it a great de facto choice for all enterprises. If you have prior experience with a framework like Scrum, SAFe makes the transition to business agility smoother. If you do not have any past experience with any agile framework, it helps you understand that every part of the organization needs to come together and collaborate in a fashion that customer success and centricity become our central focus. It is for this very reason that SAFe is the market leader when it comes to agility at scale. If you have tried SAFe and it doesn't work, it is quite likely that the foundation is weak and its principles and values have not been well understood. This is true for any other framework as well. Do not fall into the trap of adopting the roles and ceremonies of a framework like SAFe without getting the basics right. For example, the starting point of SAFe is getting all leaders through a "Leading SAFe" course so that leaders can unlearn some of the traditional ways of organizational design, responsibilities and measures of success.Generally, no framework is a silver bullet for any problem. The first step is to identify the real problem and take inspiration from a framework or multiple frameworks to solve them. In most cases, a framework cannot be applied directly and in its entirety to an organization. The first step should always be to start with the guidance provided there and gradually evolve parts of it depending on your context. Just as we weigh the options of "build vs buy" when developing a solution, we need to take a similar pragmatic approach when it comes to frameworks. Building one's own framework from scratch is likely to be costly and time consuming, Instead, buy or reuse an existing framework and improve it through principles of empiricism. This is the secret to succeeding with frameworks.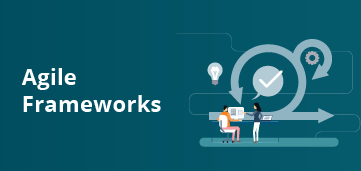 Why you should consider a SAFe Agile certification
By
Deepti Sinha
The comparative analysis published in the 14th state of Agile report in mid-2020 represents a very crystal-clear image of Scale Agile Framework® winning the race. With approximate 35% of the total share and the graph still rising, there are many concrete reasons to be a part of the Agile revolution. The Covid pandemic has catalyzed change across forward-thinking organizations, and enterprises have realized the importance of agile and scaling it up to all layers.Many organizations have already moved to scale their Agile processes and ways of working, and  SAFe® is proven to be the most trusted and promising framework that serves the need of the enterprise and the client. The concept of customer satisfaction has been replaced with customer delight; hence it is not just about satisfying the needs of the customer but also making sure of nurturing long-term engagements and healthy relationships.Courtesy: 14th State of Agile ReportWith the increasing popularity of the scaled agile framework and its adoption across various organizations, there's a growing need for people who understand the framework and can lead the transformation. This opens a lot of opportunities for professionals who were earlier working with scrum or with any agile team. Even if someone is new to agile, they can go through SAFe certification and enhance their skills. Before moving forward with the reasons to get certified, let me first quickly give you the gist of what scaled agile is all about.While working with scrum teams, you might have noticed that the development team, the product owner and the scrum master work in sprints and deliver at certain intervals. Individual teams work in a localized, small fashion. But when we talk about large organizations, getting each layer to focus and work towards a common goal becomes the priority. Scaling is about expanding the agile practices at the organization level. When multiple teams are involved across all the layers namely – Team, Portfolio, Program, etc., a scaled agile framework binds everyone together to serve the highest common purpose.As per Scaled Agile,Inc, "Scaled Agile Framework® (SAFe®) empowers complex organizations to achieve the benefits of Lean-Agile software and systems development at scale.". Coming back to our topic of the day, let's catch up on some reasons to get SAFe certified: Mastering the Challenges – SAFE certification helps to understand the challenges of large organizations. A SAFe training helps to understand the entire organization and its end-to-end flow. By understanding the various value streams, one can easily master the blockages and help the organizations move forward in the journey with the client. It helps in learning different aspects of an organization and gaining in-depth understanding of processes. Earlier, a person just knew the people he or she was interacting with, but with SAFe, they can now have insight at all layers both in terms of delivery and roles and responsibilities. Worldwide Recognized Accreditation - Scaled agile certification has a globally recognized value, and is something that each IT organization in every country understands and treats as a niche skill. With a SAFe certification in hand, you can look out for your dream job in your dream country/organization. This certification is accepted worldwide and is much in demand. Scaled Agile credentials are among the most sought-after certifications with more and more organizations adopting SAFe. To meet the market needs and stay on top of the market, Scaled Agile constantly upgrades their content, making it more robust and adaptable.  Big money pockets - As scaling Agile is considered a niche skill in the industry, Scaled Agilists are paid rewarding salaries. If you are SAFe certified, you can expect a good hike in your new job or a good hike in the next appraisal. The credential also enhances your profile and makes it market-ready, increasing your employability. The market statistics show that SAFe certified professionals are paid at least 25% above their non-certified peers.  You can begin your journey with SAFe with the 'SAFe Agilist' certification, which is a foundational certification.  Increase in SAFe Adoption at Organization Level - With an upward trend of organizations adopting agile,  job descriptions have started including SAFe as one of the parameters that employers are looking out for. This certification makes you ready for the opportunity and the organizations' expectations. In the current scenario, the numbers of SAFe certified professionals are low, which gives you an extra edge over others. With this certification, you can not only grow in your area intellectually but also can increase your visibility across industries. All about Growth Mindset – Lean-Agile principles in scaled framework focus on the growth mindset, which is different from the traditional way of working. Every individual wants to work in an environment that helps them grow, and SAFe organizations help them to expand their horizons. Working in a SAFe setup helps you to get aligned with bigger goals and gives you the opportunity to showcase your skills. You can get to see a 360-degree change in the way organizations work and deliver, after implementing SAFe.  Better Time-To-Market - Planned release cycles with shorter timelines reduce time to market and enhance customer satisfaction.  There is cutting-edge competition in the market, and as a SAFe certified professional, you will be much in demand for your capabilities of supporting the business to realize their objectives. The training and certification prepare you for the challenging task upfront, providing you with tools and processes, concepts of agile release train and value streams, etc, that can help you get aligned with the organizational needs. Lean-Agile Leadership- Lean and agile principles are very finely embedded in the SAFe framework which incorporates beliefs, standards, and processes that form the foundation of any organization at scale. With this certification, you can learn in detail about each parameter, each pillar, or each basic principle of scaling Agile. You will learn that SAFe is not just about delivery, coding, or the pipelines but it is also about its people - the individuals, and the teams who work relentlessly to achieve on-time releases. This is one of the reasons why SAFe is so popular. Makes your profile shine - Adding a SAFe certification to your profile is like adding a feather in your cap which sets you apart from the crowd. It adds a lot of weight to your resume and is much in demand across the globe. SAFe certification empowers you with an in-depth understanding of terminology and processes, and you get to know various aspects of working in a scaled agile organization which will not be possible without a certification. This is one of the reasons why employers actively seek people who already have SAFe certifications, rather than getting someone in house or someone without a SAFe credential. With the certification, your profile automatically gets selected for discussions at the initial stage itself, as you will be fulfilling their primary needs. Sets the Growth Path – With an understanding of the complete end to end defined framework, you can very easily look for growth options. Be it moving into the program or the portfolio layer depending on your skills and your expertise. it gives you a break from working in a monotonous manner, and helps you to communicate with various layers and get to know the big picture. The certification authenticates your capability to work across varied project management tools and methods. Continuous Delivery Pipeline- SAFe training and certification empowers you with the knowledge required to create a continuous delivery pipeline. You can learn how to incorporate DevOps tools, and get an understanding of various other tools and practices required to handle continuous delivery. It will not just help you with SAFe, but you can get exposure to the new market trends in terms of tools and processes.These were just a few of the benefits you can accrue with this certification. With more organizations adopting the Scaled Agile Framework, the opportunities are only bound to increase. And trust me, this is the best time to opt for a SAFe certification.  Looking at the job descriptions we usually see nowadays, it wouldn't be wrong to say that in the time to come, this certification will become one of the mandates for any organization looking to scale Agile. If you still have any queries, please drop in a comment! We wish you good luck in your SAFe career!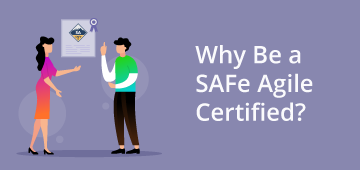 Scaled Agile Framework: Understand Safe and Its Core Values
By
Jim Stewart
According to the Agile Alliance, Agile is the "ability to create and respond to change. It is a way of dealing with, and ultimately succeeding in, an uncertain and turbulent environment. Ultimately, Agile is a mindset informed by the Agile Manifesto's values and principles." We can think of it as a way of getting work done.However, Agile was initially developed for small teams. As Agile – or its most popular variant Scrum - grew to the enterprise, companies began to adopt Scrum of Scrums which is a technique to scale Scrum consisting of dividing the groups into Agile teams of 5-10 people.But over time, more formalized methods of scaling Agile began to develop. In 2011, Scaled Agile Framework, Inc. was co-founded by entrepreneur and software development methodologist Dean Leffingwell. Starting at its first release in 2011, five major versions have been released, the latest edition, version 5.0, being released in January 2020. According to SA Inc., no major releases are planned as of this writing.This article will attempt to explain what the Scaled Agile Framework is, why it is important and what its core values are.What Is the Scaled Agile Framework®?  SAFe® for Lean Enterprises is a knowledge base of proven, integrated principles, practices, and competencies for achieving business agility using Lean, Agile, and DevOps.We've discussed Agile above. According to the Lean Enterprise Institute, a lean organization understands customer value and focuses its key processes to continuously increase it. The ultimate goal is to provide value to the customer through a value creation process that has zero waste.*And DevOps is a set of practices that combines software development (Dev) and IT operations (Ops). It aims to shorten the systems development life cycle and provide continuous delivery with high software quality. Image sourceSAFe® FoundationThe SAFe® Foundation refers to the supporting principles, values, mindset, implementation guidance, and leadership roles needed to deliver value successfully at scale.  What is the Importance of Scaled Agile Framework®?It allows organizations to scale Agile to the enterprise and enables Business Agility. Business Agility is the ability to compete and thrive in the digital age by quickly responding to market changes and emerging opportunities with innovative, digitally enabled business solutions. Key terms in SAFe® The first is Value Stream. Value Streams represent the series of steps that an organization uses to implement Solutions that provide a continuous flow of value to a customer. They can be measured using Key Performance Indicators. The next term is the Agile Release Train (ART). The ART is a long-lived team of Agile teams, which, along with other stakeholders, incrementally develops, delivers, and where applicable operates, one or more solutions in a value stream. A Program Increment (PI) is a timebox during which an Agile Release Train (ART) delivers incremental value in the form of working, tested software and systems. PIs are typically 8 – 12 weeks long. The most common pattern for a PI is four development Iterations, followed by one Innovation and Planning (IP) Iteration. Lastly is Program Increment Planning (PI). It is a cadence-based, face-to-face event that serves as the heartbeat of the Agile Release Train (ART), aligning all the teams on the ART to a shared mission and vision. Typically, this is a two-day event bringing together all the Agile teams. Note that that there are four possible SAFe® configurations depending on the increasing complexity of the environment.  SAFe® configurationsEssential SAFe®- contains the minimal set of roles, events, and artifacts required to continuously deliver business solutions via an Agile Release Train (ART) as a Team of Agile Teams. It is the simplest starting point for implementation. Large Solution SAFe® - for developing the largest and most complex solutions that typically require multiple Agile release trains and suppliers but not necessarily portfolio considerations. Portfolio SAFe® - helps align portfolio execution to enterprise strategy by organizing Agile development around the flow of value, through one or more value streams.  Full SAFe® - supports enterprises that build and maintain large integrated solutions which require hundreds of people or more. Multiple instances of various SAFe® configurations may be required.  The SAFe® Core ValuesThere are four core values of SAFe®. They are alignment, built-in quality, transparency, and program execution. It is crucial to understand these.Alignment Scaled Agile uses the example of a car not functioning correctly if it is misaligned. Alignment occurs when everyone is working toward a common direction. It enables empowerment, autonomy, and decentralized decision-making, allowing those who implement value to make better local decisions. Alignment starts with the strategy and investment decisions at the Portfolio level which in turn inform the vision, roadmap, and backlogs. Built-in Quality  Ensures that every element and every increment of the solution reflects quality standards throughout the development lifecycle. Quality is not added later, it is built-in or planned in. (This is a tenet of modern quality thinking, not just SAFe®.) SAFe® Built-in Quality organizes quality thinking around five specific aspects—Flow, Architecture and Design Quality, Code Quality, System Quality and Release Quality. Transparency Transparency – along with inspection and adaptation – is one of the three pillars of Agile. It means that an organization provides open access to the unbiased information and adaptation.  It inspects its work and adjusts it based on empirical evidence. Stakeholders have visibility into the program backlogs, and they have a clear understanding of the PI Objectives for each Agile Release Train. ARTs also have visibility into the team's backlogs, as well as other Program Backlogs.Program Execution SAFe® places an intense focus on working systems and business outcomes. With alignment, transparency, and built-in quality on the team's side, the teams can focus on execution.Key areas of competencyAs of this writing, the current version of SAFe® is 5.0. It is comprised of seven areas of competency, all under the heading of Business AgilityEnterprise Solution Delivery Describes how to apply Lean-Agile principles and practices to the specification, development, deployment, operation, and evolution of the world's largest and most sophisticated software applications, networks, and cyber-physical systems. Large enterprise-wide systems require the full understanding of the system from requirements analysis to deployment.Agile Product Delivery A customer-centric approach to defining, building, and releasing a continuous flow of valuable products and services to customers and users. The key here is customer-centricity. The organization must have the ability to understand the customer's needs and release on demand.Team and Technical Agility The Team and Technical Agility competency describes the critical skills and Lean-Agile principles and practices that high-performing Agile teams and Teams of Agile teams use to create high-quality solutions for their customers. Lean-Agile Leadership The Lean-Agile Leadership competency describes how Lean-Agile Leaders drive and sustain organizational change and operational excellence by empowering individuals and teams to reach their highest potential. Leaders must lead by example, lead change, and embrace the Lean-Agile mindset. Continuous Learning Culture The Continuous Learning Culture competency describes a set of values and practices that encourage individuals—and the enterprise as a whole—to continually increase knowledge, competence, performance, and innovation. This is achieved by becoming a learning organization, committing to relentless improvement, and promoting a culture of innovation.Organizational Agility The Organizational Agility competency describes how Lean-thinking people and Agile teams optimize their business processes, evolve strategy with clear and decisive new commitments, and quickly adapt the organization as needed to capitalize on new opportunities. Key to this is the 'dual operating system.' This is not a computer model but a business model, leveraging the traditional management hierarchy with a Lean/Agile leadership approach.Image SourceLean Portfolio Management The Lean Portfolio Management competency aligns strategy and execution by applying Lean and systems thinking approaches to strategy and investment funding, Agile portfolio operations, and governance.Achieving the Core Values of SAFe® Achieving Alignment   Alignment can be achieved by providing the relevant briefings and participating in PI planning, helping with backlog visibility and value stream organization and coordination. Also, by communicating the mission, vision, and strategy at every opportunity.  Achieving Transparency Transparency can be achieved by openness and visualizing all relevant work, taking ownership for errors, and supporting others who acknowledge and learn from their mistakes. Achieving Built-in Quality Built-in quality is achieved by refusing to accept or ship low-quality work, by supporting investments in capacity planning and by ensuring that architecture, operations, security, and compliance are part of the flow of work.  Achieving Program Execution Program execution is achieved by participating as an active business owner in PI execution, celebrating high quality and predictably delivered program increments and by aggressively removing impediments.ConclusionBusiness Agility is the ability to compete and thrive in the digital age by quickly responding to market changes and emerging opportunities with innovative, digitally enabled business solutions In today's world, organizations must be customer-centric and must adopt a Lean-Agile mindset to provide continuous integration and continuous delivery. The Scaled Agile Framework establishes a way not only of doing so, but also the flexibility of scaling up to whatever level of adoption (basic to full, complex solution) is required.Lean waste types are Defects, Overproduction, Waiting, Unused Talent, Transportation, Inventory, Motion, and Extra Processing.