How do the various roles and responsibilities make a Scrum Master an amazing game changer?
Three influential powerful roles in Scrum framework of agile software development are- Product Owner, Scrum Master, and the Development Team (Development Team is a cross-functional team such as UI Designers, Dev, QA, DevOps and specialties necessary to complete the work). Here I am sharing my awesome experience by explaining the scrum master role.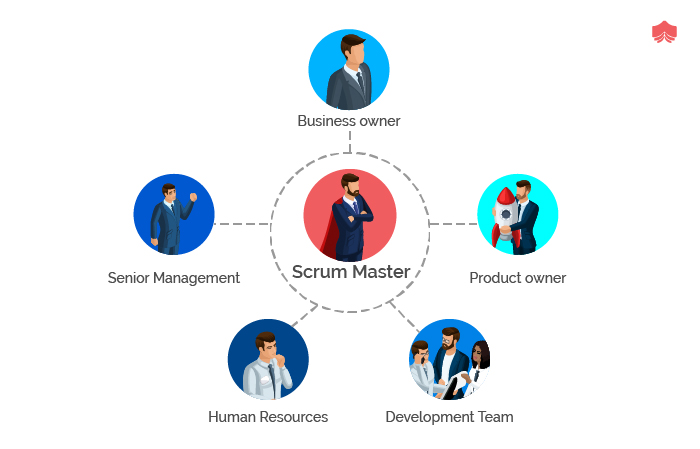 1. Scrum Master responsibilities towards Addressing Team Dynamics:
A good scrum master encourages the team to follow Scrum and also ensures the team has a more productive environment.
Provide guidance to the team on how they can become Self-organized to achieve the Sprint goals.
Tackles scrum teams, work on impediments, facilitation and also educate organization on agile methodologies to maximize value delivered.
Enabled improvement in team delivery commitments and capacity planning for sprints by identifying & tracking hidden tasks that increased customer's satisfaction.
Ensures to keep build transparency with the entire team.
Share insights throughout the company through blogging, internal confluences etc.
Managing, improving, empowering and shielding the Scrum teams to achieve Sprint goals.
Gives trustable Working environment where all problems can be raised without fear.
Arbitrate between team members when necessary.
Ensures a good relationship with Dev Team and Product owner
These responsibilities can also be qualities of successful scrum master
2. Scrum Master as a Facilitator, Moderator, and Master of Ceremonies:



Facilitator "key player responsible for Process ", Moderator "Guide the Scrum team" and Master of Ceremonies "person responsible for the show i.e. Scrum events execution".
Scrum Master conducts ceremonies like Sprint Planning, Daily Stand-Ups, Sprint Reviews, and Retrospective meetings.


Sprint Planning and Story Refinement: Ensure the product backlog has been ordered and completed by product owner before sprint planning begins.
Attendees: Product Owner, Scrum Master, and Development Team.
Time box: 2Hours for 2 Week Sprint.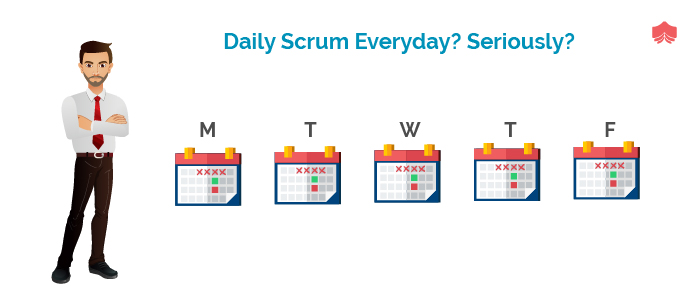 Attendees: Stakeholder, Product Owner, Development Team and Scrum Master.
Time box: 2 Hours for 2 Week Sprint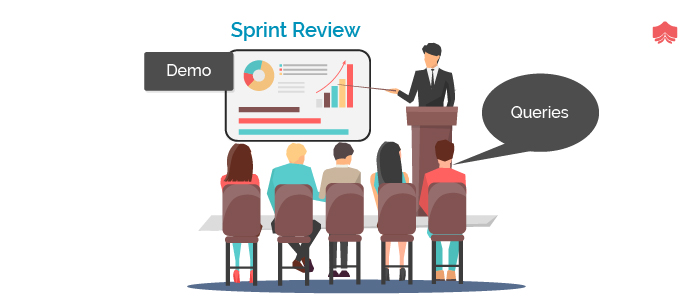 Sprint Retrospective meeting: Meeting organized by Scrum Master in which team discusses three points:
What went well in the sprint?
What could be improved?
What will we commit to improve in the next sprint?
Any actionable suggestion is captured, assigned and tracked by Scrum Master.
Attendees: Development Team and Scrum Master. Product Owner is optional.
Time box: 1 Hour for 2 Week Sprint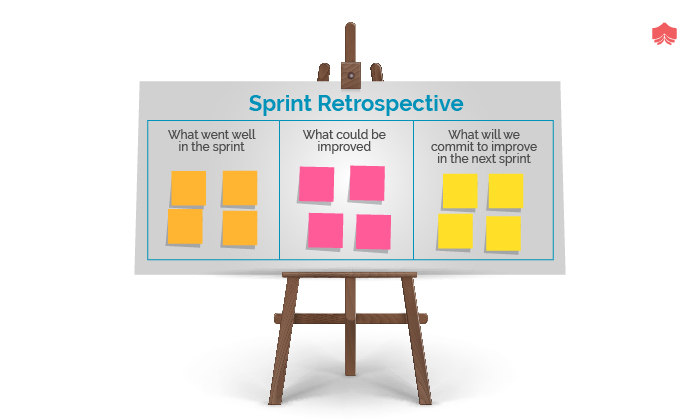 Burn-Up and Burn-Down charts: Team progress display in terms of graphs is one of the most popular agile methodologies. Scrum master should be able to conduct Sprint /Release progress through Burn-up and Burn-down charts.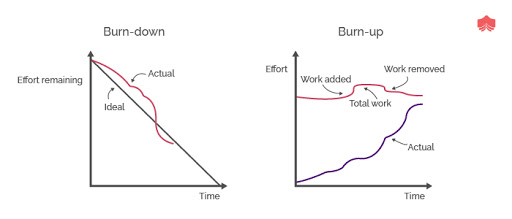 Burn-down chart represents how much work still remaining and burn up charts represents how much work has been done or completed. The main idea behind this is to make work progress visible to all levels.
Ensures that a Definition of Done (DoD) and Definition of Ready (DoR) is maintained and followed by the Product Owner and team.
Suggests Metrics (Metrics tool to track lead times, velocity, and no. of bugs logged so on.) fundamentals for the team as catalysts for change.
Keeps track of running Sprint through Scrum tools like Scrum board, Kanban, action board, Jira, charts, backlogs etc.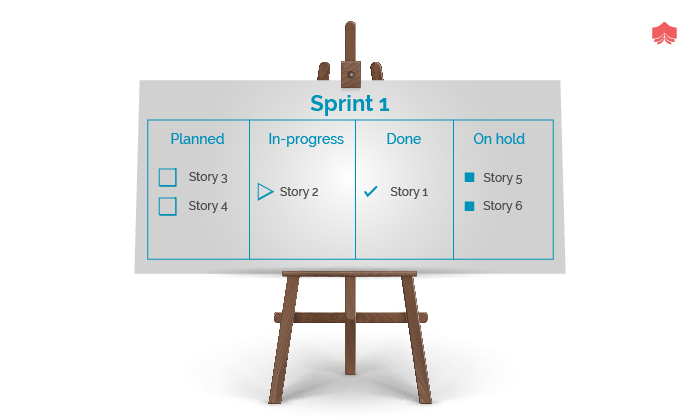 3. Responsibilities towards Product Owner and outside stakeholders:
Product Owner someone projects key Stakeholder
Product owner and Scrum Master are two different roles but both compliment each other and work closely for Project success.
As per my current experience as a Scrum Master role, I observed that teams are not able to perform like they should because the Product Owner and Scrum Master spent more time in discussing roles and responsibilities than helping teams to produce value for their customers.
Scrum Master helps Product Owner to maximize ROI (Return Of Investment) to meet his objectives through the scrum.
Scrum Master works as a Liaise between the Product Owner and the Development team.
Coaches Product Owner to help them understand how to achieve their goals and continually adapt and prioritize their backlog items for example in case there is a change in requirement or change in plan, Scrum Master knows it well how to come through the way that will benefit both Team and PO.
Ensures to make collaborative meetings to bridge the gaps. When there is some internal/external conflicts that come up SM understands it and facilitate a collaborative meeting to resolve this.
Ensures to work on every possible mitigation strategies to bridge the gap.
4. Remove impediments:
Impediments can be of any form and can come from any direction.
Scrum Master to be brave and creative in removing impediments.

Scrum Master owes two types of impediments:
1.Impediments owned by Scrum Master
Lack of Automated testing in Project
Conflict between team members.
Continuous Integration/Deployment is not good enough for Project
2. Impediments Scrum Master wants the team to resolve
Conflict between team members.
Focus on roles
5. Meta Skills:
Scrum Master Should be Compassionate, Generous, Humble, Empathy, Selfless, Creative, Innovative, greatness for others, works for People over processes, Quick learner etc.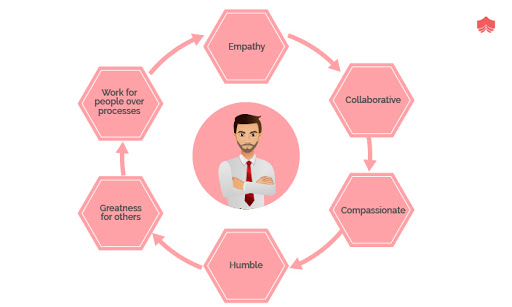 Well trained in Agile techniques/practices like Agile Games, Acceptance Testing Driven Deployment (ATDD), Feature Driven Deployment (FDD), Paired Programming, Test Driven Development (TDD) etc. Familiar with CI/CD (Continuous Integration/Continuous Deployment).
Fostering, vision statement, enabling a culture of openness, collaboration, and continuous improvement.
"Scrum Master plays a very Crucial Support System role for team/Organization in implementing Agile/Scrum"
6. Servant leadership quality:
What is Servant leadership in Scrum? It means leaving one's ego at the door, no authority or power over other team members, operate in a completely flat structure with zero hierarchy.
Servant leadership is that the leader is not a superior, but rather a part of the body of the team.
S – See the future,
E – Engage and Develop Others
R – Reinvent Continuously
V – Value Results and Relationships
E – Embody the Values
Ensures ceremonies or planning sessions should be on time.
Scrum Master knows that mistakes are unavoidable, it is human nature, after all, and mistakes are additionally a good teacher.
Works with Dev team in Estimations so that team does not overcommits the work.
Wrap it up
:
Last but not the least Scrum Master works as a doctor in terms of health check of the project. Coaches new Scrum Master and trained them so that they equally contribute to Organizations success.
Of course, there are plenty of blog/articles available on Scrum Master Roles and Responsibilities or Day to Day activity but here I have reiterated my own experience as a Scrum Master.