In my previous post, I had explained what is Kanban and how to view it in the context of Infrastructure Operations Support and Service .

Before we start the implementation of Kanban for a specific Operations Support and Service Team, we need to identify the team composition and work out its team structure. This will help us to implement Kanban effectively for the team. This process is known as team design and it is considered as a part of the organizational design (OD).

When we identify and form a team, we generally identify different support/service skills that the team should possess so that they can undertake the complete support/service for the customer. For e.g. if a single team is expected to provide network support services to the customer, the team should ideally have skills in L0, L1, L2, and L3 support. This ensures end-to-end support for the customer as a single ticket that can be resolved by one team instead of the customer depending on multiple teams (L2 – one team, L3 – another team and other multiple teams, where applicable) to complete his ticket and request. Each member identified at a particular level of support is skilled in their job and the skill level increases as the level move up. Each level has more experience and education. The different service levels are –
L0 – Basic resolution of issues through call resolution. Take the help of knowledge base to manage issue resolution.
L1 – Product Demo and basic troubleshooting including specific call resolution. Deal with physical connections and hardware. Basic network design - from about 30 to about 500 network point design. Basic project management skills.
L2 – Resolution of Technical problems. Focus on medium to large network design. 500 to about 2000 network point design. Intermediate project management skills.
L3 – Resolution of Major problems. Root cause analysis of problems with updations to the knowledge base. Design Experts and Data Center specialists with project management skills. Focus on 2000 to 30000+ network point design and familiar with high-end network equipment (CISCO/JUNIPER/Other Brands).
The network support services could be in the form of network design, installation, support and maintenance. Additionally, the levels – L0, L1, L2, and L3 could vary in different organizations depending on the type of services being offered by the organization to the customer and the type of terminology used. We may also have additional or fewer levels depending on the focus of the organization. However, at a broad level, the above classification could be used to categorize different types of operations support and services in an organization.

There are two types of team design that can be observed in an organization – teams that are exclusively made up of only one type of skill level, e.g. L2 support, L1 support. This is the component type team design.
Teams that are made up of the complete stack of support services provided – A single team having L0, L1, L2, and L3 skills. This is considered as the feature type team design where like a feature team, the operations support/service team provides complete end to end support to the customer (A feature team is a team that has all the skills needed to support the customer requirements and delivers the features to the customer). As organizations focus on agile and Kanban implementation for their teams and also emphasize imbibing the aspects of Spotify Engineering Culture (a culture that focuses on not having a hierarchical structure and which focuses on host and servant leadership), the attention is on forming teams that have end to end skills to resolve all the customer issues. Hence, the focus on full stack operations support/service teams.

Earlier, a team member used to have specific skills and built his skills in that area only, e.g. L2. This was the T type skill focus. Now, we have the PI type skill focus where a team member is expected to be an expert in at least two areas – e.g. L2, L1 and also have knowledge in other areas. It is acknowledged that there are constraints that need to be overcome to reach this level but it is expected that in the future, the demand will be for full stack skills (L0, L1, L2 and L3) from a single team member. This implies that a team member has all the skills necessary to deliver the service/support to the customer without having to depend on another member or wait to seek help from another member. There are multiple constraints that need to be overcome in order to reach this state and organizations are facilitating this transformation that may happen over a period of time in the future. This will further strengthen the Operations support / service teams structure and delivery to the customer in the future.

After the skill matrix and the team members are identified to form a team, one of the members of the team is identified as a Kanban Master. He is responsible for facilitating the implementation of the Kanban practices and process for the team along with the help of other non-team members like an Agile Coach, Center of Excellence, Continuous Improvement team and other teams (e.g. training), where applicable.
Generally, we have an initial kick-off workshop for the newly formed team which I call as the Escutcheon workshop. An Escutcheon (as per the Oxford English Dictionary) is defined as –
An emblem or shield bearing a coat of arms or
a flat metal piece that is used for protection and also ornamentation around a keyhole, door handle or light switch.
The analogy with Escutcheon reminds us of the concept of the team subliminally forming a protective boundary for the team members and which helps the team members to undertake their daily work and take the help of other team members when stuck and ask for help when they are not able to resolve any issue. The team is also having a team name which gives an identity to the team, improves team bonding and which is similar to the coat of arms on a shield that bound fellow kinsmen during the olden times. The output of the workshop is also a diagram in the form of an Escutcheon. Hence, the term Escutcheon. This, of course, implies that the team members exhibit team member characteristics like trust, courage, transparency and other traits so that the concept of a team can be established and sustained in the future. Additionally, this does not mean that the team members can only ask for help from any other member within the team. They are free to also ask for help from any other member in the organization for additional ideas for issue resolution.

A typical output of an Escutcheon Workshop for a Network Operations Support / Service Team is given below -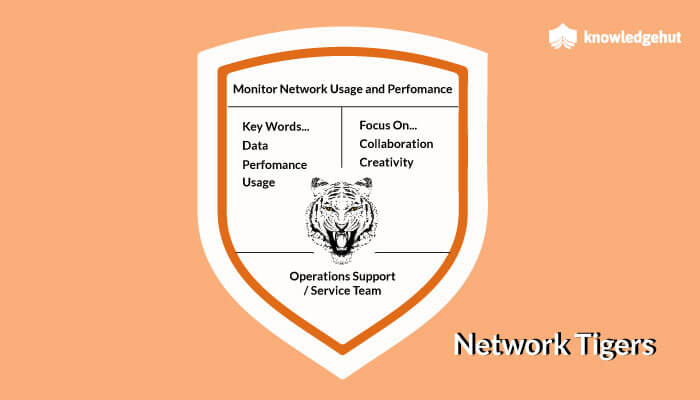 Are you interested in learning more about Lean manufacturing? April 5th kicks off our Pull / Kanban System and Total Productive Maintenance Workshop! #TPM #PullKanban #Lean
Learn more at https://t.co/I0gGUIU4UP pic.twitter.com/c6cfFI7WYx

— IMEC (@IMECillinois) March 12, 2018
This network operations team is tasked to support network usage and monitor the performance of the network apart from other routine support / service activities. Hence, this becomes the important tagline or punchline of the team. The key words of the team focus on data, usage and performance (with respect to the network). The team emphasizes collaboration and creativity as key focus areas which will help them in their day to day activities related to network support and service, apart from other focus areas. The team calls themselves as "Network Tigers" and which is ready to support any network issue end to end within their scope of operation pertaining to network support and service. They adopt the logo of a Tiger Face which gives the team an identity to focus, bond and celebrate their successes and wins and support each other during lean periods.

Thus, the Escutcheon workshop helps the team to establish a facade (principal front face) to the customer as a single point of contact to help them for all their issues related to their network and help to resolve them end to end in the shortest possible time and with the highest quality. The team members keep improving their skills to meet this commitment to their customer and learn from their mistakes, adopt continuous learning and implement the lessons learnt from their projects to further strengthen their skills to match and exceed the customer expectations.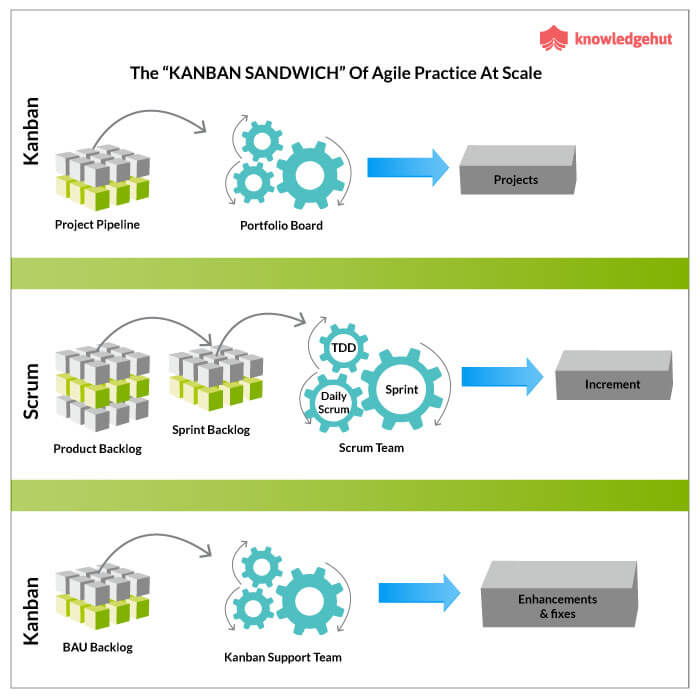 Hence, we have now established a full-fledged Operations Support / Service team having all the skill sets that are needed to address the queries, issues and tickets raised by the customer related to their network. Now the team needs to implement, establish, nurture, sustain and institutionalize Kanban values, principles and practices in their team to enable and facilitate the team to enhance customer delight and improve the quality of delivery.

In the upcoming Posts, I will focus on the next step in the Kanban journey as we learn how to implement Kanban for the Infrastructure Operations Support and Service teams – both at the team level and at the scale level (when we integrate multiple teams at scale to deliver support services to the customer).