Who should do ITIL® certification?
By
KnowledgeHut
What is ITIL®?A Management software framework built to make services provided by the IT sector more effective and in alignment with the business procedures is called 'Information Technology Infrastructure Library' or ITIL®.The attributes of ITIL® Framework such as implementation, integration, and configuration in the business structures allow the company to be more productive, produce better results and improve customer service.The framework assists the companies to be cost-effective and grasp the best practices. All in all, it allows the company to set a high standard and work according to objectives.Moreover, it makes the business more adaptable and flexible. This is a very useful trait for modern business where everything changes at a lightning pace. Therefore, ITIL® education is highly beneficial to the company. Also, one should keep in mind that an ITIL® certification holder is highly valued and well paid because of their knowledge, expertise, and skills.So, who should take ITIL® certification? IT professionals who look forward to making a positive development in the organization such as productivity and cost efficiency.People who have the fundamental knowledge of the framework and want to utilize it towards efficient business management.Those who are already in the IT sector and yearn to enhance their skills, boost their expertise in the subject and ultimately earn a higher salary and designation can also apply for the course.This course is not just for students, even professionals who want to boost their career and upgrade their skills can join this course -IT service executives and managersThe IT managers and DirectorsOperations managersIT technical support professionals and engineersQuality analystsService-support engineersThe owners of business processesDatabase administratorsThe benefits of ITIL® are not just limited to these professionals, anyone with a hunger to learn and a deep interest in the IT Sector can apply for the certification to understand the advantages of ITIL®. Since there are no criteria for participation in the certification, the course is available for everyone.Why should you take ITIL® certificationBy now, we know what ITIL® is and who all should join the certification course. But the question is, why should one go through all these hardships? Is it really worth it?Let's update ourselves with the features of the ITIL Foundation e-learning certification course -The Foundation level e-learning course is accessible for 180 days. The duration may differ based on self-paced learning.The other certification levels in ITIL V3 are divided into 5 parts based on the understanding of the learner.Foundation - This is the first-level certification course that teaches the fundamentals and general concepts, terminology, and elements practiced in the ITIL® Lifecycle.Practitioner - This level aims to teach the candidates on how to adapt and adopt the skills of ITIL® during their daily work life. It is the most recent addition to the levels.Intermediate - This is a more in-depth study of the previous stages. Here, different modules are taken up to teach the various approaches and plans executed by following the framework. This certification is considered as the common ITIL® qualification in many IT sectors.Expert - This certification is considered as the esteemed qualification which depicts skills, expertise and a great understanding of the ITIL® framework. It takes a macro strategy to the ITIL®  Scheme covering the full course.Master level - The final stage of the certification which proves a comprehensive understanding of the principles, procedures and exceptional methods of ITIL®. It also demonstrates the candidate's superior skills. The master certified candidates are considered to be the best among others due to their knowledge and expertise.The latest version of the ITIL® V4 has some new updates -Now, there has been an inclusion of ITIL Foundation and the ITIL Master exams.Moreover, the foundation exam has been divided into Strategic Leader and Managing Professional.Both of these levels have their own separate modules and examination.The end road for both the exams is the Master level.Ways to get ITIL® CertifiedThere are various modes through which one can attain the ITIL® training. The modes are -Traditional Classroom StudyWeb-based or Virtual IT institutions.If a candidate is very determined and focused, he/she can also choose to do self-study. One must understand that rather than the medium, it is the skill and knowledge that matters.Major Benefits of the courseThe main objective of the certification course is to prepare the candidate for various business management skills. These skills play a crucial role in aspects such as the interactions, services, processes, and outcomes of the business practices.Following are the major benefits which can help the organizations to boost their business and individuals to enhance their productivity -Understanding of objectives like Service Strategy, Transition, and Operations. Through this understanding, they can implement and develop the process constantly.Customer experience is considered as the most valuable aspect of the business. The ITIL® framework makes sure that the candidates are able to use their skills and expertise along with the concepts grasped to improve the consumer experience.One of the major outcomes of the certifications is that it teaches the candidates how to apply their expertise to make cost-effective decisions.In business, it's the loyal and returning customers that make sure how far the business will go. This can be achieved in a better way if the ITIL® processes such as 'fit for purpose' and 'fit for use' are used properly as they help in building a loyal customer base along with magnifying the reputation of the organization.Integrated and adequate performance of the services that are associated with the outer groups.It is a well-known fact that a certified ITIL® professional is highly valued. The credentials of ITIL® in your resume will make you stand above the rest.Many leading MNCs prefer certified ITIL® professionals to maintain their high standards. This also allows them to be in sync with their co-workers in achieving the objectives.What is ITIL® certification path?The ITIL V3 certification path is as given below. Note that in 2019, the ITIL V4 levels of certification have been introduced. There are various paths to transition from V3 to V4.In the above sections, the 5 levels were described in brief. This section will deal with the journey to the Certification Path for ITIL® V3. Throughout the certification course, there are a certain number of ITIL® Credits awarded when you clear the levels through examination. These credits are the key to unlock the next level of certification or training.1. Foundation Course - As discussed earlier, it is the introductory course to the ITIL® Service Management.Training: Required.Prerequisites: Not RequiredExamination: Yes, RequiredAwards - 2 ITIL® creditsCertificate: Yes, the ITIL® Foundation certificate is awarded to candidates who have successfully cleared the examination.2. Intermediate Course -The next step after Foundation course. It consists of Lifecycle and Capability streams with various modules in each stream.Prerequisites: ITIL® Foundation Certificate.Training: Yes, requiredExamination: Yes.Certificate: Provided on successful completion of the examination.              Service Lifecycle stream modules: Service Design - 3 creditsService Strategy - 3 creditsService Operation - 3 creditsService Transition - 3 creditsContinual Service Improvement - 3 credits            Service Capability stream modules: Release, Control, and Validation - 4 creditsService Offerings and Agreements - 4 creditsPlanning, Protection, and Optimization - 4 creditsOperational Support, and Analysis - 4 credits3.Managing Across Service Lifecycle – MALCThe conclusive segment in the qualification system before obtaining the esteemed certification of Expert is the stage called - MALC.Prerequisites - ITIL® Foundation. 15 credits (Intermediate level) + 2 credits. Hence, 17 credits in total.Training: Yes, required.Examination: YesAwards - 5 ITIL® creditsCertificate  - Provided on successful completion of the examination.4. Expert Course -The highly valued certification is a proof of superior knowledge and expertise.Prerequisites:ITIL® FoundationITIL® Intermediate15 credits collected in ITIL® Intermediate levelMALC examination qualification In Total - minimum of 22 ITIL® credits.Training: Not applicable.Examination: No exam, but the credential requires completion of lower level exams and accumulation of 22 credits.Certificate: Yes.5. Master Course -The ultimate stage in the ITIL® certification. This stage doesn't have any training material or examination. By this stage, the candidate is expected to be the best among his peer group and apply all the frameworks and principles in real-life situations.Prerequisites: ITIL® Expert certificate5 years of experience in leadership or management position.Training: Not applicableExamination: Rather than an examination, it's more like a collective review of the work. So, no examination.Certificate: Yes ITIL® StagePrerequisitesTrainingExamCertificatesFoundationNoYESYESITIL® FoundationIntermediateITIL® FoundationYESYESIntermediate level certificatesMALCITIL® Foundation- 15 credits in IntermediateYESYESYESExpertITIL® Foundation- 15 credits in Intermediate- MALC- Minimum 22 credits in TotalNONOITIL® EXPERTMasterITIL® ExpertNODemonstrationITIL® MasterThe path from ITIL® V3 To ITIL® V4 Before getting acquainted with the ways to move from ITIL® V3 to ITIL® V4, let's find out how ITIL® V4 has upgraded -Major Upgradations in ITIL® V4 -Exceptional integration besides other successful ITSM practices, including DevOps, Agile, and LeanA broader focus on the meaning of customer experienceThe superior combination of ITIL® and modern business practicesA community-driven focus to create the framework extra flexible and powerfulThe reason why ITIL® V4 is the most superior version is that several consultations and recommendations from professionals have been included in this version. This version was created to address the most common issues faced by most professionals.Due to these developments, even the foundation module has been enhanced along with new exam material. So, yes! Because of these changes, it is definitely worth to upgrade to the latest version.Let's find out how can one do that -AXELOS has addressed the transition issue and has made the process quite simple. These are the best options as suggested by AXELOS on how a candidate can move from the older version of ITIL® to ITIL® 4. These steps majorly depend on what stage they have achieved in their certifications.Foundation course -For those who have started the certification course and have only reached the existing Foundation certification, or have earned up to 6 additional credits, are recommended to start again with the latest version of the ITIL® 4. This is because of the change that was mentioned above due to which the modules of the foundation course have been revised and upgraded. Therefore, it will be better for them to restart from the beginning as they will be in sync with the current updates.Intermediate Course -However, it's not so simple for those who are completing the intermediate level of the ITIL® V3. AXELOS doesn't want the students to unnecessarily waste their valuable efforts, so if the student has collected more than 6 credits beyond the foundation level, he/she is advised to continue with the studies. It is also worth noting that the Transition module will not be released until the second half of 2019, so this gives the students a fair amount of time to collect their required credits.Expert Certification -Students who have already achieved a minimum of 17 ITIL® Credits will have the choice of practicing the ITIL® 4 Managing Professional (MP) Transition module when it is published. This will enable them to join the stage of ITIL® Managing Professional (MP). Following this, all they need to do is, join the ITIL® Leader Digital & Strategy module. It will assist them in achieving the ITIL® Strategic Leader (SL) designation. By this stage, they will be eligible to apply for the ultimate level of ITIL® Master.Now that we are aware of the transition stage and have gained the idea of what ITIL® is and how it is useful along with its various attributes that the framework offers in the Business Management, let's address the question that has been in your mind towards the start,What are the job opportunities for ITIL® certified professionals?The best thing about the ITIL® certification is that it has no expiration date. So, once you achieve the certification, you can put the credentials in your resume for the rest of your life. This will not only make your resume look more valuable than other candidates, but will also increase your professional value and credibility.Sr. NoRoleAverage salary per annum in USAverage salary per annum in India1Service Delivery Manager$82,795INR 1,366,9822IT Analyst$86,361INR 7,32,6123Asset Manager$88,552INR 5395334IT Project Manager$91,257INR 1,433,4725IT Manager$101,181INR 10820296Engineering program manager$106,280INR 18198807Senior  IT Project Manager$112,899INR 1,818,5608Service Transition$117,000INR 13,34,2739Service Operation$117,000INR 610,864The certification is confirmation that the candidate is not only highly skilled, experienced and has superior management skills, but is also thriving for excellence and knows how to adapt to new updates. Moreover, an ITIL® certified candidate can only implement the frameworks of ITIL® but can effectively guide the company into building a loyal customer base.Now, what jobs can ITIL® certified professionals acquire?One must keep in mind, that ITIL® is not a magic formula. It is a framework and education whose success rate highly depends on the candidate. There is no doubt that the job opportunities are more than a non-certified candidate, but these are factors on which the success ratio depends:Your professional background.ExperienceThe speed at which you learn ITIL® concepts.The interest you have in IT processes. This will determine your success ratio in your everyday job.Many of the leading companies have made it mandatory for their employees to have ITIL® training. Companies from different sectors are hiring ITIL® professionals to fulfill their vision. A lot of companies and industries have embraced ITIL® globally after realizing its never-ending list of benefits. Some of them are -1. Technology - IT, the most advanced and leading sector which is evolving almost on a daily basis have understood the importance and need for the ITIL® frameworks.Companies associated with technology that have implemented ITIL® are -MicrosoftIBMHPFujitsu2. Retailers -Retailers are the backbones of the business industry. ITIL® was initiated to boost the business sector. So how can the retailers not join the implementation? These are the major retailers who have adopted ITIL® framework -WalmartTargetStaples3. Financial Services -Given the benefits of the ITIL® framework especially in implementing cost-effective methods which not only saves resources but also time and effort, some of the leading financial service providers using ITIL® are -Citi BankBank of AmericaBarclays4. Entertainment - Over time, the entertainment business has grown to be one of the biggest industries in the world. As the industry grows, it's only fair to assume that the responsibilities will grow too. Adopting the ITIL® framework is the measure taken to ensure the free flow of service and hence, improve the user experience. The entertainment companies that are using ITIL® are -SONYDisney4. Manufacturers - The building blocks of the industries are the manufacturers. ITIL® magnifies the result of both the large business as well as the SMBs. Some of the leading manufacturers using ITIL® are -BoeingBombardierToyota5. Life Science - One of the most intelligent and smartest sectors in the world. It's really not surprising that they have adopted the benefits of ITIL®. The companies in life sciences that have adopted the ITIL® are -Lilly PfizerTakedaFollowing are the responsibilities that an ITIL® certified professional can expect -Process CoordinatorFoundation-level to intermediate-level professionals with a minimum of 2 years of experience can expect to get the job of Process Coordinator.The job of a Process Coordinator is to assure that the administrative actions in a process are conducted as planned. Change coordinator, Incident coordinator, and configuration analyst are few of the coordinator positions possible in ITIL®-based IT service management.Managerial RoleWith at least 8 years of working experience, a certified ITIL® professional is expected to manage processes end to end. This is operated at the mid-management level.The role here is to ensure that activities in service management are in accordance with the given processes. As the name suggests, you will be managing the coordinators under you who will directly report to you. The Manager is accountable for their actions and making sure that the work allocated is executed thoroughly.Release manager, Problem manager, and service desk manager are some of the managerial roles.ITIL® consulting roleThe basic requirement as you can guess is same - an ITIL® certified professional. But along with that, the candidate also needs to have other abilities with Observation skills being the most dominant trait. An ITIL® Consultant must have great observation skills as this would allow him/her to notice inconsistencies in processes and immediately plan about optimization. So the next skill required is, "Problem-solving'' abilities.This role of Process Consultant requires experience of ten years. The consultant must enjoy going into the depth of the issues. Their role is to observe every role assigned under them and guide them to execute the processes as smoothly as possible.This is one among the highly-paid and respectable posts in the industry. Needless to say, with great power comes great responsibility too!ITIL® TrainerOver the last decade, ITIL® has been in huge demand. Mostly, because professionals and companies have realized its importance in the business industry. Also, due to the tough competition, many job seekers are looking to sharpen their skills, expertise and raise their value. To achieve these, they are applying for the certification course. All these are a testament that the ITIL® dominance will stay for a while until a better framework can be built, and the way ITIL® is constantly evolving with the times, that seems unlikely to happen.So, being an ITIL® trainer is a great idea provided you enjoy teaching. This post requires you to be absolutely thorough with every detail in the ITIL® process.ConclusionThe results and outcomes of ITIL® will only be visible when they are applied effectively.Ultimately, it all depends on corporate buy-ins and staff. The ITIL® will be as successful and effective as you allow it. But if used constructively, it will definitely increase the chances of success exponentially.
Rated
4.5
/5 based on
19
customer reviews

Who should do ITIL® certification?
What is ITIL®?A Management software framework bui... Read More
What is ITIL® V3?
By
KnowledgeHut
Lack of standardised practices in the IT sector created a discordant environment for services, as their efficiency was considerably low and error rates were high as compared to current standards. These irregularities prompted the UK government to envision a set of guidelines for every IT Service organisation to follow. These guidelines, it was hoped, would help not only government organisations but private ones as well.Therefore, in the 1980s, the UK government, in a bid to increase efficiency and standardise IT processes, created a framework with libraries from around the globe. These multiple libraries were concentrated into seven volumes in ITIL® V2 and eventually five volumes in ITIL® V3. Each volume/certification focuses on a specific part of ITSM.What is ITIL® V3?ITIL® V3 focuses on business needs and calibrates the services according to them. Its other main purpose is also to continuously improve the services while reducing the costs at the same time. Due to ITIL® V3's ability to smoothly combine business expertise with IT processes, which maximises customer satisfaction, it is adding value to millions of people and businesses around the world.Its principal purpose is to enable IT professionals to be business service partners as well. It aims to, therefore, combine the business aspect of ITSM - by catering to business and customer requirements - with the professional expertise of the IT industry.Brought to the public arena in 2007, ITIL® V3 was upgraded and relaunched in 2011 by AXELOS - in collaboration with Her Majesty's Cabinet Office and Capita PLC as 2011 ITIL® V3. This version included strategic elements which aligned the modern ITSM processes to current business needs.There are three major ITIL® V3 Fundamentals which we will discuss now.ITIL® V3 Incident Management: It is not unusual that services get disrupted within an organisation, but what's essential is to protect productivity when it happens. ITIL® V3 Incident management is a process which lays down the best set of practices in the industry to effectively handle an incident without much downtime and also ensuring smooth business productivity.ITIL® V3 Change Management: Existing solutions/applications need to be upgraded to keep up with modern technological advancements as well as business needs. It, therefore, becomes essential that such changes do not directly or indirectly affect productivity. ITIL® V3 Change Management focuses on avoiding downtimes by handling, prioritising, and rolling out the required changes.ITIL® V3 Problem Management: Many times, we start getting similar kind of incidents. This is the indication to club all of them into a single problem. The problem aims to provide an RCA (Root cause analysis) of the issue and until then, to also provide a workaround. ITIL® V3 Problem Management helps in managing such problems and avoiding major issues. It also maintains a Known Error Database (KEDB) whose solution is unknown.ITIL® examsITIL® V3 contains five sections as part of the IT service lifecycle, and each section includes multiple processes. ITIL® offers flexibility to an organisation in the form of freedom to adopt any or all of the processes from a particular section. ITIL® is a collection of e-books. Its examinations were earlier administered by EXIN and ISEB, both of which are independent bodies. Both of these bodies gave their certification according to your location.The two independent bodies formed an alliance during late 2006 to further ITSM. Currently, all exams and certificates are being administered by Accredited Training Organisations (ATOs). These accreditations are themselves administered by Strategic Examination Institutes. These, in turn, need to be accredited directly by AXELOS which enables them to offer certification to the ATOs.Benefits of implementing ITIL® in an organisationITIL® powers a well-run IT organisation that not only works efficiently but also keeps optimising the services regularly to provide greater customer experience. Some of the key benefits of implementing ITIL® in an IT organisation as well as businesses are as follows:Cost-effective runIncreased efficiency and productivityIncreased customer satisfactionProvision of comprehensive guidance and standards to followLesser downtime during a service disruptionMinimal service disruptionsEasily manageable incidentsAn easily scaling and changing environmentSome of the examples of accessible services and applications designed with ITIL® and ITSM are:SamanageInvGate Service DeskManageEngine ServiceDesk PlusVision HelpDeskGiants like Disney and Sony are prime examples of how one can manage services within a big organisation. Learners can easily take up these case studies to understand the ground situation in the industry. All in all, ITIL® provides a streamlined framework which helps in managing risks, reducing costs while monitoring day to day activities, and finally improvising the course through learning.What are the five sections of the ITIL® V3 Framework?The ITIL® Framework has five sections which have evolved over time to reflect the needs of the business and the IT environment. Briefly, this evolution can be described as under: The first release of ITIL®, released by the UK government to standardise the IT standards, boasted of multiple volumes collected from professionals worldwide.The second release of ITIL® V2 consisted of 7 volumes which concentrated all past volumes of IT basic operations.ITIL® V3 is more focused on the business side of the industry along with other aspects as well.ITIL® V3, hence, comprises of five sections which cover all aspects of ITSM. These sections further include multiple processes which the organisations implement according to their needs.Service StrategyService DesignService TransitionService OperationContinual Service ImprovementThese five sections cover the lifecycle of service in ITSM. We will discuss each section one by one to get a clear understanding of what each section contributes towards the lifecycle.Service Strategy: As ITIL® V3 is focused more on the business aspect of ITSM, this section is dedicated to catering to the business cases. It checks on the defined business goals and their new requirements. It further develops a strategy which helps provide a service the business needs in a cost-effective and efficient way.Service Design: After the requirements are gathered from the business, this section helps in implementing those requirements in the form of architecture, processes, policies, and documentation. It fulfils its role by providing comprehensive guidance.Service Transition: Changes in technology and business needs are inevitable, which is why it is imperative that such changes, when they are deployed, do not hinder or disrupt the ongoing services. This stage, therefore, looks after the transition stage of service. When a service is transitioning into the business environment, this section provides guidance and processes activities.  Service Operation: This section is more pertaining to the customer. It ensures that every business meets its customer expectations or requirements. It focuses on processes and delivery activities to ensure smooth working of daily operational tasks by monitoring given services.Continual Service Improvement: As the name suggests, this section is for the improvement of services. Based on its learning, which it receives through past services' failures/successes, it introduces changes to the existing services.Roles in this space, of ITIL® and ITSM, can be elaborated as under:What is ITIL® V3 credit system?ITIL® V3 has a credit system which awards recognition through certificate-based examination. There are multiple certifications and with each one, you accumulate credits.You can enhance your reputation in the IT industry by rising through the ranks of ITIL® certifications which is awarded on a credit-basis exam. Credits are required to be eligible for higher certifications.The ITIL® V4 modules vary slightly from the ITIL® V3 structure and will be released during 2019, with Foundation being made available in February 2019. Modules, including the ITIL® Specialist module, the ITIL® Strategist and the ITIL® Leader will be released in the latter half of 2019.  Post the ITIL® V4 Foundation level; the candidate can choose to pursue either the ITIL® Managing Professional (ITIL® MP) or ITIL® Strategic Leader (ITIL® SL). End-learners must complete both - the ITIL® MP and ITIL® SL - to be eligible to certify as an ITIL® Master.To be certified as an ITIL® Managing Professional, the candidate must complete the following modules:ITIL® V4 FoundationITIL® Specialist: Create, Deliver & SupportITIL® Specialist: Drive Stakeholder ValueITIL® Specialist: High-Velocity ITITIL® Strategist: Direct, Plan & ImproveTo be certified as an ITIL® SL, candidates must complete the following modules:ITIL® 4 FoundationITIL® Strategist: Direct, Plan & ImproveITIL® Leader: Digital and IT StrategyThe ITIL® Strategist: Direct, Plan & Improve is a universal module for both the ITIL® streams. This is followed by the MALC i.e.  Managing Across The Lifecycle, ITIL® Expert and then the ITIL® Master, all of which are advanced levels to ensure the candidate attains the ITIL® certification.Some important pointers of ITIL® V4 are as under:Start with the ITIL 4 Foundation certification which fetches you two credits and its corresponding Foundation certificate.For each specialization after Foundation, until MALC, you will be awarded three or four credits depending upon the certification. ITIL® Practitioner certification fetches you three credits while covering the whole spectrum of the best practices.ITIL® Practitioner can be taken either immediately after Foundation or after before MALC and after completion of rest of the certifications.Before Managing across the Lifecycle (MALC), you can gather 17 credits in any order you prefer.To advance to ITIL® Expert level, you'd need a total of 22 credits including an ITIL® Practitioner certification and then MALC.It is important to note that the ITIL® system uses a credit system right from the Foundation level through the Expert levels with each certification amounting to a certain number of credits. The following chart illustrates the current ITIL® credit system:Sr. NoLevel of ITIL® certificationNo. of credits awarded1ITIL® Foundation22ITIL® Practitioner33ITIL® IntermediateLifecycle ModuleService Strategy3Service Design3Service Transition3Service Operation3Continual Service Improvement3Capability ModuleOperational Support and Analysis4Planning, Protection, and Optimization4Release, Control, and Validation4Service Offerings and Agreements44Managing across the lifecycle55ITIL® ExpertWhat are the ITIL® V3 services and processes?As part of the lifecycle of ITIL® V3 services, five sections are defined and each of them plays a key role in the service's life. These five sections contain multiple processes, which in turn, are adopted by the companies or organisations into their teams.Starting from the planning, according to the business needs, to the improvement or the eventual retiring of a service, ITIL® V3 covers all stages of ITSM. Due to the coverage it provides, it has become an essential part of ITSM.There are millions of ITIL® V3 professionals around the globeIt is up to an organisation as to which processes of a section it may want to select and what not. This property of ITIL® makes it flexible for implementation purposes.The five sections in a lifecycle of an ITIL® V3 service are:Service Strategy: It strategizes how to create a service that caters to the needs of a business. Processes included under Service Strategy are:Strategy GenerationFinancial ManagementDemand ManagementService Portfolio ManagementService Design: All the infrastructure, technology, processes, and policies of service along with other things are designed in this section with the help of the following processes:Service Catalog ManagementService Level ManagementAvailability ManagementCapacity ManagementIT Service Continuity ManagementInformation Security ManagementSupplier Management      Service Transition: All the changes introduced in the services are needed to be smooth and non-disrupting to productivity. This section covers that with the help of the following processes:Transition Planning and SupportChange ManagementService Asset and Configuration ManagementRelease and Deployment ManagementService Validation and TestingEvaluationKnowledge ManagementService Operation: This section ensures the smooth running of daily operational tasks and checks whether the business is meeting customer requirements or not. It accomplishes this task with the help of the following processes:Event ManagementIncident ManagementRequest FulfillmentProblem ManagementAccess Management      Continual Service Improvement: To continuously improve the efficiency of the services through learning from past services, this section employs the following processes:The 7 improvement processService MeasurementService Reporting      Difference between ITIL® V2 & ITIL® V3With the introduction of ITIL® V3, AXELOS aimed to focus more on the business needs of the industry, instead of just concentrating all resources on the basic IT operations - which ITIL® V2 did. The ITIL® V2 contained the following disciplines:Service SupportService DeliveryWe can conclude from the above disciplines that the sole aim of ITIL® V2 was to support basic IT processes. ITIL® V3, on the other hand, extends this support to the whole lifecycle of a service and more importantly, catering to the needs of the business and customers.Besides these, ITIL® V3 has other major differences and upgrades from ITIL® V2 which we have compiled and shown in the table below:ITIL® V2ITIL® V3Majorly process-orientedFocused on the complete lifecycle of service in ITSM (including business needs)Has seven volumesHas five volumesEfficient and cost-effective processesStrategic emphasis is given along with efficiency and cost-effectiveness to the processA singular function was divided into ten processes25 processes categorised suitably under four functionsNo clear assignment of roles in processesRoles and responsibilities are clearly defined for each processFocused on "what" perspective - "what can be done and why"Aimed at the "how" approach - how it can be doneIncludes 700 pages of publicationsIncludes 1400 pages of its five key publicationsFocuses on the theoretical part of the business in ITSMFocuses on the practical aspect and aligns much better with the needs of modern business
Rated
4.5
/5 based on
1
customer reviews

What is ITIL® V3?
Lack of standardised practices in the IT sector cr... Read More
Everything You Need To Know About ITIL®
By
KnowledgeHut
What is ITIL®?Today, the worlds of business and technology have overlapped each other and are linked inextricably. To thrive and to remain competitive, companies need to bring IT services in considerable focus. The transition of a company's objectives and capabilities to IT can be an overwhelming process. To ease this transition and to select, plan, deliver and maintain a certain standard in IT services within the organisation, a standardised framework called the Information Technology Infrastructure Library (ITIL®) is designed.The ITIL® ensures that the implementation of IT services for any business has efficiency and predictable service deliverability at its core. The framework makes sure that the IT services department in any organisation is an active business partner and not just a backend service provider.  The reason why ITIL® is gaining such importance and focus in the business world is that without it, the resources spent on designing and developing an IT service management (ITSM) process would be futile, which would, in turn, make the business less competitive, susceptible to losses in money and customers and less efficient.ITIL® HistoryThe growing discrepancies in processes, deployments and inconsistent IT services on account of the geographical decentralisation of data centers in the 1980s led to the need for ITIL®.Released as a series of books in 1989 by The United Kingdom's Central Computer and Telecommunications Agency (CCTA), ITIL® Version one, i.e., ITIL® V1 was their response to a need to recognise IT as an essential service and the need to apply it consistently across the organisation.ITIL® consists of various levels and modules. It aims to cover comprehensively everything from service strategies to continuous improvement which would ultimately help practitioners to adopt the IT services for their organisation and be prepared for changes down the line.ITIL® UpdatesPost-1989, the ITIL® has been upgraded to reflect the changes in the business world and is now a highly renowned and recommended practice with multiple thousands of practitioners getting certified and implementing it.Post launch, the first major change in ITIL® came in 2000-2001 with the release of ITIL® V2. This version focused on making the entire framework more accessible and less formidable for the candidates. It compiled the entire framework into nine sets of related elements. This version was followed by the ITIL® V3 in 2007 which was a compact and well-designed framework of 26 functions that were combined into five volumes.  This version was built to inculcate the concept of service lifecycle structure. Few changes were introduced to V3 which was launched in 2011 as ITIL® V3 2011. In 2019, the latest version, ITIL® V4, is all set for launch with a focus on the ITIL® service value system and upgrading the credit system.ITIL® PublicationsThe framework of ITIL® V3 encompasses five core publications which aim to cover the entire lifecycle of ITSM. They are reviewed and updated regularly to reflect the advancements made in IT technology. The five core publications are:ITIL® Service Strategy: This publication aims to identify and describe the goals of the business and the objectives of the IT services and align them to customer requirements.ITIL® Service Design: Based on the strategy defined in the previous publication, this publication aims at outlining the IT architecture, policies, and procedure as well as documentation.ITIL® Service Transition: This is an important publication which focuses on the change management and practices to be followed for releasing each policy/service change. It mainly aims to guide the transition and anticipated interruptions.ITIL® Service Operation: This is the actual working, functioning and operating manual in the ITIL® framework. The operation help in managing IT services regularly.ITIL® Continual Service Improvement: This publication is futurist in its outlook as it aims to guide the organisation through improvements and updates within the ITIL® framework.  As is evident, the modules cover everything from the beginning, i.e., identifying the customer's needs to designing and implementation and in the end, monitoring and improving the ITSM process.ITIL® Modules The entire ITIL® process is a module based framework. The certification, for example, under ITIL® v4 has been broken down into ITIL® Foundation and the ITIL® Master exams. Post the ITIL® Foundation, the course is further split into two modules: ITIL® Managing Professional (MP) and ITIL® Strategic Leader (SL), which the candidate need to complete in order to progress further.  ITIL® MP has the following modules:ITIL® Specialist – Create, Deliver and SupportITIL® Specialist – Drive Stakeholder ValueITIL® Specialist – High Velocity ITITIL® Strategist – Direct, Plan & ImproveITIL® SL, on the other hand, has the following modules:ITIL® Strategist – Direct, Plan & ImproveITIL® Leader – Digital & IT StrategyNine ITIL® Principles & ITIL® ModulesReleased in 2019, ITIL® V4 has the same focus as its predecessors. Although, it does have an updated framework which also represents and accommodates modern technologies and software. The program has illustrated nine guiding principles with an aim to provide for change management within an organisation, organisation communication, measurement, and metrics. These nine principles include:Focus on valueHere, ITIL® encourages the professional to define the service output in a manner that captures the needs of the customer.Design for experienceThe paramount thing here, as per ITIL®, is to understand the context within which the service offered will be consumed by the customers.Start where you areThis principle pushes the candidate to collect information and understand the customer's current pattern of consumption and how the services offered under ITIL® will support it.Work holisticallyBy understanding the entire value chain of the customer, ITIL® ensures that the services offered do not disrupt that value chain but make an active contribution to it.Progress iterativelyITIL®, while being implemented, must start with the minimally viable option and then progress from there based on an understanding of the priorities of the customer's needs and expectations.Observe directlyITIL® requires that the customers including users and sponsors are heard out and observed regularly. Candidates must observe how the service is delivered, executed and consumed.Be transparentIn the realm of ITIL®, sharing is encouraged: of ideas, thoughts, failures, concerns as well as improvements made.CollaborateITIL® requires the active involvement of all stakeholders from customers, users to suppliers.Keep it simpleIt is imperative that any implementation of ITIL® uses simple words which are easy to understand to ensure clear communication.ITIL® principles and modules when systematically followed can help an organisation manage as well as mitigate risks better, save on IT support costs, create a thriving ecosystem which ensures growth, scale, change and strengthens the organisation's relationship with their end users i.e the customers.What are ITIL® processes & frameworks?The framework of ITIL® V3 is made up of five parts: service strategy, service design, service transition, service operation, and continual service improvement. These sections comprise of:Strategy GenerationFinancial managementDemand managementService Portfolio managementITIL® Service DesignThe design of an IT service which has architectures, processes, policies and documentation is laid out in this section to address the requirements of the business requirement. Seven processes are included in Service Design:Service Catalog ManagementService Level ManagementAvailability ManagementCapacity ManagementIT Service Continuity ManagementInformation Security ManagementSupplier ManagementITIL® Service TransitionThis stage is to make sure that that the current state of service is not ignored when an organization is going through change. ITIL® Service Transition includes seven processes which are:Transition Planning and SupportChange ManagementService Asset and Configuration ManagementRelease and Deployment ManagementService Validation and TestingEvaluationKnowledge ManagementITIL® Service OperationITIL® Service Operation is essential to make sure the organisation meets the requirements of the customer. It comprises of various functions to ensure a smooth flow of everyday tasks related to planning, operations, monitoring, and related services. Service Operation includes five processes:Event ManagementIncident ManagementRequest FulfillmentProblem ManagementAccess ManagementITIL® Continual Service ImprovementIn this stage of ITIL®, stringent quality checks are required to ensure the service process is improved consistently. There are three processes in this stage of Continual Service Improvement:The 7 improvement processService MeasurementService ReportingBest practicesITIL® guidelines and best practices' primary aim is to align IT department actions as well as expenses to the needs of the business and change them as the company grows and shifts direction.ITIL® ensures support to the organisations and individuals as they endeavour to achieve optimal value from their investment in IT and digital technologies and services. It creates a sense of direction for the service provider to create a clear capability model and adjust its business strategy with customer needs.As a professionally recognised international certification scheme, ITIL® ensures comprehensive and pragmatic guidance which helps in establishing a service management system. Its best practices start from the basics such as defining a glossary of common terms which business can use as they adopt IT-enabled services into their practices.ITIL® ObjectivesITIL®, in its objective, contributes immense value to the organisation which adopts its framework. It not only assures quality, increased availability, reduction in costs and better cost-benefit relationship but also a tremendous improvement in effectiveness in meeting requirements of a class, growth in flexibility and making the principle of adopting and adapting possible.ITIL® helps organisations in achieving the following objectives:Reduction in IT costsImprovement in qualityReduction in riskImprovement in decision makingIncrement in productivityOrganisation-wide transparency and effective communication.Implementing a culture of adopting a practical approach to service managementAdoption of a common framework of practicesITIL® FundamentalsWhether it is the private or public sector, internal or external services providers, small, medium or large organisations, ITIL® continues to remain useful, relevant and evolving in every technical environment. There are some ITIL® fundamentals which are a primary reason why organisations must adopt it to ensure that their needs of IT and their customers are met.These fundamentals include:Best Practices: ITIL® is a representation of the best practices, experiences, learning, and thoughts of the world's best-in-class service providers.Continuous Evolvement: The success of ITIL® can easily be credited to its fundamental principle of developing continually. This ensures that organisations are enabled to derive and deliver benefits, get assured returns on investment and sustainable success.Adapt and Adopt:  ITIL® is adapted to enable organisations in:Ensuring early adoption of a standard approach towards service management throughout the organisation and its processes.Changing the culture of the organisation to support the sustainable and prosperous achievements of goals, enabled by IT.Optimising and reducing costs.Improving customer interaction as well as the relationship.Coordinating across the value chain of the delivery of goods and services.What is ITIL® Certification?Here is a brief overview of the ITIL® Certification Program.ITIL® serves as the primary ITSM framework for any organisation. As a person in IT, getting these certificates is essential, as they add to their skillset. Many IT professionals in the industry consider the ITIL® certifications as the Holy Bible to IT support. ITIL® V3 utilises a credit system for all its levels from the Foundation through Master levels. Each certification level earns a certain number of credits. After obtaining the requisite number of credits, the individual will take the ITIL® Master certification. In ITIL® V3, a total of 22 credits are required by a professional, if they are to earn the ITIL® Expert certification. The benefits of the ITIL® certification program include:Better preparedness with an in-depth knowledge of ITIL® frameworks which enables you to work betterEnsures professional advancement and better payHelps you speak the language of IT professionalsExpanded horizons and a vision for the bigger pictureITIL® certification is a modular programme, directed towards learning the ITIL® framework and comprises of a series of qualifications which are focused on different aspects of the ITIL® framework and its implementation.The certification enfolds in a tiered structure which ensures that candidates have flexibility and progress through the depths of ITIL® in a sequential manner.Recently, on the 18th of February, 2019, ITIL® 4 certifications starting with a foundation course have been released. The remaining certifications are due for release in the second half of 2019.Under the ITIL® V3, the certifications had five levels which included:FoundationPractitionerIntermediateExpertITIL® training MasterThis system has evolved to the following under V4:FoundationManaging ProfessionalStrategic LeaderMasterIt is important to note that the ITIL® system uses a credit system right from the Foundation level through the Expert levels with each certification amounting to a certain number of credits. The following chart illustrates the current ITIL® V3® credit system:Sr. NoLevel of ITIL® certificationNo. of credits awarded1ITIL® Foundation22ITIL® Practitioner33ITIL® IntermediateLifecycle ModuleService Strategy3Service Design3Service Transition3Service Operation3Continual Service Improvement3Capability ModuleOperational Support and Analysis4Planning, Protection, and Optimization4Release, Control, and Validation4Service Offerings and Agreements44Managing across the lifecycle55ITIL® ExpertITIL® Certification LevelsUnder the ITIL® V3 certification, levels are under:1. FoundationThis is the first level in the ITIL® certifications. It focuses on ensuring that the candidate is well versed with standard terminology and methodology. They will get the knowledge required to not only support but also deliver ITIL® related services.2. PractitionerThe Practitioner level is the second level of the ITIL® certification. In this level, the candidates are encouraged to improve their ability to adopt and adapt ITIL® for an organization.3. Intermediate This is the third level of the ITIL® certification. It consists of two categories or modules of certification: Service Lifecycle and Service Capability.The Service Lifecycle modules are:Service Strategy (SS)Service Design (SD)Service Transition (ST)Service Operation (SO)Continual Service Improvement (CSI)The Service Capability modules are:Operational Support and Analysis (OSA)Planning, Protection, and Optimization (PPO)Release, Control, and Validation (RCV)Service Offerings and Agreements (SOA)In the Service Lifecycle module, a lot of focus is given to management across several ITIL® processes. On the other hand, the module of Service Capability focuses on specialized as well as process-level knowledge within ITIL® processes.4. ExpertITIL® Expert certification is the fourth level of the ITIL® certification, and it is also delivered in modular form. This certification can be taken only by those candidates who have cleared the previous levels to ensure that they the requisite detailed knowledge and skills to clearly understand the entire system of ITIL®.5. MasterThe fifth level of the ITIL® certification is the ITIL® Master Level certification. This level focuses on strengthening and widening the mastery of the practical application of ITIL® in a variety of settings. The professionals working on ITIL® directly are usually involved in planning, operations, and management of ITSM. Through this certification, they obtain the skills to demonstrate their knowledge.Here are some details on the levels of certifications under ITIL® V4 :1. ITIL® Foundation Certification -  IT Service ManagementThe ITIL® 4 Foundation certification is designed as an introduction to ITIL® 4, and it enables candidates to look at ITSM as an end-to-end operating model for creating, delivering and continuously improving tech-enabled products and services. It helps those individuals who require a basic knowledge of the ITIL® framework. It also helps those who wish to understand how ITIL® as a framework can be used to enhance ITSM and those IT professionals working within an organisation that has adopted ITIL®.2. ITIL® Managing Professional - ITIL® MPITIL® MP has four modules within itself, adding value of ITIL® Foundation, which are:ITIL® Specialist Create, Deliver and SupportITIL® Specialist Drive Stakeholder ValueITIL® Specialist High Velocity ITITIL® Strategist Direct Plan and ImproveITIL® MP targets those IT practitioners who work within technology and digital teams across organisations.  3. ITIL® Strategic Leader - ITIL® SLWithin ITIL® SL, two modules embody the next stage of ITIL® evolution. The two modules are:ITIL® Strategist Direct Plan and ImproveITIL® Leader Digital and IT StrategyThis set is perfect for those who understand how IT services influence business strategy.4. ITIL® Master Certificate - ITSMITIL® Master Certificate helps the person justify and explain a range of knowledge, principles, methods, and techniques of ITIL® Framework. It requires one to have extensive practical experience with ITIL® and demonstrative knowledge of the prospect.To be eligible for the ITIL® Master certification, you must:Be  ITIL® Expert certifiedHave experience in IT services management for five years at least in leadership, management or higher management position.How much does ITIL® certification cost?Currently, ITIL® certifications are under Axelos. An individual can start the course by either using a hardcopy, PDF, ePublication or via an online subscription which can be availed directly from Axelos. While this is the primary cost, the second is the training cost. For each level of the course, there is a different cost associated. The curriculum leading to the initial certificate usually runs for two days and the courses commencing to higher certifications can run for a week or more.There is an additional cost of re-engineering a few of the processes to enable ITIL® frameworks and enable them to comply with ITIL® guidelines. An additional cost would be the investment in the ITIL® study guide and ITIL® practice exam which is set to be between $30 to $50 respectively. Therefore, there is no fixed cost for gaining the ITIL® certification. Axelos has tied up with an institution called  Accredited Training Organisation (ATO) where one can take ITIL® training.What are ITIL® complementary certifications?Axelos, apart from the five levels of ITIL® certifications, also offers complementary courses under the ITIL® credit system which are known as ITIL® complementary certifications. A total of 6 credits can be earned through these additional courses. It is critical to ensure that there is no overlap between the modules at different levels, as the percentage of overlap that Axelos segregates can be divided into three categories: low, moderate and high. The candidate should focus on staying in the 'low overlap' zone to ensure that they earn the right credits. Axelos details the course on its website and gives a hawk-eye view of its benefit.Who should do ITIL® certification?ITIL® certification is acquired via classroom study and virtual IT coaching which can be supplemented with self-study. An ITIL® certification represents that the person who has it has the requisite knowledge and skills related to ITIL® structure and terminology. It also describes that he has a working knowledge of the core principles and subject areas relating to IT, which is the primary use of ITIL® technology in the management of business services. The certification is helpful for:People who have the basic knowledge of ITIL® and wish to utilise it towards ensuring better control of service operation in a business situation.IT professionals who want positive changes in the efficiency of a business organisation such as cost reduction.Following professionals are recommended to take the ITIL® course:IT ManagersIT DirectorsQuality AnalystsIT Service ManagersSupport Professionals and EngineersService Support EngineersDatabase AdministratorsOperations ManagersOwners of Business ProcessesWhat is ITIL® Foundation?The foundation course will act as an introduction to ITIL® 4, and it will introduce candidates to ITSM as an end-to-end operating model with a focus on creating, delivering, and improving IT-enabled products and services.The certification aims to help:People who require a fundamental understanding of the ITIL® framework.Those who wish to learn how ITIL® can be useful in enhancing the IT service management.IT professionals or others who are working within an organisation that has adopted ITIL®.However, the ITIL® V4 foundation certification is helpful to anyone who has an interest in IT service management. ITIL® V4 Foundation candidates, at the end of the certificate course, will have an understanding of the following:A thorough grasp of how to facilitate the co-creation of value for customers as well as other stakeholders via products and services.Exposure to the guiding principles of ITIL® V4.A holistic approach towards the four dimensions of Service Management.Basic terminologies such as Agile, Lean, DevOps and their importance.The significance of ITIL® practices and their value to your business.Are there any Versions in ITIL® Foundation?ITIL® has seen 4 versions till date. Each of the versions has had the same motive of helping the candidate achieve alignment between the IT systems with the business strategies.Version 1 was launched with more than 30 volumes each covering a specific practice within ITSM. It aimed at establishing a model of controlling and managing business operations using IT.In the year 2000-2001, in order to make ITIL® more accessible as well as affordable, a new version, ITIL® V2 endeavoured to consolidate the publications into nine sets which focus on logic and were grouped in a manner that matched different aspects of IT management and services.Under ITIL® V3, the foundation level was introduced to candidates with the aim of exposing them to the basic concepts, key elements and common terminologies under ITIL®.The primary purpose has not changed under the ITIL® V4, and their essential features remain the same. The updated version of ITIL® V4 merely includes advanced material on the additional best practices.  ITIL® V4 aims to address the two major complains of the ITIL® :Its relationship with the ITSM community.Its failure to update itself with the latest trends in IT operations and software development.How ITIL® certification helps business?ITIL® certification has now become essential for any business which uses digital services daily and aspires to have a flawless ITSM. An ITIL® certification helps with installing good ITSM practices within the organisation. This certification covers the whole development lifecycle of IT, all the way from recognising requirements of IT and business to maintaining and delivering the levels of service in a state of focused review and improvement. This holistic approach enhances the overall customer experience and integration of work.To help understand the nuances better, let us explore ITIL® V3 Foundation Vs. ITIL® V4 Foundation.ITIL® V3, which is also popularly referred to as ITIL® 2011, was the latest version before the upgrade to ITIL® V4. The new version introduced the process of the Business Relationship Management (BRM) process but other than that, most of the other elements remain the same.  An important change was that it was easier to read and many of the inconsistencies were edited out. ITIL® V4 uses newer techniques to align IT with a more evolved level of efficiency and effectiveness. It is now possible to align ITIL® with other existing methods such as IT4IT, Agile, DevOps, and Lean.Even with ITIL® V4, the essential elements of ITIL® V3 remain the same. ITIL® V4 just ensures the inclusion of additional best practices and easier integration.ITIL® V4 encourages lesser siloes, more collaboration and encourages communication across the whole organization with the integration of Agile, Lean and DevOps into ITSM strategies. It is made to be more flexible and customizable than ITIL® V3 i.e. more holistic.By investing in a training course and implementing ITIL®, you can expect the following things:Enhanced understanding of the customers which aid in delivering better services, long term relationships, and a sound reputation.A developer guide on predicting and reacting to customer service engagement, complaints, and experience.Increased productivity and better management of resources by focusing on the cost-benefit analysis.Risk mitigation and management.Stabilized environment for better alignment of IT and other divisions of your business.Reduced incidences of service failures.A growth in opportunities to network and collaborate with similar business models.Enhanced value of the organisation's service portfolio.Agile adaptation to new technologies and comply faster to changing needs of the digital worldDirect rise in chances of an improved bottom line in your revenue statements.Thus, through this, it is clear that ITIL® is almost inevitable for business and must be implemented within organisations who wish to keep evolving with the times and achieve their ever-changing goals with the help of IT.To wrap it up, ITIL® is not just a straightforward skills course in IT. It equips the candidate with the requisite resources to apply the knowledge gained to the larger scope of their organization and align with business practices. This means that the candidate would have a practical hold over the best practices, especially when addressing all facets of IT management.
Rated
4.5
/5 based on
18
customer reviews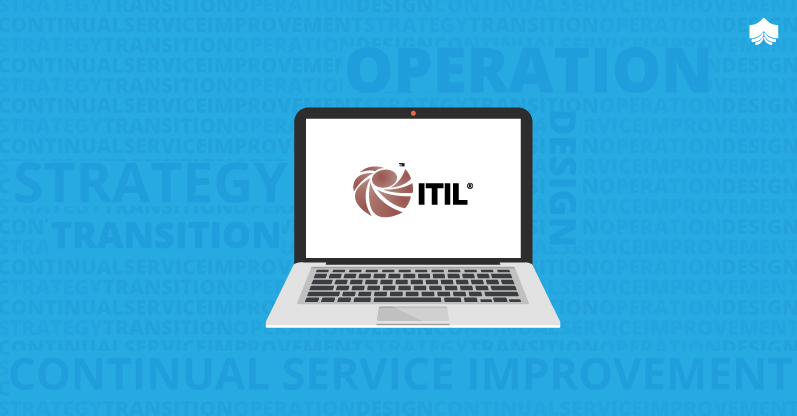 Everything You Need To Know About ITIL®
What is ITIL®?Today, the worlds of business and t... Read More