ITIL® ie. Information Technology Infrastructure Library is basically a framework which has been designed to standardize the following IT services within a business:
Selection
Planning
Delivery and
Maintenance.
The goal of ITIL® is to increase efficiency and achieve standardised service delivery in an organisation. The ITIL® framework focuses on ensuring that IT administrators can evolve into roles such as business service partner and not just remain back-end support. This is where the guidelines and best practices of ITIL® come into play since they align the IT department to the needs and changes within a business as it grows and evolves.
What are ITIL® best practices and their benefits?




ITIL® is a collection of guidelines and best practices which aid in the IT Service Management (ITSM). ITIL® considers IT as a tool which can be used for business needs. The ultimate aim of introducing ITIL® is to reduce the gap between the business - which caters to the customer needs and the IT industry. AXELOS includes inputs from IT professionals as well as their business partners around the globe in their process of compiling a list of these practices.
ITIL® V4's primary aim, therefore, is also to integrate all the phases of service and focus less on individual processes. This is where ITIL® best practices come into the picture. They work to improve many things but most important of all, they focus on aligning business needs with IT perspective. This attribute alone of the ITIL® practices fetches huge benefits. Some of the benefits that ITIL® best practices offer are as follows:
Higher customer satisfaction
Increased productivity
Change management
Minimal disruption of service
Security management
Help desk management
ITIL® V4 release and ITSM
ITIL® has gone through several revisions in its history. The gap between the IT and business aspect of an IT Service Management organization has continued to be reduced with each subsequent releases. Along with the practices, technology is a major factor which drives the whole IT industry and that makes it necessary to be included under the releases as well. ITIL® V4, the latest version of ITIL®, focuses on integrating all the latest technological frameworks to help in IT Service Management. Some of the technological advancements which are included in the latest version are as follows:
Agile Framework
LEAN
DevOps
Most of the curriculum included in V3 will remain same but V4 has also introduced new examinable content. Understandably, technologies alone don't contribute to the lifecycle of a service. There are many different entities that work on different levels and all these come together to provide smooth and successful service to the customer.
What are the top

ITIL®

best practices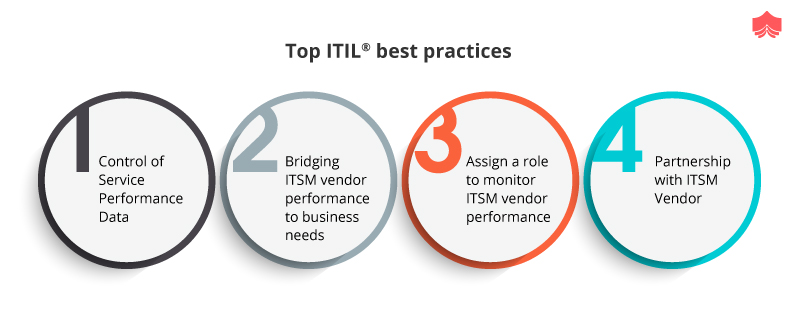 There are lots of ITIL® best practices that can help your organization, but each practice is adapted to fulfill a specific requirement. ITIL® also offers flexibility in terms that an organization has the freedom to choose which process or practice it may want to implement. It is not essential that one must employ all the practices mentioned in the volume. We have compiled four top best practices which every organization, about IT Service Management, must use in their infrastructure.
1. Control of Service Performance Data
:
This practice aims to hold the ITSM vendors responsible for the performance issue. It encourages the client to ask the vendors the following questions:
Is the application working as per the performance bars set earlier?
Are the ITSM vendors holding on to all the agreements?
What is the financial situation?
Naturally, the answers to all these questions lie with the Service delivery data. Clients need to ask the vendors for this performance data, otherwise, they can lose visibility of it.
Either your ITSM vendor has manageable workload - so as to provide you with the performance analysis - or you already have a service management tool - which you can use to check on the performances of the services. Otherwise, you need to have control and ownership of the data.
There should be an uncompromising agreement between the client and the ITSM vendor about making sure that this data is made available and accessible to the client at all times. The client then, using their resources, can always analyze the data and work with the vendor to improve the service. To summarize, the client needs to hold ITSM vendors responsible for any issue that may occur.
2. Bridging ITSM vendor performance to business needs:
One of the highlights of the latest release of ITIL® V4 is the ability of ITIL® to bring together IT and business for better customer satisfaction. However, the procurement office - which is responsible for acquiring services in an organization - does not have any expertise in the IT aspect of a service. It cannot measure the value of IT services provided to the business because they don't know how IT services work in a business.
So, the aim is to implement a proper ITSM Vendor Management meaning, maintaining a good relationship between ITSM vendors and the business. This only helps both the sides - the business can get what they want in service and evaluate the vendors based on their service, and IT vendors who can identify what the business is asking from them and help them fulfill the requirements.
3. Assign a role to monitor ITSM vendor performance:
It is essential for an ITSM vendor to be held accountable for their performance. Therefore, the best practice adopted across the industry is to assign a person this role, which is the ITSM Vendor Manager. As the name suggests, the sole responsibility of this role is to manage the ITSM vendors as to the service they provide, whether they are adhering to the conditions and requirements agreed upon initially, and much more. This role would require to interact with ITSM vendors on a daily basis and therefore it is recommended that such a job should be given to someone with experience in the following domains:
Finance: To fulfill the fiduciary responsibility.
Business + IT: To understand service aspects from both perspectives and participate, contribute to conversations between them, it is important to be experienced in this domain.
IT Delivery and Management: To monitor the delivery of service, changes, deployment, etc.
Besides all these, they should also be able to reach out to legal, and procurement departments as well. This person should be a direct rapport with the Chief Information Office for better and quick outcomes on the issues. Someone with experience in Service delivery role will be most appropriate for this role.
4. Partnership with ITSM Vendor:
The biggest issue with clients, when dealing with the vendors, is that their expectations and requirements are always more than what the vendor really delivers. To find a solution to this major problem, Chief Information Officers must satisfy the need for someone who has the ability to hold the ITSM vendors accountable - ITSM Vendor Manager. But this time, you also need to hold the ITSM vendor accountable for the issues by quantifying the impact that the ITSM vendor manager's decision has had on the infrastructure.
If your ITSM vendor is not living up to your expectations, then it is recommended you start implementing these practices in your organization to get the most benefit out of them.
ITIL® service desk best practices





In the market, there are many solutions present which can help you increase productivity, support, delivery, and enhance other attributes of an IT Service. But most of these solutions are expensive and since ITIL® offers flexibility to an organization when they are trying to choose what to implement, a better solution to go for is ITSM Service Desk. There are two popular desks that ITIL® provides - Service Desk and Help Desk.
Help Desk: IT Help Desk is a fairly affordable solution to your IT Service Management problems. Some of its key properties are:
It is flexible and configurable - which helps to fine-tune your ITSM processes according to ITIL® standards
It is highly affordable
It is a subset of Service Desk
It has been replaced by the service desk. It is old fashioned in the technical world
Helps to streamline Service request management
Manages change requests automatically upon approval successes
Automated Software and Hardware asset discovery with centralized IT asset management (ITAM)
As mentioned, the Help desk is considered to be old-fashioned, which is why Service Desk was introduced as an alternative which offered more solutions in a more suitable way of service.
Service Desk: IT Service Desk was introduced as an evolution of IT Help Desk to a modern approach to finding solutions and fulfilling tasks in the lifecycle of an IT Service. It is primarily intended to be a contact point between end users and the IT organization. Some of its key benefits are:
It is responsible not only for services - change management, request management, asset management - but also provides the entire IT.
It provides streamlined support by collaborating with other functional units.
Service Desk is a new solution which means, naturally, one of its aims would be to closely align IT aspect to the business needs.
Problem management is done proactively to avoid any major incident occurrences.
Aims to align IT vision and business closely.
Service Desk, therefore, is the preferred IT Service Management go-to help. IT Service Desk most importantly has 3 tasks to do:
Manage problem and incidents
Manage Service requests
Handle communication with the users
As per a compiled list of some of the best IT Service Desk practices, below are the four major best practices which every organization should follow:
Customer Engagement:

As the name suggests, it aims to understand what the needs of a customer are and whether the IT team is able to comprehend it and implement it eventually according to the customer's requirements.

Provide 24/7 service desk support
Follows SLAs strictly, which helps in prioritizing the issues while solving. For eg: Critical ones are solved with utmost urgency in contrast to Low priority issues which have a longer resolving time.
Provide complete data, ask all questions etc. during one engagement, rather frequent call-backs or engagement.



Service Desk Management:

This is basically a supervisor role, looking over day-to-day as well as long term issues.

With the help of dashboards, data, and reports, it helps in analyzing the data and asks for correction before it explodes into an issue.
To completely implement SLAs and make sure that escalations and handoff processes are understood by everyone in the hierarchy.
Generate a report using IT Service Metrics. This report can help in increasing productivity or some other performance related issue



Use of technology to Support:

T

o support the IT Service Desk, technology can be used to streamline their processes and increase their productivity.

Common issues which require specific steps for a fix can be automated.
Service desk software can be used to facilitate and record interactions between requestor and client.
Service Flow workflow capabilities can be implemented to help with processes like escalations, or hand-off.



Knowledge Management:

You should manage knowledge in such a way that it is accessible by all and at the same time provides security as well.

Through Frequently Asked Questions, even end-users can access the data and learn from it rather than going back-and-through between them using an Agent.
These knowledge records can be monitored and destroyed as per convenience.
When an organization implements an IT Service desk, it would be awarded the following benefits:
Cost-effectiveness:

With the help of a properly staffed team which is well-managed, much of the IT work can be handled easily. Subject Matter Experts can be allocated work which is of value to the company instead of low priority or low-value tasks.



Place for user's sentiment analysis:

As the Service Desk is the focal point between the users and the service provider, the business is able to understand the needs of the customers and enable the IT Vendors to implement the changes according to the needs of a vast customer base.



Early warning system:

An IT Service desk can also be used as a monitoring tool. This helps when the magnitude of incidents and requests is too high. If in such an organization, a major incident occurs, then a large number of users can get directly affected. This is where this monitoring system comes in, as it aims to identify and determine the issue with an early warning system and hopefully fix it before it causes any disruption to the service.