INFOGRAPHIC: The Future of IT
By
KnowledgeHut
Technology is rapidly changing at a staggering pace. The rapid change of technology has driven an increased demand for highly competent IT professionals to meet the needs of the future. Many people now wonder what exactly these professionals need to know to prepare for this future.  In order to determine this we must look at the trends, technologies, and jobs that will dominate the landscape of tomorrow. IT Trends Shaping The Future       There are many mega trends are currently influencing how technology will be used in the future. For example, there is starting to be a greater connection between people and the internet. People now view the internet as more than a piece of technology but as a mental, social, and physical extension of themselves. This means they also expect to have access to technology everywhere and on any device. The "Internet of Things" is another major trend. The internet is now expected to be digitally linked to objects we use on a daily basis. At the same time big data is emerging providing new opportunities and challenges while artificial intelligence is putting computers in the position to make decisions. The shared economy is also creating a need for digital transparency and trust mechanisms that allow direct exchange of goods and services. People also now want to utilize 3D-printing and other technology to create physical materials on the spot. All of these trends are greatly influencing our current and future technology demands and needs.  IT Technology of the Future  Due to the current trends and advancements technology will look a lot different in the future. Here are some of the technologies that will be shaping our world in the future: Space drones: NASA has issued a challenge for designers to develop drones that can operate inside a space station. 760mph trains: PayPal, Tesla and SpaceX founder Elon Musk has been pioneering the new Hyperloop system. These "trains" can travel up to 760mph through a vacuum tube, propelled by compressed air and induction motors. With this technology passengers could travel between San Francisco and LA in 35 minutes. Using sound to fight forest fires: We all know that wild fires are a major problem in many areas of the country. Luckily, these fires will one day be fought by drones that direct loud noises at the trees below. Since sound is made up of pressure waves, it can be used to disrupt the air surrounding a fire, cutting off the supply of oxygen to the fuel. This technology can help fire fighters and ultimately save lives. Breathalyser cars: The US National Highway Traffic Safety Administration has developed devices that can monitor alcohol levels by sniffing a driver's breath or scanning the blood in their fingertips via the steering wheel. With the technology cars can be immobilized the car if levels are too high. Drivers who use this system could even be offered discounts on insurance premiums. Internet for everyone: Elon Musk is requesting permission to send almost 4,000 small satellites into low-Earth orbit. These satellites would beam back a high-speed wireless signal to everyone on the planet. This would provide wi-fi to everyone in the world opening use of the internet and technology to everyone. Personalities for robots: Google has obtained a patent on robot personalities. Owners could have a personality automatically chosen to match their needs, or select one based on a fictional character, or a loved one. These will definitely be the robots of the future. Self-driving trucks: Driverless trucks are cheaper to run than regular rigs. They drive more smoothly and use less fuel while computers never get tired or need breaks. They can also drive in convoys, nose-to-tail, to minimize wind resistance. This type of technology will most likely be the future of transport. Your brain print as a password: A team at Binghamton University, New York looked at the way volunteers' brain signals changed as they read a list of acronyms. Each person reacted differently enough for the system to predict who was reading the list with 94% accuracy. In the future a version of this technology could be used to verify who is using a computer. Your brain would ultimately be your password.  IT Jobs in the Future To take advantage of the trends and technologies identified here, we must also know what jobs will be in demand in the future. These include: Cognitive computing engineer/machine learning specialist: Do you remember IBM's cognitive computing initiative, Watson which became a "Jeopardy" champion? Cognitive systems are becoming a very large part of IBM's business plan and other companies are following. The demand for cognitive computing skills is growing and colleges are starting to offer courses and programs that address this need. Blockchain engineer: Many startups are recruiting engineers and developers who are familiar with the technologies behind bitcoin. They want people who have experience in cryptography, distributed systems, hash algorithms, and more. In fact, more than 200 companies and open source projects are seeking to apply blockchain technology to applications such as trading platforms , secure identification cards, and self-executing contracts. GPU cluster engineer: GPU computing improves application performance by offloading compute-intensive portions of the application to the GPU, while the remainder of the code still runs on the CPU. This advantage is key to companies like Facebook, China's Baidu, and Experian that deal with enormous data sets. Virtual reality engineer: Virtual reality is expanding beyond being exclusive to just gamers. For example, the New York Times, is one of the first newspapers to begin using virtual reality (and Google Cardboard) as a storytelling tool. Goldman Sachs predicts that virtual reality will generate $110 billion, compared to television's $99 billion, in 10 years. Internet of things architect: Everything is starting to connect to the internet of things. Verizon recently posted a job for an "IoT solutions architect." People who can work with this technology will be able to shape the future and remain in high demand. Computer security incident responder: Cyber security specialist has been an in-demand job for some time. Incident responders are the people who deal with the effects of an attack or an exploit. They understand security information and event management (SIEM) SIEM. combines a number of functions into a single system and centralizes event logs and other security-related documentation for analysis. The future of technology is definitely bright. Those who understands the IT trends, uses, and jobs of the future will remain in high demand. They will be the people who work with the technology that shapes the future of our world.
Rated
4.0
/5 based on
20
customer reviews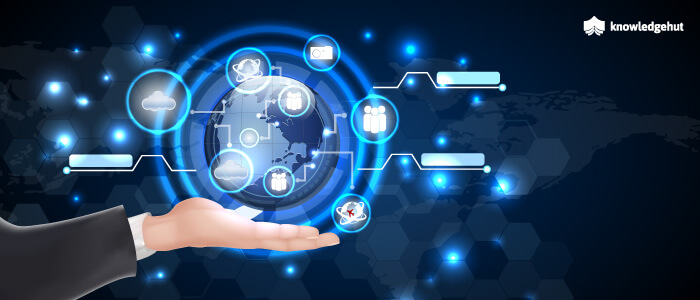 INFOGRAPHIC: The Future of IT
Technology is rapidly changing at a staggering... Read More
ITSM Gets Agile With ITIL® V4
By
KnowledgeHut
The influx of new technologies has initiated a steep growth in the demand for a more modern, structured IT service management (ITSM) framework. Emerging technologies like blockchain, artificial intelligence, internet of things (IoT) and many more are shaping the Fourth Industrial Revolution. A report by CompTIA projects the global information technology industry will grow at a rate of 3.7% in 2020, and that IT jobs are at risk as companies move toward automation. However, with multi-faceted certifications like ITIL®, the IT teams will be better equipped to handle more responsibilities overarching the IT industry. What is ITIL®?ITIL® (an acronym for the Information Technology Infrastructure Library) is a common framework that standardized global best practices in IT. It is used globally by millions of practitioners and is relied upon by 90% of the Financial Times Stock Exchange 500 to optimize their IT operations. Its framework equips a service provider with a clear capability model, aligning them to the business strategy and customer needs. Yet, with shifting work practices, the silo-model of ITIL® has been challenging its practitioners to evolve. With its new version, the ITIL® V4, some of these problem areas are addressed.  Carefully curated with the help of 12 lead architects, 61 authors, and hundreds of IT practitioners, the latest additions incorporate a range of approaches from DevOps, Agile to SRE (Site Reliability Engineering). So what exactly sets apart ITIL® 4? Defining ITIL® V4 with agilityTraditionally, ITSM focused on continual service improvement (CSI) by collecting feedback and coming up with improvements in a project plan that spans anywhere between 6-12 months. However, with the advent of digital transformation, this approach has become obsolete. With its delayed turn-around-time or improvement model, customer-retention becomes difficult, and the overall pace is hampered as well.  The introduction of agility to this model ensures shorter cycles of projects and constant iterations to meet the customers' or end-users' expectations. Running 4-week sprints becomes a regular process, with mini-projects being stacked alongside – then passed to the Scrum Masters. Not only does this streamline the feedback mechanism to ensure continuous improvement, but it also helps in tracking the success and optimal usage of resources.  It is as simple as this: instead of doing something for 6 months, finding where it failed and then reworking on those aspects; using agile methodology one can continuously rework on what is wrong, while also progressing with the project and enhancing what is right. A perfect example of this is user testing and MVP (minimum viable product) in the case of IT services.  Agile also allows the setting of short-term goals aligned to the current business needs. With the entire team aligned to the end-result ploughing improvements on-the-go, overall productivity is also increased.  Breaking down silosITIL® 4 focuses on creating a shift in the ITSM mindset, both culturally and in the working methodologies, by breaking down barriers and silo-working. It helps in fostering a collaborative work environment right from the top and nurtures a holistic approach to work. By documenting processes formally and keeping track of consistency and progress, the dependencies involved in each process are transparent. Each team works to its strengths and supports the other in its shortcomings, creating a collaborative environment. When such structures are implemented at the top level, it is bound to trickle down to the remaining parts of the organization.  Benefits of ITIL® V 4ITIL® V4 has been primarily built on four dimensions of service management – people, products, partners, and processes. While the processes were largely overlooked by the previous versions, the ITIL® V4 embraces the core values of other frameworks like Lean, Agile and DevOps, making it more flexible and beneficial to the niche IT services.  With the support of ITIL® V4, ITSM is more structured around development processes and its adoption of agile methodologies creates space and autonomy in work within a consistent framework. Change is imperative for the growth of any organization, and ITIL® 4 helps them navigate it. Shifting gears from process-led delivery to value-driven delivery, ITIL® 4 ensures faster quality and quick growth for people and organizations.
Rated
4.5
/5 based on
0
customer reviews

ITSM Gets Agile With ITIL® V4
The influx of new technologies has initiated a ste... Read More
5 ITIL® Skills That Set You Apart
By
KnowledgeHut
The IT Infrastructure Library or ITIL® is a collection of vast data describing a framework of best practices for delivering IT services. Since its inception in the 1980s, the process has gone through many changes, keeping up with the latest technologies in the IT space. The latest addition was ITIL® 4 and encompasses five books with various processes and stages of the IT service lifecycle. Its systematic approach helps businesses manage risk, strengthen customer relations and build cost-effective strategies for a sustainable IT environment.  Demand for ITIL®As new opportunities continue to emerge for IT professionals at the organizational level, companies are leaning towards recruiting or training individuals with higher skillsets or IT certification. Certifications like the ITIL® not only prepare IT professionals for such organizational-level processes but also project a wider landscape of opportunities. Globally, techies or project experts have received over a 15% hike in their salaries after boosting their resumes with an ITIL® certification. ITIL® ranks 7th among all the top-paying IT certifications, with an average salary of $120,556, according to the Global Knowledge 2019 IT Skills and Salary Report. So, what is it about ITIL® that makes it one of the most in-demand certification courses? 5 ITIL® skills that set you apart 1. Worldwide Recognition The ITIL® framework is professionally recognized and provides a common language of practical, proven guidance for establishing ITSM, with continual growth as well as consistency. It is used globally by millions of practitioners and giant conglomerates. Axelos reports that 90% of the Financial Times Stock Exchange 500 companies rely on ITIL® to run their operations. This opens a window of opportunities for individuals to explore. 2. Skills for high-quality delivery As the ITIL® framework contains tools that power collaboration within IT teams and delivering value across a business, these skills can be used in different projects, teams, and organizations.  3. Alignment to disruptive technologiesThe fourth version of ITIL® bridges the best practices of ITIL® with the Fourth Industrial Revolution or Industry 4.0. The new framework enables organizations to smoothly transition into digital technologies and provides practical and flexible support for this adaption. The framework focuses on collaboration, transparency, automating where possible, and working holistically. Emerging technologies like robotics, artificial intelligence, the Internet of Things (IoT) and more are crucial for businesses to grow but come with their limitations. ITIL® also encompasses ways to deal with their iterative nature.  4. Inculcates a proactive culture The ITIL® framework trains individuals to focus on customers' expectations and user experience. It helps them plan for contingencies and to take appropriate measures to prevent them from recurring. It also improves the overall service delivery quality, developing a new proactive culture.  5. Goal-oriented strategies One of the chief areas that ITIL® trains an individual/team for, is the focus on driving business. With the emphasis on getting better return-on-investment (ROI) by improving business competence, productivity, and customer-relationships, individuals tend to look for cost-efficient strategies. This not only helps in optimizing resources but also generates a holistic approach towards work. The importance of always learningITIL® enhances continuous growth through its practices. The framework aligns with the future of IT by merging business and technology – how it is working today and how it will work going forward with other methodologies like Agile, DevOps and digital transformation as well. For individuals, the ITIL® skills don't just set them apart with a distinct resume but also let them implement successful growth-oriented practices in real-time.
Rated
4.5
/5 based on
32
customer reviews

5 ITIL® Skills That Set You Apart
The IT Infrastructure Library or ITIL® is a colle... Read More