All you need to know about Leading SAFe 4.5® Certification with KnowledgeHut
By
KnowledgeHut Editor
Agile is a project management process which encourages self-organization, accountability, and teamwork. This methodology progresses a moderate project management process by reducing the time required for review and adaptation. SAFe combines the power of Agile with Lean product development and systems thinking. It integrates delivery, collaboration, and alignment for multiple Agile teams and provides significant improvements to business agility, including quality, productivity, employee engagement, customer satisfaction, time-to-market, and more. The new version i.e SAFe® 4.5 was released on June 22, 2017. This advanced version speeds up the delivery process of products and services and also offers a 360-degree build-measure-learn feedback cycle. With four major updates, SAFe has grown faster with the market since the initial release in 2011 and keeps on being a work in process. SAFe 4 Agilist certification helps you to build a strong foundation on Agile practices, standards, and applications required to enhance the probability of the project's overall success. You might be searching for the best institute to take the course and might be thinking why only KnowledgeHut and why not others? Here we answer all your queries about Leading SAFe 4.5 Certification with KnowledgeHut. Looking for a quick overview of #SAFe? Check out our most popular download: https://t.co/Iw7rVXSK6U pic.twitter.com/oPEExo8mUY — Dean Leffingwell (@Deanleffingwell) October 31, 2017 Who is the certifying agency? SAFe® Enterprise or the Scaled Agile Framework is the provider of this SAFe® 4 Agilist Certification. KnowledgeHut offers this course by professional trainers with years of industry experience. SAFe® Agilist certification exam cost? The exam cost for the first attempt is included in the course fee if the exam is taken within 30 days of course completion. Also, the candidate can retake the exam if not cleared in the first attempt and each retake attempt charges $50. Who will benefit from leading SAFe® 4.5 course? The following individuals will benefit from this course: Leaders and Executives, Directors, Managers, CIOs, and VPs Enterprise, System, and Solution Architects QA, Development, and Infrastructure Management Project and Program Managers PMO, Portfolio Managers, and Process Leads Product and Product Line Management Is it mandatory to attend the course or can a person just take the exam directly? Yes, candidates should have completed the 2 days' Leading SAFe® 4.5 certification training course to take the exam. After successful completion, of course, your trainer registers you to Scaled Academy and after this registration, you will receive an e-mail that includes an exam link. Thereafter, you will have 30-days to take the test. What do attendees get from the course? The course registration includes: SAFe 4 Agilist PDF certificate SAFe 4 Agilist digital badge to promote your online accomplishment Comprehensive courseware materials by Scaled Agile Institute 1-year membership with Scaled Agile Access to members-only resources such as advance notice of upcoming SAFe products, guidance presentations, and webinars 16 SEUs and 16 PDUs 1 free attempt of the exam as the course fee includes the exam fee Can I cancel my enrollment? Do I get a refund? Your amount will be refunded in full only if the registration is cancelled within 48 hours and the refunds will be processed within 30 days of the request. For more details, check our refund policy. Note: Due to transactional costs that are applicable while refunding, all cancellations will cause a 5% deduction in the refunded amount. What topics are covered? The topics covered in our 2-day course are: Introducing the SAFe (Scaled Agile Framework) Embracing a Lean-Agile Mindset Experiencing PI (Program Increment) planning Understanding SAFe Principles Implementing an Agile Release Train Leading the Lean-Agile Enterprise Exploring, Executing, and Releasing Value Building an Agile Portfolio and Empowering a Lean Portfolio Prerequisites for SAFe® 4.5 Certification? Anyone regardless of experience can attend the course. But the following knowledge and skills are highly recommended for those who really want to take the SAFe® 4 Agilist certification exam: 5 plus years of experience in business analysis, testing, product or project management, and software development Good experience in Scrum What will I learn from the course? On completion of the course you will be able to: Apply SAFe to scale Lean and Agile development in your organization Identify and apply a Lean-Agile Mindset and principles Empower with a Lean Portfolio Improve your Lean-Agile leadership skills Continuously explore, integrate, deploy, and release value Coordinate the development of large value streams Support a Lean-Agile transformation in your organization How can I apply? Follow the below steps to apply for Leading SAFe® 4.5 certification exam- Step 1: Take the 2-day Leading SAFe®4.5 course Step 2: Your trainer will send all your details to Scaled Agile after successful completion of course. Now, the Scaled Agile Academy will send you two emails: a Welcome Letter and a Learning Plan Assignment. The Learning Plan Assignment e-mail includes information about the exam. Step 3: Take the online SAFe® 4 Agilist certification exam. Step 4: Once the test is completed with the minimum passing score, Scaled Academy will update your profile to disclose the certification. Step 5: You will receive an email including official notification from Scaled Academy which allows you to the member area and helps you to make your profile public within the Scaled Agile Community. 1-year membership with Scaled Agile will be provided as well. Why KnowledgeHut for Leading SAFe® 4.5? KnowledgeHut is a silver training partner of Scaled Agile Inc (SAI) and offers world-class learning to its students with excellence and provides in-depth knowledge required to become a successful world-class professional. KnowledgeHut also offers: Free materials from Scaled Agile Framework. Tricks and tips from our professional Certified Leading SAFe experts who have years of experience in implementing it in a variety of environments. 1-year membership with Scaled Agile included in the course fee. We hope this article cleared all your queries related to SAFe® 4 Agilist certification. Connect with us to know more about the Leading SAFe® 4.5 course.t Training Cost India USA LVC 5500 499 E-Learning 665 5165 Exam cost 151 612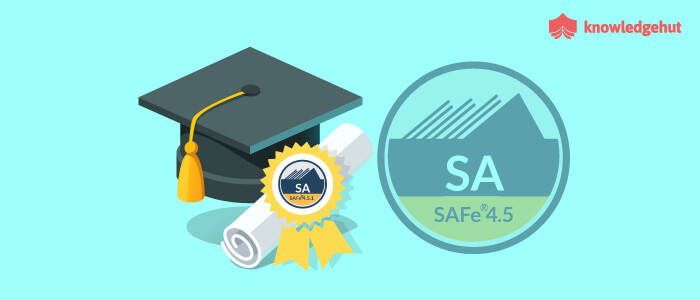 Rated
4.0
/5 based on
14
customer reviews
All you need to know about Leading SAFe 4.5® Certification with KnowledgeHut
By
KnowledgeHut Editor
Agile is a project management process which encourages self-organization, accountability, and teamwork. This methodology progresses a moderate project management process by reducing the time required for review and adaptation. SAFe combines the power of Agile with Lean product development and systems thinking. It integrates delivery, collaboration, and alignment for multiple Agile teams and provides significant improvements to business agility, including quality, productivity, employee engagement, customer satisfaction, time-to-market, and more. The new version i.e SAFe® 4.5 was released on June 22, 2017. This advanced version speeds up the delivery process of products and services and also offers a 360-degree build-measure-learn feedback cycle. With four major updates, SAFe has grown faster with the market since the initial release in 2011 and keeps on being a work in process. SAFe 4 Agilist certification helps you to build a strong foundation on Agile practices, standards, and applications required to enhance the  probability of the project's overall success. You might be searching for the best institute to take the course and might be thinking why only KnowledgeHut and why not others? Here we answer all your queries about Leading SAFe 4.5 Certification with KnowledgeHut. Looking for a quick overview of #SAFe? Check out our most popular download: https://t.co/Iw7rVXSK6U pic.twitter.com/oPEExo8mUY — Dean Leffingwell (@Deanleffingwell) October 31, 2017 Who is the certifying agency? SAFe® Enterprise or the Scaled Agile Framework is the provider of this SAFe® 4 Agilist Certification. KnowledgeHut offers this course by professional trainers with years of industry experience. SAFe® Agilist certification exam cost?   The exam cost for the first attempt is included in the course fee if the exam is taken within 30 days of course completion. Also, the candidate can retake the exam if not cleared in the first attempt and each retake attempt charges $50. Who will benefit from leading SAFe® 4.5 course? The following individuals will benefit from this course: Leaders and Executives, Directors, Managers, CIOs, and VPs Enterprise, System, and Solution Architects QA, Development, and Infrastructure Management Project and Program Managers PMO, Portfolio Managers, and Process Leads Product and Product Line Management Is it mandatory to attend the course or can a person just take the exam directly? Yes, candidates should have completed the 2 days' Leading SAFe® 4.5 certification training course to take the exam. After successful completion, of course, your trainer registers you to Scaled Academy and after this registration, you will receive an e-mail that includes an exam link. Thereafter, you will have 30-days to take the test.  What do attendees get from the course? The course registration includes: SAFe 4 Agilist PDF certificate SAFe 4 Agilist digital badge to promote your online accomplishment  Comprehensive courseware materials by Scaled Agile Institute 1-year membership with Scaled Agile Access to members-only resources such as advance notice of upcoming SAFe products, guidance presentations, and webinars 16 SEUs and 16 PDUs 1 free attempt of the exam as the course fee includes the exam fee Can I cancel my enrollment? Do I get a refund? Your amount will be refunded in full only if the registration is cancelled within 48 hours and the refunds will be processed within 30 days of the request. For more details, check our refund policy. Note: Due to transactional costs that are applicable while refunding, all cancellations will cause a 5% deduction in the refunded amount. What topics are covered? The topics covered in our 2-day course are: Introducing the SAFe (Scaled Agile Framework) Embracing a Lean-Agile Mindset Experiencing PI (Program Increment) planning Understanding SAFe Principles Implementing an Agile Release Train Leading the Lean-Agile Enterprise Exploring, Executing, and Releasing Value Building an Agile Portfolio and Empowering a Lean Portfolio Prerequisites for SAFe® 4.5 Certification? Anyone regardless of experience can attend the course. But the following knowledge and skills are highly recommended for those who really want to take the SAFe® 4 Agilist certification exam: 5 plus years of experience in business analysis, testing, product or project management, and software development Good experience in Scrum What will I learn from the course? On completion of the course you will be able to: Apply SAFe to scale Lean and Agile development in your organization Identify and apply a Lean-Agile Mindset and principles Empower with a Lean Portfolio Improve your Lean-Agile leadership skills Continuously explore, integrate, deploy, and release value Coordinate the development of large value streams Support a Lean-Agile transformation in your organization How can I apply? Follow the below steps to apply for Leading SAFe® 4.5 certification exam- Step  1: Take the 2-day Leading SAFe®4.5 course Step 2: Your trainer will send all your details to Scaled Agile after successful completion of course. Now, the Scaled Agile Academy will send you two emails: a Welcome Letter and a Learning Plan Assignment. The Learning Plan Assignment e-mail includes information about the exam. Step  3: Take the online SAFe® 4 Agilist certification exam. Step 4: Once the test is completed with the minimum passing score, Scaled Academy will update your profile to disclose the certification. Step 5: You will receive an email including official notification from Scaled Academy which allows you to the member area and helps you to make your profile public within the Scaled Agile Community. 1-year membership with Scaled Agile will be provided as well. Why KnowledgeHut for Leading SAFe® 4.5? KnowledgeHut is a silver training partner of Scaled Agile Inc (SAI) and offers world-class learning to its students with excellence and provides in-depth knowledge required to become a successful world-class professional. KnowledgeHut also offers: Free materials from Scaled Agile Framework. Tricks and tips from our professional Certified Leading SAFe experts who have years of experience in implementing it in a variety of environments. 1-year membership with Scaled Agile included in the course fee. We hope this article cleared all your queries related to SAFe® 4 Agilist certification. Connect with us to know more about the Leading SAFe® 4.5 course.t                               Training Cost                               India        USA               LVC                5500                                                499                                  E-Learning                665                   5165 Exam cost                151                   612  
Rated
4.0
/5 based on
14
customer reviews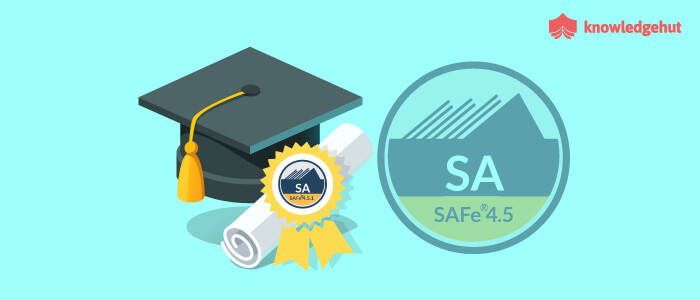 Patterns For Adopting & Spreading Scrum In Organizations
By
Ridhi Chhabra
When we talk about adopting any new framework or methodology, we think about how we can incorporate these changes into our organization. We simply cannot impose any change in our organization and get started with it, there has to be some process or ways to incorporate that. Also, there are some ways to incorporate Scrum changes within our organization. There include five activities in adopting the Scrum successfully: Awareness Desire Ability Promotion Transfer So to remember, we call it by the acronym ADAPT.  Let's now talk about the Patterns of Adopting and Spreading a Scrum: Patterns for Adopting Scrum   Start Small or Go All In Organizations go ahead with it like a Pilot project, like selecting few team members and implementing Scrum with them, It's a 'Start Small' pattern. The other approach can be Go All In, which is like the executives are convinced and want the whole organization to implement in one go. Reasons to prefer starting small It's less expensive Early success guaranteed Avoids risks of going all in Less stressful Can be done without much change Reasons to prefer going all in Reduces resistance Avoids problems within different teams The All-in transition is Quick! Choosing between the two  As recommended by Mike Cohn, one should always Start Small! It involves less cost, and guaranteed early success. Going all in should be in limited cases, only when it's a quick need. Also, it involves more cost/money as there are a lot of changes in different departments if required. Public Display of Agility or Stealth The next pattern that comes into the picture is whether to Publicize it or not. We can do the Public Display of Agility. In this approach, the organization announces that it is adopting Scrum. This can vary from announcing it in a meeting room to announcing it through the press release. The other approach is Stealth transition. In this, only team members know they are using Scrum until the project is complete.  Reasons for Public Display of Agility Everyone knows that team is doing it and they are more likely to be focussed Operating publicly is a firm statement of commitment You can solicit organizational support It sends a powerful message Reasons for Stealth Transition A chance to make progress before resistance starts It keeps pressure off No one knows until you tell them If no one knows, no one can tell you to stop Choosing between the two As recommended by Mike Cohn, always choose to make a public display of Agility when you are confident and committed to the transition and when you expect a lot of resistance but want to overcome it quickly. In contrast, choose a quiet approach, when you want to do an experiment using Scrum.    Patterns of adoption: "Going Through the Scrum Motions as Opposed to Being an Agile Jedi " https://t.co/tpv9kIVxNU @MichaelNir (via @InfoQ) — Stefan Wolpers (@StefanW) May 16, 2016 Patterns for Spreading Scrum   Getting started with Scrum is one thing, spreading it across the organization is another. Unless you choose an all-in transition, you will need to build upon the successes of the first few teams as you move Scrum to other teams.  There are 3 general patterns given by Mike Cohn that talks about spreading Scrum. Split and Seed This talks about taking a team that has begun to be successful with Scrum and using its team members to seed new teams. It's typically put to use after the first few teams have successfully implemented and adopted Scrum. By this time, each team member understands how Sprint work and how the ready software is delivered at the end of the sprint.  In Split and Seed pattern, we split one functioning Scrum team into each half of the original team forming the basis of the new team. New people are then added to these split teams to form new Scrum teams.  A large initial team is used to seed as many as four new teams. Collated below are the reasons to prefer Split and Seed pattern. Add teams more quickly Each team has someone with Scrum experience to guide them Grow and Split The Grow and Split pattern involve adding team members until the team is large enough that it can be comfortably split in two. Immediately after splitting, each of the new teams will probably be on the small end of the desirable size ranging five to nine members. After allowing the new teams one sprint at this reduced size, new members are added until each team becomes a large enough that it can also be split. This pattern repeats until the entire organization has transitioned. In following cases, you can prefer Grow and Split pattern. Don't have to destroy any existing teams Team members feel more continuity from sprint to sprint Internal Coaching The Third pattern of Spreading Scrum is Internal Coaching. In the organizations, there include types of teams. Some teams excel with the new agile approach, while others struggles. On each team, there exists one identified person who understands and implement Scrum successfully. That person is assigned as a Coach for other teams. Coaches were given responsibilities to attend sprint meetings, daily scrum each week and coach other teams. Reasons to prefer Internal Coaching Well running teams do not need to be Split Coaches can be selected for new teams Coaches can move from team to team Choosing your Pattern! In general, consider going with Split and Seed pattern, when in a hurry. It is the fastest way of spreading Scrum. However, if the technology doesn't support moving people among teams, changing the team members can affect the productivity.  The Grow and Split pattern is simply more natural and direct approach. Consider using this approach if there is no sense of urgency as it is less risky.  Internal Coaching can be used on its own, mostly when the group is large enough and when splitting teams are not possible for the projects.
Rated
4.0
/5 based on
13
customer reviews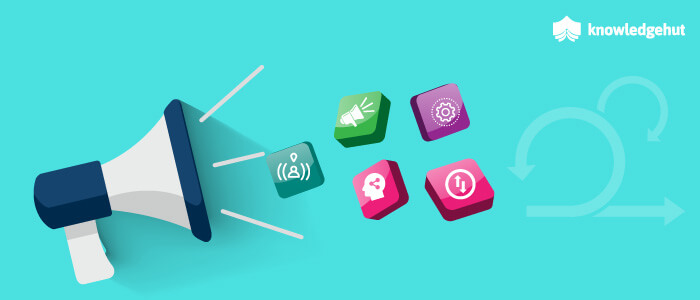 The Role Of a Project Manager in an Agile Environment
By
Mkateko Shibambu
Let us first understand the Project Manager's role in a traditional/waterfall environment. The PMBOK (Project Management Body of Knowledge) Guide - 4th Edition states that a Project Manager is known to be responsible for successful implementation of a project through the five stages/processes of a project lifecycle: initiating, planning, executing, monitoring and controlling, and closing the project – see figure 1. Included in these phases is identifying requirements, management of stakeholders and balancing the competing project constraints arising during the project. The project constraints include the: Scope, Quality, Schedule, Budget, Resources, and Risk An effective Project Manager is required to be knowledgeable about Project Management, apply this project management knowledge in order to drive their performance and that of their team, and have positive personal attitude as it will be spread out to the project team. These are key characteristics of an effective Project Manager. The Role of the Project Manager in an Agile Business https://t.co/NNVUV0lT4C via @BrightTALK #projectmanagement #agile pic.twitter.com/DdMBYMIq2A — Capterra Project (@CapterraPM) March 1, 2017 PRINCE2 (PRojects IN a Controlled Environment version 2) is another waterfall methodology and states that the project management project lifecycle and processes are: starting a project, initiating a project, directing a project, managing a stage boundary, controlling a stage, managing product delivery and closing a project – see figure 2. A Project Manager is responsible for ensuring that the team performs and delivers the product accordingly as initially defined with Management ( the Project Board). The Project Manager also ensures that there is clear requirements communication between the project board and the project team to ensure quality delivery. The Agile methodology seems to be emerging very fast with most organisations requiring to do away with waterfall and utilize Agile rather. For some organisations, Agile has proven to work well in the sense that implementation happens timeously in small chunks of releases instead of a big-bang implementation that has a high probability of failure if other detailed risks and issues are missed. The stages of Agile product development life cycle include: requirements gathering, planning, design, development, release, and track and monitoring. Agile aims at releasing small chunks of the full product in sprints (popularly defined in a two week period) rather than a big bang full release. The cycle is iterated until the full product is developed and released. I have worked in a fully waterfall environment, as well as waterfall but being so-called Agile, and I am currently working in a seemingly fully Agile environment. There are different roles in this fully Agile environment of which they include: Project Manager, Product Manager, Product Owner, Scrum Master, and others. These roles are a combination of waterfall and Agile roles although we call ourselves fully Agile. We – as a team call our environment fully Agile, absorbing this information from our organisation's Senior Management, who manage appointment of these roles.  A Project Manager works very closely with top management for strategic decision making. A Project Manager still maintains the role of being the sole responsible person for successful implementation of the quality defined product, and also supports the team throughout the iterations and shield them from distractions. Although there are different frameworks in Agile, the roles within Agile do not differ much, for example, the role of a Scrum Master. A Scrum Master works very closely with the Project Manager to close the communication gap between the project team and top management. A Project Manager manages project/product risks while the Scrum Master manages the team's performance and impediments. In waterfall, a Project manager works very closely with the delivery team while in Agile, the Project Manager works with the team indirectly – managing team communication through the Scrum Master. Although the Project Manager is responsible for successful release of a quality product, the Scrum Master is the one that manages the delivery of this quality product while working with the delivery team, since the Project Manager does not communicate directly with the delivery team. The Project Manager manages time delivery more than quality. The Scrum Master manages quality delivery of the product. The Scrum Master also manages impediments as well as the development/delivery team while the Project Manager manages risks and address them with strategic management.  Then the question arises, do we still need Project Managers in Agile? Although there is no Project Manager role in any Agile methodology, in real work life environments, we still have Project Managers. To differentiate the two roles, both are responsible for delivery of a quality product. However, a Project Manager works strategically with the management team (project sponsor, project owner/requestor, etc.) to define the product's epics, while the Scrum Master receives management defined epics from the Project Manager and work with the delivery/development team to break-down the epics into features, stories and tasks. A Scrum Master also manages impediments from at development team level and resolve what is possible in his capability. Impediments that are rated high are now channelled to a Project Manager to be managed strategically by the management team.   Although organisations that are going Agile see a need to diminish Project Managers' roles in their organisation, it will be challenging as there is also still a need to understand roles like Product Manager – which is a strategic role as well and might at times overlap with the Project Manager role, if they work together in a team to deliver the same product. Are Project Managers still required in Agile? According to my opinion and how things are working out in my organisation, my answer is actually yes! Project Managers are still required and must work closely with the Product Managers and Scrum Masters. Although there can be a confusion which can cause conflict of responsibilities between a Project Manager and Scrum Master at times. Figure 3 illustrates clarity of the Project Manager and Scrum Master roles.
Rated
4.0
/5 based on
2
customer reviews