Top 8 Qualities of a Successful Project Manager
By
KnowledgeHut
Projects are temporary endeavors carried out to achieve the desired goal which could be a product, service, or result. Industry experts believe that a good project manager is one of the top contributors to a project's success.  A project manager is a crucial link between the project sponsor or client and the team that's involved in executing the project. In most organizations, 71% of projects fail. Lack of adequate experienced professionals, right from a project manager to project team members is one of the main reasons why most projects fail. What does it take to become a good project manager? Across organizations, there are some key attributes every good project manager has. Below are the top 8 essential attributes of a successful project manager:  1. They are visionaries A competent project head should be a visionary who can foresee the direction the project takes even before it is executed. The desired goals can be achieved only when project managers articulate the vision of what must be done during project execution clearly to their team members.  2. They are astute planners Planning should be second in nature for project managers. They should be able to assess and decide the demands of their project even before it starts. They should also be able to drive a project to completion within the stipulated budget and timelines. In case of any hiccups, they should also have the agility to divert and devise a new plan of action seamlessly. 3. They are dependable Since project managers are professionals who will need to interact with both stakeholders and team members in a project, they should be dependable to the tee. Their competence and work ethic should inspire both the stakeholders and team members to rely on each other without any fail. 4. They are competent and highly experienced A skilled project manager should stand out for his/her credentials in project management. Credentials andproject management certifications like PMP or CAPM, etc can help validate the competence of a project manager as someone who can handle any project in any industry. It also asserts their prowess in project management to the employers, stakeholders, colleagues, and team members. 5. They lead by example without micromanaging Any good project manager will simply not micromanage. Project management gives employees the liberty to take ownership of their tasks in the project while adhering to deadlines. Project managers who trust their team members to do an efficient job ensure that they are not bogged down by unnecessary distractions. These managers prefer to get weekly updates and do quality assurance checks regarding the projects rather than nit-pick. This approach will help groom a confident and self-assured team capable of handling any project. 6. They are effective communicators People skills are mandatory to become an efficient project manager. It is their daily habit to spell out goals, strategies, responsibilities, expectations, and performance. They would also have to delegate activities among team members. Hence, a good project manager must be a clear and effective communicator. 7. They are pros at troubleshooting Every project would have a fair share of potential risks associated with it.  An experienced project manager would have the wisdom to predict impending obstacles and do the needful. While executing a project, a project manager should be able to resolve unexpected hiccups that arise. 8. They have high emotional intelligence Only emotionally intelligent individuals can tackle the rigors that come with being a project manager. In situations where the team's morale needs a boost, an emotionally intelligent project manager would be able to act accordingly. From staying calm under stress to handling various untoward issues, demand a high degree of emotional intelligence. Earning the relevant certifications is not the only important aspect of being a project manager. The above key attributes are a must-have for aspiring project managers out there. Acquire the above attributes and relevant certifications and pursue a project management career of your dreams! 
Rated
4.5
/5 based on
0
customer reviews

Importance and Benefits of The Project Charter
By
Rajesh Bhagia
What is the Project Charter:PMBOK® Defines Project Charter as a document issued by the project initiator or sponsor that formally authorizes the existence of a project, and provides a project manager with the authority to apply organizational resources to the project.PMI® gives a lot of importance to project charter. Project Charter will state the high-level requirements to satisfy the stakeholders' needs and it also defines the authority of the Project Manager.Business Case and Project statement of work are the documents that are necessary to create a project charter. The purpose of a business case is to understand the business need for the project and determine whether it is worth investing in. Business needs or demands include market demands, organizational need, customers' requests, technological advance, legal requirements, ecological impacts, and social needs."According to the PMBOK® Guide, the business case is an economic feasibility study. It is used to track progress and compare project results against the success factors identified in the business case".A project isn't a project until the project charter is approved, and the project charter cannot be started until the business case is approved.The Project Charter highlights high-level initiation draft defined as below:Let's look at why the project charter is so important!The main purpose of the project charter is the formal authorization of the project and the go-ahead to commit organizational resources to it; without a project charter, the project can be canceled anytime and for any reason and can be subject to an audit as an unauthorized project.Let us imagine a project without a project charter. If there is no project charter, projects will have no direction. The Project Managers will lack authority. There will be no expectations for the projects undertaken. The scope of the projects will not be clearly defined.Let's consider a project has started for 2-3 months. A Project Manager is already authorized, and the project is moving well. Due to certain circumstances, current Project Manager resigns from the company and the project is assigned to another Project Manager. The initial task of every Project Manager authorized should be to go through the Project Charter to understand its business need and objective. The Project Charter project describes goals, scope, stakeholders and a high-level deliverable at high levels. Imagine project having no project charter then Project Manager would have been like a "Fish Out of Water".What is included in the Project Charter?A Charter is a document that elucidates the project in succinct wording without a lot of details. It's written for high-level management needs. Charter doesn't provide detailed end goals, schedule, and cost.A Project Charter template may include some or all the following:Components of the Project CharterDo We Really Require Project Charter?Project Charter is important for the success of a project. The Project charter builds a foundation for any projects undertaken. It is a great communication tool for the stakeholders and provides a direction to the project.Following are few of the benefits of a project charter:It gives an authority to the project manager to complete the projectExplains the business importance and existence of project.Demonstrates Management support for the project.Defines outcome for the project.Aligns project with the organization objectives.Provides a team with a clear concise reporting system.Protects team members from scope creep.Helps in avoiding disagreements between stakeholders.Authorizes the existence of the project or establishes the project.Defines the parameters within which the project manager is authorized to operate.Gives the project manager authority to spend money and procure resources.Provides the high-level requirements for the project.Links the project to the ongoing operations of the organization.Process of project charter:The project charter is an important document and a project should not be started without one. The success of the project cannot be measured without a project charter.A project charter is important in the Project Management, because-It ensures that the project manager understands the sponsor's needs and requirements.It provides vital information needed to get the projects started.It acts as a reference document to make sure everyone (i.e. Project Manager, Stakeholder, Higher Management etc.) are on the same page.It authorizes and protects the project manager by describing what are the benefits of the Projects that need to be achieved.* Remember According to the PMBOK® Guide, a project benefit is the result of actions or behaviors, and/or the value of the product, service, or result from the project brings to the organization and the project stakeholders.
Rated
4.0
/5 based on
5
customer reviews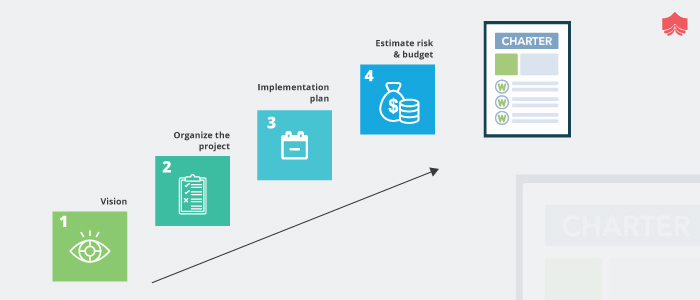 Risk vs Issues [ Based on Various Factors ]
By
KnowledgeHut
Can you guess a reason behind project failure? Here's a hint. A poor risk or issue management can lead to project failure. According to PMBOK, risk can be defined as an uncertain event or condition that results in a positive or negative effect on a project's objectives. Whereas, an issue can be defined as an event or condition that has already happened and has impacted or currently impacting the project objectives. There are certain grounds on which we can differentiate issues from risks. Let's take a look at the differences. Difference between Risk & Issues Before moving to the core differences, let's take a look at the comparisons between examples of risk and issues through the following chart: Risks Issues A critical resource might leave the project A team member resigns Team members of the project might take vacations during the critical time of the project. No one can be confirmed when team members would take vacations. There may be unanticipated requirement changes. New functionality has been found that needs to be added to the scope of the project. Something new might come up after impact analysis that may push the project dates. Two new changes which are the outcome of Impact analysis resulted in pushing the project deadline by a week.   First of all, let's look at the high-level difference between "Issues" & Risks":   Now let's see how risks & issues play an integral role in a project: In general, if a project manager identifies all the possible negative risks and their respective response plans within the project, then the possibility of issues can be drastically reduced.  (i.e. prevention is better than cure). However, certain unforeseen situations may still arise which turn out to be issues. They could be certain potential risks which were unidentified in the past. They could also be risks which have been already identified, where the risk response plans are inadequate- and those events turn into issues and impact the project. If a project manager pays inadequate attention to risk management, there is a greater possibility of his spending his valuable time & efforts later in managing the issues that arise! Now, when it comes to issue management the project manager will document the issues in the "issue register" and will perform an issue analysis to identify the possible "work-arounds" to fix the issue. For example: Let us suppose there is a FIRE in the room. If we consider this in the context of issue & work-around, we say that there has been an occurrence of a fire, and we need to put it off by using a fire extinguisher. Since issues are present focused, there is a very limited time available to identify the work-arounds required to fix the issue. Once the work-arounds are identified, it's also equally important that such issues should not get repeated in the future. There should also not be any possibility of re-occurrences in a different form, in order to bring it to a permanent closure.  In case of a re-occurrence then such events will be treated as "risks" because risks are future focused. They will be documented in the "risk register" and then sufficient risk response plans should be identified to cover those possible future risks. What are the types of risks in Project Management? Risks in projects are inclusive of both internal risks that are associated with the successful completion of each project as well as the risks that are beyond the project team's control. The following are a few of the most common project risks: Cost risk: This refers to the escalation of project costs as a result of poor cost estimating accuracy and scope creep. Schedule risk: This refers to the risk of activities taking longer than expected. Drifting away from the schedule typically increase costs which leads to a delay of receiving project benefits and possible loss of competitive advantage. Performance risk: This refers to the risk of failure to produce consistent results with project specifications.   There are some other risks which result in cost, schedule, or performance problems and create other types of adverse consequences for the organisation. They are as follows: Governance risk: This risk relates to the board and management performance with regard to ethics, community stewardship, and company reputation. Strategic risks: These risks are the result of the errors in strategy like choosing a technology that can't be made to work. Operational risk: These risks comprise of risks from poor implementation and process problems like production, procurement, and distribution. Market risks: These risks comprise of risks related to foreign exchange, competition, interest rate, and commodity markets. This also includes liquidity and credit risks. Legal risks: These risks arise because of legal and regulatory obligations which include contract risks and litigation brought against the organisation. External hazards risks: These risks are incurred due to storms, floods, and earthquakes. Other than these, vandalism, sabotage, terrorism, labor strikes, and civil unrest are responsible for such type of risks. What is the importance of risk identification? The most important step in risk management is identifying risks. It involves generating a comprehensive list of threats and opportunities which are based on events that might prevent, enhance, accelerate, degrade, or delay the achievement of your objectives. You can't manage risk without identifying it. But how to identify risks? One of the key steps in a proactive risk management process is to identify risks. You must look at the following sources in order to identify your project risk: Sources Description Risk registers and risk reports Provide a foundation for the evaluation of existing risks and their potential risk to an objective. Issues log It comprises of the issues and the actions considered to resolve them. Analyze the issues that were formally identified as risks. Audit reports These are the independent view of adherence to regulatory guidelines which include a review of compliance preparations, access controls, security policies, and risk management. Business Impact Analysis (BIA) It is a detailed risk analysis that is done in order to examine the nature and extent of disruptions and the likelihood of resulting consequences. Internal & external reviews These reviews are undertaken in order to evaluate the adequacy, suitability, and effectiveness of the department's systems, and to plan for the scope of improvement.   Perspectives for Risk Management   It is important to realise the perspectives for risk management and evaluate them during a program's life continuously in order to anticipate risks at an early stage and tackle issues appropriately. Few of the risk management perspectives are as follows: Strategic level: The interdependencies of the program with other initiatives, its outcomes, and benefits realisation are affected by the strategic level changes. These changes are driven by: External factors like political, economic, social, legislative, environmental, and technical Internal political pressure Inter-program dependencies Working with third-party suppliers along with other cross-organisational initiatives can be grouped under this level. Program level: The focus of a program is to deliver benefits to an organisation that positively or negatively affects both internal and external stakeholders. Risk Management for a program must be designed to work across organisational boundaries to ensure effective engagement of stakeholders and accommodation of different interests. The principal areas of risk and issues within a program are driven by: Aggregating project threats Lack of direction from the group of leaders Lack of clarity about expected benefits and buy-in from stakeholders Complexity of outcomes You should also consider the compilations associated with working across the organisational boundaries as another factor Availability of resource Lack of certainty about funding This also includes unrealistic timelines that increase program delivery risks. Project level: Project outputs help in delivering the outcomes and benefits within a program. Focusing on the risk and issue management on project perspective is important Areas leading to the rise of project risks and issues, resource constraints, scheduling issues, and scope creep It may lead to issues and risks if the project is unsure of what it is delivering. Operational level: The transition of a project to new ways of working and new systems can lead to further sources of risk as projects deliver the outputs. The following areas can be included in the operational level perspectives: The quality of the benefit-enabling outputs from projects within program Cultural and organisational issues Output transfer to operations and the ability to cope with new ways of working The risks can further be identified in stakeholder support Industrial relations Availability of resources to support changes.   Early warning indicators for risks in project management The early warning indicators for project management can be defined as follows: In order to anticipate potential problems, there needs to be proactive risk management. These indicators offer advance warning about trends or events that can affect the outcomes of the program adversely. The sensitive risks can be tracked with the help of these indicators. Few of the early warning indicators are delays in delivery of expected or planned benefits, requests to change key program information, increase in aggregated risks, changes to organisational services, structure, and processes. Further, these indicators should be able to measure valid indicators, reviewed on a regular basis, and they should use accurate information. This ensures the effective functioning of the early warning indicators. The other methods which can be deployed to evaluate risks are as follows: Record the weighted average of the anticipated impact through the calculation of estimated monetary value. Calculate the accepted discount rate through the net present value calculation. Aggregate the risks together using a simulation technique through risk model. To conclude An experienced and certified project manager knows that every project involves identifying and managing project risks and project issues. Further, they are aware of the fact these risks and issues can be responsible for knocking a project off its track and divert the focus of the team away from fulfilling their responsibilities and goal achievements. This blog will help you to differentiate between project risk and project issues along with the key steps for identifying the risks. You will also understand the importance of risk identification and the perspectives of risk management. The blog also throws light on the early warning indicators to realise the risks in project management. This information will surely help you to realise the upcoming risk and avoid it for a smooth continuation of your project.
Rated
4.0
/5 based on
20
customer reviews

Risk vs Issues [ Based on Various Factors ]
Can you guess a reason behind project failure? Her... Read More