ITIL Comprehensive Guide
By
KnowledgeHut Editor
Most enterprises and their service providers find it difficult to manage IT services within a business. ITIL (Information Technology Infrastructure Library) was created to solve this problem. It offers a management framework and process guidance that has become a popularly accepted standard. ITIL is used by several organizations, including IBM, NASA, and HSBC to standardize IT Management procedures. Thus, many IT professionals have been trained and certified as ITIL experts according to the recent ITIL certification stats published by EXIN.If you are new to ITIL, learning it may look difficult. It can be a bit dry. However, this guide simplifies the ITIL concepts and makes it easy for you to understand.Let's get started.Table of ContentITIL: Overview and HistoryWhat is ITIL?History of ITILPrinciples of ITILBasics ITIL terminologies and conceptsITIL LifecycleITIL ProcessesProcesses under ITIL Service StrategyProcesses under ITIL Service DesignProcesses under ITIL Service TransitionProcesses under ITIL Service OperationBenefits of adopting the ITIL frameworkITIL: Where to startITIL Implementation RoadmapHow to embrace ITIL as an organizationITIL TodayThe Future of ITILITIL certification Guide: Overview and career pathsITIL Certification Program OverviewBenefits of ITIL to individualsBenefits of ITIL to organizations/businessesWhat is ITIL certification and is it worth it?Levels of ITIL CertificationITIL Foundation CertificationITIL PractitionerITIL Intermediate Level CertificationITIL Expert CertificationITIL Master CertificationWhy do you need to attend ITIL training to take the exam?Types of TrainingWho should take ITIL Certification?ITIL related jobs and careersConclusionITIL: Overview and HistoryWhat is ITIL?ITIL is coined from two root words - Information Technology (IT) and Infrastructure Library (IL). ITIL emerged in response to the need for the best practices and procedures in IT Service Management. The focus of ITIL is to keep IT Services aligned with the business needs of the organization. ITIL, therefore, is a group of documents that provide the best practice framework for building Information Technology Service Management (ITSM) solutions in the organizations.History of ITILThe ITIL Framework was developed in the 1980s as a governmental initiative. It was developed by the Central Computer and Telecommunication Agency (CCTA) - an arm of the British Government in response to the poor and substandard quality of IT services rendered to the government. Prior to the development of ITIL, different private and public players in IT Service Management (ITSM) created and used a different framework. This resulted in duplication of efforts, an increase in cost, along with unnecessary and diverse complexity in establishing the IT Infrastructure. ITIL, therefore, is a response to standardize IT Infrastructures Service Delivery Management.The initial version of ITIL was originally called Government Information Technology Infrastructure Management (GITIM). Though GITIM differed from the current ITIL framework, the concept was similar in both, as it focused on service support and delivery.The first version - ITIL v1, encompassed a broad-based framework of 30-volumes in IT ecosystem. The focus was on the clients and business needs from the perspective of a customer.There was a major change to ITIL v1 between 2000-2001, giving rise to ITIL v2. The focus of ITIL v2 was to make ITIL more accessible and less intimidating. The 30 volumes frameworks in ITIL v1 were rearranged into 9 sets of logical and related elements. In 2006, ITIL Glossary was released thus enhancing the user-friendliness of ITIL v2.The third version - ITIL v3 was published in 2007. It adopted a life cycle approach to service management - a highly organized compact framework of 26 processes. ITIL v3 is now commonly referred to as ITIL 2007 edition.The current edition of ITIL was launched in July 2011. It was launched in five different volumes:ITIL Service StrategyITIL Service DesignITIL Service TransitionITIL Service OperationITIL Continual Service ImprovementIn 2013, AXELOS Ltd - a joint venture between the British Government's HM Cabinet Office and Capita Plc. became the owner of ITIL. AXELOS now acts as a licensing authority, accreditation provider to the testing institutes, and is also responsible for managing the updates.AXELOS announced in 2017 that a new ITIL is being developed for 2018.Principles of ITILIt is not an easy path for organizations to adopt customer focused and service-oriented approach in IT Service Management. There must be a change in the mindset to achieve such a cultural shift. There are nine (9) Guiding Principles from ITIL Best Practices.Focus on ValueITIL Service Strategy posits that 'the value of a service comes from what it enables someone to do'. As defined by the Customer, Value is an achievement of the objectives and an affordable mix of fixtures. Service Value could be in the form of reduced pain, reduced cost, increased productivity and better competitiveness. Design for ExperienceServices must be designed based on user needs and experience. This is critical to service success.Start Where You AreThe goal of this principle is to encourage businesses to approach change gradually. It is not about ripping off the old and starting from scratch. 'Start Where You Are' is about building gradually on what you have. For instance, build on successful practices and replicate if possible. If you have nothing to build on, then start from scratch.Work HolisticallyNo service components standalone. In order to not to jeopardize the results delivered to the customers, the service provider must work holistically on all the aspects of service delivery and not just on parts. To achieve this, Service providers must consider People, Process, Products, and Partners.Progress IterativelyService Providers cannot accomplish everything at once. It is imperative to organize tasks into smaller, manageable sections. Every desired improvement must have a focused objective and scope. This will enhance the effective and efficient completion of such tasks.Observe DirectlyIt is important to know and measure what is going on through direct observation and not rely on data alone. Direct observation will reduce or eliminate unfounded assumptions. Business information and decisions based on poor monitoring, measuring and reporting could elicit bad behavior from the staff. Never substitute data for direct observation.Be TransparentTransparency creates awareness about what is happening and why it is happening. More people help to make the things happen than obstructing them when there is transparency. Be honest with your teams and customers. Achievement must be communicated and celebrated together.CollaborateCollaborating individuals will yield better results than when individuals work separately. Through collaboration, people share concepts, ideas and can support one another.Keep It SimpleDiscard any process, service or action that does not produce a useful outcome. Use the least number of steps or procedure to accomplish an objective. Complex work methods neither maximizes the outcome nor minimizes the cost.It is good to automate a process to not only reduce the manual efforts also eliminate human errors.Basics ITIL terminologies and conceptsThe ITIL Frameworks are built around these Service Concepts:Maximum Value delivered to the Customers without the customer bearing  unpredicted costs and risksMaximum Service Value must be delivered to the customersThe use of 'resources' and 'capability' optimallyOffering services with the best utility and trusted warrantyProcesses must be planned for specific objectives.Roles must be clearly defined for tasks requiring collective efforts.The following are the basic terminologies within the ITIL framework:ITIL: Set of the best practices that must be adhered to Infrastructure service providers in IT Service Management. Service: Rendering and delivering the desired results to the customers while working within the given constraints.Service Strategy:  A careful plan by the service provider to outperform competitive alternatives over time and through instances of change in leadershipService Model: This is a description of service delivery and its components. Service Portfolio: A description of services rendered and service delivery components.Customer Portfolio: A record of all the customers of the IT service provider is kept in a Customer Portfolio.Operational Level Agreement (OLA): An agreement between the IT service provider and a different part of the same organization. SACM: Service Assets and Configuration Management is done to ensure up-to-date maintenance and verification of assets.Incident: Any disruption in IT service delivery processProblem: An unknown cause of one or multiple incidentsITIL LifecycleThe current edition of ITIL is divided into five components or categories. It takes a holistic or lifecycle approach to provide the best practice in IT Service Management (ITSM). These are the core components of ITIL:ITIL Service StrategyITIL Service DesignITIL Service TransitionITIL Service OperationITIL Continual Service ImprovementITIL Service StrategyThis is the first stage of ITIL Lifecycles. In order to improve service management in a service providing organization, there must be a consistent service strategy. The service strategy must be in agreement with the business objectives of the customer and in addition to this managing services within its scope. The warranty at this stage of ITIL lifecycle is to ensure that the strategy is fit for purpose and use.ITIL Service DesignThis is the second stage in ITIL lifecycles. The service design stage provides a guidance on how to turn strategies, generated in the earlier (Service Strategy) stage into action. At this stage, services and processes are designed and plans are implemented for the purpose of better service management.In service designs, four important areas should be taken into consideration. These are People, Processes, Products, and Partner otherwise known as the "Four Ps of Service Design".People: Human resources and structures within the organization required to support the service.Processes: Service Management Processes needs to support the serviceProducts: Technology and other infrastructuresPartners: A partner could be a third party rendering additional support geared towards the serviceITIL Service TransitionThis is the third stage of the ITIL lifecycle. The core objective is building and deploying IT Services into a live environment in a coordinated manner. The design is built, tested and moved into the production side, so that the business customer can achieve the desired values. At this stage, IT professionals and business associates learn the importance of managing a change in a productive manner. ITIL Service Operation This is the fourth stage in ITIL. ITIL service operation cycle involves managing the services and processes that have been transitioned into a live environment. The Management components of ITIL Service Operation stage includes - Event Management, Incident Management, Request Fulfillment, Access Management, Problem Management, IT Operations control, and Facilities Management among others.ITIL Continual Service Improvement (CSI)This is the fifth and the last stage of ITIL lifecycle. This stage involves a holistic view of earlier stages with the view to check the key performance indicators and determining whether the service is running optimally. The objective of this stage is to learn from past success and failures using quality management methods. Lessons learned are then utilized to improve the effectiveness and efficiency of IT processes.Using CSI, IT Service organizations can measure and improve on Service levels and Technology. CSI also guarantees that services will grow progressively into more and more profitable services.Continual Service Improvement involves Service Review, Process Evaluation, CSI initiatives and Monitoring of CSI initiatives.ITIL ProcessesAccording to ITIL v3 Glossary, Process is defined as "a structured set of activities designed to accomplish a specific objective. A process takes one or more defined inputs and turns them into the required outputs. A process may include any of the roles and responsibilities, tools and management control required to reliably deliver the outputs. A process may define policies, standards, guidelines, activities and work instructions if they are needed"There are 26 processes in ITIL. The processes are divided into a group of five under the ITIL lifecycles. For instance, ITIL Service Strategy has four processes.Processes under ITIL Service Strategy Strategy Management Process - Involves resolving service failures, fixing problems and regular operational checks to ensure efficiency.Service Portfolio Management - A service portfolio consists of all the services being managed by a Service Provider. Service Portfolio consists of 3 distinct parts - Service Pipeline, Service Catalog, and Retired Services. Service Portfolio Management oversees the process by which services are identified, described, evaluated and selected. Financial Management Process (for IT Services) - Provides the platform for managing the costs and other elements of finance. The process involves three key activities: Accounting, Budgeting, and Charging.Demands Management Process - The demand manager role is to understand and influence customer demand. User Profile and Pattern of Business Activity are models considered in Demand Management.Processes under ITIL Service Design Service Catalog Management - The management and control of the information regarding different services in the service catalog. Service Level Management – This is the process of securing and managing agreement between the Customer and the Service Provider. Service level Management is carried out at the Performance and Reliability Levels. Service Management at different levels gave rise to the Service Level Agreements Availability Management - Ensures that Availability Requirement in the Service Level Agreement is adhered to. 'Availability' is the ability of a system or service to perform its functions when needed.Capacity Management - Capacity Management is carried out in three basic areas: Business Capacity, Service Capacity, and Component Capacity.IT Service Continuity Management (ITSCM) - ITSCM makes sure that the Service Providers can always render the minimum, agreed-upon level of service.IT Security Management - Involves the Management of Information Assets. It Manages the Confidentiality, Integrity, Availability, and Authenticity of Information Assets.Supplier Management - The goal of this process of management is to ensure value for money from 3rd party suppliers. It is charged with the responsibility to Evaluate suppliers, Negotiate with suppliers, Review suppliers Performance, Renew or Terminate Contract with the Suppliers.Processes under ITIL Service TransitionChange Management - The goal is to control the changes at all levels, thereby ensuring that beneficial changes are made with minimal disruption to IT Services. Change Evaluation - The goal of this process is the assessment of major changes, for instance, the introduction of a new service or a major change to the existing service. Project Management - This process is essential for planning and coordinating the use of resources.Application Development - This process deals with the availability of applications and systems required for functionality of IT Services. Release and Deployment Management - The goal of this process is the planning, scheduling and controlling the movement of releases to the live environment.Service Validation and Testing - This process ensures that the expectations of the customers are met.Service Asset and Configuration Management - Maintains information about configuration items.Knowledge Management - The process improves Knowledge efficiency thus reducing the need to rediscover knowledge.Processes under ITIL Service OperationEvent Management - Involves the monitoring of CIs as well as the services and events categorization.Incident Management - Manages the lifecycle of all the Incidents. It seeks to return IT services to the users as soon as possible.Access Management - It grants authorization to the right users of a service. Access Management is also known as Identity or Rights Management.Problem Management - This Process manages the life cycles of all the problems. Proactive measures are taken to analyze Incident Record in order to identify trends or significant problems. IT Operations Control - This involves the monitoring and control of IT Services in day-to-day routine tasks. Facilities Management - This process involves the management of the physical environment of IT Infrastructure.Technical Management - This process involves the provision of useful technical expertise and support for the management of IT Infrastructure.Benefits of adopting the ITIL frameworkBusiness opportunities are constantly growing and with these opportunities, the challenge of confidentiality and service quality is growing at the same pace. IT Service providing organization are expected to work efficiently in order to meet and exceed service expectations. Hence, there is a need to adopt the ITIL Framework. The following are some of the benefits that your organization will gain by adopting ITIL.Improve Return on Investment of ITGreater bonding or alignment between IT and the businessEnhance Service Delivery and greater customer satisfactionReduces cost as a result of the efficient use of resourcesImplementation of best practices to improve IT servicesImprove relationship and interaction between IT Service Providers and their customersEnhanced Ability to manage business risk and Service DisruptionCreating a stable service environment to support and keep pace with business changeITIL: Where to startEvery organization is different, also the starting/implementation point for ITIL is different. You may not need every part of ITIL for your organization.In Implementing ITIL, organizations should give preference to that part of ITIL which identifies the biggest problems of IT employees and Customers. Parts of ITIL that addresses these problems are Incident Management, Change Management, and Request Fulfillment. ITIL Implementation RoadmapYour organization should create a roadmap as an implementation guide. Do not seek to adopt all the component of ITIL at once. Make ITIL adoption a long-term goal. Your roadmap must prioritize the improvement that you desire in your organization. If your IT staffs are not familiar with ITIL, you should include ITIL education program for all IT staff members. Constantly, refer to your ITIL implementation roadmap to be sure that you are on course.Before you understand how to adopt ITIL at an organizational level, it is necessary to acquire basic ITIL skills and knowledge as an individual. A comprehensive ITIL® Foundation Certification training program, coupled with industry-relevant course materials can come in handy, especially if you intend to earn credits towards ITIL® expert certification ahead.How to embrace ITIL as an organization Start by setting the right objectivesYour objectives must be chosen according to the need of the organization. What problem do you want to solve with ITIL? How can you improve the quality of your services to clients?  Holistic Approach to all ITIL StagesSome organization adopts ITIL in parts. It is better to embrace all the lifecycle stages of ITIL without neglecting relevant stages. Manage Change and Resistance to Change Embracing ITIL involves a change in organizational behavior. Changes required by embracing ITIL will also encounter resistance from the staff who are used to performing tasks in certain ways. To avoid these bottlenecks, the organization needs to create a sense of urgency around the change required, promote the right vision and strategy, delegate responsibility, create short-term wins (success goals), and create a culture of change. Continuous Training of IT Team The last state in ITIL is Continuous Service Improvement, to achieve this, your IT team in the organization must undergo continuous training until it has fully grasped the ITIL framework.ITIL Today A look at the adoption of ITIL in the United States and Canada shows considerable similarities. However, Canada started earlier than the United States. Companies in North America are adopting ITIL in parts. They are particularly interested in the processes focused on Service Operation and Service Transition.The introduction of Service Catalog gave ITIL a boost amongst the end-user services.The current adoption levels in ITIL are the biggest proof of its relevance. AXELOS states that 'over a million IT professionals in the US rely on ITIL's best practice guidance to deliver business success […]As a reflection of this, the update will continue to include the widely-adopted core principles of ITIL.' The Future of ITILITIL Is looking forward to a few major changes in the new update. According to Peter Hepworth from AXELOS, ITIL v4 will shift its focus on:Core Principle of Quality Service ManagementA practical guide on how to use ITILHow to Combine the use of ITIL with DevOps, Agile and Lean ITIL v4, an update to the current edition is due to be released in the 1st quarter of 2019. There will also be a sufficient crossover period between the current version and the new update in order to minimize the impact of day-to-day operations.ITIL Certification Guide: Overview and career paths ITIL Certification Program OverviewITIL is a leading framework for managing IT service delivery globally. ITIL consists of a lifecycle model that recommends specific processes and activities during the design, development, and delivery of IT Services. Since July 2013, AXELOS Ltd - a joint venture between the British Government's HM Cabinet Office and Capita Plc. took ownership of ITIL. This is responsible for developing the ITIL frameworks; accrediting training and examination institutes. There are hundreds of ITIL Accredited Training Organization (ATO) worldwide. ITIL has five (5) different certifications. These are ITIL FoundationITIL PractitionerITIL Intermediate ITIL ExpertITIL MasterITIL uses a Credit System of Grading for the various level of Certification up till the expert level. You will need a total of 22 Credits to earn the ITIL Expert Certification. There are different requirements to wear the crown of ITIL Master Certification.Benefits of ITIL to individualsThe IT industry is dynamic, thus making it difficult to catch up with the trends. Over the years ITIL has been established within the IT Service Management field. A standard framework or the best practices is a major need for IT professionals in IT services and IT Management.  ITIL best practices are important in the effective management of businesses. Organizations now require ITIL Certified professionals to scale up in the industry.These are some of the benefits of being an ITIL certified professional Recognition:ITIL Certification is viewed as a standard benchmark of quality for IT professionals globally. IT Service Providers and Employers recognize the ITIL brand and any professional certified by ITIL. ITIL qualification is worth the effort and will help you in your career development.   Proficiency in ITIL Terminologies and VocabularyITIL has a name or term for most of the processes and activities in the IT World. There are professionals using IT service management processes without a clear understanding of the processes or terminologies. Through ITIL training and Certification, you will learn the common language/terms in IT Service Management. This, in turn, facilitates better communication with other professionals. Build a dynamic and strong employee-customer relationshipThe success of entities in IT Services is strongly tied to its personnel. Personnel with appropriate competencies, skills, and experience will thrive better in the industry. ITIL training will help you to gain more confidence, competence, and will improve service delivery to customers. The culture of Thinking out of the BoxITIL training will stretch your mind. You are trained to be flexible and encouraged to think out of the box - to come up with new creative ways of working to improve customer satisfaction. ITIL training scheme will help you to contribute effectively to the process of IT Service delivery. Better Job ProspectsAs expected of any good certification, ITIL will enhance your job prospect. Organizations are finding a smarter way to demonstrate value in the workplace. With ITIL, you will be able to contribute constructively and effectively in the ITIL Service Management processes.  Benefits of ITIL to Organizations/BusinessesIn addition to the benefits enumerated earlier, there are other benefits of ITIL lifecycles as it relates to an organization.ITIL Service Strategy will help your organization to understand the customers and develop and deliver IT Services that meet their expectation. Your organization will have satisfied customers.Through ITIL Service Design, your organization will be able to design an efficient and cost-effective service.ITIL Service Transition will advise and guide your organization on building and testing the service designs. Another benefit of ITIL to your organization is that it will be equipped to deliver and manage any service.ITIL CSI will furnish your organization with the mechanism for constant service improvement.What is ITIL certification and is it worth to take this?ITIL certification is a modular approach to the ITIL framework. It consists of a series of different qualifications with a focus on different aspect of ITIL best practices. The degree and depth of details vary at the various level of certification. Holding a professional IT Certification in a competitive marketplace is a great advantage over those that are not certified. ITIL is the standard benchmark in IT practices. ITIL Certification convinces a prospective employer that you have an understanding of the ITIL framework, how it fits together and its application in a business environment.ITIL Certification also entails that you have been trained in the five major areas that drive the IT Lifecycle.There are five distinct levels of ITIL Certification - Foundation, Practitioner, Intermediate, Expert, and Master.Levels of ITIL CertificationITIL Foundation CertificationITIL Foundation is the basic in ITIL certifications. It covers the basics of ITIL practice areas. It is the entry level that offers a general awareness, concepts, and terminologies within the ITIL lifecycles. It is designed for those who require a basic understanding of the ITIL framework. Foundation certification will be helpful to those who need an understanding of how to use ITIL to enhance IT Service Management.There are no prerequisites for this level of certification. Anyone who is interested in IT Service Management can apply. However, you will need higher certifications before you can qualify for IT Service Management Positions.Surviving and sustaining in a VUCA (Volatile, Uncertain, Complex and Ambiguous) project environment as a beginner will no longer be challenging if you utilize the maximum benefits from an expert-authored ITIL® Foundation Certification Training Program.ITIL PractitionerThis is the next level in the ITIL Scheme. Newly introduced, the first examination at this level was conducted in 2016. It was developed to provide a step between the foundation and intermediate level of certifications. An ITIL Practitioner will be able to explain how to adopt the ITIL Framework to support the business objective while focusing on organizational change management, communications, measurement, and metrics.This certification can be taken at any level beyond Foundation. This is because the skills covered are not in the existing certifications. ITIL practitioner follows 9 Guiding PrinciplesFocus on valueDesign for ExperienceStart where you areWork holisticallyProgressive iterativelyObserve directlyBe transparentCollaborateKeep it simpleA professional intending to take ITIL Practitioner exam must hold a current ITIL Foundation Certificate. ITIL practitioner is NOT a prerequisite for the ITIL Intermediate Level certification. ITIL Practitioner certification will help you to earn three (3) Credits towards ITIL Expert Certification.The examination consists of 40 multiple choice questions. You are required to pass 28 i.e. score 70%.ITIL Intermediate Level CertificationITIL Intermediate certification is structured as modules and each module focuses on different areas of IT Service Management. You can take as many intermediate qualifications as you need. The modules are either classified as Service Lifecycle or Service CapabilityIn the Service Lifecycle modules we have:Service Strategy,Service Design,Service Transition, Service Operation, Continual Service Improvement.The Service Capability modules consist of:Operational Support and Analysis Planning, Protection, and Optimization Release, Control, and ValidationService Offerings and Agreements ITIL Intermediate certification can be taken by anyone who has passed the ITIL Foundation exam. It is a recommendation that you should have at least 2 years of professional experience working in IT Service Management before attempting the ITIL Intermediate Certification Exam.ITIL Expert CertificationITIL Expert is an advanced certification. It covers the breadth and depth of ITIL processes and practices across-board ITIL professions. ITIL Expert Certification is aimed at IT Service Professionals who are willing to demonstrate holistic ITIL Scheme knowledge. This certification is awarded only to those candidates who have excelled in a range of ITIL certification and possess superior knowledge and skill in ITIL Best Practices. There are key requirements before you can qualify for ITIL Expert Certification:Candidates must hold the ITIL Foundation certificate or a Bridge certification equivalent.You must have earned a minimum total of 17 credits from the Foundation and Intermediate modules.Some credits from earlier qualifications and complementary certifications can also count towards these 17 credits.You must attempt and Pass the Managing Across the Lifecycle (MALC) module with a minimum score of 70% to achieve a total of 22 credits required for the ITIL Expert certificate. ITIL Expert is a prerequisite to the highest level of ITIL Certification - the ITIL Master.ITIL Master Certification ITIL Master is the zenith of ITIL Certifications. It demonstrates the application of ITIL framework and best practices in real-life situations. ITIL Master covers all areas of ITIL Principles from Foundation through Expert Level Certifications.Candidates must explain and justify how they have selected and applied a range of knowledge, principles, and methods from ITIL Management techniques in order to achieve ITIL Master.In addition, an ITIL Master must:Have a current ITIL Expert CertificationPossess five years of ITIL experience in Management or LeadershipSubmit a proposal for service improvementBe successful in an Interview with the ITIL Assessment Panel.In a view of the stringent nature, the cost of ITIL Master certification is approximately $40,000. So, this certification needs seriousness and a high-level of dedication. Why do you need to attend ITIL training to take the exam?ITIL training is not compulsory or required before taking the ITIL Foundation Certification Exam. Candidates can source free materials online such as the TSO Foundation pass guide.Subsequently, ITIL Certification will require mandatory training.Types of TrainingA candidate can take ITIL classroom training for ITIL courses. The training could also be offered in a "virtual classroom". All activities in a virtual classroom will be similar to a live classroom except that training will be done remotely.There are also online training - e-learning, Computer-based training/ self-paced/ distance learning.You should research diligently before deciding which type of training is best for you. All the trainings are accredited against the same standards. In the United Kingdom, delegates lean toward the classroom style of training whereas in the US most of the delegates prefer online training.You can find Accredited Training Organizations (ATO) here.Who should take ITIL Certification?ITIL Certification is suitable for Professionals who desire to bring positive changes to their organization.IT Managers and Directors - A certification in ITIL is a valuable credential for IT Project Managers.IT Service-support Engineers may never become ITIL Masters but a basic knowledge of the ITIL framework can provide support for the ITIL process.Other Professionals who could take the ITIL course and Certification to advance in their professions are:Technical Support Professionals in IT ServicesQuality AnalystsOperations ManagersDatabase AdministratorsBusiness OwnersITIL related jobs and careersThere is more than one way to build a career in IT Industry, this is largely dependent on your experience and expertise. IT is becoming a critical part of most businesses including small and medium-sized businesses (SMBs). Job roles and description varies among employers. Here are some ITIL related jobs and careers.Business Relationship ManagerCyber Resilience ConsultantService Level ManagerIT ArchitectIT Security ArchitectBusiness Continuity ManagerSupplier Relationship ManagerRelease ManagerIT Change ManagerIT Configuration ManagerCyber Resilience ManagerCyber Resilience AuditorService Desk TechnicianService Desk ManagerIT Support TechnicianApplication Support SpecialistHardware Support SpecialistNetwork Support SpecialistSecurity AnalystIncident ManagerIT Operations ManagerIT Project ManagerIT Programme ManagerChief Information OfficerChief Technology OfficerChief Information Security OfficerConclusionThe valuable contributions of ITIL Framework to business growth and IT professionals' career has established ITIL in the zenith of IT Service Management (ITSM). ITIL adoption and implementation by businesses on the rise as well. Thus, ITIL Certification is a valuable skill for any IT professional who wants to remain relevant in the IT Service Delivery and Management. Today is the best day to consider taking an ITIL Certification!
Rated
4.5
/5 based on
12
customer reviews

ITIL Comprehensive Guide
Most enterprises and their service providers find ... Read More
Project Manager - An Ultimate Guide
By
KnowledgeHut Editor
Project management is a fast-paced and profitable career path. This explains the reason younger people are choosing project management as their first career. Businesses are realizing the importance of project management. Companies that are committed to Project management practices waste 28x less money because more of their strategic moves are carried out successfully. Also, 97% of organizations believe that project management is critical to business performance and organizational success. Hence, the reason more companies are hiring Project Managers.  According to PMI, 15.7 million project management roles will be created through 2020.Are you aspiring to be a Project Manager, but don't know where to start? Are you a Project Manager that is looking for how to take the career to the next level? Whatever your level, this extensive guide will show you the right way to become a Project Manager.Table of Content 1.0 What is a Project Manager?    1.1 What does a Project Manager do?    1.2 Direct responsibility of the Project Manager2.0 Why do you want to be a Project Manager?3.0 How to become a Project Manager    3.1 How to become a certified Project Manager4.0 How much does a Project Manager make?5.0  Types of Project Manager       5.1.1 Construction Project Manager       5.1.2 How to become a construction Project Manager       5.1.3 What does a construction Project Manager do?       5.1.4 How much does a construction Project Manager make?5.2 IT Project Managers       5.2.1 How to become an IT Project Manager       5.2.2 What does an IT Project Manager do?5.3 Technical Project Manager    5.3.1 What does a technical Project Manager do?    5.3.2 How much does a technical Project Manager make?5.4 Digital Project Manager:    5.4.1 How to become a digital Project Manager    5.4.2 What does a digital Project Manager do?6.0 How to become a good Project Manager    6.1 What is the difference between the Project Manager and program manager?    6.2 How to be a successful Project Manager7.0 How to get a Project Manager jobConclusion1.0 Who is a Project Manager?A Project Manager is anybody who is responsible for leading a project through all its phases from conceptualization to closure. According to the Project Management Institute (PMI), the 5 phases in the life cycle of project management are - project initiation/conception, project planning, project execution, project monitoring, and project closure. The design of each phase is such that it meets the particular project's needs.Project Managers exist in every organization. They are the essential change agents, perform greatly under pressure, and are comfortable with the complex nature of dynamic environments. Project Managers are highly motivated and effective leaders, great communicators, excellent time managers, good organizers, reliable, and trustworthy. They are responsible for the whole scope of the project, resources, team, and the success or failure of the project lies on their shoulders. The following statistics show the importance of Project Managers.Companies that are committed to Project management practices waste 28x less money because more of their strategic moves are carried out successfully.80% of "high-performing" projects are directed by a certified Project Manager65% of organizations have a high alignment to strategic goals.83% of executive leaders report that their organizations continue to fully understand the value of project management.The upsides of having certified Project Managers came to light much later, after the organizations realized that they were wasting 9.9% of every dollar due to poor project performance. The main reason behind such project catastrophes was the stark shortage of project management skills. Henceforth, the demand for a go-to resource bundle for project management professionals (PMP®) grew steadily. To understand how such courseware helped the project management professionals to spread across various industries, you can access every detail here in the PMP® Certification Course page.1.1 What does a Project Manager do? Although the Project Managers rarely take part in the direct actions that produce the project's objectives, they occupy an oversight position of managing the human and material resources of a project. This helps in building a healthy communication and trust among the team members and strives to ensure good practices for the success of the project.A Project Manager works on well-defined projects, which are based on fixed schedules, timelines, and budget.1.2 Direct responsibility of the Project ManagerProject planning: This is where the Project Manager plans and defines the project and its objectives, develop a detailed work plan with attention to any possible risks and determines the responsibility of each team member with defined timelines. Project management: Here, the Project Manager strives to have all works executed to the correct standards within the acceptable timeline, while sticking to the approved budget. The motivation of team members is essential here for optimum commitment,  and the Project Manager ensures that there is proper coordination among work done by different teams/groups for the elimination of all obstacles to productivity.Delivery and closure: The Project Manager has the responsibility of maintaining the project budget through to closure. He/she ensures that the Stakeholders receive project status in addition to delivering their expectations. Moreover, the Project Manager aligns the project to business goals and hands over a project that is on schedule and has delivered on all expected outcomes.  2.0 Why do you want to be a Project Manager?Certain needs and/or skills drive the desire to be a Project Manager. You would want to be a Project Manager if you already possess or willing to develop certain traits/skills such as great interpersonal relationship, organizational ability, open to keep learning/improving, etc. If you prefer to have not just a job, but also a career that is challenging, rewarding, and has job security, a career in project management may just be what you want. Demand: There is a great demand for project management in different organizations because of the risks associated with the ever-changing business environment. Businesses are rapidly expanding and positioning themselves for the future, and these create a huge demand for Project Managers to keep everything under control. Salary: Project management salaries are highly competitive because of the multitasking nature of each project - where the Project Manager needs to manage a team, handle clients, and ensure that everything is running on a budget. The average annual salary of a Project Manager in the United States is $131,822 US Dollars as of September 28, 2018 (Salary.com). With the steady year-to-year increase in the demand for Project Managers, salaries of PM roles increase correspondingly, offering more attraction for you to want to be a Project Manager.Teamwork: If you are naturally a people person, good at working with teams, and have great communication skills, you may want to pursue a career in project management. The ability to manage human relationships effectively is necessary for the success of any project. Each project has many moving parts and a Project Manager is essential to keep everything working towards the project's objectives.Industry: Although many Project Managers can fit into many industries, only professionals handle projects in specialized industries such as construction or IT.  Therefore, if you are a professional in any of these specialized sectors, and want to build your career in it, you can be a Project Manager and still be in your career path. Management and Leadership: Are you the type of person that naturally finds yourself in leadership and management roles in a group? These are great skills, and project management can help you develop them more because you will have the responsibility to drive and motivate team members for optimum performance. Responsibility: Do you crave responsibility? Are you comfortable taking ownership of any assignment given to you? Do you enjoy the pressures that often come with deadlines and timelines? Then you would succeed as a Project Manager. CEO Position: The exposure and demands of both a CEO and a Project Manager are much similar. They set objectives and communicate expectations to team members. They both manage people, use leadership skills to produce results, and have a clear focus on financial goals. Therefore, a Project Manager position can be a preparation towards becoming a CEO in the future. 3.0 How to become a Project ManagerEducation: You need a minimum of a bachelor's degree in business management. A bachelor's degree in other specialized areas such as computer science or engineering  (depending on the type of Project Manager you wish to be), will also be sufficient. Experience: With the necessary education qualification, you then need to gain some feel in an environment that exposes you to what project management is all about. Get involved in any organization/club/group that aligns with your project management career goals. For instance, if your desire is to be a construction Project Manager, you can take up an internship in a construction company. You would be amazed at the quality of project management skills you can acquire from this.Personal skills: While acquiring some project management skills and techniques, you need to develop the right human relationship skills to succeed as a Project Manager. People make up projects. Without understanding, training, and communicating effectively with the project team, it will be impossible to be successful as a Project Manager. It is also important you have a mentor at this stage. This should be an expert in your career path. Tools of the trade: Riding on only the knowledge of soft skills in project management such as processes, techniques, etc., may not be enough to make you the complete Project Manager you aspire to be. Organizations tend to complete projects on time, within budget, and with better quality when incorporating project management software. Budgeting, scheduling, risk management, contract management etc., are all essential skills a Project Manager needs to acquire. Do not neglect them.  Certification: The project management industry is highly competitive and certification may be the key to get ahead in your career and land bigger contracts. In addition, if the company implements some type of project management framework, then you need certification that is in line with such a framework. The point is to determine your career path and expectations, decide if a project management certification will help you achieve them, then get the appropriate certification.  An end-to-end training on project management techniques serves a complete package if you want to take your project management career a few notches higher. 3.1 How to become a certified Project ManagerGetting a certification in Project Management Professional (PMP®) can be difficult, but the rewards are great. Follow the steps below to become a certified Project Manager. Eligibility: The Project Management Institute (PMI) stipulates that to be eligible for the PMP certification you must possess the followings:   (i) A four-year degree and 4500 hours of leading and directing projects or a secondary degree (high school diploma, associate's degree or the equivalent) and 7500 hours of leading and directing projects.   (ii) 35 contact hours of project management education.Membership: Once you are certain of your eligibility, register as a paid member of PMI. This is not compulsory but recommended because it qualifies you for discounts on a variety of purchases including exam fee. You also get a free downloadable current edition of PMBOK®Guide (Project Management Book of Knowledge), which helps you prepare for the exam.  Application: Apply for the exam on the PMI website by filling the online application form. Then pay the examination fee ($405 for members and $555 for non-members).Exam schedule: At the approval of your application, you will get the PMI eligibility ID.  Choose an exam date that will give you enough time to study. A minimum of 3 Months is ideal. Also, choose a test location suitable for you. Prepare: You need to study and understand everything in the PMBOK® Guide to stand any chance of passing the CAPM® or PMP® exams. You can either take paid preparatory classes that will equip you with exam-focused tips, or study the materials on your own.Exam: You will appear in person for the exam which is a 4-hour test that consists of 200 multiple-choice questions. You need to pass 175 questions out of the 200 multiple-choice questions in the PMP exam. At the end of the exam, you will take a short survey, after which you will have access to your result.Result: Pass or fail, you will know immediately after the short survey. If you passed, you will see your name in the PMI's certification registry in less than a day. Your certificate will come in the mail within a month. You are now a certified Project Manager. 4.0 How much does a Project Manager make?According to Salary.com, the annual average salary for a Project Manager in the United States as of September 28, 2018, is $131,822 US Dollars. However, because of certain variables such as education, a number of years of work experience, level of certification, additional skills etc., salary ranges from $117,345 to $147,570 US Dollars. Apart from the salary, Project Managers in the U.S. can also earn compensations that include bonuses, retirement, and healthcare benefits, up to an average total of $139,926, with the range falling between $122,589 and $160,280 US Dollars.Below are the Average salaries of a PMP in different countries of the world, According to the survey released by the Project Management Institute based on survey collected from 26,000 project management professionals in 34 countries.Annualized salary (in USD) by CountryMedian Salary Exchange rateSwitzerland$130,000Australia$108,546United States$108,200United Kingdom$92,221New Zealand$90,442Netherlands$89,482Belgium$88,364Germany$87,245Qatar$82,314United Arab Emirates$81,6635.0  Types of Project Manager5.1.1 Construction Project ManagerA construction Project Manager is a Project Manager who works in the construction industry. Fundamentally, a construction Project Manager takes charge of the planning, coordination, and execution of any construction project. The project could be civil, residential, commercial, agricultural, industrial, environmental, or institutional. This field consists of complex tasks and needs a Project Manager with great knowledge of construction processes, problem-solving skills, and strong communication skills. Due to the complex nature of the construction industry, a construction Project Manager should have knowledge of different areas which are associated with the construction industry, such as law, finance, mediation, etc. 5.1.2 How to become a construction Project ManagerEducation: Having a minimum of a bachelor's degree seems to be the natural way to go. This could be a degree in building science, engineering, or construction science. Whatever degree path you choose, it is important that your coursework includes classes in construction methods and materials, building standards and codes, project management and control, and any other similar classes. These courses will build the foundation for you to become a Project Manager in construction.Work experience: During or after you have gotten your degree, you should find opportunities that offer on-the-job training for those without construction work experience. Some organizations employ Project Manager assistants. These assistant roles are often very practical and hands-on. The Project Manager concentrates on the big picture while leaving most of the project implementation responsibilities for the assistants. If you do not have any type of degree, then work experience is very important. With lots of experience and years spent in the construction industry, you can easily get selected as an Assistant Project Manager even without having any educational background in the respective field.Certification: Although many companies may not demand that you have a  certification as a prerequisite for giving you a job, a certification can give you a better advantage over other candidates that do not have any certification in construction project management. The Construction Management Association of America (CMAA) and the American Institute of Contractors (AIC) are some bodies that offer certification courses in construction project management. The AIC issues the Certified Professional Constructor and the Associate Constructor certificates while the CMAA offers a course in Certified Construction Manager.Soft skills: Construction projects have many moving parts. These include people,  tools, finance, weather, machines, time etc., and a Project Manager must have certain skills to be able to keep all these parts running smoothly. You need to develop effective communication and time management skills in order to become a Construction Project Manager. The management of human relations is a complex one and the success or failure of any project depends largely on how motivated and committed a team is. As a Project Manager, you need to be a problem solver and able to quickly adapt to change. For instance, the weather is a huge factor in construction because it is beyond human control. When the challenges of poor weather come up, a Project Manager needs to improvise in order to complete the project on time. 5.1.3 What does a construction Project Manager do?Construction Project Managers are also known as general contractors or simply, Project Managers. Their duties will largely depend on the type and scope of projects. Big projects will often have several Project Managers where each Project Manager will handle a specific part of the project. For instance, in some large building projects, there could be a Project Manager in charge of all electrical works, while another Project Manager handles all HVAC responsibilities. These different Project Managers will be under the supervision of one Project Manager. However, generally, a construction Project Manager will have the following roles:Preparation of budgets, timelines, and cost estimatesDetermination of the relevant construction techniques and methods to useClearly communicate technical and contract details to the teamPromptly communicate budget issues and project progress to clientsSelect and hire laborers and subcontractorsSupervise on-site activities and personnelRespond and provide solutions to emergencies, problems, and challengesCollaborate with engineers, architects, and other building and construction expertsAdhere to legal provisions, safety and building codes, and other building regulations5.1.4 How much does a construction Project Manager make?Factors that determine the salary of a construction Project Manager include education, level of experience, location, the scope of projects, certification, etc. In the United States, the average annual salary for a construction Project Manager as at September 28, 2018, is $101,022 and depending on the factors stated above, this could be as high as $113,839 and as low as $88,049 (Salary.com).Below are the salaries of construction managers in different parts of the world.Construction Manager (Country)Average salary per yearUnited States$101,022United Kingdom£41,740CanadaC$77,632AustraliaAus$98,673IndiaRs 966,397United Arab EmiratesAED 312,397ChinaCNY 744,000Source: Payscale & Glassdoor (October 2018)5.2 IT Project ManagersAn Information Technology (IT) Project Manager is an expert that has the duty of managing all the processes of planning, delegation, and execution responsibilities, in fulfillment of an organization's IT goals and objectives. The IT Project Manager has a firm knowledge about the objectives of the business with respect to specific demands and allocates resources in with respect to these goals. Some IT projects are; data management, hardware installation, software development and implementation, system upgrades etc.   5.2.1 How to become an IT Project Manager Education: Most employers demand that their IT Project Managers have a  minimum of a bachelor's degree in fields such as information technology, computer science etc. A master's degree will be an advantage.Experience: Most information and computer system managers have many years of work experience in information technology. If you have experience in managing any project or supervising people in an IT department, you are already on your way to fit into an IT Project Manager role. Skills: To be an IT Project Manager, it is important to acquire relevant skills such as human management, critical thinking, strong communication, time management, decision making, system analysis, use of relevant software (project management/  enterprise resource planning/query/database user interface), leadership skills, etc.Certification: A certification in an IT area relevant to your career path would distinguish you from others. You will have a deeper understanding of your specialization by being current with the latest techniques, technology, and trends in the field.5.2.2 What does an IT Project Manager do?Fast changes occur in the IT industry, and this creates the need for constant improvements and upgrades in systems and technology. The IT Project Manager has the role to supervise a team of IT experts and manage the budgets and timelines of an IT project to ensure smooth execution. These roles include:Ensures communication is effective among all stakeholder throughout the projectMonitor project milestones and modify project plans to meet business needsAssign and delegate duties to team members according to skill setsEnsures that everybody understands the project deliverablesCreate good working relationships among all key stakeholdersEffectively manages budgets and timelines5.2.3How much does an IT Project Manager make?The salary/total pay of an IT Project Manager will always depend on certain variables such as the number of years of experience, education/certification level, location, and additional skills.  In the United States, annual average salaries in this field are $81,697 (IT Project Manager I), $101,961 (IT Project Manager II), and $120,098 (IT Project Manager III) as at September 28, 2018. However, the range falls between $71,897 and $131,846 US Dollars (Salary.com).Below is a table showing average salaries of IT Project Managers across the world.Construction Manager (Country)Average salary per yearUnited States$101,022United Kingdom£41,740CanadaC$77,632AustraliaAus$98,673IndiaRs 966,397United Arab EmiratesAED 312,397ChinaCNY 744,000Source: Payscale & Glassdoor (October 2018)5.3 Technical Project ManagerA technical Project Manager is anyone that oversees and manages the development and delivery of an IT or technology initiative. Technical Project Managers manage either a wholly technical project or the technical side of a project. They are professionals that grew from technical backgrounds, can solve technical issues, evaluate technical risks, and accurately estimate project timelines based on their many years of technical experience. In essence, technical Project Managers come with the combined wealth of organizational skill and technical experience. 5.3.1 How to become a technical Project ManagerEducation: To become a technical Project Manager, you need to have a minimum of a   bachelor's degree in computer science, engineering or other related fields.Experience: You need adequate direct work experience (differs across companies) in a project management role, which has given you sufficient opportunities in process creation and execution.Skill set: To become a technical Project Manager, you need to have strong organizational skills, prioritizing skills, and excellent time management skill. Project management generally is fast-paced with an ever-changing project environment;  therefore, you need to be able to work under the pressure of deadlines. A can-do attitude is compulsory, as well as effective communication.Certification: A specialized certification in technical project management will widen the skills, knowledge, and experiences you have acquired as a working professional, and help you transit faster into a managerial role.5.3.2 What does a technical Project Manager do?The core reason of choosing technical Project Manager for a project is to have someone that can evaluate the project, resources, schedule, and control, through a more technical perspective than the conventional Project Manager can. Responsibilities of a technical Project Manager include:Manage projects with total oversight, in line with budget, scope, and timeline, to ensure project success.Develop detailed project plans that combine a client's requirements with the organization's goals.Coordinate and motivate different technical teams from project conception to completion. Constantly track project progress and create scheduled reports on quantifiable indices such as deliverables and milestones. Evaluate changes in project plans and discuss with stakeholders in order to adopt the beneficial ones.Supervises the acquisition of materials and resources needed for projects and negotiates prices with vendors and suppliers. 5.3.3 How much does a technical Project Manager make?In the U.S., the annual average salary for a technical Project Manager as of October 05, 2018 is $109,071 US Dollars. Average additional compensation is $9,721. Factors that determine the total pay for a technical Project Manager are location, experience, employer, skills/qualifications, etc. These factors cause the annual average to range from $83,000 to $144,000 US Dollars and the annual average compensation from $2,304 to $23,084 US Dollars (GlassDoor.com).Below are the salaries of construction managers in different parts of the world.Technical Project Manager (Country)Average salary per yearUnited States$83,000United Kingdom£40,659CanadaC$81,210AustraliaAus$99,392IndiaRs 1,433,957United Arab EmiratesAED 267,401China¥300,000Source: Payscale & Glassdoor (October 2018)5.4 Digital Project Manager: A digital Project Manager is someone that has the responsibility of fine-tuning the processes involved in the management of online projects from conceptualization to closure, within budget, and using a specific amount of resources. Examples of digital projects are social media, games, advertising, videos, mobile apps, search engine optimization, events, websites, content development, etc.5.4.1 How to become a digital Project ManagerThere is no straightforward route to becoming a digital Project Manager. You will see no specific university degrees or courses that will teach you digital project management, and you cannot assume a role here without any previous experience. Nevertheless, as a guide, the path to becoming a digital Project Manager can be broken down into a few steps as follows:Skill building: One of the most certain ways you can advance your career is by developing skills highly sought after by companies you admire. Search for these companies to see if any of them has an open or recently closed vacancy for a manager. You can as well search on job boards. Once you find any suitable company, make a list of all the skills, certifications, etc. they demand as requirements for the position and improve yourself by acquiring same skill set. Shadowing: The best way to get anything done is by following those that have successfully done those same things. LinkedIn is a great place to search out professionals in various industries. Search for Project Managers in companies you admire and check what they have listed in their career path/timeline. Look at their educational background, skills they possess, and jobs they handled before becoming Project Managers. You would often notice that these Project Managers have already specialized in one core digital areas or the other (development, design etc.) before climbing up the managerial ladder. You stand a better chance of becoming a digital Project Manager if you first learn and specialize in one of the core digital areas. Certification: A project management certification alone is not the key to getting a  project management job. It only makes it easier when it comes down to an employer having to make a choice between two qualified candidates where the one with certification has better chances of securing the job. Apart from getting a certification that is relevant to your industry needs and career path, a management degree such an MBA will also give you good chances of getting a digital project management job. Responsibilities: It is a prerequisite for a digital Project Manager to be an expert in your core digital specialization. Depending on your present company, and your desire to take on more responsibilities, this can take anywhere from a few months to years. If you show willingness in assisting your Project Manager, and you are proficient when taking on project management focused roles, your boss will naturally give you more work to do. More work means more experience, and more experience means a quicker climb into a full Project Manager role.5.4.2 What does a digital Project Manager do?The digital Project Manager has the role of making sure that all the required deliverables for a project are properly completed and handed over within the project timeline and on budget. Digital Project Managers ensure that all the different parts of the project are streamlined and running smoothly. These roles include - assigning duties and deadlines, clearing obstacles, defining and managing the scope of the project, developing and communicating the project plan/timeline/budget, monitoring and evaluation of project progress/success, etc. 5.4.3 How much does a digital Project Manager make?The salary of a digital Project Manager varies and is dependent on factors that include experience, location, and the level of responsibility the digital Project Manager handles. Salaries in the United States come at an annual average of $90,337 US Dollars as of October 04, 2018 and ranges from $59,000 to $134,000 US Dollars. The average compensation ranges from $1,703 to $22,564 US Dollars (GlassDoor.com).Below are the salaries of construction managers in different parts of the world.Digital Project Manager (Country)Average salary per yearUnited States$90,337United Kingdom£33,673CanadaC$58,429AustraliaAus $115,000India₹420502United Arab EmiratesAED 208,425ChinaCNY 285,766Source: Payscale & Glassdoor (October 2018) 6.0 How to become a good Project ManagerIn the professional environment of today, Project Managers are required to multi-task, switching promptly between the daily duties of managing a team to not losing sight of the big picture. The environment is high-pressured and needs great skills and dedication to be successful.Build positive relationships: Create the right attitude and interaction among all parties to the project. This establishes effortless communication and understanding.The big picture: Focus on the big picture but do not neglect the details. The ability to see both perspectives is a skill that makes you a good Project Manager.Lead: You can neither be everywhere nor do everything. Provide enough guidance for your team and do not micromanage them. Trust makes the workspace runs smoothly.Be firm: Projects veer off course when people start focusing on themselves and neglecting common goals. This creates friction and lack of respect and cooperation. Setting some ground rules from the onset with clear consequences will limit disruptions.Influence: Identify each team member's strength and influence each person to give their best irrespective of conflicts, personal opinions, and challenges. 6.1 What is the difference between the Project Manager and Program Manager?Project Managers and program managers use similar techniques and tools, but they have different roles because of their different job descriptions. While a Project Manager is in charge of the team responsible for executing the project and producing expected results, program managers have a broader role. Program managers manage several projects, and sometimes, several programs. The key roles that differentiate the Project Manager from the program manager are:a) Program manager: Manages several projectsManages several project teams that sometimes may include the Project ManagersEnsures successful program deliverablesb) Project Manager:Manages a particular project with the associated schedule, scope, and resourcesCoordinates and manages the project's team's activitiesEnsures project deliverables are successful, timely, and within budget 6.2 How to be a successful Project ManagerIn the highly competitive project management industry, simply being a good Project Manager may not set you apart from the rest. In order to take your career to the next level, you must transit to being a successful Project Manager, whose approach has some uniqueness and produces amazing results.Get involved: To be successful, you need to be wholly involved, especially in team building. A study, understand and know how to get the best out of your team. Know each team member's skill and the way to utilize it effectively. Be informed. Be agile. Be flexible. Change is inevitable. Have a firm grasp of the project and know when and how to adapt to any sudden change that occurs.Be proactive: A successful Project Manager knows that unexpected curves do appear along the project management track. As long as you have the big picture in focus, anticipate these curves in your planning and scheduling, and be ready to provide real-time solutions. Successful Project Managers create alternatives.Bargaining power: You may never have everybody agree with you all the time.  However, if you have great bargaining skills, can negotiate and collaborate effectively with all stakeholders to achieve your organization's objectives, you are already on your way to being a successful Project Manager. Time, Budget, and Quality: Projects are successful when completed on time, within budget, and with high-quality deliverables. A successful Project Manager will make the team aware of these three essential factors to a project's success.7.0 How to get a Project Manager jobA Project Manager's role is very demanding. It needs someone that is flexible with strong leadership skills. The role spans across several industries such as construction, IT, human resources, etc. You will need to plan, organize, delegate, budget, and document all aspects of a new project. This profession is also highly rewarding. To get a Project Manager job, the following steps will guide you.Employer requirements: Research the qualities employers desire in a Project Manager. Some favorite important traits common among employers include strong leadership, effective communication, integrity, initiative, and foresight.Evaluation: Assess yourself and your experiences. Compare your skills with those required by employers, determine where they overlap, and where there are gaps. Deepen and reinforce all current skills that are project management focused and improve to fill the gaps identified. Get qualified: It is becoming very difficult finding entry-level roles in project management. Having some sort of degree qualification, which can be different from one industry to another, is often the first essential step to securing a job. Even without a degree, there are now many online platforms where you can get project management courses without going through a university.Keep improving: The career path in project management is far-reaching. Whether you are looking to secure your first job in project management or aspiring towards higher roles in your career, you can succeed as long as you have a positive attitude and stay motivated. Keep updated on the trend within your industry, and regularly add to your skills, qualifications, and knowledge accordingly. If you are an Agile professional looking to make it big as a Project Manager as well, being the best fit for a project management job can be challenging. Industry experts, however, recommend an exhaustive Agile PMP® Training Program to make you industry-fit and enhance your earning potential. ConclusionThe demand by companies for accomplished Project Managers that are technical savvy, and with great leadership skills is on the increase. The business environment is constantly changing and becoming more complex by the day. The need for a leader that can hold it all together, yet produce fantastic results has become a major priority of business owners. Therefore, any Project Manager with the necessary training, in addition to relevant core soft skills can stand out in his or her chosen field, achieve great results, and attain unimaginable heights.  
Rated
4.5
/5 based on
12
customer reviews

Project Manager - An Ultimate Guide
Project management is a fast-paced and profitable ... Read More
Leading SAFe®️ - What Makes It so Fundamental to the Organizations?
By
KnowledgeHut Editor
Most of the organizations start their Agile journey with a small team. Once they get success with the methodology that they are implementing in the organization, the need for scaling to the larger organization becomes quite evident. The Scaled Agile Framework is the widely used framework for addressing the scaling challenges at the enterprise level. SAFe®️ not only provides the practical guidance but also encourages the Lean-Agile Mindset leaders to implement a comprehensive set of values and principles to aid the organizational changes. In the case of organizational transition, it is difficult to adopt new things at a glance. Team members should have in-depth knowledge of SAFe®️ practices, leadership style, and culture. Firstly, let's see what is Scaled Agile Framework (SAFe®️).What is SAFe®️?Scaled Agile Framework (SAFe®️), is an organization-scale development methodology, developed by Scaled Agile, Inc. SAFe®️ guides enterprises in scaling lean and agile practices to the larger organizations. Also, it helps enterprises to develop and deliver the product faster. SAFe®️ incorporates fast delivery, a collaboration between the team members, and alignment for several Agile teams. Also, SAFe®️ yields quality, productivity, employee engagement, customer satisfaction, time-to-market, improved business agility, and more.  What is new in SAFe®️ 4.6?Scaled Agile Inc., a certifying body of the Scaled Agile Framework (SAFe®️) recently announced the latest version of SAFe®️, SAFe®️ 4.6 with the help of the whole Scaled Agile team and SAFe®️ Contributors. The SAFe®️ 4.6 version has underlined the introduction of 'Five Core Competencies' of the Lean Enterprise. The purpose behind incorporating those competencies is mainly to make the SAFe®️ organizations build a truly Lean Enterprise in a Lean way. Here are the names of the five core competencies introduced newly1. Lean-Agile LeadershipThis competency explains how Lean-Agile leaders can drive organizational change by positively influencing the individuals in the team to reach their highest potential. The Lean-Agile leaders achieve this by learning, exhibiting, and coaching the Lean-Agile mindset, core values, principles, practices & features of SAFe®️.2.Team and Technical AgilityThe Team and Technical Agility competency explain the required critical skills and Lean-Agile principles and practices to produce the high-performing teams. The aim behind creating the high-performing teams is to produce high-quality, well-designed technical solutions in order to stay updated with the current and future business needs.Team agility – enables high-performing organized Agile teams to operate with the fundamental and effective Agile principles and practices.Technical agility – provides Lean-Agile technical practices to create high-quality, well-structured technical solutions that can add value to the current and future business needs.3. DevOps and Release on DemandThis competency explains how the DevOps principles and practices allow the enterprises to deliver value (completely or partially) any time to meet the customers' needs. The DevOps and Release on demand competency adds-on the comprehensive and thorough level of guidelines on implementing a full continuous delivery pipeline.4. Business Solutions and Lean Systems EngineeringThis competency focuses on how enterprises can develop large and complex solutions and cyber-physical systems using a Lean-Agile flow-based, value delivery-model. This model helps in developing the best of the activities necessary to specify, design, construct, test, deploy, operate, evolve, and ultimately decommission solutions.5. Lean Portfolio Management (LPM)The Lean Portfolio Management (LPM) competency explains how an enterprise can implement Lean approaches to strategy and investment funding, Agile portfolio operations, and Lean governance for a SAFe®️ portfolio.Benefits of Leading SAFe®️ 4.6 certificationTraditional corporates can embrace Lean-Agile practices easilyOrganizations can scale from medium to larger organizationsWith the SAFe®️ 4.6 version, organizations can deliver value fastAlso, enterprises can easily navigate the digital disruptionsThis latest version is helpful in addressing the latest market trends and technologiesOrganizations can easily address the changing customer needs  Accreditation Body for Leading SAFe®️ 4.6 Scaled Agile, Inc. (SAI) is the leading provider of SAFe® courses. SAI uplifts the career growth of an individual by offering various role-based courses and certifications. Scaled Agile, Inc. is a knowledge base for enterprises to adopt Agile.Who can take Leading SAFe®️ 4.6 course?Executives and Leaders, Managers, Directors, CIOs, VPs, Development, QA, Infrastructure Management, Program and Project Managers, Product and Product Line Management, Portfolio Managers, PMO, Process Leads, Enterprise, System, Solution ArchitectsPre-requisites for Leading SAFe®️ 4.6 courseAnyone can take up Leading SAFe®️ 4.6 course, regardless of experience. However, following prerequisites are endorsed for the individuals to attend the SAFe®️ 4 Agilist (SA) certification exam:5+ years' experience in software development, testing, business analysis, product, or project managementExperience in ScrumSAFe®️ 4 Agilist Certification Exam DetailsExam name: SAFe®️ 4 Agilist examNo. of Questions: 45 MCQsExam delivery: Web-based (single-browser)Exam access: Get access upon completion of the Leading SAFe®️ courseExam duration: 90 mins (1.5 hours)Passing Score: 34 out of 45 (75% passing score)Salary of the Certified SAFe®️ 4 AgilistThe average salary of a Leading SAFe®️ 4.6 certified individual is  $68,667 per year.Key Learnings of SAFe®️ 4 Agilist courseAfter the Leading SAFe®️ 4.6 certification training, candidates will be able to-  Combine Lean, Agile, and various Product Development shapesScale the Lean and Agile development in the organizationManage the development of the larger solutionsBolster a Lean-Agile change/transformation in the enterpriseWhat will aspirants get after passing the SAFe®️ 4 Agilist certification exam?SAFe®️ Agilist certificateA SAFe®️ 4 Agilist digital badge to promote your achievement onlineOne-year membership with Scaled Agile Inc.(SAI), which give access to the SA Community of PracticeA SAFe®️ Agilist certification usage guide with SA certification marksAccess to a variety of learning resources to support certified professionals during their SAFe®️ journeySAFe®️ 4 Agilist Certificate RenewalSAFe®️ 4 Agilist Certificate expires in 1 year from the original date of certification earned. The renewal fee of SAFe®️ 4 Agilist certificate is $100.Develop your Agile skill set which is in demand today and enable your organization to succeed in an ever-evolving digital market with SAFe®️ 4 Agilist (SA) certification!
Rated
4.5
/5 based on
12
customer reviews

CSM, PSM, SSM, SASM - What Scrum Master Course Do I Choose?
By
KnowledgeHut Editor
Scrum adoption is growing very fast and companies are looking for well qualified Scrum Masters. This is one of the main reasons to consider Scrum certification. One simple way to present your excellence is the Scrum Master certification that is perfectly tailored to the industry requirements, and of course, to your career trajectory. Currently, there are 4 primary Scrum Master certifications available. You might be in a confusion regarding the best course to take up for a superior career growth. Question yourself on some of the essentials before actually choosing the course: What does the particular certification mean?What are the prerequisites for this certification?What is the cost of this certification program?What will I achieve by taking this certification?Will this certification offer the biggest benefit for me? In this article, we will help you in choosing the best certification that suits your profile by comparing all the courses based on different aspects. CSM, PSM, SSM, SASM - What Scrum Master Course Do I Choose? https://t.co/hRgUIZfV1Z— विवेक कृष्णान (@vksvicky) May 17, 2017All the 4 certifications are competing equally in the Scrum world. The above certification comparison demonstrates multiple facets of the in-demand Scrum certifications. Experts need to choose the course wisely based on their targets. For example, the target can be whether to:Get benefits in their job change or career orReach greater heights in Scrum role by gaining in-depth knowledge  Just choosing the right course is not enough for a better career growth, but choosing the right training provider will have a great impact on the success of a course. KnowledgeHut as a Global Registered Education Provider (REP) of Scrum Alliance offers the best training from Certified Scrum Master Training approved by Scrum Alliance.All the best for your future Scrum endeavours! 
Rated
4.5
/5 based on
22
customer reviews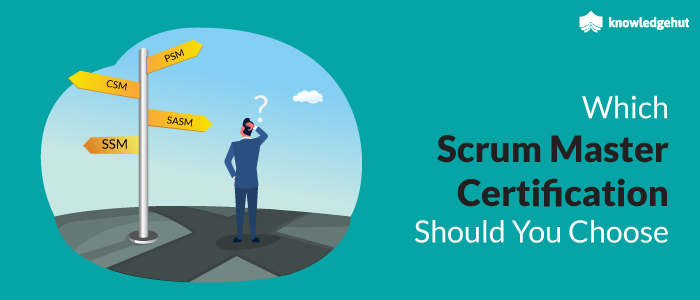 Everything you Need to Know About CSPO® Certification
By
KnowledgeHut Editor
Certification opens the path to lead your career in the Agile software development. But, knowing which certification is in demand today is worth more than your degree, experience and other skills. The Scrum Framework consists of 3 roles viz, the Scrum Master, Product Owner, and the development team. From a business viewpoint, the role of the Product Owner is the most important and challenging role. The role of the Product Owner consists of taking product-related decisions. We will see the roles and responsibilities of the Product Owner (PO) later in this article, first let's see the definition of the Certified Scrum Product Owner (CSPO®). Product Owner DefinitionThe Product Owner (PO) is a member of the Agile Team responsible for defining User stories and prioritizing the Product Backlog to streamline the execution of tasks according to the priorities given and is responsible for collaborating with the team members to decide what features will be present in the product release.The Agile Product Owner role requires to get inputs from the Stakeholders, Clients. They need skills like conflict management, facilitation, out-of-box thinking, and an art to influence the team and Stakeholders. You can get these skills in attending the Certified Scrum Product Owner (CSPO®) certification.The Product Owner role sometimes considered as the toughest role in Scrum, but after getting a certification, you will find it relatively easy. Let's see everything about the CSPO® certification below. What is CSPO®?A Certified Scrum Product Owner® (CSPO®) is an individual who has been taught about the Scrum terminologies, practices, and principles by a Certified Scrum Trainers® (CST) that will enable an individual to fulfill the role of Scrum Product Owner. Roles and responsibilities of the CSPO®The Certified Product Owner bears the following roles as follows.The PO is mainly responsible for managing the product backlog.The PO carries out the communication between the Stakeholders and the development team. The PO define the user stories and prioritize each user story.The PO manages the features and priority of the tasks as needed after each sprint or iteration.Accepting or rejecting the tasks outcomes.The Product Owner also keeps the customers or clients informed about the status and getting their feedback.Accreditation BodyCertified Scrum Product Owner (CSPO®) certification is offered by the renowned certifying body called Scrum Alliance. Scrum Alliance is a non-profitable membership organization that supports the Scrum implementation in the organizations and effective usage of Scrum.Who can be CSPO®?The target audience for CSPO® training is the Project Managers, Developers, Product Owners, Managers-Software development, Architects-Software development, Product Managers, Software developers, Software coders, Software testers, Team Leads or Team Members and those who are interested in learning more about Scrum and leading Agile projects.Prerequisites of taking the CSPO® certificationNo eligibility criteriaThose who are familiar with the basics of Agile can be a part of the CSPO® trainingCandidates must take the 2-day CSPO® course in order to earn a certificationWhy become CSPO®?Being a Scrum Product Owner certified (CSPO®), your chances of getting hired by the employers will be more.Getting a CSPO® certification is easier today as you don't need to write an exam. You can simply attend the CSPO® training by the Scrum Alliance Certified Trainers. The training lasts for 2 days and once completed, you'll receive a certificate and a one-year membership from the Scrum Alliance. Also, the CSPO® certification will-Expand your career opportunities Demonstrate your attainment of core Scrum knowledgeHelp you to learn the foundation of Scrum Engage with the Scrum practitionersHow to get a CSPO® Certification?The process to become a Certified Scrum Product Owner (CSPO®) certification is as follows.Attend two-day CSPO® course by Certified Scrum Trainer (CST) from the Registered Education Provider (REP) by Scrum Alliance.Log in to your Scrum Alliance accountAccept your license agreementNow, you will get CSPO® certification and will be called as Certified Scrum Product Owner. Note: There is no exam from the Scrum Alliance to earn the CSPO® certification.Certification renewal processThe CSPO® certification is valid for 2 years and needs to renew every 2 years. The Certified Scrum Product Owner (CSPO®) certification process includes the following steps as follows.Log on to your Scrum Alliance certification account.Click on 'certification dashboard' under settings.Scroll to the "Actions" window and click the renewal link to pay a renewal fee of $100.Benefits of getting CSPO® certifiedThe benefits of getting CSPO® certification are as follows:The CSPO® certified can lead Agile teams,Motivate team members,Can build communication channels between the Stakeholders and teamsIncrease the functionality of the teamReduce the risksImprove Rate over Investment (ROI)You can earn 14-16 PDUs and SEUsSalary of the CSPO® certifiedThe average salary of a CSPO® certified professionals is $101,459 per year. Collated below is the graph showing salary based on locations.What next after CSPO® certification?In the year 2018, Scrum Alliance revised its certification programs by creating the pathways of continuing education in Scrum and Agile. Let's see the Product Owner role-specific educational journey. The next step is to obtain an Advanced Certified Scrum Product Owner® (A-CSPO®) certification after completing Certified Scrum Product Owners® (CSPO®) certification. The second step would be to obtain the Certified Scrum Professional – Product Owner® (CSP-PO) certification.  To grab the Advanced Certified Product Owner (A-CSPO®) certification, you need to have a current Certified Scrum Product Owner (CSPO®) certification with the Scrum Alliance, and 1 year of work experience as a Product Owner in the last 5 years.So, Are you ready to become a CSPO®?If you have good interpersonal skills and enthusiasm to work with the 'business side' projects, you are the right individual to get the CSPO® certification. As a Certified Scrum Product Owner, you can create a product vision, prioritize the product backlog, and can delight the customers by delivering their needs. Go ahead and get yourself enrolled from the Registered Education Provider (REP) by Scrum Alliance, and achieve anything with a CSPO® certification! 
Rated
4.0
/5 based on
22
customer reviews

Scrum vs Kanban: Deciding The New Agile Benchmark
By
KnowledgeHut Editor
Today in the rapidly changing market, software development is changing its list of requirement every now and then. As we all know, Agile is one form of software development methodology which mainly focuses on the continuous delivery of project with client satisfaction. Agile always accepts the change and works on complete specifications to turn the project into a deliverable product.In the recent times, Kanban software development methodology is in the limelight for its ability to enable DevOps. Many of the organizations are moving from Scrum to Kanban for better results. So the question arises, which Agile methodology works better?And  Scrum vs Kanban becomes the essential question today. The key differences between Kanban and Scrum depend on the rules for using the Scrum methodology and the Kanban workflow.When the organization implements any methodology which is not flexible and useful, this can make the organization inefficient. This leads to the introduction of an Agile methodology in the organization. So, the first step while implementing the Agile methodology in the organization is to decide which Agile framework will be the best for you and your team.Suppose, you have chosen a Scrum framework and Kanban workflow, then what is the difference between Scrum and Kanban? Is Kanban Agile? What is Scrum vs Agile? And so on.GOLDEN RULESBoth Scrum and Kanban have a list of mandated and optional rules for their implementation. According to the Agile advice list for implementing Scrum, there are around 23 mandatory and 12 optional rules. Here are the few examples:Teams are functioning in a  cross-functional mannerDuring sprints, Interruptions are strictly avoidedWork is always time boxedScrum meetings are held on a daily basisTo measure the progress a burndown chart is usedFirstly, the problem arises when organizations follow "Scrum-But"- which is basically ignoring some specific set of rules for internal reasons. The next issue arises with timeboxing, which forms the core of Scrum. It allows the developer to define milestones for the Stakeholders to evaluate and guide their project.Now, in the case of Kanban, the rules are comparatively less restrictive. The principal rules are-Limiting the work in progressTo Visualize the workflowKanban is a flexible and an open methodology that can add rules as needed, borrowed from Scrum depending upon the requirement. In Kanban, the focus is mainly on the flow and not on the timebox. This feature makes Kanban a very appealing choice to use with DevOps.WORKFLOW METHODOLOGYFor Scrum:If we take the case of Scrum, every feature is decided before and it is ensured that it will be completed by the next sprint. After that, the Sprint is locked and work is finished over a couple of weeks, that is, usual sprint duration. The locking of the sprint is done to make sure that the team is getting enough time to make last minute changes depending on the requirement. There is a feedback session for reviewing the work accomplished. This helps to ensure that the delivered amount of work is approved by the stakeholders and is enough for directing the project as per business requirement.Implementing Scrum is not as easy as learning its principles. It requires to change the team members' habits. The team members have to raise the quality of coding, take up more responsibilities, increase a speed and many more factors need to change. Scrum allows team commitment as the team commits to the Sprint goals, they always stay motivated to get better and fast results as per the user requirements.  For Kanban:In the case of Kanban, the priority is to focus on the workflow and not on the time. The limitation is only regarding the size of the queues. The main aim behind implementing Kanban is the productivity and efficiency of the product. This allows them to deliver superior quality work items. In addition to this, concentrating on the workflow will keep things moving. In Kanban, there is an extended feature known as stakeholder participation.In Kanban board, it is mandatory to define a "Work-In-Progress-Limit (WIP Limit)". This helps to know the status of the work items to be delivered. If a status reaches the fixed WIP-limit, no new task is allowed at that state. This board helps to resolve the bottlenecks, as it makes the progress visible for further improvements. So, these WIP Limits acts as a change agent in Kanban.The Workflow of the KanbanComparison of Scrum and KanbanFactorsScrumKanbanChange agentLeverages as a change agentLeverages WIP Limits as a change agentCommitmentRequires CommitmentCommitment is not necessaryCadenceRegular fixed length sprints(ie;2 weeks)Continuous FlowRelease MethodologyAt the end of each sprint if approved by the product ownerContinuous delivery or at the team's discretionRolesProduct owner, scrum master, development teamNo existing roles.Some teams enlist the help of an agile coach.Key MetricsVelocityCycle timeChange philosopyTeams should strive to not make changes to the sprint forecast during the sprint.Doing so compromises learnings around estimation.Change can happen at any time.Scrum vs Kanban: Deciding between the duosIf your team is responsible for enhancing the feature development feedback of the Stakeholder, then go for Scrum. But, if your team is in charge of maintenance and requires to be more reactive, you have to consider Kanban. Eventually, the need for every team is different and depending upon the requirements, methodologies need to be decided for the achievement of the goals.
Rated
4.0
/5 based on
35
customer reviews