10 Facts about Prince2 Certification
By
Manikandan Mohanakrishnan
PRINCE2® (PRojects IN a Controlled Environment) (2017 or 6th edition is the latest version) is widely considered to be one of the leading project management methodologies to run successful projects. It is a simple, light weight, scalable, flexible, highly tailorable, principle driven and agile enabled framework to run your projects effectively and efficiently. PRINCE2 revolves around the core concepts of principles, themes and processes which can easily fit into any project environment (meaning any enterprises or government, industry, domain etc.).  PRINCE2 Certification Levels:Anyone with or without any project management experience can opt to learn PRINCE2 and get certified.  That is the reason why it has two levels of certification. The first one is PRINCE2 Foundation and the next level is PRINCE2 Practitioner. On successful completion of the PRINCE2 Foundation examination, candidates will be awarded with "PRINCE2 Foundation Certificate in Project Management".  Foundation certificate is a pre-requisite to sit for PRINCE2 Practitioner examination. On successful completion of the PRINCE2 Practitioner examination, candidates will be awarded with "PRINCE2 Practitioner Certificate in Project Management". Certifications achieved from other governing bodies like Association of Project Management (APM), Project Management Institute (PMI), International Project Management Association (IPMA) on or after 1st of July 2014, will also be considered as a valid pre-requisite to sit for PRINCE2 Practitioner exam directly. Which means that such candidates need NOT sit for Foundation examination. The list of accepted certifications is as follows:PRINCE2 Foundation (or higher) - this only applies to certificates obtained after 1 January 2009 Project Management Qualification (PMQ) * Project Professional Qualification (PPQ)* Project Management Professional (PMP)® ** Certified Associate in Project Management (CAPM)®** IPMA Level A® (Certified Projects Director)*** IPMA Level B® (Certified Senior Project Manager)*** IPMA Level C® (Certified Project Manager)*** IPMA Level D® (Certified Project Management Associate).*** or more information on which certifications are now recognized as approved prior learning for the PRINCE2 Practitioner certification, please refer to the guide (PDF, 265KB).Candidates who wish to give their PRINCE2 Practitioner exam directly should furnish their proof of achievement of the above-mentioned equivalents to Peoplecert (www.peoplecert.org) which is the Examination Institute (EI) authorized by Axelos (www.axelos.com) --the governing body for PRINCE2. This proof is subject to verification by EI.PRINCE2 Foundation Course & Examination: In the PRINCE2 Foundation course, learners will understand the following: Structure and key terminologies of PRINCE2 method Characteristics and context of a project Benefits of adopting PRINCE2  PRINCE2 principles and themes Purpose, objectives and context of PRINCE2 processes Purpose of PRINCE2 roles and management products Tailoring PRINCE2 to organizational and project needs Preparing for the PRINCE2 Foundation exam Learning Outcomes of PRINCE2 Foundation course: Purpose and responsibilities of project roles The seven principles, seven themes and seven processes The importance of tailoring in PRINCE2 Deliverable-based planning and quality review techniques embedded in PRINCE2 Inputs and outputs required for successful projects Purpose of all project management artifacts Relationship between principles, themes, processes, products and roles within a projectExamination Format: Multiple choice 60 questions 1 hour to complete the paper Achieve 33 or more out of possible 60 marks (55%) to pass the exam Closed book examFoundation examination tests the candidates' ability at Knowledge and Comprehension level, which means that candidates will have to recall the terminologies/definitions and also interpret the given questions correctly. This exam is pretty simple if you are well prepared.PRINCE2 Practitioner Course & ExaminationIn the PRINCE2 practitioner course, learners will understand the following: Understand the relationship between: Roles Management products Principles Themes Techniques Processes Apply principles, themes and processes to a project Create and assess management products Prepare for the PRINCE2 Practitioner exam Examination Format: Multiple choice 68 questions based on a project scenario 2 hours 30 minutes to complete the paper Achieve 38 or more out of possible 68 marks (55%) to pass the exam Open book exam. You can use "Managing Successful Projects with PRINCE2" manual. You can order your copy of this manual from the Axelos website.The Practitioner exam tests the candidates' ability at Comprehension, application and analysis levels.  Comprehension: Understand the principles, processes, themes and project's environment and roles and explain how these are applied to/are involved with a project.Application: For a given project scenario, be able to: use the themes appropriately, create the management products, tailor the processes and themes appropriately.Analysis: For a given project scenario, be able to identify, analyse and distinguish between the appropriate and inappropriate use of methods through an appraisal of completed products and planned or completed project events.Exam Language: The PRINCE2 Foundation and Practitioner examination is currently available in English, German, Danish, Dutch, Polish, French and Norwegian. Note: If you are giving the exam in English but English is NOT your native language, you will be awarded an additional 15 minutes and 35 minutes to complete Foundation and Practitioner exams respectively. To avail this benefit, select your correct native language while creating your profile in Peoplecert's portal while registering for the exam.PRINCE2 Agile:Similarly, PRINCE2 also comes with a guidance to use Agile along with its ways of working. PRINCE2 Agile® has two levels of certification (Foundation and Practitioner).PRINCE2 Agile guidance is all about how to tailor PRINCE2 to use Agile methods into it. PRINCE2 is a neutral project management framework which can support both traditional waterfall projects as well as agile or adaptive or iterative projects.To provide guidance on how to integrate high velocity models or practices into the existing projects for both IT and non-IT industries, PRINCE2 Agile considers Scrum, Kanban, Lean approaches. The intention is not to explain the agile frameworks in detail but to show practitioners on how to amalgamate PRINCE2 with other agile practices. PRINCE2 considers agile as a family of behaviours, concepts, frameworks and techniques.Agile Foundation Exam: Multiple choice, Objective testing 50 questions 1 hour to complete the paper Achieve 28 or more out of possible 50 marks (55%) to pass the exam Closed book examAgile Practitioner Exam: Multiple choice, Objective testing 50 questions based on project scenario 2 hours 30 minutes to complete the paper Achieve 30 or more out of possible 50 marks (60%) to pass the exam Open book exam. You can use the "PRINCE2 Agile® Guidance" handbook.How to take PRINCE2 examination?A candidate can take the exam after undergoing a formal training from an Accredited Training Organization (ATO) authorized by Peoplecert or can self-learn and appear for the exam. Please visit this website to find out your nearest ATO: https://www.axelos.com/find-a-training-provider PRINCE2 examinations can be taken in 3 different modes. They are Paper Based Test, Computer Based Test and Peoplecert Online Proctored.Paper Based Test (PBT):PBT exams are scheduled and conducted by the ATOs. This is also called classroom exam. The ATO will book the exam on behalf of the candidate, print the question papers and OMR answer sheets and invigilate the exam. Prior to the exam, the candidates will receive an email confirmation from Peoplecert. Candidates should register for the exam. This exam can be conducted at the ATO's facility or at the training venue. This provides a stress-free exam experience. The ATO's invigilation team will collect the answer sheets and question papers once the exam is over and will upload the answer scripts to the Peoplecert's exam portal. Results will be announced in two stages by Peoplecert. First you will get the Preliminary results which will just state "Pass/Fail". The final results with score card/statement of result (SoR) and certificate will be announced within two business days from the date of preliminary results. Result notifications will be sent to the candidate's registered email id.Computer Based Test (CBT):CBT exams are scheduled and conducted by the ATOs. This is also called a classroom exam. The ATO will book the exam on behalf of the candidate and invigilate the exam. Prior to the exam, the candidates will receive an email confirmation from Peoplecert. Candidates should register for the exam. This exam can be conducted at ATO's facility or at the training venue. Candidates need to bring their own computers/laptops if not provided by the ATO for this exam. This exam is similar to PBT but it is conducted in CBT mode. The ATO's invigilation team will provide the candidate's exam credentials and guide them to take the exam.   Preliminary results with scores are announced immediately at the end of the exam. Final results with SoR and certificate will be announced within two business days from the date of preliminary results.Peoplecert Online Proctored (OLP):OLP exams are CBT proctored by Peoplecert's invigilation team directly.  This can also be called an anywhere, anytime exam. This type of exam is very commonly taken by participants and accepted since the onset of COVID-19.  To appear for an OLP exam, candidates can purchase an exam voucher from an ATO or Peoplecert directly. To buy exam from Peoplecert, please visit: https://www.peoplecert.org/browse-certifications/project-programme-and-portfolio-management/PRINCE2-2 Purchased exam vouchers are normally valid for a year. But it is highly recommended to give your exam as soon as you complete your course or preparation. Preliminary results with scores are announced immediately at the end of the exam. Final results with SoR and certificate will be announced within two business days from the date of preliminary results. Further information and guidance on OLP exam:Copy and paste the voucher code or exam code in your Peoplecert login page and click on confirm -> Details of your exam will be displayed -> Check the details and once again confirm -> Now you will be allowed to choose the date/time of your exam from the calendar -> After selection, click on confirm -> Now you will receive a notification and email about the exam confirmation. To take the OLP exam, you need to install "Exam Shield". After booking your exam, you will get notified to install this software. You can check if you are able to install it in your computer. If you are using an official/company laptop or desktop, there are chances that your firewall will block the installation. Please contact your Information Security team in such cases. Else you can opt to use your personal laptop or desktop. Exam Shield will verify if your microphone, webcam, system configuration, power backup and network connectivity support the exam. Please fix the issues (if any) before the exam.  On the day of the exam, you will be able to login 15 minutes before the scheduled start time of the exam -> Keep 1 or 2 government/national photo ID proofs handy -> Run the exam shield -> Wait for system check to complete -> Show your ID proof in front of the camera and snap shot it -> System will connect you to the proctor -> Proctor validates the credentials -> Proctor will request the candidate to swivel and show 360-degree view of the room -> Proctor will allow the candidate to Start the exam. Ensure you are very well prepared for the exam. No one else other than you should be in the exam room. No paper/pen can be used for Foundation exam. You can use PRINCE2 Manual for Practitioner exam. You cannot minimize the exam window till the exam is over. The Exam gets completed only when you hit on the Submit button.  For Practitioner exam, a scenario booklet will be available within the exam tool.  In case of internet issues, don't panic, you will be able to restore and continue from where you left the exam. Please contact Peoplecert in such scenarios.  Peoplecert Proctor has all the rights to revoke your exam in case of malpractices identified.How to take maintain my PRINCE2 certification?PRINCE2 Foundation certification doesn't require renewal, which means that holders are certified for life. Whereas Practitioner certification has 3 years validity and has to be renewed at the end of 3 years. Axelos maintains a "Successful Candidates Register" (SCR). Peoplecert updates the SCR from time on time. Within 30 to 60 days after receiving Practitioner certificate, a candidate will be notified through an email to avail one year of free subscription from Axelos.  Once free subscription is activated, you will be eligible to clock 20 Continuing Professional Development (CPD) units. This is very similar to PMI's Professional Development Units (PDUs).  CPDs can be logged broadly under four categories such as Professional Experience, Training and Qualification, Community Participation and Self-Study. This can be attained by attending any trainings, delivering trainings, by taking part in volunteering activities, by learning new contents from any portals like Coursera, LinkedIn learning, Udemy etc., taking part in project activities, attending any seminars/webinars or by accessing white papers, case studies or videos on the Axelos website. Once 20 CPDs are logged, one can claim the digital badge. The digital badge is a way to display one's professional credentials. Digital badge is valid only for one year.  To renew the digital badge, £50 + VAT needs to be paid to Axelos. This will reset the CPD counter to Zero. This enables the practitioner to log 20 CPDs and claim the digital badge. This cycle can continue.  I suggest that successful candidates should avail the free subscription and clock 20 CPDs. For example, if your practitioner certification expires by 10th March 2023, claim your digital badge on 9th March 2023. This will enable you to retain your certification through Mar 2024. After that you can pay the subscription charges and continue to maintain your credentials. If you don't want to get into the subscription model, you can resit for another exam after 3 years. For more details about subscription, CPD & digital badge, please visit: https://www.axelos.com/my-axelos/my-prince2 Benefits of Subscription:Subscribers can get access to a wide range of project templates, white papers, tutorials, software, webinar series, pocket books, job profiles and much more. You can share/gain knowledge with other project practitioners. Network and engage with professionals and global experts.Some additional information: Certified PRINCE2 Practitioners (in 2009 version) can re-sit for an exam based on 2017 or 6th edition and get into the subscription model.  Certified PRINCE2 Foundation professionals (in 2009 version) can directly appear for PRINCE2 Practitioner exam (6th edition). You can also buy subscriptions through Peoplecert. Cost of PRINCE2 Foundation and Practitioner training + exam cost in India will range between INR 40,000 to 50,000. Cost of training and exam will vary according to your geography and mode of exam. OLP exams are costlier than PBT and CBT. Conclusion: Skills always matter in any job role. PRINCE2 certifications improve your position in the job market and career progression within project and program management. PRINCE2 helps organizations to support business outcomes, show value for money, continually improve, manage risks in line with business needs, optimize customer experience and enable business change.  Some key benefits PRINCE2 brings to enterprises and individual practitioners are: improved delivery confidence, uniform best practices, supporting cross functional working, delivering what business needs, customer focus, scalability, adaptability and flexible control.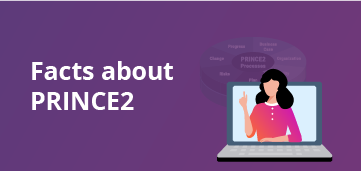 10 Facts about Prince2 Certification
PRINCE2® (PRojects IN a Controlled Environmen... Read More
Scaled Agile Framework: Understand Safe and Its Core Values
By
Jim Stewart
According to the Agile Alliance, Agile is the "ability to create and respond to change. It is a way of dealing with, and ultimately succeeding in, an uncertain and turbulent environment. Ultimately, Agile is a mindset informed by the Agile Manifesto's values and principles." We can think of it as a way of getting work done.However, Agile was initially developed for small teams. As Agile – or its most popular variant Scrum - grew to the enterprise, companies began to adopt Scrum of Scrums which is a technique to scale Scrum consisting of dividing the groups into Agile teams of 5-10 people.But over time, more formalized methods of scaling Agile began to develop. In 2011, Scaled Agile Framework, Inc. was co-founded by entrepreneur and software development methodologist Dean Leffingwell. Starting at its first release in 2011, five major versions have been released, the latest edition, version 5.0, being released in January 2020. According to SA Inc., no major releases are planned as of this writing.This article will attempt to explain what the Scaled Agile Framework is, why it is important and what its core values are.What Is the Scaled Agile Framework®?  SAFe® for Lean Enterprises is a knowledge base of proven, integrated principles, practices, and competencies for achieving business agility using Lean, Agile, and DevOps.We've discussed Agile above. According to the Lean Enterprise Institute, a lean organization understands customer value and focuses its key processes to continuously increase it. The ultimate goal is to provide value to the customer through a value creation process that has zero waste.*And DevOps is a set of practices that combines software development (Dev) and IT operations (Ops). It aims to shorten the systems development life cycle and provide continuous delivery with high software quality. Image sourceSAFe® FoundationThe SAFe® Foundation refers to the supporting principles, values, mindset, implementation guidance, and leadership roles needed to deliver value successfully at scale.  What is the Importance of Scaled Agile Framework®?It allows organizations to scale Agile to the enterprise and enables Business Agility. Business Agility is the ability to compete and thrive in the digital age by quickly responding to market changes and emerging opportunities with innovative, digitally enabled business solutions. Key terms in SAFe® The first is Value Stream. Value Streams represent the series of steps that an organization uses to implement Solutions that provide a continuous flow of value to a customer. They can be measured using Key Performance Indicators. The next term is the Agile Release Train (ART). The ART is a long-lived team of Agile teams, which, along with other stakeholders, incrementally develops, delivers, and where applicable operates, one or more solutions in a value stream. A Program Increment (PI) is a timebox during which an Agile Release Train (ART) delivers incremental value in the form of working, tested software and systems. PIs are typically 8 – 12 weeks long. The most common pattern for a PI is four development Iterations, followed by one Innovation and Planning (IP) Iteration. Lastly is Program Increment Planning (PI). It is a cadence-based, face-to-face event that serves as the heartbeat of the Agile Release Train (ART), aligning all the teams on the ART to a shared mission and vision. Typically, this is a two-day event bringing together all the Agile teams. Note that that there are four possible SAFe® configurations depending on the increasing complexity of the environment.  SAFe® configurationsEssential SAFe®- contains the minimal set of roles, events, and artifacts required to continuously deliver business solutions via an Agile Release Train (ART) as a Team of Agile Teams. It is the simplest starting point for implementation. Large Solution SAFe® - for developing the largest and most complex solutions that typically require multiple Agile release trains and suppliers but not necessarily portfolio considerations. Portfolio SAFe® - helps align portfolio execution to enterprise strategy by organizing Agile development around the flow of value, through one or more value streams.  Full SAFe® - supports enterprises that build and maintain large integrated solutions which require hundreds of people or more. Multiple instances of various SAFe® configurations may be required.  The SAFe® Core ValuesThere are four core values of SAFe®. They are alignment, built-in quality, transparency, and program execution. It is crucial to understand these.Alignment Scaled Agile uses the example of a car not functioning correctly if it is misaligned. Alignment occurs when everyone is working toward a common direction. It enables empowerment, autonomy, and decentralized decision-making, allowing those who implement value to make better local decisions. Alignment starts with the strategy and investment decisions at the Portfolio level which in turn inform the vision, roadmap, and backlogs. Built-in Quality  Ensures that every element and every increment of the solution reflects quality standards throughout the development lifecycle. Quality is not added later, it is built-in or planned in. (This is a tenet of modern quality thinking, not just SAFe®.) SAFe® Built-in Quality organizes quality thinking around five specific aspects—Flow, Architecture and Design Quality, Code Quality, System Quality and Release Quality. Transparency Transparency – along with inspection and adaptation – is one of the three pillars of Agile. It means that an organization provides open access to the unbiased information and adaptation.  It inspects its work and adjusts it based on empirical evidence. Stakeholders have visibility into the program backlogs, and they have a clear understanding of the PI Objectives for each Agile Release Train. ARTs also have visibility into the team's backlogs, as well as other Program Backlogs.Program Execution SAFe® places an intense focus on working systems and business outcomes. With alignment, transparency, and built-in quality on the team's side, the teams can focus on execution.Key areas of competencyAs of this writing, the current version of SAFe® is 5.0. It is comprised of seven areas of competency, all under the heading of Business AgilityEnterprise Solution Delivery Describes how to apply Lean-Agile principles and practices to the specification, development, deployment, operation, and evolution of the world's largest and most sophisticated software applications, networks, and cyber-physical systems. Large enterprise-wide systems require the full understanding of the system from requirements analysis to deployment.Agile Product Delivery A customer-centric approach to defining, building, and releasing a continuous flow of valuable products and services to customers and users. The key here is customer-centricity. The organization must have the ability to understand the customer's needs and release on demand.Team and Technical Agility The Team and Technical Agility competency describes the critical skills and Lean-Agile principles and practices that high-performing Agile teams and Teams of Agile teams use to create high-quality solutions for their customers. Lean-Agile Leadership The Lean-Agile Leadership competency describes how Lean-Agile Leaders drive and sustain organizational change and operational excellence by empowering individuals and teams to reach their highest potential. Leaders must lead by example, lead change, and embrace the Lean-Agile mindset. Continuous Learning Culture The Continuous Learning Culture competency describes a set of values and practices that encourage individuals—and the enterprise as a whole—to continually increase knowledge, competence, performance, and innovation. This is achieved by becoming a learning organization, committing to relentless improvement, and promoting a culture of innovation.Organizational Agility The Organizational Agility competency describes how Lean-thinking people and Agile teams optimize their business processes, evolve strategy with clear and decisive new commitments, and quickly adapt the organization as needed to capitalize on new opportunities. Key to this is the 'dual operating system.' This is not a computer model but a business model, leveraging the traditional management hierarchy with a Lean/Agile leadership approach.Image SourceLean Portfolio Management The Lean Portfolio Management competency aligns strategy and execution by applying Lean and systems thinking approaches to strategy and investment funding, Agile portfolio operations, and governance.Achieving the Core Values of SAFe® Achieving Alignment   Alignment can be achieved by providing the relevant briefings and participating in PI planning, helping with backlog visibility and value stream organization and coordination. Also, by communicating the mission, vision, and strategy at every opportunity.  Achieving Transparency Transparency can be achieved by openness and visualizing all relevant work, taking ownership for errors, and supporting others who acknowledge and learn from their mistakes. Achieving Built-in Quality Built-in quality is achieved by refusing to accept or ship low-quality work, by supporting investments in capacity planning and by ensuring that architecture, operations, security, and compliance are part of the flow of work.  Achieving Program Execution Program execution is achieved by participating as an active business owner in PI execution, celebrating high quality and predictably delivered program increments and by aggressively removing impediments.ConclusionBusiness Agility is the ability to compete and thrive in the digital age by quickly responding to market changes and emerging opportunities with innovative, digitally enabled business solutions In today's world, organizations must be customer-centric and must adopt a Lean-Agile mindset to provide continuous integration and continuous delivery. The Scaled Agile Framework establishes a way not only of doing so, but also the flexibility of scaling up to whatever level of adoption (basic to full, complex solution) is required.Lean waste types are Defects, Overproduction, Waiting, Unused Talent, Transportation, Inventory, Motion, and Extra Processing.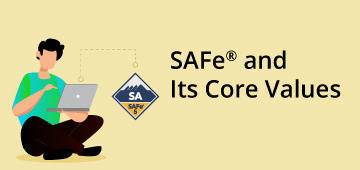 What is factor analysis in data science?
By
Dipayan Ghatak
Factor analysis is a part of the general linear model (GLM). It is a method in which large amounts of data are collected and reduced in size to a smaller dataset. This reduction in the size of the dataset ensures that the data is manageable and easily understood by people.  In addition to manageability and interpretability, it helps extract patterns in data as well as show the characteristics that are commonly seen in the different patterns (that are extracted). It helps create a  variable set for data points in the datasets that are similar. This similar set of data is also known as dimensions.  AssumptionAn assumption while dealing with factor analysis is that, in a collection of the variables observed, there is a set of underlying variables, which is known as 'factor'. This factor helps explain the inter-relationship between these variables.  There should be a linear relationship between the variables in the data.  There should be no multicollinearity between variables in the data.  There should be true correlation between the variables and factors in the data.  There are multiple methods to extract factors from data, but principal component analysis is one of the most frequently used methods. In Principal component analysis (PCA), maximum variance is extracted and placed in the first factor. Once this is done, the variance explained by the first set of factors is eliminated and then maximum variance is again extracted for the second factor. This goes on until the last factor in the variable set.  Types of factor analysisThe word 'factor' in factor analysis refers to the variable set which has similar patterns. They are sometimes associated with a hidden variable, which is also known as confounding variable. This hidden variable is not measured directly. The 'factors' talk about the variation in data which can be explained.  There are two types of factors:  Exploratory;Confirmatory Exploratory factor analysisThis deals with data that is unstructured or when the person/s dealing with the data are clueless about the structure of the data and the dimensions of the variable associated with the data. Exploratory factor analysis gives information about the optimum number of factors which may be required to represent the data. If a researcher wishes to explore patterns, it is suggested to use exploratory factor analysis.Confirmatory factor analysisThis kind of analysis is used to verify the structure of the data, given the condition that the people dealing with the data are aware of its structure and dimensions of the variable associated with the data. This kind of analysis helps specify the number of factors required to perform the analysis.Factor analysis is a multivariate method- this means it deals with multiple variables associated with data. This is a data reduction technique wherein the basic idea is to use a smaller set of variables, which is known as 'factors', that is a representation of a bigger set of variables.It helps the researcher in understanding whether the relationship between the observed variables (aka manifest variables) and their underlying construct exists or not.If a researcher wishes to perform hypothesis testing, it is suggested to use exploratory factor analysis.What are factors?Factors can be understood as a construct which can't be measured with the help of a single variable. Factor analysis is generally used with interval data, but it can be used for ordinal data as well.  What is ordinal data?Ordinal data is statistical data in which variables exist in naturally occurring categories that are in a particular order. The distance between categories in ordinal data can't be found using ordinal data itself.For a dataset to be ordinal data, it needs to fulfil a few conditions.  Multiple terms in the dataset are in an ordered fashion.  The difference between variables in the dataset is not homogeneous/uniform.  A group of ordinal numbers indicates ordinal data, and a group of ordinal data can be represented using an ordinal scale.Likert Scale is one type of ordinal data. Let us understand Likert scale with the help of an example:Suppose we have a question that says "Please indicate how satisfied you are with this product purchase". A Likert scale may have numbers between 0/1 to 5 or 0/1 to 10. On this scale, 0/1 indicates a lesser value and 5 or 10 indicates a higher value.Let us understand ordinal data with the help of another example. If we have variables stored in a specific order, say "low, medium, high" or "not happy, slightly happy, happy, very happy, extremely happy", it is considered as ordinal data.Conditions for variables in factor analysisThese variables (in factor analysis) need to be linearly associated with each other. Linear relationship or association describes a relationship that forms a straight line when two variables are plotted on a graph. It can also be represented as a mathematical equation in the form 'y = mx + b'.This linear associativity can be checked by plotting scatterplots of the pairs of variables. This indicates that the variables need to be moderately correlated to each other.If the variables are not correlated, the number of factors will be the same as the number of original variables. This means that performing factor analysis on this kind of variables would be useless.How can factor analysis be performed?Factor analysis is a complex mathematical procedure. It can be performed with the help of software applications. Before performing the analysis, it is essential to check if the data is relevant. This can be done with the help of Kaiser-Meyer-Olkin test.Kaiser-Meyer-Olkin testThis is also known as the KMO test, which is used to see how well the data is suited to perform factor analysis. It measures the sampling adequacy for every variable in the model.This statistic measures the proportion of variance among all the variables in the data. The lower the proportion, more suited the data is to perform factor analysis.KMO returns values between 0 and 1.If KMO value lies between 0.8 and 1, it means that the sampling is adequate.If KMO value is less than 0.6 or lies between 0.5 and 0.6, it means that the sampling is not adequate. This means proper actions need to be taken.If KMO value is closer to 0, this indicates that the data contains large number of partial correlations in comparison to the sum of correlations. This is not suited for factor analysis. Values between 0 and 0.49 are considered unacceptable. Values between 0.50 and 0.59 are considered not good. Values between 0.60 and 0.69 are considered mediocre.  Values between 0.70 and 0.79 are considered to be good.  Values between 0.80 and 0.89 are considered to be great. Values between 0.90 and 1.00 are considered to be absolutely fantastic. The formula to perform KMO test is:Here, R =  which is the correlation matrix; and U =  which is the partial covariance matrix.Once the relevant data has been collected, factor analysis can be performed in a variety of ways.Using StataIt can be performed in Stata with the help of postestimation command- 'estat kmo'.Using RIt can be performed in R using the command 'KMO(r)' where 'r' refers to the correlation matrix that needs to be analysed.Using SPSSSPSS is a statistical platform that can be used to run factor analysis. First go to Analyze -> Dimension Reduction -> Factor, and check the "KMO and Bartlett's test of sphericity" box.If the measure of sampling adequacy (MSA) for single variable is needed, the '"anti-image" box needs to be checked. An 'anti-image' box shows the MSAs listed in diagonals of matrix.The test can also be executed by specifying KMO in the Factor Analysis command. The KMO statistic is found in the "KMO and Bartlett's Test" table in the Factor output.ConclusionIn short, Factor Analysis brings in simplicity after reducing variables. Factor Analysis, including Principal Component Analysis, is also often used along with segmentation studies. In this post, we understood about the factor analysis method, and the assumptions made before working on the method. We also saw different kinds of factor analysis, and how they can be performed on different platforms.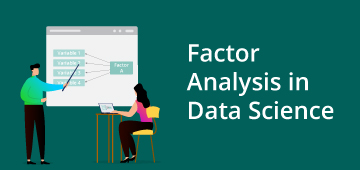 What is factor analysis in data science?
Factor analysis is a part of the general linear m... Read More