All You Need to Know About Leading Safe 4.5® Certification With Knowledgehut
By
KnowledgeHut Editor
Agile is a project management process which encourages self-organization, accountability, and teamwork. This methodology progresses a moderate project management process by reducing the time required for review and adaptation. SAFe combines the power of Agile with Lean product development and systems thinking. It integrates delivery, collaboration, and alignment for multiple Agile teams and provides significant improvements to business agility, including quality, productivity, employee engagement, customer satisfaction, time-to-market, and more. The new version i.e SAFe® 4.5 was released on June 22, 2017. This advanced version speeds up the delivery process of products and services and also offers a 360-degree build-measure-learn feedback cycle. With four major updates, SAFe has grown faster with the market since the initial release in 2011 and keeps on being a work in process. SAFe 4 Agilist certification helps you to build a strong foundation on Agile practices, standards, and applications required to enhance the  probability of the project's overall success. You might be searching for the best institute to take the course and might be thinking why only KnowledgeHut and why not others? Here we answer all your queries about Leading SAFe 4.5 Certification with KnowledgeHut. Looking for a quick overview of #SAFe? Check out our most popular download: https://t.co/Iw7rVXSK6U pic.twitter.com/oPEExo8mUY — Dean Leffingwell (@Deanleffingwell) October 31, 2017 Who is the certifying agency? SAFe® Enterprise or the Scaled Agile Framework is the provider of this SAFe® 4 Agilist Certification. KnowledgeHut offers this course by professional trainers with years of industry experience.     SAFe® Agilist certification exam cost?   The exam cost for the first attempt is included in the course fee if the exam is taken within 30 days of course completion. Also, the candidate can retake the exam if not cleared in the first attempt and each retake attempt charges $50. Who will benefit from leading SAFe® 4.5 course? The following individuals will benefit from this course: Leaders and Executives, Directors, Managers, CIOs, and VPs Enterprise, System, and Solution Architects QA, Development, and Infrastructure Management Project and Program Managers PMO, Portfolio Managers, and Process Leads Product and Product Line Management Is it mandatory to attend the course or can a person just take the exam directly? Yes, candidates should have completed the 2 days' Leading SAFe® 4.5 certification training course to take the exam. After successful completion, of course, your trainer registers you to Scaled Academy and after this registration, you will receive an e-mail that includes an exam link. Thereafter, you will have 30-days to take the test.  What do attendees get from the course? The course registration includes: SAFe 4 Agilist PDF certificate SAFe 4 Agilist digital badge to promote your online accomplishment  Comprehensive courseware materials by Scaled Agile Institute 1-year membership with Scaled Agile Access to members-only resources such as advance notice of upcoming SAFe products, guidance presentations, and webinars 16 SEUs and 16 PDUs 1 free attempt of the exam as the course fee includes the exam fee Can I cancel my enrollment? Do I get a refund? Your amount will be refunded in full only if the registration is cancelled within 48 hours and the refunds will be processed within 30 days of the request. For more details, check our refund policy. Note: Due to transactional costs that are applicable while refunding, all cancellations will cause a 5% deduction in the refunded amount. What topics are covered? The topics covered in our 2-day course are: Introducing the SAFe (Scaled Agile Framework) Embracing a Lean-Agile Mindset Experiencing PI (Program Increment) planning Understanding SAFe Principles Implementing an Agile Release Train Leading the Lean-Agile Enterprise Exploring, Executing, and Releasing Value Building an Agile Portfolio and Empowering a Lean Portfolio Prerequisites for SAFe® 4.5 Certification? Anyone regardless of experience can attend the course. But the following knowledge and skills are highly recommended for those who really want to take the SAFe® 4 Agilist certification exam: 5 plus years of experience in business analysis, testing, product or project management, and software development Good experience in Scrum What will I learn from the course? On completion of the course you will be able to: Apply SAFe to scale Lean and Agile development in your organization Identify and apply a Lean-Agile Mindset and principles Empower with a Lean Portfolio Improve your Lean-Agile leadership skills Continuously explore, integrate, deploy, and release value Coordinate the development of large value streams Support a Lean-Agile transformation in your organization How can I apply? Follow the below steps to apply for Leading SAFe® 4.5 certification exam- Step  1: Take the 2-day Leading SAFe®4.5 course Step 2: Your trainer will send all your details to Scaled Agile after successful completion of course. Now, the Scaled Agile Academy will send you two emails: a Welcome Letter and a Learning Plan Assignment. The Learning Plan Assignment e-mail includes information about the exam. Step  3: Take the online SAFe® 4 Agilist certification exam. Step 4: Once the test is completed with the minimum passing score, Scaled Academy will update your profile to disclose the certification. Step 5: You will receive an email including official notification from Scaled Academy which allows you to the member area and helps you to make your profile public within the Scaled Agile Community. 1-year membership with Scaled Agile will be provided as well. Why KnowledgeHut for Leading SAFe® 4.5? KnowledgeHut is a silver training partner of Scaled Agile Inc (SAI) and offers world-class learning to its students with excellence and provides in-depth knowledge required to become a successful world-class professional. KnowledgeHut also offers: Free materials from Scaled Agile Framework. Tricks and tips from our professional Certified Leading SAFe experts who have years of experience in implementing it in a variety of environments. 1-year membership with Scaled Agile included in the course fee. We hope this article cleared all your queries related to SAFe® 4 Agilist certification. Connect with us to know more about the Leading SAFe® 4.5 course.t                               Training Cost                               India        USA               LVC                5500                                                499                                  E-Learning                665                   5165 Exam cost                151                   612  
Rated
4.5
/5 based on
14
customer reviews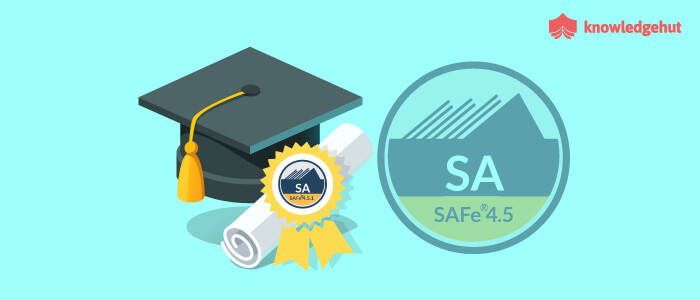 A Leader's Journey: The Path from a Scrum Master to Agile Coach
By
Kumar Dattatreyan
Who is the Scrum Master?  The Scrum Guide defines the role as someone who upholds the values and principles of Scrum, someone who helps the rest of the team understand Scrum theory, and who supports their growth and maturity as individuals.  Not everyone can perform this role as the skills required are not easy to learn or master. It's not that being a Scrum Master is hard, however, many people who take this path do so without a full understanding of what it means to be a Scrum Master.  So, what exactly is a Scrum Master?  How to become a Servant Leader?  John Maxwell, an author of numerous books on leadership states that being a leader is being someone of influence. What does this mean? Being someone of influence is someone who others come to depend on to help them grow as individuals and as members of a team. The leader influences them in some way to unlock their own potential.  Is Scrum Master the lifeline of Scrum?  A Scrum Master undoubtedly has to be an expert in the Scrum Framework.  However, being the expert at Scrum, and upholding its values and principles is not enough.  A Scrum Master has to also master being a leader and a coach for the team he or she serves.  The Scrum Master is a coach to the Product Owner, influencing her in ways to better her craft so that she can get better at maximizing the value being delivered by the team.  The Scrum Master also strives to be a coach to the organization, helping and influencing leadership to change their behavior from a command-and-control mindset to one where they also practice servant leadership, and develop their leadership skills and become people of influence.  All these do not happen after a two-day certification class.  It takes years to develop the coaching skills necessary to move from an expert in the Scrum Framework to a team coach, helping influence and shape a high-performing team, to coaching an organization, influencing leaders to improve their leadership skills. Many Scrum Masters will stay content in team coaching roles as it's an extremely important one to fill, and many others will progress along a path to becoming an Agile Coach, someone coaching multiple teams, to an Enterprise Coach, coaching an organization.  The model, pictured below, from the Agile Coaching Institute, visualizes the coaching modalities required to be a successful coach (and leader).  The coaching modalities are colored in red.A Scrum Master, often called an Agile Team Facilitator, should be someone who is an expert facilitator, no easy skill to master.  Professional facilitation courses are available to help new Scrum Masters hone their skills, and Scrum Masters are encouraged to hone their craft to become master facilitators.First Facilitation → next Agile CoachAccording to Sam Kaner, the author of the "Facilitators Guide to Participatory Decision Making", a facilitator "is an individual who enables groups and organizations to work more effectively; to collaborate and achieve synergy.  She or he is a 'content neutral' party who by not taking sides or expressing or advocating a point of view during a meeting, can advocate for fair, open and inclusive procedures to accomplish the group's work".  Facilitation, in my view, is something that takes years to master and can serve the individual if their career aspirations include coaching, teaching, and mentoring. All of these modalities require the person to be an excellent facilitator, as facilitation skills play strongly in all of them.For a Scrum Master, it's important to work on facilitation skills, however, it's not necessary to be an expert facilitator before taking on coaching, mentoring or teaching.  In fact, as a Scrum Master, you will be expected to mentor and teach your team, and to coach individuals.  Mentoring vs Coaching  When taken in an Agile context, the Agile coach is there to partner with their clients in a thought-provoking and creative process to help them change their mindset and approach and influence people in their organization to work in more Agile ways.  Mentoring, from an Agile context, is to share your knowledge and experience to offer your mentee's choices and options from which to choose. Choosing a mentoring stance is something that you gain with experience.  And finally, Training is something that a Scrum Master will need to hone and develop their skills in, as it requires equal parts facilitation and mentoring to deliver effective training that people will learn from and remember.  In summary, a Scrum Master has a lot to master besides knowledge of the Scrum Framework! It may seem daunting at first, however, the key is to embrace the role and hone your craft as a facilitator as this forms the foundation for all the other modalities that make for a great coach and leader.  A typical path from Scrum Master to Coach may look something like this:As a newly minted Scrum Master, you'll be expected to focus your attention on the team and the individuals on the team.  You will be facilitating all the team ceremonies while honing your mentoring and coaching skills in the process.  You will also be exercising these skills as you conduct workshops and more formal training for your team, and possibly other teams in the organization.  Don't shy away from these opportunities; they will allow you to become better at being a Scrum Master, and a leader.  Remember that leadership is nothing more than influence, and having a mastery of these coaching modalities allows you to wield considerable influence on the people you serve.  As the team matures through your leadership, and as you mature as a Scrum Master, you will be ready to take on more of a leadership role for the organization.  You may focus on multiple teams as an Agile Coach, providing mentoring and coaching for new Scrum Masters, or other roles in the team. You may be conducting more workshops and training for the organization and possibly creating your own content for delivery.  You will be developing mastery in one or more of the coaching domains as pictured in the coaching model and will be developing expertise as a Business Coach, a Transformation Coach, or a Technical Coach. Business Mastery, as the name states, allows you to focus your coaching and leadership in Product Management, and other aspects that run the business. Transformation Coaches focus on all aspects of organizational change, while Technical Coaches roll their sleeves up, and work with technical teams to help implement DevOps, Continuous Integration and other technical enablers that help the enterprise accelerate delivery.  Take advantage of coaching boot-camps available commercially, and attend local coaching meetups.  This will give you the opportunity to meet other coaches for mentoring and coaching opportunities. Remember, the more opportunities you have to coach, the better you will be at it.And finally, the picture above depicts Enterprise Coaches as the pinnacle of coaching from an Agile context. These coaches have mastered all the coaching modalities, are experts in Lean-Agile, and have mastered at least one of the domains pictured in the coaching model. Enterprise coaches as master facilitators, and expert coaches who multiply their efforts by developing others to be great leaders and coaches.  So, go forth and become great Scrum Masters, as this role is foundational to great leadership.  In my view, being a coach is being a leader of influence. You will be able to help your organization stay nimble and adaptable through your leadership and coaching influence.
Rated
4.5
/5 based on
2
customer reviews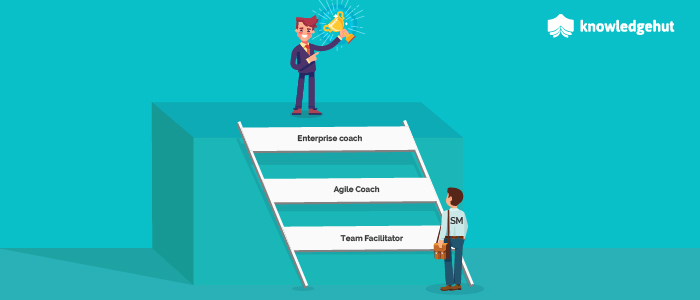 CSM or CSPO: Which Certification Fits Your Requirement?
By
KnowledgeHut Editor
Agile methodology has been gaining a lot of clout in the IT Industry recently. With so much attention and talks around it all companies big and small are making themselves agile ready to deliver better sooner. Some common Certificate courses on Scrum methodology have also gained popularity because Scrum is the least restrictive of all agile approaches. CSM and CSPO are two such known Certifications that are often thought of as next steps in career progression introspection analysis. While both grant the benefit of knowledge, it is important to analyse what Certification makes more sense and can help better in future growth. CSM Certification: It is for professionals seeking the Certified Scrum Master Certification. Its course work is educative to learn about how Scrum methodology works. Moreover, all the principles and practices around scrum are discussed in detail to lay a sound foundation of its conceptual framework. This certification is beneficial to gain an understanding of Scrum for all present and future scrum projects. Gaining a CSM Certification would benefit individuals who would rather want a Certification that validates their scrum knowledge. Hiring decisions based on Certifications are usually a motivator for professionals pursuing the Certification. This could also lead to challenging opportunities in a space that may interest professionals. Also, professionals seeking to change their present roles can also benefit from this certification to project their interest in this field. Other benefits of CSM could be acceptance in scrum based teams based on scrum knowledge. Also since a lot of organisations tend to portray to their respective client base they own the skills and knowledge to deliver, they also rely on certified professionals to join them so that they may use this as their asset over competitors. Another reason to pursue CSM could also be to expand ones' knowledge of scrum methodology to be at par with peers. Since existing technical courses do not teach these new methodologies in courseware, pursuing a course about Scrum can help deliver work better if you have recently joined a scrum team or if you plan to join one. So, it is beneficial not only for professionals seeking knowledge as fresher but also for experienced professionals who seek work in scrum space. CSPO Training: CSPO is a common IT Certification acronym for Certified Scrum Product Owner. CSPO Certification is beneficial for professionals who are closer to business.  This course is also useful to give an end to end view of the feature that traverses from conceptualisation to deployment or ideation to a minimum viable product. Also, aspects related to understanding stakeholder interests in each functionality are reiterated in this course. Also, because a Product Owner's role is critical for any organisation they tend to seek candidates who can genuinely guide the team well. While Certification is a way to project, that relevant knowledge is present and make way for a baseline to set that a candidate has genuine interest in the area and that they are focused on continuous growth. A Certified Scrum Product Owner training is also a good to have training to be able to handle the work as a Product Owner better. While a lot of professionals learn on the job, this certification is from the very Scrum Alliance dedicated to set guidelines that can help smoothen the learning curve. A Certification decision is hence usually based on career goals, present career role, and future possible roadmap. Having knowledge is always good and to keep refreshing basics helps revisiting decisions and making teams and individuals in scrum space more effective.
Rated
4.5
/5 based on
4
customer reviews