Scrum Epic: What Is It And How To Create The Best Epics In Agile?
By
Deepti Sinha
Scrum has been a buzzword since a decade now, and why not, it has so many success stories, hey, I am not talking about the stories which mean requirements in Scrum but the actual stories of teams and the organizations practicing Scrum. Looks like, I just gave the hint of what I would be covering in my article today.Yes, we will be talking about the requirements and how are they handled in Scrum. We will be talking about the Epic, so far, we have known Epic as a long narrative about the heroes of great historical or legendary significance performing courageous deeds but here we will touch upon a different side. Believe me, we are now going to talk about the EPICs in Scrum!What is an Epic in Agile?In simple terms, Scrum EPIC in Agile Methodology is a big chunk of work which can be divided into smaller user stories. An epic can be spread across sprints and even across agile teams. An epic can be a high-level description of what the client wants, and accordingly, it has some value attached to it. As we mentioned, an epic is a high-level requirement, hence its scope can change over the course of time."Epics are a helpful way to organize your work and to create a hierarchy. The idea is to break down the work into shippable pieces so that large projects can actually get done and you can continue to ship value to your customers on a regular basis. Epics help teams break their work down while continuing to work towards a bigger goal."- Atlassian                                                                                                                                                                                                                                               To explain it better, I would prefer taking a life example, let's say, throwing a New Year party at your place can be an epic requirement for you. To do so, you'll need to organize your effort: from the biggest objectives down to the smallest details. You should be able to respond to change, report your progress, and stick to a plan. Once you are aware of the epic, you can drill it down to create smaller tasks like creating a guest list, deciding on the menu, shopping for the grocery, decoration at home, shopping for the new year, etc.Let's see how we can create an Epic also called Scrum Epic User Story – In today's era, almost all the tools that the team use have the capability to create an epic, it is up to the product and the team, which type of Epic they want.Some Epics cater to the reporting needs of management. Some Epics are created with a timeframe in mind, it should not be too long and too short, i.e. it should not take more than a couple of weeks to finish. But the widely used way is Storytelling.So, what is StorytellingStorytelling is a tool which helps you visualize the flow of events and how they corroborate back up to the Epic. If you feel, your working pattern does not sit in any of the mentioned ways, create your own. Just remember, Agile is never prescriptive, it shows you the path and how you want to go over it, it's your choice!Coming back to our example, let us try to break it down into some doable components. It is really important to create chunks out of the epic so that the team can pick those up and deliver in a sprint time. You can compare this activity to art which requires precision in terms of size, priority, minimally interdependent etc. There are some pre-set ways of doing it, like:Workflow break downHere in our example, we talked about a project where we have a New Year party, let's see how we can break it down in terms of workflow – Shopping can be a workflow where you need to get the items from outside. Another workflow can be cooking the food for the guests, same way we can have decorating the house as another workflow. See how simple it gets to understand once you start connecting it with our lives! This also helps the product owner to easily prioritize the work, in our case, the Product Owner can be the host of the party. Some steps in the workflow may not be important right now and can be moved to later stages. Perhaps baking the cake takes on the priority as it takes time to cool down but the same can be done later as well.Role-based breakdownWe can also break an epic as per the role or the persona, there can be different roles in your product or a project, here we have role of a 'host', 'guest' or you can have a role as a 'cook', you can even add the roles as per your product. In a role-based breakdown we talk in terms of that particular persona, example, for a host, 'Driving a successful party' can be one, for a guest, it can be, 'Looking for some fun games at the party'.Break Down around the timelineSome of the epics can be broken down according to the time it will take to complete. The team usually divides the work which can be accomplished in a sprint time. They take up the whole thing, break it into pieces and fit the pieces in different sprints as per the dependency and priority. As I have already mentioned, the breaking down requires consideration into several areas such as size, priority, interdependency etc. Thus, there are two approaches to dividing – Horizontal and Vertical. It is like cutting the cake, if you cut it horizontally, you will get a single layer but if you take a vertical approach, you will get to have a bit of all the layers. Understanding the basic differences between Epic, Story, and TaskWe have been talking a lot about Epic and its breakdown, now let's capture how it actually disintegrates further. We had an Epic "New Year Party", this was a big chunk of work to be accomplished, we learned about the techniques to break it down. The result of the breakdown is termed Stories, which can be accomplished in a sprint time. The stories are further broken down into chunks called 'Tasks', the team pulls up the tasks and completes them, once all the tasks are completed, the story is marked as Completed. The below figure explains Scrum Epic Vs User Story:Thus,Epic - A requirement that is just too big to deliver in a single sprint. Epics need to be broken into smaller deliverables (stories).Story - A requirement that the business wants. It is something that is deliverable within a single sprint.Tasks - The essentials of a story, these are the milestones to take the story to 'Done'.Anything that we cannot measure will not yield many results, we have been hearing this for a long time. It does apply here as well. We can use burndown charts to measure how much work has been accomplished in an Epic. This also helps in predicting if the team is on track with the commitments. By keeping a watch on the Burndown chart, it becomes easy to manage the progress and the blockers (if any) that the team is facing. This not only provides transparency to the system but it also helps in building the trust for the team and the clients.How to identify Epics in AgileEpic is something which is a fairly large chunk of work and cannot be completed at one go. It is something which requires discussion and brainstorming so that it can be broken down further into smaller chunks. At the epic level, we give rough estimates which can be in the form of T-shirt sizes, swags, points or any other method the team is comfortable with. The team can track the progress in an epic through the Burndown chart which represents the progress and also reflects if there are any blockers. Benefits of EpicsEpics help in understanding the high-level requirement from the stakeholder and what exactly is the need.It also helps in defining the scope of work which is in agreement with the client. Epics articulate efficiently about final output of user needs. Epics help to track bigger thoughts in a product backlog without the need to overwhelm it with multiple things. They allow establishing a hierarchy for the backlog items where the epic represents the original idea often closely related to a particular outcome.It also helps in estimating how much time it will take to deliver. Epics are time and again used as placeholders for new views that have not been thought out completely, or whose full expansion has been postponed till essentially desirable.Epics are then evolved into split into multiple user stories that help Agile development teams effectively manage and groom their product backlog.Common Pitfalls in EpicThough there are many positive aspects of using the epics in backlog management a coin always has two sides, it has its pitfalls too! Sometimes, the teams can create confusions around the end deliverable from the epic by just viewing them as more than just large user stories. This is deceptive when the team creates multifaceted tools to distinguish between epics and user stories as well as creates far-reaching tools for chasing epics separately from other backlog items.The teams may also try to estimate the epics at a very high level though they might not have a clear picture of what is to be done. This increases the chances of ambiguity and it is very likely that the estimates will not be of any use as it will not serve any purpose in reporting.Finally, here we are, with the discussions around the Epics and how we can break it down. There is no set way to work on the epic, it about what approach suits your needs. Again, it is all about the mindset and way we deal with the backlog. Epics are always fascinating to work with!
Rated
4.5
/5 based on
12
customer reviews

All You Need to Know About Leading Safe 4.5® Certification With Knowledgehut
By
KnowledgeHut Editor
Agile is a project management process which encourages self-organization, accountability, and teamwork. This methodology progresses a moderate project management process by reducing the time required for review and adaptation. SAFe combines the power of Agile with Lean product development and systems thinking. It integrates delivery, collaboration, and alignment for multiple Agile teams and provides significant improvements to business agility, including quality, productivity, employee engagement, customer satisfaction, time-to-market, and more. The new version i.e SAFe® 4.5 was released on June 22, 2017. This advanced version speeds up the delivery process of products and services and also offers a 360-degree build-measure-learn feedback cycle. With four major updates, SAFe has grown faster with the market since the initial release in 2011 and keeps on being a work in process. SAFe 4 Agilist certification helps you to build a strong foundation on Agile practices, standards, and applications required to enhance the  probability of the project's overall success. You might be searching for the best institute to take the course and might be thinking why only KnowledgeHut and why not others? Here we answer all your queries about Leading SAFe 4.5 Certification with KnowledgeHut. Looking for a quick overview of #SAFe? Check out our most popular download: https://t.co/Iw7rVXSK6U pic.twitter.com/oPEExo8mUY — Dean Leffingwell (@Deanleffingwell) October 31, 2017 Who is the certifying agency? SAFe® Enterprise or the Scaled Agile Framework is the provider of this SAFe® 4 Agilist Certification. KnowledgeHut offers this course by professional trainers with years of industry experience.     SAFe® Agilist certification exam cost?   The exam cost for the first attempt is included in the course fee if the exam is taken within 30 days of course completion. Also, the candidate can retake the exam if not cleared in the first attempt and each retake attempt charges $50. Who will benefit from leading SAFe® 4.5 course? The following individuals will benefit from this course: Leaders and Executives, Directors, Managers, CIOs, and VPs Enterprise, System, and Solution Architects QA, Development, and Infrastructure Management Project and Program Managers PMO, Portfolio Managers, and Process Leads Product and Product Line Management Is it mandatory to attend the course or can a person just take the exam directly? Yes, candidates should have completed the 2 days' Leading SAFe® 4.5 certification training course to take the exam. After successful completion, of course, your trainer registers you to Scaled Academy and after this registration, you will receive an e-mail that includes an exam link. Thereafter, you will have 30-days to take the test.  What do attendees get from the course? The course registration includes: SAFe 4 Agilist PDF certificate SAFe 4 Agilist digital badge to promote your online accomplishment  Comprehensive courseware materials by Scaled Agile Institute 1-year membership with Scaled Agile Access to members-only resources such as advance notice of upcoming SAFe products, guidance presentations, and webinars 16 SEUs and 16 PDUs 1 free attempt of the exam as the course fee includes the exam fee Can I cancel my enrollment? Do I get a refund? Your amount will be refunded in full only if the registration is cancelled within 48 hours and the refunds will be processed within 30 days of the request. For more details, check our refund policy. Note: Due to transactional costs that are applicable while refunding, all cancellations will cause a 5% deduction in the refunded amount. What topics are covered? The topics covered in our 2-day course are: Introducing the SAFe (Scaled Agile Framework) Embracing a Lean-Agile Mindset Experiencing PI (Program Increment) planning Understanding SAFe Principles Implementing an Agile Release Train Leading the Lean-Agile Enterprise Exploring, Executing, and Releasing Value Building an Agile Portfolio and Empowering a Lean Portfolio Prerequisites for SAFe® 4.5 Certification? Anyone regardless of experience can attend the course. But the following knowledge and skills are highly recommended for those who really want to take the SAFe® 4 Agilist certification exam: 5 plus years of experience in business analysis, testing, product or project management, and software development Good experience in Scrum What will I learn from the course? On completion of the course you will be able to: Apply SAFe to scale Lean and Agile development in your organization Identify and apply a Lean-Agile Mindset and principles Empower with a Lean Portfolio Improve your Lean-Agile leadership skills Continuously explore, integrate, deploy, and release value Coordinate the development of large value streams Support a Lean-Agile transformation in your organization How can I apply? Follow the below steps to apply for Leading SAFe® 4.5 certification exam- Step  1: Take the 2-day Leading SAFe®4.5 course Step 2: Your trainer will send all your details to Scaled Agile after successful completion of course. Now, the Scaled Agile Academy will send you two emails: a Welcome Letter and a Learning Plan Assignment. The Learning Plan Assignment e-mail includes information about the exam. Step  3: Take the online SAFe® 4 Agilist certification exam. Step 4: Once the test is completed with the minimum passing score, Scaled Academy will update your profile to disclose the certification. Step 5: You will receive an email including official notification from Scaled Academy which allows you to the member area and helps you to make your profile public within the Scaled Agile Community. 1-year membership with Scaled Agile will be provided as well. Why KnowledgeHut for Leading SAFe® 4.5? KnowledgeHut is a silver training partner of Scaled Agile Inc (SAI) and offers world-class learning to its students with excellence and provides in-depth knowledge required to become a successful world-class professional. KnowledgeHut also offers: Free materials from Scaled Agile Framework. Tricks and tips from our professional Certified Leading SAFe experts who have years of experience in implementing it in a variety of environments. 1-year membership with Scaled Agile included in the course fee. We hope this article cleared all your queries related to SAFe® 4 Agilist certification. Connect with us to know more about the Leading SAFe® 4.5 course.t                               Training Cost                               India        USA               LVC                5500                                                499                                  E-Learning                665                   5165 Exam cost                151                   612
Rated
4.5
/5 based on
14
customer reviews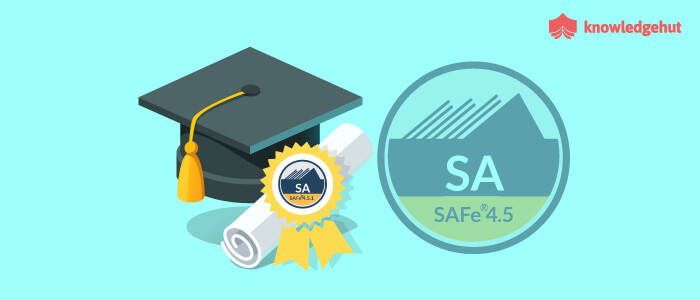 CSPO Vs PSPO: Deciding Between the Two Scrum Certifications
By
Meghana Parwate
A product owner is a leader responsible for maximizing the value of the products created by a scrum development team.Both CSPO and PSPO relate to the expertise of a product owner in Scrum framework.As Mike Cohn puts it:"The Scrum product owner is typically a project's key stakeholder. Part of the product owner responsibilities is to have a vision of what he or she wishes to build and convey that vision to the scrum team. This is key to successfully starting any agile software development project. The agile product owner does this in part through the product backlog, which is a prioritized features list for the product."The expertise of product owner is centered around the following:It's about the productIt's about understanding product benefitsIt's about customer experienceIt's about design thinkingIt's about collaborationCSPO and PSPO both relate to product ownership which in turn requires business acumen and competency on product vision and roadmap aspects.Both CSPO and PSPO courses offer a learning of wide array of principles, rules, practices, techniques and practical tools that help product owners become effective and successful.As Scrum.org puts it:"Product ownership is about more than mechanics: it's about taking accountability and focusing on value in everything you do. The role of a product owner is to identify, measure, and maximize value throughout your entire product lifecycle."If you're someone who is comfortable with the "business side" of projects, you are probably the right person to aim for a Certified Scrum Product Owner® certification.-Scrum AllianceWhat is CSPO?As defined by the Scrum Alliance, a Certified Scrum Product Owner (CSPO) is someone who has been taught by a Certified Scrum Trainer about the Scrum terminology, practices, and principles that will enable them to fulfill the role of Scrum Product Owner.What is PSPO?PSPO stands for Professional Scrum Product Owner, a course and certification offered by Scrum.org. The Scrum.org mission is "To Improve the profession of Software Development".Differences between CSPO and PSPOCSPO is an abbreviation which stands for Certified Scrum Product Owner. This is a certification offered by the Scrum Alliance, specifically for the Product Owner role.PSPO is an abbreviation which stands for Profession Scrum Product Owner. This is a certification offered by scrum.org, specifically for the Product Owner role.In my opinion, both certifications are equivalent and define a high-quality standard. There's a difference in the way of obtaining certifications and how to maintain this.Certifications issued by Scrum Alliance are obtained by taking an online exam after mandatory attending a 2-day training given by a Certified Scrum Trainer.Certifications issued by scrum.org are obtained by taking an online exam without the prerequisite of attending a training. Certifications issued by scrum.org do not expire. Of course, to test and validate your knowledge, having a decent understanding of the product owner role is mandatory, therefore preparation and study are key. Participating in a training to learn, and to experience what Scrum is about, is always highly recommended.While it is quite easy for the people who are very involved in the Agile community to identify the most recognized certifications, but it is not a simple task for those who just arrived at the Agile world.Through this blog, I will provide you a short overview of the differences between CSPO and PSPO credentials to help you in making an informed decision.Note: Please note that these reflect my personal views only.The CSPO workshop is usually informative about Scrum and Agile although the quality may be variable and depends very much on the specific instructor and the materials they provide.The basic Comparison of CSPO and PSPOCSPOPSPOCSPO is offered through Scrum AlliancePSPO is offered through scrum.org CSPO has continuing education credit requirements every three years and is renewable. PSPO never has to be renewed Accreditation BodyThe accreditation body of the CSPO and PSPO certifications are as follows:PSPO - Scrum.orgCSPO - Scrum AllianceRenewal of CSPO and PSPO CertificationsPSPO - once earned, credential does not expire and does not require renewal.CSPO - once earned, credential valid for two years. Starting Feb 2019, renewal would require 20 Scrum educational units(earned in last 2 years only) and a renewal fee of USD 100 PricePSPO - 200 USD for certification license only. Attending the workshop could cost around 500 USD.CSPO - 500 USD. The cost varies based on the location from which you attend the workshop.Need of Course PSPO - No need to take up the course.CSPO - To earn CSPO certificate, you must attend 2 days CSPO classroom training from  a Certified Scrum Trainer (CST) from Scrum Alliance.After Exam CertificationOnce you pass the PSPO exam, you will get industry-recognized "PSPO I" certification, along with a PSPO I logo that you can use to identify your achievement. Similarly, on clearing the CSPO certification exam, you will get a certificate from Scrum AlliancePassing ScorePSPO - 85%CSPO - None. Activities to be completed to achieve the credential is at trainer discretion. Time limit: PSPO - 60 minutesCSPO - NoneNumber of Questions: PSPO - 80CSPO - NoneFormat: PSPO - Multiple Choice, Multiple Answers and True/FalseCSPO - NoneLanguage: PSPO - EnglishCSPO - NoneDifficulty levelPSPO - IntermediateCSPO - NonePSPO has subsequent complexity levels in the form of PSPO I, II, IIICSPO has subsequent complexity level in the form of A-CSPO. Password Expiration DatePSPO - When you purchase a password, it is set up in Scrum.org system and emailed to you within one business day. All Students completing a PSPO course are emailed a password upon completion of the course (typically within 3-5 business days). No expiration date for passwordsCSPO - Depends on the online workflow set up by the Certified Scrum TrainerMembershipPSPO - Membership of Scrum.org and the membership does not expireCSPO - 2 Year Membership with Scrum Alliance. You are eligible to join local user groups and social networks, enjoy discounts on global events, search for careers on our online job board, and more.Other benefitsPSPO:  Once you get certified, your name will be listed on Scrum.org.CSPO: Once you receive the credential, your name is listed on Scrum Alliance portal.The verdict:The main aim of the CSPO certification is to understand the working of Scrum and the role of the Product Owner playing in a Scrum team. While the objective of the Professional Scrum Product Owner (PSPO) certification is to develop a solid understanding of the Product Owner to maximize the value of the software products and systems.PSPO has a level of difficulty associated with it. The things which I like about PSPO certification is that the certification does not mandatorily requires you to attend an in-person workshop. You can prepare all on your own and directly proceed to the examination. Also, PSPO has a lifetime validity once acquired, no need to renew the certificate. To evaluate the value of any certification we need to consider:How knowledge or competency in a subject is evaluated and how rigorous is the assessment process. The cost involved with attaining the certification and the validity also play an important role.Before reaching any conclusion on which Scrum certification is better-CSPO or PSPO to choose, you must have heard somewhere that simply earning a skill is not enough, you need to prove your potentiality to the employers. Certification is just a way to reach to the recruiters. To get noticed by the potential employer, start looking for the various certifications options available to steer your success. 
Rated
4.5
/5 based on
2
customer reviews