Agile Coach (ICP ACC): All You Need To Know
By
KnowledgeHut
Want to shape your career as an Agile coach? ICP-ACC certification enables you to acquire the required skills to serve an Agile team in a better way. But how do these skills help you? These skills enable you to increase your focus on the objectives and business goals of an organisation as well as create a healthy environment for collaboration and problem resolution. In this article, we will see how to be an Agile Coach, roles and responsibilities, Agile Coach skills, and how the role is valuable for the organizations. But, firstly let us take a look at the definition of an Agile Coach.What is an Agile Coach?An Agile Coach is an individual who exhibits his/her years of experience in implementing Agile methodology in the projects and sharing that experience with a project team. Agile Coach trains project teams on Agile software development process and guide teams throughout the implementation process. The ultimate aim behind the Agile Coach role is to equip Agile teams with the right knowledge, tools, principles, and practices so that the teams can follow Agile in a full manner. As an Agile coach, you serve as a mentor to the Agile team while facilitating agile practices and thinking to empower the teams to reach their goals through improved team practices. Further, being an Agile coach you'll be able to encourage a new culture of agile-lean thinking while bringing in a positive change to reflect an agile attitude by introducing some change in the organisational culture as well as redefining the work paradigm.Roles and Responsibilities of an Agile CoachWhen an organization wants to develop something new on the project, an Agile Coach is the best person to guide and to come up with some bright ideas that will enhance product development in Agile. The roles and responsibilities of an Agile coach are:Being a non-Scrum team member, Agile Coach mentors and coaches the teams on Agile methodologyAgile Coach is partly trainer and partly consultant, more specifically he/she is a Guide to the team membersBeing an individual outside the organization, Agile Coach helps the team members to implement their training knowledge into reality. Agile Coach is an Agile expert who provides objective guidance on the projectAn Agile Coach runs any kind of Agile project (of changing size and complexities) successfully    The Agile Coach is responsible for implementing the Agile techniques in varied cultures and environmentsWorking as a guide, the Agile Coach helps the team in Agile adoption and challenge the present environment How do you become an Agile Coach?To become an Agile Coach, an individual needs an expert-level of understanding of Lean-Agile practices, strong skills of team facilitation, and professional coaching and mentoring skills. The steps to becoming an Agile Coach are as follows:Get CSM® certification from any registered education provider (REP) with Scrum AllianceAfter achieving CSM®  certification, you get at least 2-3 years of working experience as a Scrum Master, which will make eligible (in terms of knowledge) to become an Agile Coach You need to get Agile Coach training- ICP-ACC certification training to become an Agile Coach What is ICP-ACC (ICAgile Certified Professional in Agile Coaching) certification?ICP-ACC certification is a knowledge-based Agile coaching certification. The main focus of this certification is to set the Agile mindset, roles, and responsibilities of an Agile coach. After achieving this certification, a candidate can easily differentiate among facilitating, mentoring, professional coaching and teaching. Also, the candidates will learn all the skills like team collaboration and conflict resolution that will lead to form a safe environment in an organization. The key focus of this certification is to develop an understanding of the professional coaching skill set as well as the value of honing these skills in order to serve individuals in an agile team.At the end of the ICP-ACC certification, you'll be able to differentiate between and among:FacilitatingMentoringTeachingProfessional coachingWhat is ICAgile?ICAgile, established in 2010, is a globally renowned certification and accreditation body that enables organizations to configure learning experiences that develop an Agile mindset and empower to achieve sustainable agility in the organizations. It is not a training provider. The approach of ICAgile is not just limited to Agile methodology, it lets people add more flavors to make real sense out of it. ICAgile is a platform where Agile thought leaders around the world collaborate and develop learning programs that take people to achieve mastery in Agile. This accreditation body work with the course providers to certify new or existing courses against the comprehensive and demonstrated Learning Outcomes given at ICAgile. The courses provided at ICAgile meet the most elevated amount of guidelines created by overall Agile thought leaders and the learning roadmap gives a clear way to the professionals and organizations who want to begin or continue their Agile journey.    Why should an individual take up an ICP-ACC certification?Getting an ICP-ACC certification enables you to become an Agile Coach and with the rising demand for implementation of Agile methodology across various organisations, you end up having a promising career in the field. The following reasons trigger the organisations to hunt for Agile coaches to train their Agile teams:When it comes to an organisation looking to implement agile methods in their existing workflow, a high-quality Agile training program can offer a fantastic jump start to it.An Agile Coach encourages teams to adopt, scale-up, and thrive on Agile methods by communicating a vision on the need for Agile methodology. For a company transitioning to Agile, an Agile Coach plays the role of a trainer by offering rigorous training and hand-holding for the teams.Also, an Agile Coach plays the role of a mentor to speed up with Agile to accelerate adoption, identify, and plug knowledge gaps by deploying the right set of activities.The role of an Agile Coach further includes the responsibility of ensuring continual improvement through regular monitoring to gauge the organisational progress brought by Agile adoption.Who needs an Agile Coach?Agile teams need an environment to grow. Such an environment should comprise of respect, trust, and mutual interest. This brings in the requirement of an Agile Coach who can coach and mentor various Agile roles or a Scrum Master who has acquired the required coaching skills.Apart from the technical and business expertise, the Agile Coaches are expected to be equipped with certain unique behavioral skills like self-awareness, self-management, active listening, powerful questioning, etc. This has lead to a high demand for Agile Coaches in all the organisations across every industry around the globe. The learning objectives of ICP-ACC certificationThe major focus of the Learning Objectives (LOs) of Agile Coaching Track is on the competencies required for self, individuals, team, and program level impact. On taking up an ICP ACC certification training, you'll learn the following:Learn to develop the Agile mindsetLearn about the roles and responsibilities of an Agile CoachLearn to mentor Agile roles and transitionsUnderstand the team dynamics and coach the team to get motivated and become self-awareLearn to handle the conflict and dysfunctions within the teamLearn team building and collaborationLearn to define the coaching contract and maintain neutralityLearn to identify and address issuesLearn to break down impediments for team successUnderstand the pillars of agility of an organisation while learning to identify systematic challengesLearn to create your personal coaching improvement backlog.Now coming to the prerequisites, you don't need to meet any specific prerequisites to take up ICP-ACC training. But it is an added advantage for you to have a basic understanding of Agile and some work experience in an Agile team.Who can take up the ICP-ACC training?ICAgile is the certifying body for ICP-ACC certification and according to it, this certification is best pursued after Agile Team Facilitation (ICP-ATF). However, this certification can be taken up by:Agile coachesAspiring coaches with a passion for servant leadership and a desire to learn and practice facilitation, professional coaching, teaching, and mentoring in service of Agile teams.ScrumMastersIteration ManagersAgile Project ManagersWhat lies beyond ICP-ACC training?Equipping yourself with ICP-ACC training can help you to land upon a high salary job. Yes, you've heard it right! An Agile coach earns an average annual salary of $1448,698 in the US. Moreover, you get an opportunity to work with the top organisations around the globe, like, PepsiCo, Nissan Motors, Accenture, Wipro, and the list goes on. The following chart will give you a better understanding of the salary of Agile coaches across the globe: CountrySalary of Agile Coach (per annum)IndiaINR 21,70,944US$148,698CanadaC$101,142AustraliaAU$152,353On a concluding noteWith the frequently evolving industry trends, the demand for seasoned Agile Coach is on the rise. They are really looked up to as a change-maker who can really make a difference in an organisation's Agile journey. This article comprises of all the information that you need to get ICP-ACC certified to embark on your journey to becoming an Agile Coach. All the best!
Rated
4.5
/5 based on
12
customer reviews

Agile Coach (ICP ACC): All You Need To Know
Want to shape your career as an Agile coach? ICP-A... Read More
Why do We Get CSM Certification 2019 | KnowledgeHut
By
KnowledgeHut
Agile software environments are gaining huge growth in today's world. According to the Scrum Guides website, "Scrum has been adopted by a vast amount of software development companies around the world." Most of the companies like Ericsson, Microsoft and Spotify are employing Scrum to self-organise their teams. From the study of nearly 5,400 IT projects, it is found that budget is overspent by 45% only because of project overrun. All these deficits can be avoided by becoming professional in Scrum and the possibility of completing a project successfully on time can be improved as well. A Scrum Master Certification not only teaches Agile and Lean methodologies but also serves as a clear proof of proficiency of the employees. These certifications help explain your proficiency level and thus are in demand. Here we solve all your questions about CSM Certification with KnowledgeHut. After CSM training within how many days do I need to take the certification? This is the final step in becoming a Scrum Master. Once the course is completed successfully, Scrum Alliance will send you an e-mail that includes a link which allows you to create login credentials. From then on, you will have 90 days and 2 attempts to clear the test. You can attempt the exam third time by paying $25 and in case it is not cleared in the third attempt also, the course should be re-taken before attempting the exam fourth time. Is your 2-day training enough to clear the certification? Absolutely yes! Our 2 days of training program is often good enough to get started with Scrum for your next project. It is recommended to be well versed with the resources available on the Scrum Alliance website before joining the course. This will help you to grasp the Scrum practices and principles quickly in our 2-day classroom training and clear the exam easily. What next after CSM? Just having a CSM certificate doesn't mean that you are a professional Scrum Master. You should experience the role of a Scrum Master for a minimum of 2-3 years before you think of reaching new heights in your Agile career. According to Scrum Alliance, a Scrum Master can increase the possibility of project's overall success and helps organizations in achieving their goals by applying Scrum principles and techniques. Which is more valued, getting certified from Scrum Alliance (Certified Scrum Master) or Scrum.org (Professional Scrum Master)? Both the certifications are competing equally in the Scrum Master world. The CSM exam is generally easy to pass with a passing grade of approximately 69%, where PSM exam requires a minimum of 85% to pass which is difficult when compared to CSM and CSM course fee is less comparably. How much should I pay to renew CSM certification? CSM certification requires to be renewed every two years. The first 2 years will be covered in the course fee. After that, $100 needs to be paid to extend the credential for another 2 years from your current expiration date.   What are the benefits of "2-year membership with Scrum Alliance"? Scrum Alliance has introduced a new membership community that offers a strong community experience including member-only content such as trainer- and coach-led webinars, exclusive deep discounts, certification and speciality user groups both specialized and regional, and personalized messaging to communicate with community members. Also, membership allows CSMs to use logo that is designed specially to highlight their credentials. What is the eligibility to become a CSM trainer? One should hold the Certified Scrum Product Owner® designation from Scrum Alliance to become Certified Scrum Trainer, and must: Have strong knowledge on Scrum practices, principles and concepts. Have unique training, presentation and storytelling skills, which helps people understand the concepts easier. Have a proven level of communication with Scrum/Agile community. Co-trained with some of the Certified Scrum Trainers or independently. Is the CSM training a basic level under Agile management? Yes. The CSM course offers training in the fundamentals required for professional Scrum master or a Scrum team member. What is the format of the exam? You will need to pass the CSM test, after completing the course successfully. The test can be taken online. The exam consists of 35 objective type questions and lasts for an hour. You must answer a minimum of 24 questions correct out of 35. You can log out of the exam at any time and come back whenever you want. You can answer the questions in any sequence, bookmark or skip to review later. If not cleared in the 1st attempt, you can take the test 2nd time at no cost. The Scrum Alliance charges a minimum amount from the third attempt.   Who provides the certification? The CSM certification will be issued by Scrum Alliance, the largest, most established and certification organization in the Agile community. KnowledgeHut offers professional training from experienced CSTs. What is the process for applying for the certification? Step  1: Take the CSM course. Step  2: Scrum Alliance will send you a link to create login credentials after completion of course. Now, create your login credentials. Step  3: Take the online CSM test by using those credentials. Step 4: Once the test is completed with the minimum passing score, you will be requested to accept a license agreement. Step 5: After accepting it, you will receive Certified ScrumMaster® (CSM) designation from Scrum Alliance and a 2-year membership with Scrum Alliance as well. Does Scrum Alliance offer an online/virtual CSM course? No, Scrum Alliance does not offer any online/virtual certification courses. Because they believe that online training can be effective only for some subjects and understanding Scrum requires a high level of personal interaction. How many PDUs will I be eligible for? You can claim 14-16 PDUs and SEUs by participating in our 2-day training program. What do you mean by SEUs? Scrum Educational Units are credits issued by Scrum Alliance for having completed an academic training successfully that meets a set of learning objectives required to get the CSP certification. Where are SEUs and PDUs applicable? SEUs and PDUs are credits issued by Scrum Alliance and PMI. They identify your commitment to the Agile professional by giving credits for educational achievements you make throughout your career. SEUs and PDUs show your growth of continuing education in a particular field to stay relevant without depending on your own practices. These credits are essential if you want to obtain an official Agile professional certification. Can the CSM online test be taken without undergoing the training? No, it cannot be taken. Scrum Alliance believes that true learning requires in-person training and hands-on experience with a CEC or CST. The CSM exam is not provided as a substitute for formal training. Should I pay separately for the certification fee? No, the course fee paid by the trainer includes the first 2 years of certification fee. What's the importance of a CSM certificate? Becoming a Certified Scrum Master shows that you have become proficient not only in Scrum but also in applying it within different Scrum environments. It proves your core Scrum knowledge and benefits your organization. CSMs are paid more when compared to non-CSMs. CSM certified professionals have a median pay of $87,579 per year and $78,139 for non-CSMs. What does it mean to have a Certified Scrum Master® (CSM) designation? Certified ScrumMaster® (CSM) designation is issued by Scrum Alliance after successful completion of CSM exam. Scrum Alliance believes that an individual with this designation will have in-depth knowledge of Scrum terminologies, principles and practices, enough to fulfil the role of ScrumMaster. To show their experience and deep understanding of Scrum, CSMs are supported to apply for and become CSPs. What are the eligibility criteria for this course and the certification? There are no such strict eligibility criteria for CSM course, but it is recommended to have some basic knowledge of principles and working of overall Scrum processes.To be capable enough to get certified, attend our two-day CSM course offered by our CST (Certified Scrum Trainer). Why KnowledgeHut for CSM? KnowledgeHut is a Global Registered Education Provider (REP) of Scrum Alliance and the instructions you get from this training will help you deliver controlled, high-performing projects with high-quality results. KnowledgeHut also offers: Complete CSM training by CSTs approved by Scrum Alliance. Downloadable material from Scrum Alliance. Tricks and tips from our professional Certified Scrum Master Trainers who have years of experience in using Scrum in a variety of environments. 2-year membership with Scrum Alliance included in the course fee. Hope this article was helpful and addressed all your queries pertaining to Certified Scrum Master training. Get in touch with us to know more about the CSM course.
Rated
4.5
/5 based on
20
customer reviews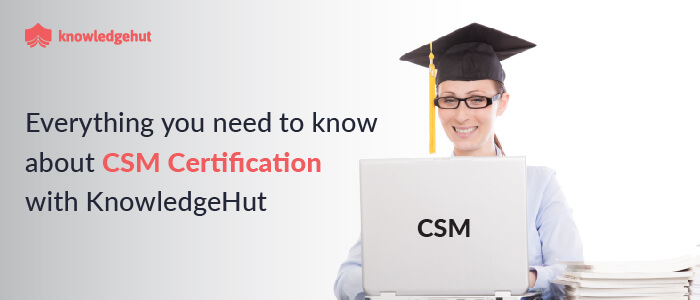 Scrumban | best Kanban and Scrum
By
KnowledgeHut
Scrumban is a blend of Scrum and Kanban. Scrumban is an Agile methodology, created to help the existing Scrum teams in exploring Lean and Kanban concepts in the organization & also Scrum and kanban is deciding new agile benchmark in organization. But, why is there a need of merging Scrum and Kanban methodologies? The discrete syllables "Scrum" and "ban", are enough to describe the several phases of transition from Scrum to Kanban. Basically, Scrumban is an Agile management framework, that is implemented when the teams opt for Scrum as the working way and use Kanban methodology as a magnifying glass to view, understand and carry out continuous improvement in the work.   Today, many organizations are experiencing some issues with the Scrum methodology, so they steer their way of working to the Kanban methodology. But some of the enterprises have discovered an optimized means of clubbing the methodologies forming 'Scrumban', as a new way for the teams to follow.   Why are teams merging Scrum and Kanban?   The need of combining these two concepts is due to the cons of both the technologies. Let us see the disadvantages of Scrum and Kanban methodologies. Cons of Scrum: Scrum works according to the emphatic guide. 'Sprints must be time-boxed to a month or less', as mentioned in the the Scrum guide. This rule is deccelerating the working pace of the teams.  Each sprint should result in a potentially releasable product at the end of each increment. Scrum teams are asked to deliver the software- designed, coded and tested to the stakeholders, in a very short span. This causes more 'anxiety' among the team members. Scrum teams have to entirely commit to the customers' requirements. In case they fail to achieve the high-priority target, they might have to decide to add some technical debts to solve the time-boxed problem. Cons of Kanban: Kanban provides a very linear technique of work. It was firstly used in the car manufacturing line, which was successful as well. So, it is believed that the Kanban can only be used in the systems which have repeatable processes.  Kanban is not very useful in complex systems like software development process as the software needs change at each and every point.  Merging Scrum and Kanban Corey Ladas was the first to coin the term "Scrumban". According to him,  "Scrum can be a useful scaffold to hold a team together while you erect a more optimized solution in place. At some point you can slough off the cocoon and allow the pull system to spread its wings and take flight."    In one of the article, Corey suggested that the time-box principle, mandated by the Scrum, is no longer necessary. In a recently released book, Ajay Reddy stated- "Although Scrumban has evolved as a framework over the years, it has no definitive guide or definition. In fact, as highlighted early in this book, several "authoritative" sources disagree about what Scrumban actually represents".   There are a few changes made in the practices of 'Scrumban over Scrum'. Let us look at those changes: Added some specialized teams and functions Self-organization concept, but with some specific boundaries Applied the policies explicitly in the working styles Queuing theory and the laws of flow are applied   Let us see that how Scrumban is distinct from a Kanban method, as follows: Organized around the teams Prescribed a proper framework for the teams to work instead of just specifying a technique as in Kanban Realized the value of time-boxed iterations Focuses on continuous improvement techniques   The team needs a proper structure and a set of practices as a starting point of any project. Comparatively, Scrum is prescribed more than the Kanban technique. Newly formed teams usually benefit from the structured framework. Those teams who like structure and continuous improvement by the Scrum but want continuous flow which is provided by Kanban can go for the Scrum/Kanban hybrid i.e. Scrumban. Large enterprise framework viz., Scaled Agile Framework (SAFe) and Disciplined Agile Delivery (DAD) make use of the both models- Scrum and Kanban.   We provide both Scrum training & Kanban Training
Rated
4.0
/5 based on
20
customer reviews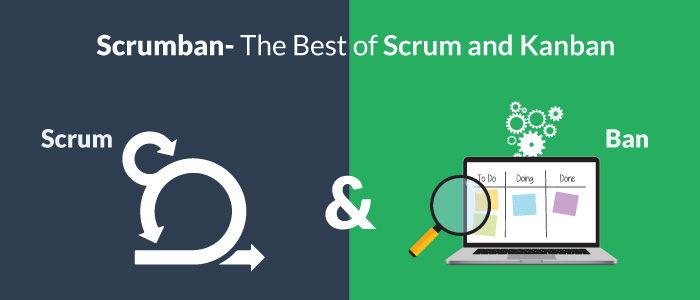 Scrumban | best Kanban and Scrum
Scrumban is a blend of Scrum and Kanban. Scrumban ... Read More