Agile Project Management Vs. Traditional Project Management
By
Kira Carr
In this fast-moving world, project management has become one of the most important pillars that are helping businesses run without any glitch in their processes. Both small and large scale organizations around the world are exploiting technology and depending on project management systems to deliver the software development project successfully. Whether it is team workflow management or timing, these tools help to ensure that everything is going well without any obstacles. While there are tens of different project management approaches, Agile is considered one of the most practical and flexible software development mechanism that exist today. It is capable of executing a variety of tasks, but what sets it apart from others? Let's find it out. Here's a brief comparison of Agile management and traditional project management software:                                                                                                                    Traditional vs Agile Project Management Overview of Agile and Traditional Project Management What is Traditional Project Management? The traditional Project Management (waterfall) approach is linear where all the phases of a process occur in sequence. Its concept depends on predictable tools and predictable experience. Each and every project follows the same life cycle which includes the stages such as feasibility, plan, design, build, test, production, support, as shown in the figure above. The entire project is planned upfront without any scope for changing requirements. This approach assumes that time and cost are variables and requirements are fixed. This is the reason why traditional project management faces budget and timeline issues. What is Agile Project Management? When a traditional system focuses on upfront planning where factors like cost, scope, and time are given importance, Agile management gives prominence to teamwork, customer collaboration, and flexibility. It is an iterative approach that focuses more on incorporating customer feedback and continuous releases with every iteration of software development project. The basic concept behind Agile software development is that it delves into evolving changes and collaborative effort to bring out results rather than a predefined process. Adaptive planning is perhaps the biggest feature of Agile and one that makes it a crowd favorite among project managers. Scrum and Kanban are two of the most widely used Agile frameworks. They are very well known for encouraging decision-making and preventing time consumption on variables that are bound to change. It stresses customer satisfaction and uses available teams to fast-track software development at every stage. The table below shows the major differences between Agile project management and traditional project management.                                                                                Table: Agile project management vs traditional project management Why is Agile Preferred and why not the traditional project management? Agile is preferred by most developers and managers because of a variety of reasons. Let's have a look at the most common ones: Project complexity Traditional: This method is the best fit for small or less complex projects as it follows linear approach. Sudden changes in the project or any other complexities can block the entire process and make the team go back to step one and start all over again. Agile: This is the best methodology to follow in case of complex projects. A complex project may have various interconnected phases and each stage may be dependent on many others rather than a single one as in simple projects. So, Agile methods are preferred for large complex projects, as they can respond better to such structures. Adaptability Traditional: This approach works with a belief that once a phase is done, it will not be reviewed again. So, it is not adaptable to rapid changes in the work plan. In case if any sudden situation arises or any change in the requirements from the client's side, traditional approach fails to adapt to the new change. The only choice is to start from the very beginning once again. This wastes a lot of effort and time in the process. Agile: The adaptability factor is very high in this methodology since it is not linear. Complex projects consist of several interconnected stages, where a change in one stage can cause an effect on another. And the project managers can take calculated risks in such scenario, as there is a chance of high adaptability.  Scope for feedback and changes Traditional Each and every process is clearly detailed and defined at the start of the project in the traditional approach. It cannot deal with any big change or feedback that might require a change in the process. Mostly, the project delivery time and budget are fixed, allows change very rarely. Agile There is a high acceptance for feedback and change in this method. The process is very flexible and allows constant feedback that can help to provide better output within the fixed project delivery time. The main reason that managers or developers choose agile direction is for the flexibility it offers. Developers working with Agile management are able to respond to customer requests quickly as they are only addressing small parts of the project at a time and the customer validates each iteration or sprint before finalizing.   Some of the important characteristics of Agile development Breaks project into parts Agile divides a project into parts (called iterations) where the release is sent to the customer after every single iteration. Additionally, the success of the project can be easily foreseen through the success of these iterations. This removes the need for upfront planning completely. Self-organized As mentioned above, Agile uses a parallel mode of management. Employees of a company are not managed by a central line of control, but by groups. For example, in Agile, there may be eight teams working on a single project. Each team is managed by itself without external guidance. The teams only interact with each other for project discussion and process linking as they are otherwise not self-sufficient. Generally speaking, an Agile project consists of three parts: The product owner – the expert on the project (for which the product is being developed) and is the main person who oversees the projects The scrum master – this person manages the process involved in Agile. He/she looks after the iterations and its completion The team – individuals who play significant and minor roles in the software development process Customer Engagement In Agile, customer engagement is at the very top. The customer is regarded highly in its frameworks as after every iteration, feedback is generated and acted upon. Overall, Agile is clearly the winner among project management systems. When compared with other traditional approaches, Agile's features come to the fore and reiterate why it is one of the top software used by companies globally. Can Agile Coexist with Other Approaches? This is a question asked by many project managers, and opinions of experts seem to be divided. While some say it is possible for Agile to coexist with traditional project management systems, they suggest being cautious and using them for different terms. For example, using two different approaches on the same project can be counter-productive and highly explosive. As Agile and most other frameworks are totally contrasting to each other, the projects may go for a toss. On the other hand, some experts believe that it is not possible for Agile and other tools to co-exist because of their contrast. Using them together can cause disorder in the entire company system, making the productivity to go for a toss. Agile vs Traditional- Adoption Growth According to a recent online survey of 601 IT and development professionals, it is proved that Agile is the new typical formula for project success. The majority of projects and development teams are now adopting this methodology, while the traditional waterfall approaches have many flaws.    Traditional organizations vs. #Agile organizations #SALC16 pic.twitter.com/bBgxkQB1fI — Scrum Alliance (@ScrumAlliance) January 20, 2016 Agile was first introduced about 15 years ago as a substitute for traditional software development approaches. Many people considered it as challenging to implement traditional approach practices and Agile adopters stated that this new style of software development improves team collaboration and is more customer-centric.  Though Agile method was present more than a decade ago, the vast majority of organizations have adopted the practice in the last 5 years. Moreover, the survey reported that agile adoption saw an inflection point between the year 2009-2010. As shown in the above figure, agile adoption seems to have slow incremental growth till 2008 and then its growth was accelerated after gaining traction in the market. Reasons for the transition to Agile Most of the organizations who transitioned from traditional to agile project management have listed the following reasons: Improves collaboration between teams- 54% Enhances the quality level of software in organizations- 52% Results in enhanced customer satisfaction- 49% Speeds time to market- 43% Reduces development cost- 42% The Verdict In the traditional software development, the customer involves only before the start of the development process. So, there might be a number of mistakes and a large amount of money needs to be spent to rework on them. Since in the Agile software development, the customer involves at each stage, the corrections can be made once the defects are detected. This helps us in saving cost. As we can see, Agile project management is really in-demand for teams. It helps the team to work on the top priority ones at the right time and allows them to walk through the risks much faster than they would with traditional project management tools.  
Rated
4.0
/5 based on
2
customer reviews

Career Benefits of Scrum Master Certification
By
KnowledgeHut Editor
If your company is planning to adopt Scrum, the expectations will be higher in terms of increasing productivity, appreciating employee morale and getting financial rewards. One important aspect should be kept in mind in this context. Certain specific goals which you hope to achieve by virtue of Scrum, may not have absolute clarity in some cases, until the Scrum is fully implemented. In general, people do not have any idea about the benefits of Scrum, which is evident at the early stage of the transition period. Mostly you will find people who have knowledge of Agile management principle and processes. The best way to enhance your comprehension of the Scrum and its principles, along with its overall implementation, is to have an authentic certification. There are various certifications such as ITIL, Prince2, SAFe etc, which are implemented in organizations to achieve the project goals. Scrum training or Scrum certifications can be identified as one of the many courses, where employees are trained to become self-motivated and can be propelled to perform huge responsibilities. "If you are fine with yourself, you will definitely be fine with others", goes one of the popular sayings. It tells you the importance of self-confidence which will be steer you toward achieving life goals in a self-organized manner.   Benefits of Scrum certification:  Scrum certification concentrates on the importance of 'self-organization', which can result in the following- You can easily participate in the team activities and also, members can feel a sense of self-ownership. Employees can be self-motivated, which can help escalate team performance This training can let you create a work environment which is useful for company's growth. The knowledge and skills garnered can make the team immune to internal and external distractions.   Job Description for CSM:  CSM entirely falls under the category of Engineering. Certified Scrum Master can act as a project lead and facilitates the Agile methodology for the teams. CSM is also responsible for arranging the Scrum meetings and Sprint planning sessions CSM develops and maintains the Agile training, guide to entry-level engineers, and also ensures that the processes are lined-up with the goals. Certified scrum master works with a number of associates, including engineers, production employees, project managers, supply chain personnel, and logistics employees. CSM generally reports to the Engineering department head. According to the need of the CSM's employer, Scrum master have to work full time or overtime if required.    Salary in different cities in US:  Popular Cities Salary New York, New York $70,685 – $1,37,957 Seattle, Washington $71,907 – $1,31,710 San Francisco, California $81,894 – $1,46,277 Washington, District of Columbia $68,885 – $1,36,149 Atlanta, Georgia $57,929 – $1,22,558      Comparing Salaries among different companies:  Popular Companies Salary Amazon.com Inc $96,958 – $1,38,725 Capital One Financial Corp $73,830 – $1,20,355 Booz, Allen, Hamilton $67,117 – $119,230 Cognizant Technology Solution Corp $69,531 – $1,04,559 General Electric Co (GE) $83,763 – $1,26,111      Entry Level Salary for Scrum Master:  Job Profile Salary Software Engineer $70,398 Software Developer $59,701 Mechanical Engineer $60,001 Electrical Engineer $62,209 Financial Analyst $50,950      Senior Level Salary for Scrum Master:  Job Profile Salary Operation Manager $75,310 Office Manager $49,941 Executive Assistant $58,975 Director of Operations $106,933 General/ Operation Manager $75,639 Administrative Assistant $42,095 Chief Financial Officer $146,171    This is all about the Certification details for the Scrum Master course. This certification adds some amount of credibility to your profile, elevating your status in the project team as well as in the organization.
Rated
4.0
/5 based on
20
customer reviews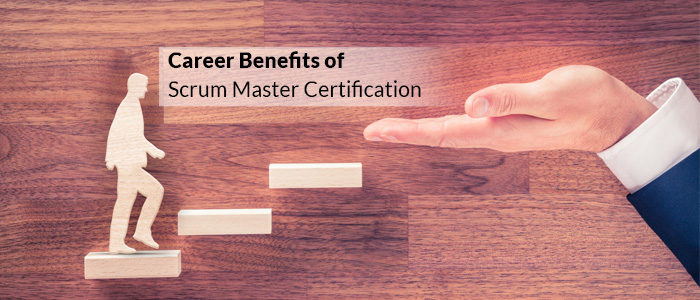 Career Benefits of Scrum Master Certification
If your company is planning to adopt Scrum, the ex... Read More
A Leader's Journey: The Path from a Scrum Master to Agile Coach
By
Kumar Dattatreyan
Who is the Scrum Master?  The Scrum Guide defines the role as someone who upholds the values and principles of Scrum, someone who helps the rest of the team understand Scrum theory, and who supports their growth and maturity as individuals.  Not everyone can perform this role as the skills required are not easy to learn or master. It's not that being a Scrum Master is hard, however, many people who take this path do so without a full understanding of what it means to be a Scrum Master.  So, what exactly is a Scrum Master?  How to become a Servant Leader?  John Maxwell, an author of numerous books on leadership states that being a leader is being someone of influence. What does this mean? Being someone of influence is someone who others come to depend on to help them grow as individuals and as members of a team. The leader influences them in some way to unlock their own potential.  Is Scrum Master the lifeline of Scrum?  A Scrum Master undoubtedly has to be an expert in the Scrum Framework.  However, being the expert at Scrum, and upholding its values and principles is not enough.  A Scrum Master has to also master being a leader and a coach for the team he or she serves.  The Scrum Master is a coach to the Product Owner, influencing her in ways to better her craft so that she can get better at maximizing the value being delivered by the team.  The Scrum Master also strives to be a coach to the organization, helping and influencing leadership to change their behavior from a command-and-control mindset to one where they also practice servant leadership, and develop their leadership skills and become people of influence.  All these do not happen after a two-day certification class.  It takes years to develop the coaching skills necessary to move from an expert in the Scrum Framework to a team coach, helping influence and shape a high-performing team, to coaching an organization, influencing leaders to improve their leadership skills. Many Scrum Masters will stay content in team coaching roles as it's an extremely important one to fill, and many others will progress along a path to becoming an Agile Coach, someone coaching multiple teams, to an Enterprise Coach, coaching an organization.  The model, pictured below, from the Agile Coaching Institute, visualizes the coaching modalities required to be a successful coach (and leader).  The coaching modalities are colored in red.A Scrum Master, often called an Agile Team Facilitator, should be someone who is an expert facilitator, no easy skill to master.  Professional facilitation courses are available to help new Scrum Masters hone their skills, and Scrum Masters are encouraged to hone their craft to become master facilitators.First Facilitation → next Agile CoachAccording to Sam Kaner, the author of the "Facilitators Guide to Participatory Decision Making", a facilitator "is an individual who enables groups and organizations to work more effectively; to collaborate and achieve synergy.  She or he is a 'content neutral' party who by not taking sides or expressing or advocating a point of view during a meeting, can advocate for fair, open and inclusive procedures to accomplish the group's work".  Facilitation, in my view, is something that takes years to master and can serve the individual if their career aspirations include coaching, teaching, and mentoring. All of these modalities require the person to be an excellent facilitator, as facilitation skills play strongly in all of them.For a Scrum Master, it's important to work on facilitation skills, however, it's not necessary to be an expert facilitator before taking on coaching, mentoring or teaching.  In fact, as a Scrum Master, you will be expected to mentor and teach your team, and to coach individuals.  Mentoring vs Coaching  When taken in an Agile context, the Agile coach is there to partner with their clients in a thought-provoking and creative process to help them change their mindset and approach and influence people in their organization to work in more Agile ways.  Mentoring, from an Agile context, is to share your knowledge and experience to offer your mentee's choices and options from which to choose. Choosing a mentoring stance is something that you gain with experience.  And finally, Training is something that a Scrum Master will need to hone and develop their skills in, as it requires equal parts facilitation and mentoring to deliver effective training that people will learn from and remember.  In summary, a Scrum Master has a lot to master besides knowledge of the Scrum Framework! It may seem daunting at first, however, the key is to embrace the role and hone your craft as a facilitator as this forms the foundation for all the other modalities that make for a great coach and leader.  A typical path from Scrum Master to Coach may look something like this:As a newly minted Scrum Master, you'll be expected to focus your attention on the team and the individuals on the team.  You will be facilitating all the team ceremonies while honing your mentoring and coaching skills in the process.  You will also be exercising these skills as you conduct workshops and more formal training for your team, and possibly other teams in the organization.  Don't shy away from these opportunities; they will allow you to become better at being a Scrum Master, and a leader.  Remember that leadership is nothing more than influence, and having a mastery of these coaching modalities allows you to wield considerable influence on the people you serve.  As the team matures through your leadership, and as you mature as a Scrum Master, you will be ready to take on more of a leadership role for the organization.  You may focus on multiple teams as an Agile Coach, providing mentoring and coaching for new Scrum Masters, or other roles in the team. You may be conducting more workshops and training for the organization and possibly creating your own content for delivery.  You will be developing mastery in one or more of the coaching domains as pictured in the coaching model and will be developing expertise as a Business Coach, a Transformation Coach, or a Technical Coach. Business Mastery, as the name states, allows you to focus your coaching and leadership in Product Management, and other aspects that run the business. Transformation Coaches focus on all aspects of organizational change, while Technical Coaches roll their sleeves up, and work with technical teams to help implement DevOps, Continuous Integration and other technical enablers that help the enterprise accelerate delivery.  Take advantage of coaching boot-camps available commercially, and attend local coaching meetups.  This will give you the opportunity to meet other coaches for mentoring and coaching opportunities. Remember, the more opportunities you have to coach, the better you will be at it.And finally, the picture above depicts Enterprise Coaches as the pinnacle of coaching from an Agile context. These coaches have mastered all the coaching modalities, are experts in Lean-Agile, and have mastered at least one of the domains pictured in the coaching model. Enterprise coaches as master facilitators, and expert coaches who multiply their efforts by developing others to be great leaders and coaches.  So, go forth and become great Scrum Masters, as this role is foundational to great leadership.  In my view, being a coach is being a leader of influence. You will be able to help your organization stay nimble and adaptable through your leadership and coaching influence.
Rated
4.5
/5 based on
2
customer reviews