5 Scrum Tips That Actually Work
By
Gleb B
The digital world is evolving at a breathtaking speed with new technologies and trends emerging every year. Concepts that used to be brand-new and cutting-edge yesterday, become obsolete and ineffective today. The traditional project management method (usually called "the Waterfall model") turned out to be inefficient for web development. Obviously, there was a strong demand for a new planning method, and that's how Lean Approach was created. This new approach to web development stands on three pillars: short development cycles, focus on quality, and continuous improvement. These key aspects are perfectly represented in Agile ? the most popular software development approach in the world. Today, it's difficult to find a web development company that doesn't apply Agile practices. Agile is widely used for a good reason: according to the "11th State of Agile" report carried out by VersionOne, the success rate for the projects delivered with the help of Agile stands at staggering 98%! Software development companies use a variety of Agile methodologies, but the Scrum framework is undoubtedly the most popular of them. The report we've just mentioned states that 58% of respondents use the Scrum framework in project management, whereas other practices (Kanban, XP, and others) are less common. Moreover, many web developers combine Scrum with other methodologies. Scrum is a powerful tool that helps software development companies streamline their workflow and make it more efficient in terms of productivity and costs. 5 Useful Tips to Make Scrum Work+ The adoption of Scrum can surely help your organization develop and launch a successful digital product, but the word "Scrum" alone doesn't perform any magic. Scrum is a project management framework and, therefore, requires proper implementation. Several serious mistakes may cause project to fail. There are, however, several useful tips that make Scrum work, so let's take a look: Tip #1: Describe the Sense and Rules of Scrum to All Team Members This might seem like an evident and trite recommendation, but it's really important. If the members of your web development team don't fully understand the essence and principles of Scrum, you won't be able to benefit from all the advantages of this methodology. Instead of collaboration, you might get problems and misunderstanding. Instead of efficient time management, your team might waste time with zero-generated value. What's the result? Poor productivity. If you think that training isn't important, you're quite wrong: one web development company out of three experiences problems with the implementation of Agile methodologies due to insufficient training. Therefore, train your team properly: they must clearly realize what Scrum is about and who's responsible for what in this process. If Scrum roles and practices are understood and applied as they are supposed to, your company will be able to leverage smooth workflow and high efficiency. Tip #2: Stick to the Rules of Retrospectives Retrospective (also called "retro") is the core element of Scrum, so it must be held appropriately. Retrospective isn't just a fancy word. It's a technique that has its rules. Many Scrum teams turn sprint retrospectives into a meaningless waste of time because they don't stick to the rules. Remember that a sprint retrospective gives a Scrum team a chance to improve their workflow. For a typical month-long sprint, a retro should take no more than 3 hours. Spending more time on it is inefficient and counterproductive. During a sprint retrospective, team members should do the following: Share their ideas about a just-finished sprint (process, relationships, environment); Decide what went well and what went wrong Offer improvements and propose a plan for implementing them. As a result, your team will define problems and suggest solutions. Don't forget that sprint retrospectives require the presence of a Scrum Master who moderates the event and encourages the team. Sprint retrospectives help Scrum teams become more efficient and professional. Tip #3: Avoid Interruptions Though each Scrum team has a sprint backlog that contains all the tasks for a sprint, there might still be some urgent tasks that interrupt the workflow. Though such interruptions seem to be inevitable, it's recommended to avoid them. If your Scrum team has to cope with the tasks beyond a sprint backlog, it'll be less productive and may even fail to deliver an increment of a product at the end of a sprint. Of course, if there are improvements to the code, they must be done as soon as possible. However, it's a part of a Scrum workflow. All other tasks, like adding new features to a product, for example, must be reported to a Product Owner who should prioritize a product backlog and decide when these tasks should be fulfilled. Scrum teams must be focused. Once the team members are forced to shift from one task to another, a workflow stops to be Agile and Scrum doesn't work. The best solution to this problem is to have an experienced Product Owners who'll minimize interruptions and manage a product backlog in the most efficient way. Tip #4: Hire a Skilled Scrum Master In Scrum, teams are self-managed. However, it doesn't mean they can manage themselves perfectly well without a Scrum Master. Hiring a skilled and experienced Scrum Master is essential for building a productive workflow of a Scrum team. But why? What does a Scrum Master do? In a nutshell, the Scrum Master makes sure that a development team sticks to Scrum, its principles, and practices. The Scrum Master manages the team's workflow: organizes daily stand-up meetings and retrospectives;coaches the team members and removes impediments. Apart from these tasks, the Scrum Master also collaborates with the Product Owner and helps with product backlog management. Yet, the Scrum Master mustn't become a boss who gives orders. Scrum teams should remain self-managed and the Scrum Master can interfere and make decisions only if team members can't agree upon an issue. A skilled Scrum Master will help your development team be focused, productive, and capable of fulfilling the most challenging projects. Tip #5: Focus on Value Your Team Delivers Many Scrum teams are focused on velocity, which is an amount of work a development team handles during a sprint. Lots of Scrum teams use story points to measure velocity. Though velocity is, undoubtedly, the most important metric in Scrum, it shouldn't become a goal for your team. The Agile Manifesto clearly states that working software is more important than comprehensive documentation. This means that team members should do their best to deliver value instead of chasing after story points. Story points are merely informal agreements on how much effort each task requires, whereas working software is an objective value. Also, development teams shouldn't neglect code quality. If there's a choice: more story points per sprint versus better code quality, the priority should be given to code quality.
Rated
4.0
/5 based on
20
customer reviews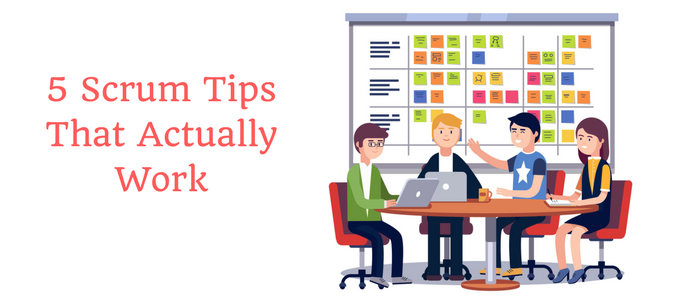 5 Scrum Tips That Actually Work
The digital world is evolving at a breathtaking sp... Read More
Scrum Master vs. Project Manager: Differences and Similarities
By
KnowledgeHut Editor
Organizations that are new to Agile and Scrum commit some deadly blunders. The most common and overlooked one is the lack of clarity of the roles of the Scrum Master and the Project Manager. This is more often seen in smaller Scrum teams, where these two discrete roles overlap.  There are of course similarities between Scrum Master and Project Manager roles. But that does not give way to ignoring the distinct differences between an Agile Project Manager and Scrum Master.  We have spaced out this article into various sections-    Scrum Master vs. Project Manager roles and responsibilities Scrum Master roles and responsibilities: Scrum Master is referred as a facilitator, who manages the teams that are implementing the Agile methodology. Scrum framework is the best framework for smaller teams of developers, who can break their work into a Sprint in order to get your project done at the end of every sprint.  The roles and responsibilities of the Scrum Master includes- Sprint planning  Scheduling the daily Scrum meeting Managing Scrum process responsibly Helping the Scrum teams to follow Scrum practices Removing barriers so the team can focus on their work Assisting with the Product Backlog Co-operating with Product Owner in designing Product Backlog items for the next Sprint Protecting the team from external distractions Recording and assisting to improve team dynamics   *Project Manager roles and responsibilities: Project manager's role is to manage the projects and ensure that the project meets the requirements. The roles and responsibilities of the Project Manager are as follows- Defining project scope to the team Planning project target Preparing the work schedule for the team members Gathering requirements Defining the resource requirements for the project Preparing the budget for a project Assuring quality Mitigating the risks Monitoring the plans Getting user feedback Managing relationships with the client and the stakeholders Ending the project   Similarities between the Scrum Master and the Project Manager Project Manager and Scrum Master both are humans and they both make mistakes. But they both debug and learn from the mistakes. They both can communicate, receive feedback, mitigate the risks, and enable a great bonding within a team. Actually, neither the Project Manager nor the Scrum Master is the supreme authority. The Project Manager has to report to the client and the stakeholders, whereas the Scrum Master has to report to the Product Owner alongside the stakeholders and clients. Both Project Manager and the Scrum Master fail when they ignore the basic principles that are supposed to be adhered to. They fail when they not only neglect being professionals, but also when they are any less than skilled professionals. Sometimes, they may also fail when they disrespect the team members' opinions. Differences between the Agile Project manager and Scrum Master While noting down the differences between the Project Manager and the Scrum Master, you will find out that the Project Manager plays the leadership role by leading a planning for the execution of the project. Scrum Master plays a support role for the team members, by working closely with the team and assuring that they are following Agile principles properly. Let's look at the major differences between the PM and SM: Project Manager(PM) vs.Scrum Master(SM) Goals Has defined goals like- Completing the project on time, planned budget, and scope Makes sure that the team members are well trained to follow Agile practices appropriately. Also, SM coaches the Scrum teams and mentions the timeline to finish the project. Quality Assurance PM also knows the importance of quality, but doesn't know how to achieve this. Usually, a consultant is hired to fix the errors. SM assures the quality and very well knows the importance of it. Team Size Project Managers like to make the things large. PM works with more people and a huge budget. In this way, they improve to Program Manager Scrum Master always tries to keep things smaller. They like to work in small teams irrespective of budget. Average Salary Rs.1,351,403 per year Rs 1,036,017 per year Job Description The job description of the Project Manager includes- Planning, creating budget and the related documents PM has to work with upper management to ensure a scope and direction of a project PM has to work with another department also, in case of emergency sometimes have to work themselves or instruct the team to finish a goal. The job description for Scrum Master includes- Resolves barriers and controls the Scrum processes. Making a team aware of Agile and Scrum to deliver successfully Facilitates the Scrum ceremonies Ensures that a project is running smoothly with the help of the tools Executes the Product Backlog as per the Product Owner prioritization Solves team conflicts with good communication skills Motivates the team Monitors the Scrum processes to increase efficiency   Scrum Master vs. Project Manager certification The Scrum Master and the Project Manager certifications are the two most popular certifications of the Agile and Waterfall methodologies.  Scrum.org report as of 30th April 2017 states that around 110,000+ people are  Scrum certified. Only 56% of the Project Management Specialists are holding a Project Manager Certificate, even in Big IT companies. This was revealed in a survey conducted by IBM.    Last words: Deciding between the Scrum Master and Project Manager certification is indeed a tough choice and entails a careful consideration of the prospects of each. Eventually, the role of a Scrum Master is proved as a 'deciding factor' of the successful projects. The Scrum Master and the Project Manager both have distinct roles. Both need particular skill-sets and a right person to make the work happen.       
Rated
4.0
/5 based on
9
customer reviews

Scrum Master Job Descriptions and Responsibilities In Agile
By
lori Wade
Agile can be loosely described as a set of predefined principles or values that are used to manage software development. One of the most used Agile frameworks is called Scrum and is best used for small teams of developers who split their work into cycles, also referred to as sprints, with the aim of developing working software at the end of every cycle. Such a framework needs a person to manage the delicate timelines that are often associated with this kind of software development model. This person is called an Agile coach or a Scrum Master.   A Scrum Master is not your traditional project manager. In fact, Scrum Masters and project managers have distinct differences in their job descriptions. The role of a project manager is to manage project timelines, the scope of the project and the resources used to make sure that the project meets the requirements. We will now look into a little more detail, the job descriptions of a Scrum Master and why proper agile and Scrum training is important for business success!     Scrum Master Job Description and Responsibilities 1. Coaching the Team The Scrum Master is responsible for making sure that the members of the team are well trained into following the values of the Scrum framework and Agile practices. The Scrum Master also ensures that the team members are aware of their respective roles and how they will fulfill them while using the framework. Such is also important if new members join the team midway through the project. Team members also need to be coached on how to be accountable, productive and how to get the most out of being self-organized. The members also need to be coached on how to have a sense of ownership of projects and view them as something they want to do rather than something they are paid to do. It is not the team alone that needs coaching, event management and the company as a whole require coaching.   This is helpful especially when it comes to organizations that are adopting the Scrum framework for the first time.   2. Managing and Driving the Agile Process The Scrum Master is in charge of how the whole process is played out from the start all through to the end. A Scrum Master manages the scope and timeline of the entire project, which in turn guides them to set achievable goals. Therefore, what the team delivers at the end of every sprint has the required quality and supports the larger business goal. They are also in charge of making and implementing changes to the process if necessary. Throughout the lifespan of the project, the Scrum Master is required to monitor the schedule performance as well as the cost performance and make alterations where necessary. The Scrum Manager is also responsible for planning and setting up retrospective meetings and daily meetings. They should plan what can be delivered quickly so that they can prepare the team accordingly. If there is no project manager, it is up to the Scrum Master to document project requirements and proposals, status reports, handle presentations and ensure that they get to the clients.   3. Protect the Team from External Interference Communication is a crucial aspect during the course of a project. However, when the right channels are not used, it becomes dangerous for the whole project. For instance, there have been cases of disgruntled product owners or operational staffs, event management in some cases, going to an extent of approaching an individual team member with their concerns and new demands, and this affects the individual. The Scrum Manager has the mandate to ensure that they are the guardian of the team, speaking on behalf of the team and not allowing direct access to members in case of any concerns.   Managing the Team Working together is what makes any group project successful and that is one of the duties of a Scrum Master; to ensure that there is adequate cohesion amongst the members of the team. The Scrum Master should invest in creating an environment of openness, respect, and honesty so that the team members can feel comfortable with each other and with themselves. Such is important, since an individual would be more resourceful if they worked in conditions where they are not being intimidated, judged or discriminated in any way. In the event of a fallout between team members, a Scrum Master is responsible for identifying, resolving and eliminating the source of conflict. It is also in the power of the Scrum Master to appoint a project manager if it is deemed necessary. 4. Foster Proper Communication Poor communication is arguably one of the fastest ways to ruin a well-planned project, regardless of how good the developers may be. A Scrum Manager needs to be well equipped with excellent verbal and written communication skills to ensure that every piece of information gets to the team, related stakeholders and is delivered accurately and on time. This starts with the initial scope of the project, and it is even more important when it comes to relaying changes. All important changes of scope, project plan, change in timeline and so on should be communicated as soon as possible to ensure minimal interruption to the workflow. A Scrum Master should also ensure that there is a good communication flow within the development team internally, in particular, between the developers and the user experience or visual designers. They should also make sure that other relevant stakeholders know what's going on in the company. This encourages transparency and builds up trust across the whole organization. 5. Dealing with Impediments A Scrum Master should anticipate, identify, track and remove any impediments. Predicting impediments makes the Scrum Master alert to potential threats to the project and ensures that they can easily identify and eliminate them. They find ways to deal with the issues internally, and they can also get help from the larger company or other stakeholders, if it is beyond their power. As part of coaching, the team can be trained to identify impediments themselves or the Scrum Master can select members to remove the barriers once they come up. 6. Be a Leader A Scrum Master should be a leader to the team. They should be ready to come up with new solutions, and they should be open to receiving new ideas from team members and other stakeholders to make the deliverables meet the required standards. They should be able to work with the team and develop and empower the individuals, helping them achieve their full potential as developers and as individuals. They should also be servant leaders in that, it is not all about giving orders for them; they can also dive in and give a helping hand and work with the developers, which is the traditional meaning of leading by example!   Conclusion How do you choose a scrum manager? Above is just a summarized list of responsibilities of a scrum master. The responsibilities and duties may vary from one organization to another or from one project to another, but it does not take away the base importance of having a Scrum Master as part of the development team and the organization as a whole.
Rated
4.0
/5 based on
20
customer reviews