Agile Contracts or Agile Statement of Work - Must-Haves
By
Nalini Jethwani
In IT with the Agile boom, everyone wants to get into Agile Development. Be it the customers, organizations, and even developers, everyone wants to get into Agile Development. Customers want to follow Agile so that they can get to see the Product early and the changes can be incorporated without any cost. In other words, they want fixed price, variable scope. But, organizations need to be cautious in order to define how much variable scope is included in contract clauses. Organizations want to keep themselves up-to-date and follow Western culture blindly. Statements like these often come "Everyone is going Agile, why aren't we yet?" They have to understand, every environment, every team, and every client is different. We just cannot keep on copying everyone else. Developers, of course, will have "Agile" word in their resumes which will help them grow and find jobs.   The number of agile contracts [by govt] amounts to a coat of agile paint on a giant waterfall HT @RachelProsser https://t.co/IEOPRRFFM5 — (((Dave Moskovitz))) (@davemosk) October 9, 2017 So, in desperation, companies (small or medium organizations) ONLY follow what customers say. What they end up is – with an agreement that has clauses of Waterfall model and they tell clients that we will follow Agile. These clauses might be like having fixed scope or fixed price which will be given by end of phase like requirement gathering or planning or UAT done etc. But we forget, that in Agile, every iteration has these phases and we should be targeting the contract in such a manner that it is win-win for both the parties at end of every iteration. Below figure distinguishes between the Traditional Pyramid and Agile Pyramid. Traditional pyramid has fixed scope while Agile one has the Estimated scope, to be considered while negotiating the contract.   Lawyers and Sales team need to be taught that if we are following Agile, we need to follow the terms and conditions for Agile contracting and not of Waterfall.   #agile contracts, however, are not the silver bullet: few of them delivered the right client benefits. @WC_REFSQ pic.twitter.com/8MSb0okXQ7 — Samuel Fricker (@samuelfricker) March 15, 2016 Apart from including changes like, Product Backlog (instead of BRD), Key roles in Project, the Agile methodology, below are few MUST HAVES that should be mentioned clearly in the contracts and need to be communicated to the customers, during the contract negotiation: 1. Pricing Model: It is unrealistic to expect any development project or product, to be delivered on a Fixed price basis. We all know that there will ALWAYS be changes in scope which will affect the original price. If the customer has a fixed budget, this can be managed within an Agile project by focusing on the development of high-priority items first, allowing the Customer to remove low-priority items from scope. All such issues must be taken into account when negotiating the Pricing Model for the project. Below are a few potential pricing models: a. Fixed Price per user story – Be cautious here, too long user stories need to be broken up.  b. Fixed Price per iteration – Make sure that all iterations range to similar story points. Remember, we have to create win-win for both parties. c. Fixed Price for the agreed number of features – Describe the feature well in advance. d. Time & Material (our favorite) - Customer continues to pay during an agreed-upon time period. The customer pays till a point he sees value being added. In case he sees that no value is being added, the customer stops paying and the contract ends. 2.Spikes for high-risk elements: In case the project has specific, high risk elements, e.g. technical challenges or business issues that are absolutely first timers or have never been solved before, these MUST be communicated up-front. Such Programming spikes where we attack only the riskiest coding in the project must be included in the contract. These spikes give customers a realistic view of the project ahead for the least amount of money and avoid conditions of "Fast failure". The main goal here is to uncover any weaknesses in the proposed development and hence be ready with the new plan and strategy in order to make the project successful. 3. Define Scope, but no need to mention delivery items: Product backlog defined at the high level MUST be attached to the contract as one of the appendices. Though the scope is variable and will change during the course of the project, high-level scope must be included in the contract. Delivery Items will change post discussion with PO on every iteration, but the high-level scope remains the same. Emphasize on process rather than on dates and items. This will keep the team's mindset collaborative. 4. Settle on Definition of Done at high level: While negotiating the contract, the "Definition of Done" should ideally be defined and attached as an appendix. The clauses for "Definition of Done" that needs to be included are: a. During every Sprint Planning, PO and the development team will review the "Definition of Done" for the items that are included in that particular Sprint. b. In case of disputes, there should be appropriate resolution techniques in place between the parties.   Concluding the article by revisiting one of the values of Agile Manifesto: Customer collaboration over contract negotiation. Contracts matter to those who have signed it. Customers do face problems and you will be able to see them only when you talk to them. Once you see and understand their problems for which they have hired you to provide the solution, you need to COLLABORATE with them and get to it. Despite all the clauses in the contract, the motto should be "LET'S DO IT !!".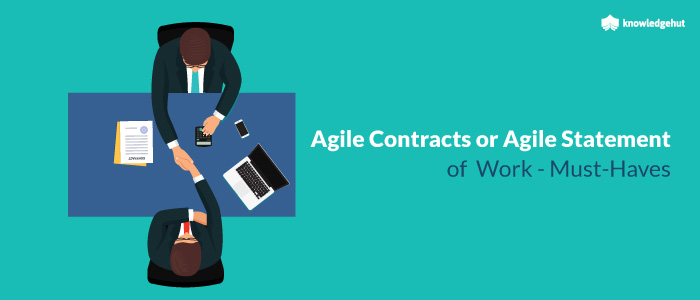 Why Should I Care About Professional Scrum Master (PSM) For Scrum Master Job?
By
Naveen Singh
Professional Scrum Master (PSM) is training and certification workshop is managed by Scrum.Org. Scrum.Org is a scrum training and certification organization started by Ken Schwaber (Co-Creator of Scrum Framework) after moving away from Scrum Alliance in 2010. Today, there are more than 80,000 Professional Scrum Master worldwide and more than 75 get added every day. PSM is recognized as most sought certification for Scrum Master and agile coach worldwide due to credible exam, best quality trainers and consistent course material. Many companies only consider PSM holders for Scrum Master role. How to become Professional Scrum Master (PSM)? There are 2 possible ways to achieve it. 1st – Write exam without training if you are already practicing Scrum. 2nd – Attend professional Scrum Master (PSM) training in your area before writing exam. If you are planning to write exam yourself without training then follow below instructions to clear exam in 1st attempt. Buy exam from Scrum.org website after paying $150. Read Scrum Guide  Try Open assessment  DON'T take training from non-PSTs (Professional Scrum Trainers) – Trainer may not be having understanding about Scrum and Test as per Scrum.org expectation. DON'T take test on any other website – Exam may not be up to date as per Scrum.Org syllabus. DON'T take online Scrum Training – It may not be aligned with Scrum.Org learning objective. Always attend licensed trainer's workshop. PSTs are well groomed and given license to teach after going through rigorous process. Advantages of attending Professional Scrum Master (PSM) training before writing exam. Exam fee is already covered in training fee so no need to pay exam fee separately Opportunity to learn from licensed Trainers 50% discount on second attempt (Applicable to India and Subcontinent) 40% discount on PSM –II (next level after PSM-I) Copy of course material maintained by Scrum.org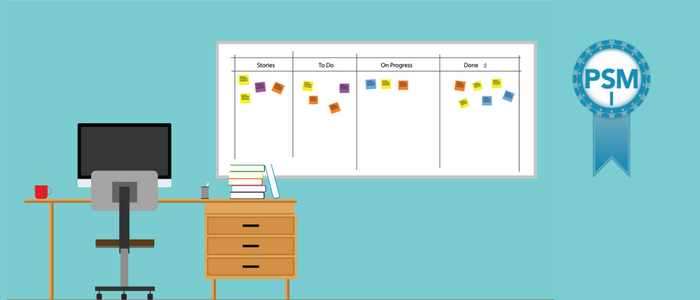 The History of Professional Scrum Master (PSM)
By
KnowledgeHut
Codes are the integral elements of a software. Codes can be written in a number of programming languages like C, CPP, JAVA, VB etc. The output obtained after the execution of a given code is a "software". Software is always developed as per the client's need. Once the software gets ready, it is first tested before deployment is done.                                                                                                 Dig.  Bug Testing For any software, Testing is the fundamental step to use the software successfully. Testing is the process of evaluating a system or its component(s) / parts to satisfy all product requirements. According to ANSI/IEEE 1059 standard, Testing can be defined as ― "A process of analyzing a software item to detect the differences between existing and required conditions (that is defects/errors/bugs) and to evaluate the features of the software item". Collectively, this is called Software Development. The main objective of Software Development is to produce 'high quality software' that meets the customer requirements. This process of developing a software and finding the bugs is called as Software Development Life Cycle (SDLC). SDLC is a process followed for a software project, within the same organization. It consists of a detailed plan, which describes how to develop, maintain, replace and improve a software. The life cycle defines a methodology for improving the quality of software and the final development process. The following diagram describes how SDLC works.                                                                                            Dig. SDLC Agile is a general approach to software development. All agile methods including Scrum, focuses on teamwork and the frequent deliveries of quality software. They also render the ability to upgrade according to varying customer requirements. Scrum is one of the commonly used process of Agile software development. Agile and Scrum are closely associated. Let me give you an instance. To purchase anything, you can directly visit a shop. There, you get a wide range of brands. But you select only the ones you like the most. In a similar way, Scrum is the brand for Agile. Typically, all the processes in Agile use Scrum. Nowadays, Scrum is just another trend for organizations. Scrum has been there since 1986. The first paper on Scrum was published in the Harvard Business Review in January 1986. The popular Software teams started using the Scrum agile process in the year 1993.                                                                                       Dig. Evolution of Scrum Need for Scrum Certifications: As per the demand of Scrum methodology, new certification courses are being developed. These help you become a Scrum Master. A sound understanding of the values of Scrum is mandatory. This amplifies your potential to become a Certified Scrum Master (CSM) and a Professional Scrum Master (PSM). Ken Schwaber initially designed the CSM course in 2002. Thereafter, he introduced the updated version of CSM in 2009. This updated version is known as Professional Scrum Master (PSM). Professional Scrum Master encompasses the basic and advanced concepts of Scrum. You also learn how to implement this knowledge in real-world situations. The Professional Scrum Master certification proves to be equally effective for experienced Scrum Masters and Advanced Practitioners.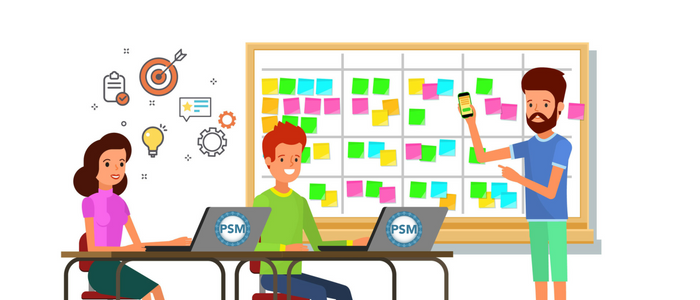 The History of Professional Scrum Master (PSM)
Codes are the integral elements of a software. Cod... Read More