Introduction to Scaled Agile Framework (SAFe®)
By
Rumesh Wijetunge
Implementation of software solutions vary based on complexity and magnitude. Not all implementations are simple and straightforward. Software solution implementations of enterprise scale require more rigorous processes and streamlined practices to allow businesses to address challenges posed during such engagements. Businesses are also required to take up such challenging implementations while operating in challenging business environments which forces them to implement solutions in the shortest sustainable lead time. Best practices for scaled agile framework tells you principles which can benefit the organisation As we all know, the change-driven approaches of Agile project management came into being to address the problems in traditional long running plan-driven software projects. But, Agile projects were traditionally more suitable for smaller projects that required six to eight team members. So, the need for a process to deliver large scale projects using Agile methodologies increased over the last few years. The scaled agile framework provided the much needed guidance for the same. Reason for SAFe® The primary motivation for SAFe was to allow for collaboration, synchronization and coordinated delivery of solutions developed by multiple Agile teams. SAFe is a framework that can be scaled up or down as per the requirements of the organization. Thus, SAFe supports small-scale solution implementations which require 50 to 125 team members as well as complex, cross departmental and even cross-organizational solution implementations that require thousands and ten thousands of team members. How does SAFe work? It is fascinating to understand how SAFe facilitates scaling of this magnitude? SAFe framework describes roles, responsibilities, artifacts and activities that are required to develop and deploy software solutions Lean-Agile software implementation principles. SAFe principles are developed using 3 main bodies of knowledge. They are as depicted in the diagram below.  Agile development embraces change where cross-functional, self-organizing and self-healing teams develop software in an iterative and incremental manner using small bursts called sprints.  "Systems thinking" motivate team members to consider each and every element that are within the context as a whole. For example the business context for which a solution is being developed may involve factors internal to a business such as data, systems, technology, resources (financial and non-financial) as well as factors which are external such as competitors, government and regulatory bodies, suppliers and distributors, financial institutions etc. which may all impose constraints on the solution.  One of the key principles in Agile methodologies involves lean principles which is to minimize waste or non-value adding activities and to increase the probability and impact of value-adding activities.  Common questions, which SAFe addresses   SAFe was developed to address the following industry wide questions. How can organizations scale agile practices starting from small agile project teams, to larger programs, to business unit or enterprise wide programs or portfolios and even to cross-organizational mega projects? How can teams of scale be organized around continuous delivery of value? How can teams of such magnitude collaborate effectively avoiding delays and bureaucracy evident in such large scale projects if run as traditional projects? How can dependencies between multiple teams be managed? How can an environment that fosters collaboration, continuous improvement and innovation be created and sustained? How can culture be molded to motivate team members to make mistakes and learn from them? How can the team measure success of new working methods followed and how can they make it more efficient? SAFe provides a well-defined set of values, principles and practices which can be adopted enterprise-wide to better address these questions above. In my upcoming articles I will discuss about different configurations of SAFe with details on how different roles, systems, practices and values contributes towards continuously delivering value through the agile release train.  
Rated
4.0
/5 based on
20
customer reviews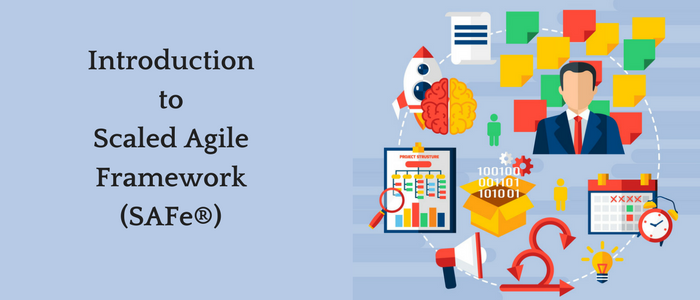 Introduction to Scaled Agile Framework (SAFe®)
Implementation of software solutions vary based on... Read More
Agile Contracts or Agile Statement of Work - Must-Haves
By
Nalini Jethwani
In IT with the Agile boom, everyone wants to get into Agile Development. Be it the customers, organizations, and even developers, everyone wants to get into Agile Development. Customers want to follow Agile so that they can get to see the Product early and the changes can be incorporated without any cost. In other words, they want fixed price, variable scope. But, organizations need to be cautious in order to define how much variable scope is included in contract clauses. Organizations want to keep themselves up-to-date and follow Western culture blindly. Statements like these often come "Everyone is going Agile, why aren't we yet?" They have to understand, every environment, every team, and every client is different. We just cannot keep on copying everyone else. Developers, of course, will have "Agile" word in their resumes which will help them grow and find jobs.   The number of agile contracts [by govt] amounts to a coat of agile paint on a giant waterfall HT @RachelProsser https://t.co/IEOPRRFFM5 — (((Dave Moskovitz))) (@davemosk) October 9, 2017 So, in desperation, companies (small or medium organizations) ONLY follow what customers say. What they end up is – with an agreement that has clauses of Waterfall model and they tell clients that we will follow Agile. These clauses might be like having fixed scope or fixed price which will be given by end of phase like requirement gathering or planning or UAT done etc. But we forget, that in Agile, every iteration has these phases and we should be targeting the contract in such a manner that it is win-win for both the parties at end of every iteration. Below figure distinguishes between the Traditional Pyramid and Agile Pyramid. Traditional pyramid has fixed scope while Agile one has the Estimated scope, to be considered while negotiating the contract.   Lawyers and Sales team need to be taught that if we are following Agile, we need to follow the terms and conditions for Agile contracting and not of Waterfall.   #agile contracts, however, are not the silver bullet: few of them delivered the right client benefits. @WC_REFSQ pic.twitter.com/8MSb0okXQ7 — Samuel Fricker (@samuelfricker) March 15, 2016 Apart from including changes like, Product Backlog (instead of BRD), Key roles in Project, the Agile methodology, below are few MUST HAVES that should be mentioned clearly in the contracts and need to be communicated to the customers, during the contract negotiation: 1. Pricing Model: It is unrealistic to expect any development project or product, to be delivered on a Fixed price basis. We all know that there will ALWAYS be changes in scope which will affect the original price. If the customer has a fixed budget, this can be managed within an Agile project by focusing on the development of high-priority items first, allowing the Customer to remove low-priority items from scope. All such issues must be taken into account when negotiating the Pricing Model for the project. Below are a few potential pricing models: a. Fixed Price per user story – Be cautious here, too long user stories need to be broken up.  b. Fixed Price per iteration – Make sure that all iterations range to similar story points. Remember, we have to create win-win for both parties. c. Fixed Price for the agreed number of features – Describe the feature well in advance. d. Time & Material (our favorite) - Customer continues to pay during an agreed-upon time period. The customer pays till a point he sees value being added. In case he sees that no value is being added, the customer stops paying and the contract ends. 2.Spikes for high-risk elements: In case the project has specific, high risk elements, e.g. technical challenges or business issues that are absolutely first timers or have never been solved before, these MUST be communicated up-front. Such Programming spikes where we attack only the riskiest coding in the project must be included in the contract. These spikes give customers a realistic view of the project ahead for the least amount of money and avoid conditions of "Fast failure". The main goal here is to uncover any weaknesses in the proposed development and hence be ready with the new plan and strategy in order to make the project successful. 3. Define Scope, but no need to mention delivery items: Product backlog defined at the high level MUST be attached to the contract as one of the appendices. Though the scope is variable and will change during the course of the project, high-level scope must be included in the contract. Delivery Items will change post discussion with PO on every iteration, but the high-level scope remains the same. Emphasize on process rather than on dates and items. This will keep the team's mindset collaborative. 4. Settle on Definition of Done at high level: While negotiating the contract, the "Definition of Done" should ideally be defined and attached as an appendix. The clauses for "Definition of Done" that needs to be included are: a. During every Sprint Planning, PO and the development team will review the "Definition of Done" for the items that are included in that particular Sprint. b. In case of disputes, there should be appropriate resolution techniques in place between the parties.   Concluding the article by revisiting one of the values of Agile Manifesto: Customer collaboration over contract negotiation. Contracts matter to those who have signed it. Customers do face problems and you will be able to see them only when you talk to them. Once you see and understand their problems for which they have hired you to provide the solution, you need to COLLABORATE with them and get to it. Despite all the clauses in the contract, the motto should be "LET'S DO IT !!".  
Rated
4.5
/5 based on
1
customer reviews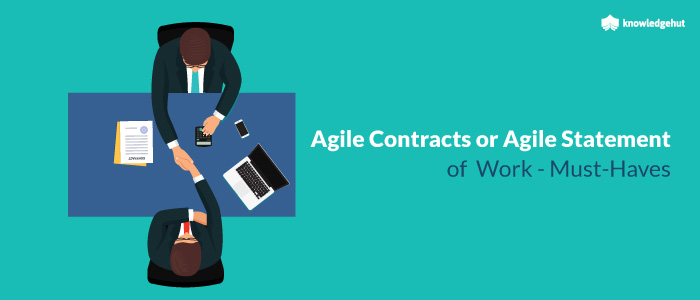 Who is a Scrum developer?
By
KnowledgeHut Editor
The Scrum method of project management is an effective framework for implementing an Agile software project. Any team using the Scrum method to develop a software project basically comprise of 3 entities, namely the Product Owner, the ScrumMaster, and the Development team. More about the Development team The Development team not just comprises of programmers and software developers, but contain a mix of professionals including software designers, architects, business analysts, documentation experts, and software testers. The responsibility of each member of the Development team is to deliver a functional element or chunk of the overall product at the end of each sprint cycle. Development team members, in addition to their core skills, have the following responsibilities when working for a Scrum project: • Estimate the effort required in completing their tasks. • Achieve the goals defined for each sprint. • Learn to write user stories for product features and divide them into smaller tasks. • Identify any impediments to the progress of the project and report the same to the ScrumMaster. • Attend daily scrum meetings and report the completed and planned tasks for each day. • Collaborate effectively with other Development team members. Thus, in addition to their core capabilities, each development team member must possess additional qualities, such as being an efficient team player, self-motivation, self-organization, analytical, and good collaboration skills. All about the Scrum developer A Scrum developer is a professionally-certified Scrum expert and can be any member of the Scrum development team. The Scrum developer is skilled in the Scrum methodology and can work effectively with any Scrum development team. A Scrum developer is well-versed in the basic understanding of Scrum framework, and how to implement it effectively for any software project. A professional Scrum developer has the following traits and qualities: • Possesses a deep knowledge of the Scrum methodology and good learning skills. • Possess technical knowledge and skills of their core skill that could be software analysis, software programming or coding, UI design, or software testing capabilities. • Excellent team skills that can help them collaborate and work with other team members. Certification courses Certification courses for Scrum Developer are available from a number of software training institutes. A professional Scrum Developer certificate can acquire basic or advanced skills in Scrum methodology and learn to use it effectively in any software project. Scrum Developer courses are suitable for any member of the Development team, including software architects, programmers, database experts, testers, and any one possessing any technical knowledge of software products. Professionals, who have previously worked in an agile framework or in any Scrum team, are best qualified to attend these Scrum certification courses. Certified Scrum Developer courses focus on imparting the following Scrum-related skills: • Agile project management skills Understand the basic framework of an Agile process, its architecture, design, along with the core benefits of an efficient Agile-based software development life cycle. • Test-driven Development (TDD) An approach that has improved the speed and quality of software development in an agile environment. TDD is used for quick improvements in the application code after executing a specific test case for the functionality. Hands-on use of popular software tools that are used for implementing this approach is covered. • Continuous integration (CI) Continuous integration in Agile development environment involves the configuring of the CI systems for generating daily or hourly builds. In addition to source codes, CI also integrates execution of unit test cases and other artefacts. • Code Refactoring Code Refactoring is a process used in Agile methodology that can simplify the design of existing code without changing its functionality. Required skills include identify code smells and applying refactoring techniques to enter cleaner code. • User stories User stories is an Agile technique that helps you to write proper user stories and then break them down to manageable chunks of functionality. User stories are an effective technique of collaborating not only with other Scrum team members, but also with higher stakeholders in the overall project. Most Scrum developer certification courses lasts for around 3-5 days, with the first part of the training devoted to the understanding of the Scrum framework and its working concepts. The second part of the training is usually devoted to hands-on training in Agile tools and methods that are commonly used in most Agile projects. In addition to certification courses in Scrum development, advanced courses for becoming a certified ScrumMaster and Product Owner are also offered by professional training institutes. A professional Scrum Developer course gives the trainees hands-on experience of being part of an effective Agile team using the hands-on training in TDD testing, refactoring, and acceptance tests. The certified developer not only understands the skills of the Scrum framework, but also realizes its importance in the efficient implementation of any software development process.
Rated
4.0
/5 based on
20
customer reviews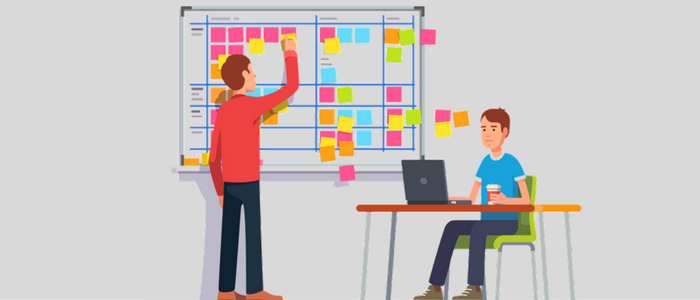 Who is a Scrum developer?
The Scrum method of project management is an effec... Read More