Knowledge sharing is the biggest advantage of working in a group or as a team. The proper utilization of knowledge of every team member contributes to successful project delivery. However, a number of organizations have experienced major setbacks just because of not detecting and resolving the issue of 'lack of knowledge sharing' on time. In a Scrum – Agile organization, knowledge sharing becomes more important because Scrum, an Agile framework, is designed to complete the software development project through the collective efforts of the team.

Knowledge Sharing Barriers –You May Not Know:
To deal with the issue effectively, we can divide the commonly identified knowledge barriers into three categories: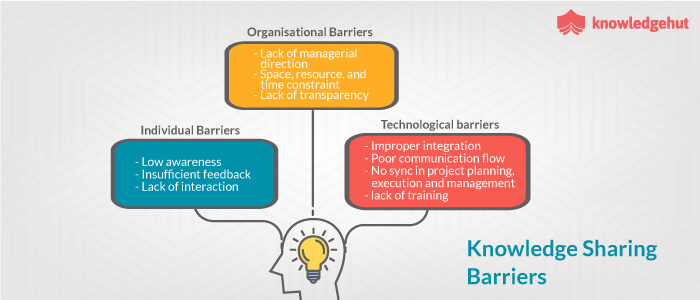 1. Individual Knowledge Sharing Barriers:
Low awareness about the benefits of knowledge sharing with others.
Insufficient evaluation, feedback & communication.
Lack of interaction between the team members
2. Organisational Knowledge Sharing Barriers:
Lack of managerial direction for clear communication
Inadequate spaces, resources and time to share and gain new knowledge
Lack of transparency in recognition of performance
3. Technological Knowledge Sharing Barriers
Improper integration of IT systems & processes
Frequent obstructions to communication flows
lack of compatibility between working process, project planning, execution and management
Reluctance to use the latest technology due to lack of training
Scrum helps teams deliver products with constant adaptation & improvement.

A social entertainment and gaming company also reported a 73% gain in productivity.#agile #scrum #game #gaming #entertainment #tech #technology #software #adapt #adaptation #productivity #improvement pic.twitter.com/OjKsMutKR1

— Exceptional_LLC (@Exceptional_LLC) May 6, 2018

Negative Impacts of Knowledge Sharing Barriers on Scrum Productivity:
A number of times the well-maintained velocity of Scrum projects takes a big hit when a star performer resigns all of sudden. The best you can do is to extract the maximum knowledge out of him during his stay period and to share the gathered information to another team member; it slows down the project besides developing uncertainties in the minds of your Scrum team members.

The numbers of Scrum team members are questioned when an employee quits.Many a time, this questioning negatively affect their productivity and commitment both.

The very common silo in Scrum Project Management you experience is when a newcomer joins your team and the team members are asked to pull that new member up to the required velocity.

Many times, Scrum team responds to changes to deliver the best but few members still don't believe in comprehensive documentation; it creates the dependency on each other.

In the absence of proper training and commonly accepted Agile – Scrum culture, primarily focused on knowledge sharing, most of the projects run at a low velocity.

Lack of knowledge sharing is the major cause of reworking that increases the delivery period and the cost as well.

Effective knowledge sharing, essentially is the key to building self-organizing Agile teams. This is best described in the following video-



5 ways to Improve Knowledge Sharing for Better Scrum Productivity:
The proper flow of knowledge sharing within Scrum team dramatically improves the productivity with quality. Scrum Master indeed is a manager as he/she manages the process of exchanging information. There is a lot of knowledge in the Scrum team members; and, getting it out on time for the people who need it is a challenge for Scrum leaders. The following 5 hacks will surely help you improve knowledge sharing:
Store the Documents for Anytime Usage:
Document all the knowledge and put it safely in an easy-to-access repository. The scope of this tactic covers the project relevant data of all the laptops and tablets also.
2. Conduct Demo meetings Within Team Or With Client:
While preparing yourself for the demo meeting, you will need the documents to show the development; as a result, all the shared information will be available to you and for all.

​3. Pair Programming:
The idea behind 'Pair Programming' is to assign a particular code work to two programmers at the same time to prevent knowledge silos and to encourage transparency as well. It also helps both the developers to improve the quality by going through the ideas of each other. In addition, it takes care of 'surprise resigning'.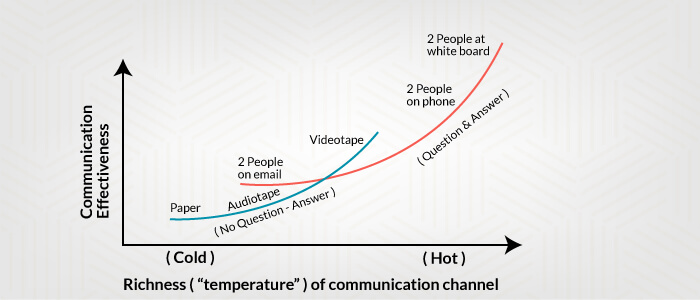 4. Motivate Scrum Team Members:
Most of the people don't want to share their knowledge unless they expect something in return; therefore, Scrum members need motivational support by extrinsic and intrinsic rewards.

5. Go for Extreme Programming (XP)
Extreme Programming (XP) is an Agile framework powered by the practical values of courage, communication, feedback, simplicity, respect. Make it a part of your Scrum strategy.
Conclusion:
The zero-gap knowledge sharing through the fastest route is the key to success in Scrum projects. It is also true that one roadmap doesn't take everyone to the desired destination but the strategy with clear vision and goal matters; and, same is the case with knowledge sharing in Scrum. The 'Professional Scrum Product Owner (PSPO)' and 'ScrumMaster (CSM) Certification Trainings' help you deliver the best quality product at the earliest through strategic knowledge sharing system.