CSM®️ or PSM™ - Which Certificate Is More Valuable?
By
Frederik Vannieuwenhuyse
What is Scrum?The source of a correct definition of Scrum is the official Scrum Guide, authored and maintained by Jeff Sutherland and Ken Schaber. Scrum has its roots in software development, but nowadays Scrum is applied in several contexts and industries.From the Scrum Guide:"Scrum is a framework for developing, delivering, and sustaining complex products. Scrum is not a process, technique, or definitive method. Rather, it is a framework within which you can employ various processes and techniques. Scrum makes clear the relative efficacy of your product management and work techniques so that you can continuously improve the product, the team, and the working environment."The latest update to the Scrum Guide also lists possible uses for Scrum:- Research and identify viable markets, technologies, and product capabilities;- Develop products and enhancements;- Release products and enhancements, as frequently as many times per day;- Develop and sustain Cloud (online, secure, on-demand) and other operational environments for product use; and,- Sustain and renew products.Origin of ScrumScrum is a process framework that has been used to manage work on complex products since the early 1990s. Ken Schwaber and Jeff Sutherland worked on Scrum until 1995, when they co-presented Scrum at the OOPSLA Conference in 1995. This presentation essentially documented the learning that Ken and Jeff gained over the previous few years, and made public the first formal definition of Scrum.The Scrum Guide documents Scrum as developed, evolved, and sustained for 20-plus years by Jeff Sutherland and Ken Schwaber.  Both, Jeff Sutherland and Ken Schwaber were present at the event when the Agile Manifesto was written.Scrum was one of the several lightweight processes presented at that gathering in 2001. The Scrum Alliance - a non-profit organization promoting Scrum, was also founded in 2009.Throughout the years Scrum has evolved, and in fact, has been become simpler, but therefore not more easy to apply and practice. In case you're interested, you can look at the Scrum Guide revision history, and see the changes since 2010. To me personally, the beauty of Scrum lays in its simpleness, although some people would advocate they still find Scrum too complicated in terms of process.Scrum Alliance vs Scrum.orgIn 2001, Ken Schwaber left the Scrum Alliance and found Scrum.org. There was a bad impression of the Scrum Master about implementing a Scrum in the organization. The Scrum Masters misinterpreted that the 2-day Scrum Alliance CSM®️ certification course is enough to certify them as a Scrum Master.  Even organizations took amiss that those who attended 2-day training are the Scrum experts.The PSM™  certification of Scrum.org is different than CSM®️ certification. For PSM™ certification, attending a workshop is not mandatory. But, it is little harder to clear the PSM™  assessments which at least assures a precise level Scrum understanding. Note: The Scrum.org assessments are based on the Scrum Guide (fabricated by Ken Schwaber and Jeff Sutherland).Let's see these two certifying bodies in details and figure out the difference between the Scrum Alliance and Scrum.org.Scrum Alliance- The CSM®️ certifying BodyFounded in 2001, Scrum Alliance® is the largest membership and certification organization in the Agile community. The Scrum Alliance is a non-profit organization and is governed by the Board of Directors. The Scrum Alliance has certified more than 750,000 practitioners worldwide, clearly contributing a lot to the spreading of Scrum worldwide. But, the Scrum Alliance is not simply a company providing training. The Scrum Alliance also organizes twice a year a global gathering and several regional gatherings and supports agile community events.From the Scrum Alliance website:"Scrum Alliance's vision is to "Transform the World of Work" with a mission to guide and inspire individuals, leaders, and organizations with practices, principles, and values that create workplaces that are joyful, prosperous, and sustainable."Scrum Alliance certificationsAs there are 3 roles in Scrum, the Scrum Alliance offers 3 entry-level (foundational) certifications - there are CSM®️ (Certified Scrum Master), CSPO (Certified Scrum Product Owner), and CSD (Certified Scrum Developer). Next, you could apply for a Certified Scrum Professional (CSP), after indicating your practical experience with Scrum.Recently, the Scrum Alliance has changed the certification path and added an "advanced" certification and course. Today, the Certified Scrum Professional is specific for either Scrum Master, Product Owner, or Developer.These are the certifications:- Certified Scrum Master: CSM®️ --> Advanced CSM®️ --> CSP-SM- Certified Scrum Product Owner CSPO --> Advanced CSPO --> CSP-PO- Certified Scrum Developer (CSD)Next, you can obtain so-called "elevated" certifications, which involves a more rigorous screening and test to validate your knowledge, experience.The elevated certifications target to be an accredited trainer or coach:- CST (Certified Scrum Trainer) - people with this certification can provide official training in Scrum, on behalf of the Scrum Alliance. Trainers go through a rigorous process of co-training, and an application in order to pass the bar of becoming a CST.- CTC (Certified Team Coach) - to be recognized and accredited as a coach on the team level- CEC (Certified Enterprise Coach) - to be recognized and accredited as a coach on the enterprise levelThe coaching certifications involve more than Scrum, but agile & lean coaching in general.The Scrum Alliance also provides an Agile Leadership track - this is relatively new and split into two levels:- Certified Agile Leadership I- Certified Agile Leadership IIThe Agile Leadership courses increase your leadership effectiveness and learn how to be a better leader, no matter what your role.The Scrum Alliance provides also "extended" continuing education, courses.The Scrum Alliance is taking a broad view of how to transform the world of work (e.g. also applications of Scrum outside IT).Scrum.org- The PSM™  certifying BodyIn 2002, Ken Schwaber with others founded the Scrum Alliance and set up the Certified Scrum accreditation series.  Ken Schwaber left the Scrum Alliance in late 2009 and founded Scrum.org which oversees the parallel Professional Scrum accreditation series.On the Scrum.org website, there's a page called "Why Scrum.org?" explaining Ken Schwaber's motivation to separate from the Scrum Alliance and found Scrum.org. These are the motivations as formulated by Ken Schwaber:- I would create a new organization, Scrum.org, to continue developing and sustaining the Scrum Developer program.The program would lead to assessments and certifications based on a body of knowledge.- I would also redevelop a new, more advanced version of the Scrum courseware. This courseware, called Scrum-In-Depth, would focus on how to use Scrum in advanced circumstances. I would publish the Scrum body of knowledge on Scrum.org and formulate beginner, intermediate, and advanced assessments and certifications based on this body of knowledge.- I would form a new group of Scrum Trainers who welcomed openness and transparency.Scrum.org  aims to improve the Profession of Software Delivery and targets its courses and certifications in that area. The Scrum Alliance focuses on Scrum, and takes a broader view, as the Scrum Alliance's slogan is to "transform the world of work".Scrum.org certificationsThe certifications provided by Scrum.org are similar to the certifications of the Scrum Alliance. The certifications are called "Professional" The certification path is as following:- Professional Scrum Master: PSM™  level I --> level II --> level III- Professional Scrum Product Owner: PSPO- Professional Scrum Developer: PSD- Scaled Professional Scrum (SPS), based upon Scrum.org Nexus framework for scaling Scrum- Professional Scrum with Kanban (PSK I): to validate knowledge of how Scrum Teams can use Scrum with Kanban ability to support value creation and delivery. Kanban is a lean method to streamline work. Scrum has its foundations in lean, so it does make a lot of sense for teams to learn and apply Kanban. In fact, agile & lean are blending philosophies.- Professional Agile Leadership (PAL-I): Agile Leadership trackThere's an optional (non-mandatory) PAL-E (Professional Agile Leadership - Essentials). The workshop provides a foundation for the role that leaders play in creating the conditions for a successful agile transformation.In summary,In a comparison to Scrum Alliance, remember the following practical points when you consider one or the other certification:Scrum.org certifications have no expiration date.Scrum.org certifications can be obtained by taking an online test. Physically attending a classroom course is not required.Scrum.org offers "open assessments" which are interesting for anyone to validate your Scrum knowledge, regardless of if you intend to get certified or not.To know more about various Agile and Scrum certifications and paths to learning these certifications to make a career move, you can refer certification pathway.Choosing between the best Scrum Master Certifications: CSM®️ vs PSM™ Agile and Scrum are today's latest trends. Not only IT-based organizations but also non-IT organizations hire individuals who know the concepts of Scrum framework and its applications. Scrum is the Agile framework, focuses on the complex projects.Initially, the Scrum framework was used for software development, but today it is used as any other projects to get the fastest results. So, there is a rising demand for Agile-Scrum professionals in the organizations.CSM®️ and PSM™  are two major Scrum Master certifications. CSM®️ stands for Certified Scrum Master. CSM®️ is a certification issued by the Scrum Alliance. CSM®️ is a first (entry-level) certification for the Scrum Master. PSM™  stands for Professional Scrum Master. PSM™  is a certification issued by Scrum.org. PSM™  and PSM™  both are the entry-level certifications for the Scrum Master.    PSM™  by Scrum.org has a different approach than CSM®️ by Scrum Alliance in the following ways:- According to Scrum.org, there's no need to attend a class, to be able to take an online test to get certified. A practice assessment is available online, called "Scrum Open"- According to Scrum.org, a certification is a proof of knowledge and therefore has no certification dateLet's see the differences between the CSM®️ and PSM™  in the tabular form.Certified Scrum Master (CSM®️)FeaturesProfessional Scrum Master (PSM™)50 multiple-choice questions, usually with four possible answersExam PatternNumber of Questions: 80Format: Multiple Choice, Multiple Answer and True/FalsePassing score: minimum 69%Passing gradePassing score: minimum 85%The test is taken anytime after attending the courseThere's no time limitExam durationTime limit: 60 minutesEvery 2 yearsCertification renewal durationNo expiration (Lifetime certification)Fee: $1295 per attemptCertification costFee: $150 per attemptThere's no practice exam available. In general, after attending and learning during a two-day CSM course, you should be able to pass the exam without issues.Level of the examDifficulty: Intermediate$119,040  per yearSalary$100,500 per yearFinal ThoughtA search on "Scrum Master", in the job title with as prerequisite "Certified Scrum Master" gives more than 1000 jobs results. If you want to get an idea what companies and organizations ask in terms of Certified Scrum Master Course, you can have a look at the AgileCareers website (by Scrum Alliance). (there are mainly USA based jobs listed)This is all about the comparison between the CSM®️ and PSM™  and various certifying bodies like Scrum Alliance and Scrum.org that offer these certifications.In the end, knowledge matters whether it is CSM®️ or PSM™  certification. Both certificates have the same value in the job market. Also, both the programs are highly compatible. It is very crucial what you earned during the certification process and the trainer will definitely help you to make the difference there.
Rated
4.5
/5 based on
19
customer reviews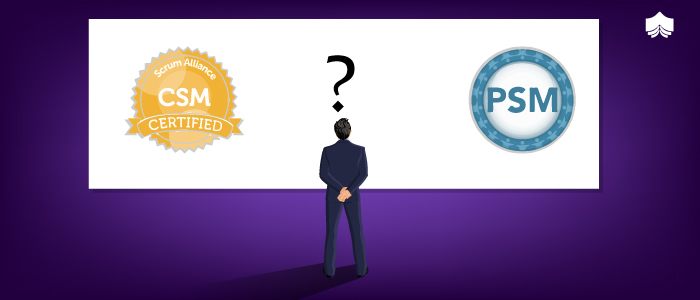 6 Skills You Need to Be a Great Product Owner
By
Clara Decker
The well-known quotation by Roman Pichler of Agile Product Management states as 'The Product owner plans, distributes, composes, and tracks work from his or her level down'. And, I feel it's quite valid! Suppose you own any product, independent of whether it is a technical one or something that is used for general purposes. At that point, you should think about how to execute the prominent errands that are mentioned above superbly.  Plus, there are some more exclusive traits that an effective product proprietor must have to gain tremendous achievement with different classification in product owner role. Thus, if you are someone like that then you ought to not just expect that your product will turn into a tremendous success one fine day if you have not cultured the right behavioral qualities within yourself.  Need a comprehensive idea regarding the same? Then, here I am with a rundown of such striking and required aptitudes that you ought to have if you are a product owner by profession:  Here I go!  1. A flawless representative  Well, the truth of the matter is sufficiently genuine that albeit one single individual ought to be the product owner within the scrum framework yet it turns out to be practically unthinkable for somebody to oversee everything alone.  Thus, to survive with enormous grandeur in your profession, you ought to surely delegate and build an informal group that will be useful for you. Does it seem like the scrum team? Well, the appropriate response is yes and no both!  The group may comprise of the ScrumMaster and different experts from the product development group on the off chance you need. But, it should be a totally discrete group which is not a formal one and still can help you with accomplishing different works about which you might not be a specialist.  2.  Immensely knowledgeable about the product   Well, if you own a specific product then you should know about it inside out. Additionally, you should not only think about the product but also what is the scope of the same in the market.  On doing so, you can get a crystal clear idea regarding what sort of feedback and popularity your product will get. You ought to be ready to furnish with productive guidance to the development group so that your product doesn't need to endure at any point in time.  3. An awesome storyteller  If you need to be an amazing product proprietor then you ought to undeniably know the strategy of simply slicing the user's story into the product backlog and conveying it to the developers. Likewise, a standout amongst the most exclusive responsibilities of yours ought to be to figure out what can transform the story into a product feature that will in-turn have the capacity to entertain the clients.  A by and large and helpful stream diagram of splitting a user story is mentioned beneath. Just take a glance over:    4. Extremely communicative  The best product proprietors are fundamentally natural communicators. So, if you need your name to be considered as one among them then you ought to absolutely know how to leverage a sound correspondence so that you can get your point across and give supportive and undiluted guidance to the development team.  You ought to be absolutely astounding about speaking and understanding both the customer's and developer's dialects. Thus neither the developers nor the clients will feel chafed to converse with you.  5. A great issue solver  On the off chance, you can't deal with a contention smartly then PO is certainly not the correct designation for you! Truly, with regards to building up a product, there emerge many clashes filled circumstances which are needed to be settled out without hurting anybody and thus coming up with a decent solution. The issues usually emerge when individuals battle about potential resources and furthermore do awful politicking.  So, as a product owner, you should have the capacity and strength to engage when things gets troublesome. You need to collaborate so that you can limit the negative viewpoints as far as possible and also you must be an excellent arbiter.  6. An agile individual  When you are the proprietor of any product, at that point sticking into certain things and convictions stoutly is not something that you ought to do. Rather, you should be able to examine, comprehend and acknowledge the facts that are pointed out by the members of your group. Consequently, you will come up with just the best elements regarding your product.  If you are sufficiently flexible then it will give solace to others while discussing different issues with you. What's more, you will undoubtedly have the capacity to take the advantage of their expertise. Likewise, you should have the capacity to control your outrage if any previously unknown impediments or constraints come up suddenly.  Final Word So, if you are working as a product owner yet at the same time have not built up the skills that are discussed above, then simply make a move soon! Also, there are numerous other different qualities that you ought to incorporate into your nature like being fun and sensible, loaded with focus and functionality etc for being a successful product owner. But, as I feel the previously listed ones are extremely compelling, so I came up with an explanation of the same! Hope you will also find these potent enough!  
Rated
4.0
/5 based on
20
customer reviews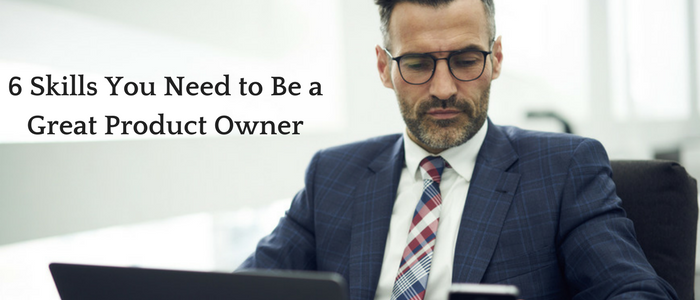 6 Skills You Need to Be a Great Product Owner
The well-known quotation by Roman Pichler of Agile... Read More
5 Hurdles That Scrum Masters Commonly Face
By
Ridhi Chhabra
Agile has gained a significant track and has been adopted by all organizations. Agile Methodology today has become one of the most popular and most dynamic project management styles among the software development teams. And Agile is also being adopted by various other functions. It is important to note that Agile can be applied to many types of teams and projects and should not be thought of as limited to engineers or software development projects only.We run all our software delivery through an Agile methodology called Scrum. Scrum is well-recognized amongst engineering teams, but a variety of teams across industries have come to love the Scrum way. From manufacturing to operations and education, businesses of all kinds have used Scrum practices and successfully. As long as your projects involve a concrete product, Scrum can work for you. We have been using Scrum for last few years and have some great success with it. But, still the Team come across various common Scrum Pitfalls.Many organizations are adopting Agile and Scrum for producing higher quality products and services.As per the statistics are given by PwC, "Agile projects are 28% more successful than traditional projects."Almost three-quarters (71%) of organizations report using Agile approaches sometimes, often, or always. (source: capterra)So why not,Organizations are hiring Scrum Masters for implementing Scrum Framework. It's a sole responsibility of a Scrum Master to make sure it's fully implemented and followed by the team in an organization.Scrum is easy to understand but hard to implementWho is a Scrum Master?The Scrum Master is a champion for a Scrum team. He coaches the team, the product owner, and the business. The Scrum Master is a multitasker were deeply understands the work being done by the team, motivates the team and makes sure that the teams are following the Scrum processes and will also work together with them to continuously improve them.How important is a Scrum Master?Scrum Master also ranks on the top of the hierarchy on most of the Agile or Scrum Process, with an eye towards a better understanding of role and importance, here is a closer look at the Scrum Master roles. 1. Scrum Master plays a vital role in the success of the project, he serves as a glue that can hold the entire project.2. Scrum Master may not participate in daily Scrum meetings but supports the entire team.3.  Scrum Master helps in strengthening the Agile development team4.  Scrum Master facilitates team meetings, which also includes Daily Stand-up5.  Scrum Master aims to deliver the maximum value to the customer.Let's have a look at the 5 hurdles that Scrum Master commonly face:1. Managing Role ExpectationsMany organizations, as well as the upper management, confuses the role of the Scrum Master with a Project Manager. However, the most important thing that we all should know is that the Scrum Master is a Scrum facilitator for a team as well as an organization.However, sometimes management expectations are different, which makes the life of a Scrum Master little harder. We all need to understand that Scrum Master is a facilitator, a guide, a process follower and most importantly, a Servant Leader.2. Change ResistanceAs per Mike Cohn, it is the social aspect of change that can create resistance, all resistance comes from specific individuals. Teams or departments do not resist changing to Scrum, Individuals do.So, when we talk about Scrum implementations, the Scrum Master is the change agent for the same. It's a major hurdle faced by a Scrum Master during the implementation. Change Resistance is not a surprise, it's the most expected reaction whenever a new change is introduced.                                                      Tip: Choose a length of the Sprints in such a way that it can resist change.There are many ways for adopting Scrum patterns and overcoming change resistance. You will get that Scrum adopting patterns in my previous article- Patterns For Adopting & Spreading Scrum In Organizations.3. Keeping everything Time-Boxed        When we talk about implementing Sprints, every event is supposed to be time-boxed in order to get productive results. For example, the Daily Scrum event should not exceed 15 minutes, but in reality, we see team members start discussing their technical difficulties and the meeting goes longer than the allotted time. It's one of the most common challenges for any Scrum Master.Well, a funny thing to try to overcome this hurdle is to make the team members stand for 15 minutes. Hide all the chairs! They will eventually get tired and finish up the meeting.4. Handling Urgent Change RequestsScrum Masters follow the rule when implementing Scrum which is to never accept changes within the Sprint. We can handle the change requests at the end of the sprint or at the start of the Sprint but not in between. However, in a practical world, we see Product Owners/Customers/Stakeholders coming up with an urgent change requests or bugs.However, it's also not good to blindly follow the process without understanding the business and market aspects. It's always better to communicate, collaborate with all the Stakeholders, replan and then make good decisions.5. Distributed TeamsIt is one of the most common barriers faced by a Scrum Master. When the teams are distributed geographically, there are sometimes delays, network issues, cultural or regional issues, different Time Zones, different working hours, it is always difficult to get everyone connected and collaborate/communicate with everyone.Thanks to all the technologies, applications out there that help us overcome this hurdle whether it's communication, video conferencing, there are many tools available.Scrum Master also come across the following challenges:1. Scrum Master acts as an admin:Basically, Scrum Master tasks start with booking meetings, scheduling events, taking notes, and inviting people to ceremonies. All these may be the primary function of the Scrum Master and these deals with making the team be effective. The tasks involve various challenges.2. Lack of Agile training for the teams:As the Scrum Master is meant for the team, it's a responsibility to make sure all your team members have foundational Agile training. This is one of the most problem faced by Scrum Master.To summarize, I would say, these are the just the "Hurdles" commonly faced by Scrum Masters but not the "Blockages". These obstacles can be jumped over, with good skills, expertise and, experience in Scrum implementations. Keep Learning!
Rated
4.5
/5 based on
2
customer reviews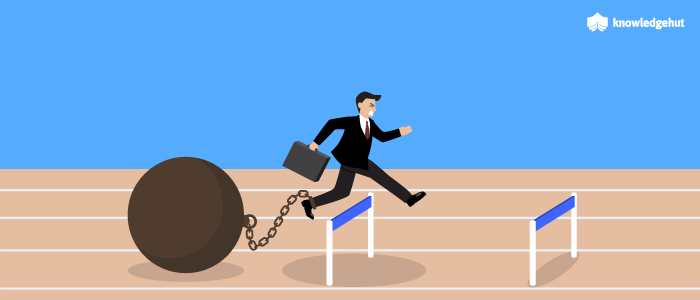 5 Hurdles That Scrum Masters Commonly Face
Agile has gained a significant track and has been ... Read More