Limitations of Power BI
By
KnowledgeHut
Every business wishes to establish its brand in the market as well as grow exponentially. This is where business intelligence plays a crucial role, as it is a very important factor in the process of branding and other decision-making processes. To help you with an effective decision-making process and get down to conclusions, Microsoft presents with a very riveting analytics tool, Power BI. The primary tools of Power BI include Power Query, which is used for extraction and transformation; Power Pivot, which is used to model and analyze; Power View and Map, which is used to visualize data. The Power BI Designer combines various separate tools into an all-in-one application, that removes all its dependencies to Excel or Office. The PowerBI Site or service,  PowerBI.com is widely used to share reports, datasets and dashboards.Apart from these,  Power BI allows various other tools which will be very advantageous for you. But, there are a few cons as well. Read along to know what are the limitations of PowerBI that you might come across while working. Limitations of Power BI1. Microsoft Excel power users will benefit bestIt can be noted that most of the business users that you will come across will not be a power user of Microsoft Excel. In case the end-users of your business intelligence model are business users, then it should be noted that Microsoft Power BI will be very challenging to use, especially if you are not a Microsoft Excel power user. 2. Complex in natureThis is one of the major drawbacks as Microsoft has designed Power BI in a very complex manner. Power BI has a long list of components and it is difficult to understand which component you may need. To name a few, there's Power Bi Desktop, the Power BI Gateway, the Power BI Services,  etc. Moreover, there are no moving parts available for this software, which might make you spend a lot of time and energy trying to figure out the function of each part. This makes the product even more challenging to troubleshoot, which leads to an increase in the total cost of ownership. 3. Data qualityMicrosoft Power BI does not provide with any data cleansing solution. Meaning, it assumes that the data you are pulling has been cleaned up well in advance, and is of high quality. So, in case you need data cleansing aptitude, you might need to look for an alternate solution to cleanse your data. 4. Does not handle large data sources properlyIf you have a large data set which needs to be analyzed, Microsoft Power BI will not be the best option for you. You might face trouble in connecting and importing large datasets, as well as problems such as slow performance and time-outs. 5. Performance IssuesSometimes Power BI might face performance issues as it has been observed that it has not been able to process more than 20000-30000 rows without running into issues for some queries. It might just timeout during the processing. To opt-out of facing this issue, you can create multiple queries in order to cover the full range of data, and split them up according to the dates. 6. Bulky User InterfaceThe formula help window and side par often block the view of vital, making the user interface of Power BI to be very bulky.  The making of scrolling dashboard will require a lot of efforts since it is not a native feature.7. Limited Sharing of Data Reports and dashboards can be shared only with those users who have the same email domains or the ones who have their email domains listed in your Office 365 tenant.To sum it all up, if your organisation is Microsoft favoured and has a group of Microsoft Excel power users, then the chances are very high that Power BI will work well within your organisation. Professionals who work on charts, pivot tables, and formulas in Excel can use  Power BI to quickly convert data into information. Have you employed Power BI or Power BI Pro? Leave your comment below to share your experiences with us!

Limitations of Power BI
Every business wishes to establish its brand in th... Read More
Top 10 Business Intelligence Tools
By
KnowledgeHut
Global business companies, top leaders, and developing businesses, all believe in the power of informed decision-making. With the advent of technology and data science, this decision-making power in businesses is witnessing all new heights. Business Intelligence (BI) tools give businesses the evidence to make informed decisions. The latest business intelligence tools are designed in such a way that every aspect of the end-user is considered and the data, critically analyzed, to produce the best results.  What are Business Intelligence Tools?Business Intelligence tools are tools devised to comprehend the huge quantities of data that organizations accumulate using data science. The tools help companies retrieve, analyze, and transform raw data into resourceful business insights. This is further disintegrated into actionable reports that guide them in decision-making. Various tools are available for data visualization, data warehousing, creating dashboards, and reporting. Key aspects like purchasing patterns, market trends, and customer-psyche are derived using these tools. In this process, companies understand their customers better and can predict precise revenue growth and preventive actions against business pitfalls.Traditionally, business intelligence was gathered from quarterly or yearly reports, but with enhanced technologies, the latest BI tools have introduced a continuous, iterative cycle. Business plans are made regularly and can be populated in mere minutes.  Let us look at the top trending business intelligence tools that most of the companies are using today.  Top 10 Business Intelligence Tools SAS Business Intelligence SAS business intelligence is a self-service tool popular for its advanced predictive analytics. It helps companies use APIs for customization and high-level data integration, along with the protection of business data with security issue identification, and advanced analytics and reporting.  Yellowfin BI This tool is mobile-friendly and gives access to 'end-to-end' analytics, empowered with visualization, machine learning, and collaboration. It also has handy features like intuitive filtering and dashboards.  Zoho Analytics Customization is the key differentiator in this tool. It is apt for creating in-depth, personalized reports. Its automatic data sync feature with periodic scheduling and AI-powered assistant help in hassle-free blending and merging of data.  Microsoft BI and Power BI These tools are web-based and are available in SharePoint with interactive reports running on PowerPivot. Their 3 key differentiators include the dataset, dashboard, and report generator. It is popularly used for analysis, reporting, and master data services.  Tableau Tableau is a free BI tool useful for data discovery and data visualization. It removes the intervention of IT and makes it easy for the user to analyze, visualize, and share data. A variety of data sources like Oracle, MS SQL, Google Analytics, Microsoft Excel, and SalesForce are supported. Oracle BI It is an enterprise performance management system with an integrated query, reporting, and analysis of data. Its distinct features are data alerting, integration, and management in one go. IBM Cognos This tool is ideal for larger companies as it supports the entire analytics cycle. It provides cloud support, mobile support, and online as well as offline reports. It presents a visualized report of the data interpreted using its AI, by automatically analyzing hidden patterns of the raw data. SAP Business Intelligence SAP business intelligence tool has been popular for years among businesses of all sizes. Its biggest advantage lies in its transformation of relational databases, which can be used for improved performance, administration, lower cost estimation, and real-time predictive analytics.  QlikView & QlikSense  These two tools are Qlik's BI tools creating interactive dashboards, visualizations, and apps. An entire relay of the data is visible in one glance, with drag-and-drop options and natural search, allowing instant responses to interactions and changes.  MicroStrategy MicroStrategy is a prominent name in the business intelligence industry and comes with a host of features for data visualization, analytics, Big Data integration, OLAP (Online Analytical Processing), document management, and decision services.  Data Analysis with BI With new tools to access deeper and wider data, the demand for business intelligence analysts is growing rapidly. BI analysts are the bridge between the business and the customer and help in shaping business strategies to meet the ever-evolving customers' needs. According to Payscale, the average annual salary of a BI analyst is approximately $68,336 in the US. Individuals and data analysts across industries can apply for these roles, and help businesses deal with one of their biggest challenges – customer satisfaction and retention.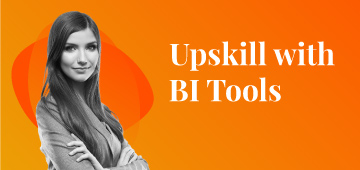 Top 10 Business Intelligence Tools
Global business companies, top leaders, and develo... Read More
Top 11 Best Practices of Power BI
By
KnowledgeHut
Are you trying to improve the performance and security of enterprise-grade   Power BI implementations? Well, you can do that by implementing the best practices of Power BI. There are numerous Power BI based dashboards that are used by thousands of enterprise users every day in order to drive operations as well as marketing. This article intends to introduce you to 11 best practices of Power BI.1. Limit the visuals in dashboards and reportsDo you know what slows the report performance? The Microsoft Power BI performance best practices highlight that placing many visuals in a single report is responsible for it. This is what you need to do in order to limit the number of visuals in dashboards and reports:Limit to a minimum of eight widget visuals in every report page and keep the grids to a minimum of one in every pageThe pages should be limited to no more than 30 points (cards: 1, gauges: 2, charts: 3, maps: 3, grids: 5)Keep the tiles limited to no more than 10 per dashboard.2. Remove unnecessary interactions between visualsWant to know the secret of  improving Power BI report performance? Here's a hint! You can make that possible by removing unnecessary interactions between visuals. This is possible because of the reason that all visuals on a report can interact with one another by default. The interactivity should be controlled and modified for optimal performance.Further, you can reduce the number of queries fired at the backend and improve report performance by disabling unwanted interactivity.3. Enable Row-Level Security (RLS)Power BI only imports the data that the user is authorized to view, with RLS that restricts user access to certain rows in a database depending on the characteristics of the user executing a query.But how to attain substantial performance gains? You can enable this by combining Power BI roles with roles in the backend. Moreover, you need to test all roles prior to rolling out to production.4. Use Microsoft AppSource certified custom visualsThe Power BI certified custom visuals are verified by Microsoft to have robust as well as well-performing code. These AppSource visuals have passed rigorous quality testing and are the only custom visuals that can be viewed in Export to PowerPoint and email subscriptions.5. Avoid using hierarchical filtersYes, that's what you need to do when you observe poor performance in Power BI. Are you getting bothered by high page load times while using hierarchical filters? Try this! Remove the hierarchical filters. Experience an enhanced performance in Power BI by using multiple filters for the hierarchy.6. Categorize the data for Power BI reportsOne of the best practices in Power BI is to provide data categorization for the Power BI reports (HBI, MBI, LBI). The Power BI data classification enables you to raise user awareness about the security level that is required to be used. This also helps you to understand the way reports should be shared inside as well as outside the organization.The categories can be listed as:HBI or High Business Impact data, that requires users to get a policy exception to share the data eternally.LBI or Low Business Impact as well as MBI or Medium Business Impact, that do not require any exceptions.7. Use the On-premises data gatewayIt is suggestible as well as one of the best practices to use on-premises data gateway instead of Personal Gateway for it takes data and imports it into Power BI. But why Enterprise Gateway? It is more efficient while you work with large databases as Enterprise Gateway imports nothing.8. Use separate Power BI gateways for "Direct Query" and "Scheduled Refresh"As you know that using the same gateway for Scheduled Data Refresh and Live Connection slows down the Live Connection performance when the Scheduled Data Refresh is active. It is suggestible for you to create separate gateways for Live Connection and Scheduled Refresh to avoid such issues.9. Test each custom visual on a report for ensuring fast report load timeThe Power BI team doesn't thoroughly test the custom visuals that are not certified. So, while handling large datasets or complex aggregations, the custom visuals might perform poorly.What should you do when the chosen visual performs poorly? You can overcome the issue by using an alternative visual. Ensure fast report load time by testing each custom visual on a report for performance.10.Limit complicated measures and aggregations in data modelsIncrease the likelihood of improved performance by pushing calculated columns and measures closer to the source wherever possible. Moreover, you need to create calculated measures instead of calculated columns while using star schema in order to design data models.11. Import what's necessaryWhy do you need to import entire datasets, when you can keep the model as narrow and lean as possible by importing only necessary fields. Power BI works on columnar indexes where longer and leaner are preferred.To concludeThe above are the top 11 best practices that you need to understand to smoothly approach with all the Power BI reporting as well as analysis. Further, it is recommended for you to follow each of these best practices in every piece of work that you do inside of Power BI. You should also gain an understanding of how the work is done as well as try to incorporate them into your own work. On a concluding note, wish you all the best for your successful Power BI developments with these best practices by your side!

Top 11 Best Practices of Power BI
Are you trying to improve the performance and secu... Read More