Is a SAFe® Agilist Course Right for You?
By
Radhika Subramoniam
Companies adopting SAFe® have found huge benefits with its implementation.  But what is SAFe and how is it connected to Agile? This article is your introduction into the world of SAFe and on one of the most popular courses in SAFe – the Leading SAFe Course, SAFE Agilist Certification.Getting started with ScrumMany companies start their Agile journey with the most popular Agile framework i.e Scrum.  It is a simple methodology that lays down guidelines and practices - Scrum Ceremonies, Scrum Values and Scrum Roles in order to achieve the Agile Values and Principles.To start with, in an organization, a few Business Units/Divisions start practicing Scrum for a few teams. Once they realize the benefits of Agile and Scrum they would want to extend the same to multiple teams and multiple Business Units/Divisions.But, would a simple "Scrum of Scrums" methodology that worked wonders for small teams, work well for huge Enterprises with multiple Businesses and teams spread across the globe? Will it be possible, in the process of this transformation, to satisfy the others who are in this mix including Technology Partners, Vendors and Suppliers, evolving Customer demands and Competition? Probably not. And that is where a framework that is meant for large Enterprises to practice Agile at Scale becomes the need of the hour.What exactly is SAFe?SAFe is a Scaled Agile Framework that lays down proven principles, guidelines and practices to be followed by enterprises to achieve Business Agility. The latest version, SAFe 5, is built around Seven Core Competencies that enable Enterprises to become customer-centric and respond to changing market conditions and emerging technologies.Seven Core Competencies of SAFe 5Lean Portfolio Management – Creating a portfolio vision, roadmap, strategy and optimizing operations to align strategy, funding and execution,Organizational Agility – Bringing the entire organization (Marketing, Finance, Legal, HR teams) within the ambit of a Lean Agile Mindset. Organizing development efforts around value, creating dual Operating system of "network and traditional" hierarchies within the organization to encourage innovative start up culture along with Enterprise Stability.Continuous Learning Culture – Promoting Continuous Learning, Improvement and Innovation.Lean Agile Leadership – Leaders exhibiting the desired Agile behaviours they wish to see in their teams.Team and Technical Agility – Cross functional Business and Technical teams that deliver with Quality.Agile Product Delivery – Customer centric solutions on a continuous delivery pipeline, developing on cadence and releasing on demand.Enterprise Solution Delivery – Lean product delivery integrating the complete solution ecosystem- Partners, Suppliers and Vendors.SAFe recommends different flavours of the framework depending on the practicing organization's needs and where they stand in their Agile journey.The four flavours of SAFe 5 areEssential – Basic configuration of the framework that recommends the foundational elements - roles, practices and competencies to be successful with SAFe.Solution – Additional roles, practices and competencies required to build large scale applications, large Solutions and networks.Portfolio – Provides the framework for Portfolio Strategy, investment funding aligning portfolio strategy with execution. A simple Portfolio configuration includes the Essential configuration.Full – Comprehensive configuration of the framework covering Essential, Solution and Portfolio.Why is SAFe important for individual practitioners?  For an employee who is part of an organization that has chosen to adopt SAFe, it is important that he/she is aware of the framework at large, the current state of the organization and where they are headed in the future. The first step for an individual would be to acquire the knowledge about SAFe in general and then delve deep into the areas which are closest to his/her area of expertise.  Depending on the employee's role and responsibilities, he/she could take up the most appropriate SAFe Course and choose to get Certified in the same. Some of the courses are listed below. Leading SAFe , Certified SAFe Agilist: For leaders and executives to acquire a Lean-Agile mindset and propagate and develop the same across the organization. Implementing SAFe, Certified SAFe Program Consultant:  For change agents and Agile coaches who are spearheading the implementation of SAFe in the organization. SAFe for Teams, Certified Agile Practitioner: For team members. It can also serve as a foundational course for all employees. SAFe Scrum Master, Certified SAFe Scrum Master  SAFe Advanced Scrum Master, Certified SAFe  Advanced Scrum Master SAFe Product Owner/Product Manager, Certified SAFe Product Owner/Product Manager SAFe Release Train Engineer, Certified SAFe RTE: For SAFe RTEs to enhance their skills as servant leader and coach of a Release Train. There are also other courses specific to Government, Architects, DevOps, Portfolio Management etc. Why should I choose SAFe Agilist? If an organization has decided to adopt SAFe and begin the transformation journey then the SAFe Agilist Course is the right place to begin with. Executives, thought Leaders like Enterprise Architects or Department Heads, Program Managers, Project Managers, and Employee Managers who are major stakeholders of large-scale transformations will find this course apt.  The SAFe Agilist course, in fact, is the number one step in the SAFe implementation roadmap. Before a SAFe Transformation, the Leaders, Executives and Managers of the organization should truly believe in the Lean-Agile principles and themselves start exhibiting the Lean Agile behaviours and mindset, which they wish to see in their teams. They should know the approach to be taken to go agile at the team, department and organizational level.   By becoming SAFe Agilists, the Leaders become one of the front-runners of Agile in the organization and are able to wield the necessary influence needed to transform their teams. Lean Agile leadership is the foundational competency that is part of every flavour of the SAFe framework, reiterating how important it is to have Lean Agile Leadership at the helm to implement SAFe  successfully. If in case, your organization has not yet started the SAFe journey and is on the threshold of a tipping point it would be wise to become a SAFe Agilist. A Certified SAFe Agilist and Leader becomes a valuable asset for the organization that is about to begin its Agile journey. You could become one of the core Visionary members driving and implementing the SAFe Agile transformation.If not intended for the scenarios mentioned above, the SAFe Agilist certification also proves to be career progression path for many servant leaders.What is the learning objective of SAFe Agilist?  Explore SAFe Principles derived from Lean and Agile philosophies of Product Development Becoming Lean Agile Leaders in order to exhibit and propagate the Lean Agile mindset throughout the Organization Establishing Team and Technical Agility Agile Product Delivery by adopting a customer-centric mindset, organizing around value, applying Design and Systems Thinking. Experiencing a PI Planning Event. The PI Planning is one of the trademark SAFe events with immense benefits. Experiencing a mock PI Planning event during the course helps the Business Leaders to understand the significance of such an event and the benefits it brings to the organization. Building a Continuous Delivery Pipeline and instilling a DevOps culture. Exploring Lean Portfolio Management and its Implementation in the organization. Establishing Business Agility by aligning the Applications and Solutions Implementation to the Portfolio Strategy. The Leading SAFe Certification Completion of the SAFe Agilist course gives access to the exam and all related study materials as part of a Learning Plan in the SAFe Community Platform. The Learning Plan helps the individual to prepare for the Certification exam through Mock test and Practice Questionnaires. Details of the Certification exam can be found here. On successful completion of the exam, apart from the SAFe Agilist PDF certificate and SAFe Agilist digital badge there is   One-year membership to the SAFe Community Platform, which includes access to the SA Community of Practice Access to Meetup groups and events that connect you with other SAFe certified professionals A variety of learning resources to support you during your SAFe journey What is the target audience and the eligibility criteria for SAFe certification?  Typically, the target audience for the SAFe Agilist course are people in Executive, Managerial and Leadership roles in Enterprise Organizations. They might be part of a set of Visionary leaders initiating and spearheading a SAFe transformation or an important stakeholder in the Agile Release Train who needs to get onboarded into the SAFe way of working. As per Scaled Agile, Inc, prerequisites are highly recommended for those who intend to take the SAFe® 5 Agilist (SA) Certification exam.  5+ years' experience in software development, testing, business analysis, product, or project management Experience in ScrumConclusionThe Scaled Agile Framework has become an important proven methodology of practicing Agile at scale. More and more enterprises are kicking off their SAFe transformation journeys, and for those who are already running SAFe , they are drawing out implementation plans to sustain and upgrade. At the foundation of these large transformations and upgrades are the Lean Agile Leaders who are responsible for driving the change through the length and breadth of the organization. Being a Certified SAFe Agilist is definitely a very credible achievement and opens doors for exciting opportunities in the Agile world.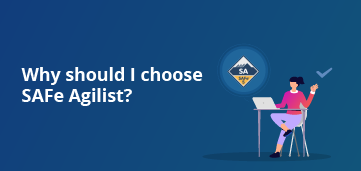 Is a SAFe® Agilist Course Right for You?
Companies adopting SAFe® have found huge benefits... Read More
SAFe® Agilist Certification Vs PMI-ACP®: Which Certification Should You Choose?
By
KnowledgeHut
The competition for jobs is getting tough in today's world. Whether you are a job seeker, corporate employee, or a consultant, you should keep your skills up to date in a fast-paced, online world. Agile has become the standard of project management very fast in today's world, specifically in the IT and service field. Most of the project management professionals have adopted Agile techniques, tools, and concepts to deliver the projects successfully that has never been seen before.If you want to make a career in Agile or want to make a career shift then Agile certification can be an added advantage. You might be in confusion as to which certification you should do, as there are different types of Agile certifications available. SAFe® Agilist and PMI-ACP® are the two most in-demand IT certifications today that will increase your career growth and salary.  In this post, we will discuss both the certifications and help to choose a career that best suits you.SAFe® AgilistLarger organizations are struggling with Agile, especially the well-established enterprises who are trying to adopt Agile and shift their way of doing things. SAFe® is one such example that provides best practices for adopting Agile at an organizational level and SAFe® certification covers every aspect of Agile from architecture, governance, funding, integration, and roles. Holding a SAFe® certification proves your proficiency and hands-on experience and shows your knowledge and skills in real-time implementations.SAFe® Agilist could be a perfect choice for you if you want to be part of different teams in the adoption of SAFe® and willing to be part of enterprise Agile. Scaled Agile is something different to standard Agile knowledge which is required for Agile change agents, managers, and executives for leading a lean-agile change initiative in large-scale enterprises. This is also essential for those executives who have already implemented Agile principles and practices at small-scale enterprises and now want to take it to the next level.Leaders of Lean-Agile change initiative can learn how to build a Lean-Agile Mindset and implement the SAFe® principles and practices to support Agile Teams, Program Portfolio Management, and Teams from this SAFe® 4 Agilist (SA) course. SAFe® Agilist certification demonstrates your efficiency of leading the Scaled Agile Framework adoption in an enterprise context.PMI-ACPPMI-ACP® certification could be an ideal choice for those who have been applying Agile values and principles in their day-to-day project work and who want to shift to a leadership role. To apply for  the PMI-ACP® certification, applicants must have at least 2,000 hours of working experience on project teams and 1,500 hours of working experience with Agile methodologies or on Agile project teams. Applicants should also complete 21 hours of Agile training and need to pass the exam.The PMI-ACP® is close to the mid-level CSP that is offered by the Scrum Alliance. Enterprises that are shifting to an Agile context and applying different Agile techniques are more interested in recruiting individuals with PMI-ACP® certification.PMI-ACP® could be a right choice if your enterprise is looking forward to adopting Agile framework in order to achieve high-end project goals. It not only covers Scrum framework but also includes XP, Kanban, Lean, and other frameworks. The PMI-ACP® certification exam is more difficult when compared to the basic Scrum Master certifications and individuals must take online or classroom training before going to attempt the exam.Let's see the key differences between SAFe® Agilist and PMI-ACP®:It is important to look at the career opportunities before selecting the particular course. Think of various factors such as job security, responsibility, stress, income, and other benefits while choosing a profession.Just choosing a certification that is best for you doesn't lead to the success you deserve. Choosing the best training provider will have a huge impact on the effectiveness of a course. Compare course outlines of different institutes and find the best training provider that will guide you in the right direction of the particular course chosen. You can also visit the institutes and attend some of the demo sessions to understand their approach to training. KnowledgeHut is a Registered Education Provider and offers both SAFe® Agilist and PMI-ACP® training classes across the country by experts who have years of industry experience.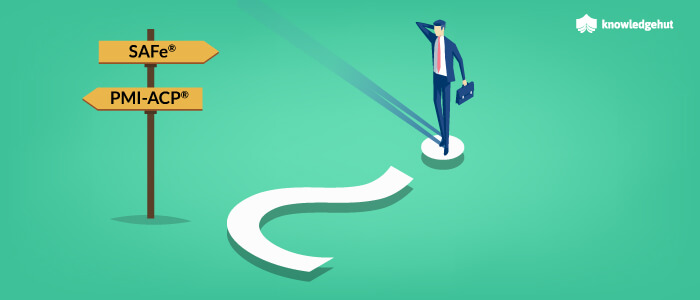 SAFe® Agilist Certification Vs PMI-ACP®: W...
The competition for jobs is getting tough in today... Read More
A Journey Towards Earning a Leading SAFe®5.0 Certification
By
Nicolas Casel
Our blog regularly provides insights about the Scaled Agile Framework (SAFe®), like 4 main features that enable SAFe®. You can also go through an article stating the benefits of SAFe® Agilist certification. Also, we recently published a specific article about the benefits to get the SAFe® 4.5 Certification, and here we give some details about the Leading SAFe® 4.6.What is SAFe®? When any large organization wants to go Agile, it can hardly skip the Scaled Agile Framework ® (SAFe®). Now, this framework has become the world's leading framework for companies that target to scale Agile. Also, SAFe® is described as the "Agile Enterprise Big Picture", as it helps to apply Agile and Lean practices and principles to the whole organization, from the Team to the Portfolio level.Benefits of the SAFe® certification For any professional, being SAFe® certified brings recognition to be able to support all kinds of organizations in their Lean and/or Agile transformation. Indeed, SAFe® is the most used framework for scaling Agile, especially in big companies like the ones listed in the US Fortune 100. Consequently, holding a SAFe® certification makes a candidate profile very attractive compared to employers' expectations.Accreditation body of SAFe®The Scaled Agile Framework® (SAFe®) has an official certifying body: Scaled Agile, Inc. This accreditation body guarantees " a valid, reliable, and consistent method of assessing SAFe® skills, knowledge, and mindset " (read more About SAFe® Certification).Salary of the SAFe® certifiedSalary for SAFe® certified professionals can vary across regions and experience:EuropeIndiaUnited StatesAgile Coach€ 70,000Rs 2,220,000$135,000Product Owner€ 80,000Rs 1,900,000$115,000Scrum Master€ 55,000Rs 1,220,000$95,000Software Engineer€ 60,000Rs 1,630,000$75,000Job roles/Target audience of the SAFe® certificationThe target audience of the SAFe® certification is wide and covers all these positions:         Executives and Leaders, Managers, Directors, CIOs, and VPs         Development, QA, and Infrastructure Management         Program and Project Managers         Product and Product Line Management         Portfolio Managers, PMO, and Process Leads         Enterprise, System, and Solution ArchitectsStatistics related to SAFe® certification(Note: All the data mentioned here is provided by payscaleEuropeIndiaUnited StatesGenderFemale: 10%Male: 90%Female: 40%Male: 60%Years of experiencePopular companiesDeutsche BankINGBNPViseoPhilipsOmicron4Com TechnologiesMotorolaAir France KLMCA, Inc.Syntel, Inc.Tata Consultancy Services LimitedInfosys LimitedAccentureJohnson ControlsFederal Express Corporation (FedEx)Cap GeminiUsaa InsuranceVencore, Inc.TechSmith CorporationJohnson ControlsSAFe® Agilist Exam details1. What is the format of the exam?The SAFe® certification exam is in the Multiple Choice Questions format2. How is the exam delivered?The exam is Web-based (single-browser), closed book, no outside assistance, timed.3. How to get access to the exam? Once they have completed the Leading SAFe® course, candidates can access the exam. For this, they will use the SAFe® Community Platform. 4. How long is the exam?The exam duration is 90 minutes.5. How many questions? The SAFe® exam consists of a total of 45 questions.6. What is the passing score? 34 out of 45 (75% passing score). 7. What is the exam language?English. 8. How much does the exam cost?The course registration fee covers the first exam attempt, provided that the candidate takes the exam within 30 days of course completion. Then, it will cost $50 for any additional attempt.9. What are the exam prerequisites? There are two main prerequisites to take the exam. First is to have an experience using the Scrum framework, the second is to have more than five years in one or several of these fields: project or product management, business analysis, software development.10. What is the exam retake policy of the exam?A first retake, meaning a second attempt on the exam, can be done at any moment after a first attempt. In case of a third attempt, candidates have to wait for 10 days and in case of a fourth attempt, they have to wait for 30 days.Leading SAFe® 4.6 Exam preparation SAFe® Agilist Certification exam questionsHere are some of the questions that might be helpful in exam preparation- How to run agile on multiple teams?How to synchronize the work of these teams?How to prioritize organizational demands?How to scale an agile architecture?How to deal with risks in an agile way?Agile and governance, is it possible?Can you highlight the addition and changes in 4-level with 3-level SAFe® 4.0?Can you define a System Team?Can you explain the difference/relationship between a Value Stream and an ART?What is the key to crossing back in forth or connecting the various levels of SAFe®?What is the difference between a Capability and an Epic or Theme?Why would you decentralize decision making? Doesn't this disempower the product owner or cause confusion about who is the final decision-maker?Are there any reasons that Scrumban would not work with SAFe®?We have some applications that use Scrum delivery practices and some that are milestone driven (waterfall). Can SAFe® 4.0 support both epic and user story management planning, backlog prioritization for Scrum teams, as well as requirements management for our waterfall teams (until they transition to agile)?Some teams may run continuous integrations while others not. How can we balance this if we have a fixed Program Increment timeline?Is SAFe® making it more complex and less agile (e.g., more rigid, additional control)?Exam study materialsKnowledge and skill required by the job role are primarily measured by the exam. In order to prepare well for the exam, candidates can use various online resources like these ones:The course materials are one of the most important components from the course because they offer an opportunity to refer back to the content delivered during the class. All candidates can access to it within the SAFe® Community Platform.The Study guide delivers comprehensive details about the job role and the exam, like a reading list. Here again, it is accessible via the Learning Plan in the SAFe® Community Platform.Another element of the Learning Plan in the SAFe® Community Platform is the Practice test. It offers predictability of success on the exam because it works with similar time duration and level of difficulty and provides the same number of questions.You can go through the SAFe® sample test that contains 8 questions that will help you in SAFe® 4.6 certification exam preparation.Ways of earning Leading SAFe® 4.6 certificationAttend the courseCourse completion is the first step toward SAFe® certification.Scaled Agile training classes are designed with the learner in mind. Incorporating active learning techniques with a robust role-based curriculum is a great start to the SAFe® learning journey.Receive access to the SAFe® Community Platform after the class, which provides access to study materials & the exam.Study for the examDetailed exam study guides are available to help prepare for the exam and are part of the Learning Plan provided to candidates on the SAFe® Community Platform. Each study guide provides relevant and content-specific exam information, such as the certification role description, prerequisite skills and knowledge, exam objectives, and a comprehensive reading list.Practice tests can help prepare for the exam and are part of the Learning Plan on the SAFe® Community Platform. With a practice test, candidates can 'test before the test.' It simulates the actual certification exam in duration, difficulty, and topic area. Passing the practice test does not guarantee to pass the certification exam, but it provides a testing simulation, and the score report can be used to identify an individual's strengths and weaknesses. Practice tests are available at no additional charge, delivered through the Learning Plan in the SAFe® Community Platform, and can be taken as many times as needed. Note that the testers will receive the same bank of questions each time, but the questions will be randomized.Sample tests provide the examples of the type and format of the questions to expect on the certification exam. They are publicly available for all exams under Exam Details on each certification detail page.Leverage experience. It's more than being book smart. Scaled Agile exams test specific knowledge, skill, experience, and attitudes related to each SAFe® job role. Combining a person's learning and studying with their real-world experiences is a key to becoming SAFe® Certified.Take the ExamA link to the exam is included in the Learning Plan on the SAFe® Community Platform.Candidates have 30 days after course completion to take the exam at no additional charge. However, once they start the exam, they'll have a fixed time to complete it.Complete exam information, including exam time limit, number of questions, and a sample test, is available for all the exams under Exam Details on each certification official page.What will you get on passing the SAFe® 4 Agilist exam?Becoming a Certified SAFe® 4 Agilist requires an exceptional range of skills and is a career path for many servant leaders (Scrum Masters). SAFe® 4 Agilist certification includes:Getting the Certified SAFe® 4 Agilist PDF certificateGetting the Certified SAFe® 4 Agilist  digital badge. Any candidate can promote their accomplishment onlineNote: Digital badge permits individuals to share authentic certifications online through email signatures, digital resumes, and social media sites such as LinkedIn, Twitter, and Facebook. Digital badging consists of metadata that indicates a Certified SAFe® professional's qualifications. Scaled Agile has partnered with Acclaim to provide digital versions of SAFe® certifications.Getting one-year membership to the SAFe® Community Platform. It also includes access to the SA Community of PracticeGetting access to Meetup groups and events that connect you with other SAFe® certified professionalsNote: SAFe® Meetups provides opportunities to the SAFe® certified across the globe. SAFe® Meetups allows to connect with each other face-to-face, share best practices (sometimes SAFe® experts attend or speak in these sessions to enable learning), and gain knowledge on Scaled Agile Framework in a local setting.Getting access to a variety of learning resources to support you during your SAFe® journey.Summing It UpFor professionals who are looking for career development in the Agile field, SAFe® certification can be the most relevant option today. It gives a guarantee to the companies that they hire individuals with the skills required to scale Agile and a strong knowledge of the SAFe® environment. On top of that, it is important to know that a large majority of big enterprises have implemented SAFe® and that the hunt for SAFe® certified professionals is still very active.