What Are the Six Common Myths About Microsoft Azure You Should Not Worry About?
By
Annie Button
You may be interested in moving your infrastructure to public cloud storage and services such as Microsoft Azure. This form of storage is becoming increasingly popular for its perceived ability to enhance efficiency and simplify your digital operation. Part of what has made Azure such a renowned option is the familiarity of the software – with a setup in common with other Microsoft products.But there is a great deal of misinformation on Microsoft Azure and this has led to the establishment of common half-truths or misapprehensions about the services. Whether you are interested in simple public cloud hosting or a more advanced personalized solution, Azure has the services to suit you.Here we take a look at six common myths about Microsoft Azure, examine the truths behind them – and why you should consider choosing Microsoft Azure.Myth 1: Azure is too complicated for my businessSome organizations are concerned that switching to Microsoft Azure would be too complicated and they lack the technical expertise to make it work. However, one of the major benefits of Azure is that if you are familiar with other Microsoft and Windows products you will find it actually relatively easy to use. The service has been designed to be suitable for businesses of all sizes, so there is no reason to assume you will be overwhelmed.Of course, not every company has the technical knowledge and it can leave owners worried that they will not feel in full control of their infrastructure. Thankfully, however, it is possible to work with specialists who can offer managed Azure hosting services. So, whether you need just a little help with Azure deployments or a fully managed package, there is something out there to suit your business.Myth 2:  It's a security riskWith rules and regulations such as the GDPR (General Data Protection Regulation) coming into force, it has never been more important to have powerful cybersecurity in place. This means that many businesses worry that their data is put at risk if they use services like Microsoft Azure. However, if this is a concern for you, it's worth knowing that Azure holds the most comprehensive list of compliance certifications of any cloud provider.Microsoft is an industry leader in privacy protection with unique residency guarantees to protect data at all times. The system is designed to give customers complete confidence in their security. So ultimately you can have complete peace of mind that working with Azure can keep your business entirely secure and private.                                                                                                 Source: Home SecurityMyth 3: The costs are prohibitiveIn some cases, businesses are put off the idea of switching to Microsoft Azure because they believe either that the cost of changing the infrastructure and working practice will be too high, or the actual ongoing costs are too expensive. Of course, it is natural to be want to be in complete control of finances but it can often be the case that businesses that are not willing to invest in infrastructure get overtaken by competitors who do.Clearly, this will depend on your business, but it should be noted that a switch to Azure can see excellent improvements in efficiency and productivity. Additionally, Azure is engaged in a pricing battle with other services - which ensure that the costs of bandwidth and storage are kept to a minimum.Myth 4: Efficiency is the only reason to switch to public cloud storageYes, there is no doubt that increased efficiency is a major benefit of using public cloud storage services with Microsoft Azure, but it is far from the only reason to consider making the change. One of the best reasons to choose public cloud storage is the increased innovation it allows – this might even top reason. It allows your developers to spend their time actually developing, rather than simply on the time-consuming maintenance and management. Azure actually handles many of the complex tasks for you, taking that burden away from developers and freeing them up. This could give them time to work on anything from machine learning or business-critical enhancements to your website. Myth 5: It's incompatible with the open source software It is sometimes assumed that Azure is completely incompatible with popular open source software, which could make it difficult to implement alongside your existing infrastructure. If this was true it could make it potentially extremely challenging for those businesses that currently utilize open source software as it would mean not only changing over their system to Microsoft Azure but also changing many internal systems.Myth 6: Using the cloud effectively means ONLY using the cloudPerhaps you are concerned that if you make the move to Azure you are committing the whole of your business to the cloud. Some businesses do not fully understand how the cloud works and it can put them in a position where they never consider services such as Azure because they don't think it would be appropriate for them. However, this does not need to be the case at all as Azure supports hybrid functionality, allowing you to keep on-premises infrastructure in place and simply work with Azure to offer additional capacity. The solutions can be completely bespoke and based around the needs of your company, so there is no reason to assume that you have to stick with a one-size-fits-all package. If you are still concerned about whether Microsoft Azure is right for you, it's a good idea to speak to specialists, who have experience working with businesses like yours. Whether you would benefit from a hybrid system or hosting based entirely on the cloud, they will be able to advise you as to whether it is a good idea to make the switch.Cloud Computing is the present and the future. We hoped this article helped you get familiar with the Common Myths About Microsoft Azure. If you want to know more about Microsoft Azure and get certified, you can try the Microsoft Azure certification course offered by KnowledgeHut.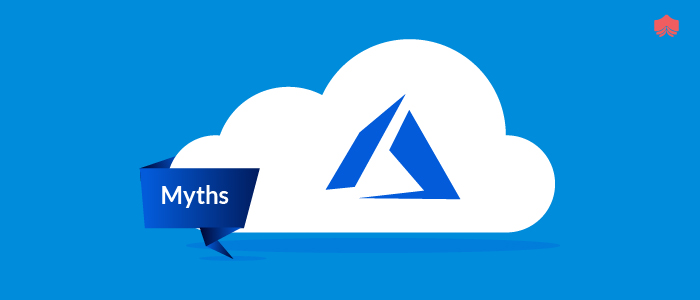 Cloud Networks: Benefits and Savings For Businesses of All Sizes
By
Stephanie Rowan
Cloud networks and storage solutions can provide companies of any size with an outsourced infrastructure that can facilitate strategic growth and create opportunities with clients and customers across the world. With solutions that include content management along with internal and external communications, businesses can find scalable solutions that can enable their team to work remotely and across a variety of devices. With insight from key market research studies, cloud solutions can reduce a company's TCO (total cost of ownership) by reducing their reliance on traditional brick & mortar spaces, limited markets, and inefficient operations. This can translate into six key benefits for businesses, including Improved collaboration, strategic and managed growth, lowered operational costs, secure data backup, greater reliability, and eased resource management. Through standardized, more efficient solutions and infrastructure, companies can grow on their own terms, which can allow organizations to reinvest in their future success. Learn more about these tangible benefits.  As businesses adapt to new technologies and changing markets, their daily operations and data storage solutions need to evolve as well. In previous generations, a company's core functions, including communication and record-keeping, were a logistical feat often requiring the acute focus of a dedicated operations manager to oversee multiple, non-standardized processes running concurrently across multiple platforms. More often than not, these processes required manual input and countless hours to update, leaving key areas vulnerable to human error or oversight. Apart from inefficient time use, manual operations often required physical data storage, meaning separate filing cabinets or rooms full of servers just to keep tabs on valuable information. Benefits For Businesses of Any Size That's where cloud networks come in. By outsourcing basic functions like communication and data storage, companies stand to save significantly in terms of time and resources that would have normally been simply spent on maintaining current projects. Let's say that you run an advertising firm in southern California. How much of your day would be eaten up by rote, mundane tasks related to intra-office communications and project management? By subcontracting emails, content management, and network security to a Los Angeles IT services firm, your company would be able to focus on core functions, strengthened client relations, and strategic reinvestment in growth that includes attracting larger accounts as well as promotional efforts. Six Key Benefits According to American Express, the benefits of cloud computing can be broken down into six key areas: Improved collaboration Strategic and managed growth Lowered costs Secure data backup Greater reliability Eased resource management These benefits are applicable to companies of all sizes across industries and sectors, even small startups that are just getting their footing. Because cloud resources can be accessed remotely, team members have the opportunity to work from anywhere across a range of devices. Content and Communications Management Let's look at a startup advertising firm as an example again. Using a content management system (CMS) such as Trello or Basecamp, account managers would be able to liaise with writers, graphic designers, and even clients from anywhere with a reliable internet connection. With both collaboration and growth in mind, this would allow the firm to connect innovative and creative talent with clients from anywhere in the world while allowing management to work remotely. This remote workforce would render a traditional office space obsolete, possibly eliminating real estate or rental costs. Hosting content on a CMS in addition to a cloud document tool such as Google Docs would also provide a low-cost, secure data backup. All in all, an agency that utilized this model would be primed for as much growth as it would be able to handle, without being weighed down by overhead costs with which traditional brick & mortar firms would have to contend.  Savings For Any Company In terms of financial benefits, Forbes has some insight into projected savings. Louis Columbus, a contributor specializing in enterprise resource planning (ERP) and cloud software, discussed these potential savings in a column on how cloud computing could be a viable investment for any company. With data from a study conducted by market research firm, Vanson Bourne, 1300 businesses across multiple industries in the UK and the US were surveyed on the cost benefits of cloud networks and computing solutions for their organizations. Cost reduction averaged about 23% since companies were able to save on infrastructure, both physical and technical. Further, 62% of firms surveyed were able to invest these saved funds back into their businesses. Continued Innovation and Growth  Based on the data and findings from market researchers and media outlets alike, being less reliant on costly hardware and physical space can enable any organization to streamline operations and reduce their total cost of ownership as explained in another analysis from a Forbes contributor. While cloud networks and services are being provided by industry behemoths like Amazon and Microsoft, the emergence of many startups in the retail and services sectors is leveling the playing field among smaller and medium-sized businesses in many communities worldwide. Along with reduced costs and more intuitive communication and management, cloud networks help companies to innovate beyond the expectations of their local markets. It's clear that advances in network and data storage solutions will continue to facilitate the growth of small and medium sized businesses in the digital space. Wishing that the blog turned out to be enriching and educative for you. Furthermore, if you aim at taking your Amazon Web Services knowledge to the next level, then feel free to enrol yourself for the AWS Certification Training course offered by us.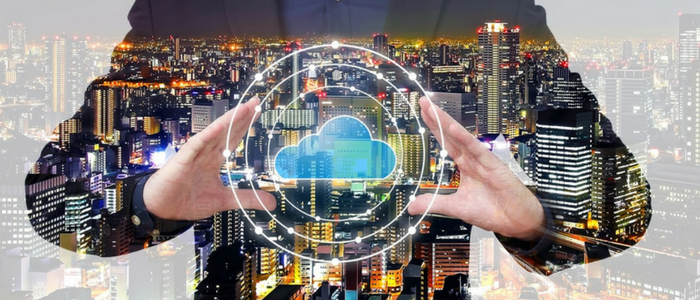 Business Transformation through Enterprise Cloud Computing
By
KnowledgeHut
The Cloud Best Practices Network is an industry solutions groups and best practices catalogue of how-to information for Cloud Computing. While we cover all aspects of the technology our primary goal is to explain the enabling relationship between this new IT trend and business transformation, where our materials include: Core Competencies – The mix of new skills and technologies required to successfully implement new Cloud-based IT applications. Reference Documents – The core articles that define what Cloud Computing is and what the best practices are for implementation, predominately referring to the NIST schedule of information. Case studies – Best practices derived from analysis of pioneer adopters, such as the State of Michigan and their 'MiCloud' framework . Read this article 'Make MiCloud Your Cloud' as an introduction to the Cloud & business transformation capability. e-Guides – These package up collections of best practice resources directed towards a particular topic or industry. For example our GovCloud.info site specializes in Cloud Computing for the public sector. White papers – Educational documents from vendors and other experts, such as the IT Value mapping paper from VMware. Core competencies The mix of new skills and technologies required to successfully implement new Cloud-based IT applications, and also the new capabilities that these platforms make possible: Virtualization Cloud Identity and Security – Cloud Privacy Cloud 2.0 Cloud Configuration Management Cloud Migration Management DevOps Cloud BCP ITaaS Procurement Cloud Identity and Security Cloud Identity and Security best practices (CloudIDSec) provides a comprehensive framework for ensuring the safe and compliant use of Cloud systems. This is achieved through combining a focus on the core references for Cloud Security, the Cloud Security Alliance, with those of Cloud Identity best practices: IDaaS – Identity Management 2.0 Federated Identity Ecosystems Cloud Privacy A common critcal focus area for Cloud computing is data privacy, particularly with regards to the international aspects of Cloud hosting. Cloud Privacy refers to the combination of technologies and legal frameworks to ensure privacy of personal information held in Cloud systems, and a 'Cloud Privacy-by-Design' process can then be used to identify the local legislated privacy requirements of information. Tools for designing these types of privacy controls have been developed by global privacy experts, such as Ann Cavoukian, the current Privacy Commissioner for Ontario, who provides tools to design and build these federated privacy systems. The Privacy by Design Cloud Computing Architecture (26-page PDF) document provides a base reference for how to combine traditional PIAs (Privacy Impact Assessments) with Cloud Computing. As this Privacy Framework presentation then explains these regulatory mechanisms that Kantara enables can then provide the foundations for securing the information in a manner that encompasses all the legacy, privacy and technical requirements needed to ensure it is suitable for e-Government scenarios. This then enables it to achieve compliance with the Cloud Privacy recommendations put forward by global privacy experts, such as Ann Cavoukian, the current Privacy Commissioner for Ontario, who stipulates a range of 'Cloud Privacy By Design' best practices Cloud 2.0 Cloud is as much a business model as it is a technology, and this model is best described through the term 'Cloud 2.0′. As the saying goes a picture tells a thousand words, and as described by this one Cloud 2.0 represents the intersection between social media, Cloud computing and Crowdsourcing. The Social Cloud In short it marries the emergent new online world of Twitter, Linkedin et al, and the technologies that are powering them, with the traditional, back-end world of mainframe systems, mini-computers and all other shapes and sizes of legacy data-centre. "Socializing" these applications means moving them 'into the Cloud', in the sense of connecting them into this social data world, as much as it does means virtualizing the application to run on new hardware. This a simple but really powerful mix, that can act as a catalyst for an exciting new level of business process capability. It can provide a platform for modernizing business processes in a significant and highly innovative manner, a breath of fresh air that many government agency programs are crying out for. Government agencies operate many older technology platforms for many of their services, making it difficult to amend them for new ways of working and in particular connecting them to the web for self-service options. Crowdsourcing Social media encourages better collaboration between users and information, and tools for open data and back-end legacy integrations can pull the transactional systems informtion needed to make this functional and valuable. Crowdsourcing is: a distributed problem-solving and production process that involves outsourcing tasks to a network of people, also known as the crowd. Although not a component of the technologies of Cloud Computing, Crowdsourcing is a fundamental concept inherent to the success of the Cloud 2.0 model. The commercial success of migration to Cloud Computing will be amplified when there is a strong focus on the new Web 2.0 type business models that the technology is ideal for enabling. Case study – Peer to Patent One such example is the Whitehouse project the Peer to the Patent portal, a headline example of Open Government, led by one its keynote experts Beth Noveck. This project illustrates the huge potential for business transformation that Cloud 2.0 offers. It's not just about migrating data-center apps into a Cloud provider, connecting an existing IT system to a web interface or just publishing Open Data reporting data online, but rather utilizing the nature of the web to entirely re-invent the core process itself. It's about moving the process into the Cloud. In this 40 page Harvard white paper Beth describes how the US Patent Office was building up a huge backlog of over one million patent applications due to a 'closed' approach where only staff from the USPTO could review, contribute and decide upon applications. To address this bottleneck she migrated the process to an online, Open version where contributors from across multiple organizations could help move an application through the process via open participation web site features. Peer to Patent is a headline example of the power of Open Government, because it demonstrates its about far more than simply publishing reporting information online in an open manner, so that they public can inspect data like procurement spending numbers. Rather it's about changing the core decision-making processes entirely, reinventing how Government itself works from the inside out, reinventing it from a centralized hierarchical monolith to an agile, distributed peer to peer network. In essence it transforms the process from 'closed' to 'open', in terms of who and how others can participate, utilizing the best practice of 'Open Innovation' to break the gridlock that had occured due the constraints caused by private, traditional ways of working. Open Grantmaking – Sharing Cloud Best Practices Beth has subsequently advised further on how these principles can be applied in general across Government. For example in this article on her own blog she describes 'Open Grantmaking' – How the Peer To Patent crowdsourcing model might be applied to the workflows for government grant applications. She touches on what is the important factor about these new models, their ability to accelerate continual improvement within organizations through repeatedly sharing and refining best practices: "In practice, this means that if a community college wins a grant to create a videogame to teach how to install solar panels, everyone will have the benefit of that knowledge. They will be able to play the game for free. In addition, anyone can translate it into Spanish or Russian or use it as the basis to create a new game to teach how to do a home energy retrofit." Beth describes how Open Grantmaking might be utilized to improve community investing in another blog, describing how OG would enable more transparency and related improvements. Cloud 2.0 As the underlying technology Cloud 2.0 caters for both the hosting of the software and also the social media 2.0 features that enable the cross-enterprise collaboration that Beth describes. Cloud Configuration Management CCM is the best practice for change and configuration management within Cloud environments, illustrated through vendors such as Evolven. Problem Statement One of the key goals and perceived benefits of Cloud computing is a simplified IT environment, a reduction of complexity through virtualizing applications into a single overall environment. However complexity actually increases.  Virtual Machines (VMs) encapsulate application and infrastructure configurations, they package up a combination of applications and their settings, obscuring this data from traditional configuration management tools. Furthermore the ease of self-service creation of VMs results in their widespread proliferation, and so actually the adoption of Cloud technologies creates a need for a new, extra dimension of systems management. This is called CCM, and incorporates: Release & Incident Management The increased complexity therefore increases the difficulties in trouble-shooting technical problems, and thus requires an updated set of tools and also updates to best practices like the use of ITIL procedures. 'Release into Production' is a particularly sensitive process within software teams, as major upgrades and patches are transitioned from test to live environments. Any number of configuration-related errors could cause the move to fail, and so CCM software delivers the core competency of being better able to respond quicker to identify and resolve these issues, reducing the MTTR significantly. DevOps DevOps is a set of principles, methods and practices for communication, collaboration and integration between software development and IT operations. Through the implementation of a shared Lean adoption program and QMS (Quality Management System) the two groups can better work together to minimize downtimes while improving the speed and quality of software development. It's therefore directly linked to Business Agility. The higher the value of speed and quality = a faster ability to react to market changes, deploy new products and processes and in general adapt the organization, achieved through increasing the frequency of 'Release Events': It's therefore directly linked to Business Agility. The higher the value of speed and quality = a faster ability to react to market changes, deploy new products and processes and in general adapt the organization, achieved through increasing the frequency of 'Release Events': ITaaS Procurement The fundamental shift that Cloud Computing represents is illustrated in one key implementation area:   Procurement. Moving to Cloud services means changing from a financial model for technology where you buy your own hardware and software, and pay for it up front, to an approach where instead you access it as a rental, utility service where you "PAYG – Pay As You Go". To encompass all the different 'as a Service' models this is known at an overall level as 'ITaaS' – IT as a Service. Any type of IT can be virtualized and delivered via this Service model. Towards the end, I hope that you have gained a clear understanding of How Business Transforms Through Enterprise Cloud Computing. If this article has helped you clear your fundamentals and if you wish to learn more about Cloud computing by getting certified, then you can undertake the AWS certification course offered by KnowledgeHut.