The well-known quotation by Roman Pichler of Agile Product Management states as 'The Product owner plans, distributes, composes, and tracks work from his or her level down'. And, I feel it's quite valid! Suppose you own any product, independent of whether it is a technical one or something that is used for general purposes. At that point, you should think about how to execute the prominent errands that are mentioned above superbly.
Plus, there are some more exclusive traits that an effective product proprietor must have to gain tremendous achievement with different classification in product owner role. Thus, if you are someone like that then you ought to not just expect that your product will turn into a tremendous success one fine day if you have not cultured the right behavioral qualities within yourself.
Need a comprehensive idea regarding the same? Then, here I am with a rundown of such striking and required aptitudes that you ought to have if you are a product owner by profession:
Here I go!
1. A flawless representative
Well, the truth of the matter is sufficiently genuine that albeit one single individual ought to be the product owner within the scrum framework yet it turns out to be practically unthinkable for somebody to oversee everything alone.
Thus, to survive with enormous grandeur in your profession, you ought to surely delegate and build an informal group that will be useful for you. Does it seem like the scrum team? Well, the appropriate response is yes and no both!
The group may comprise of the ScrumMaster and different experts from the product development group on the off chance you need. But, it should be a totally discrete group which is not a formal one and still can help you with accomplishing different works about which you might not be a specialist.

2. Immensely knowledgeable about the product
Well, if you own a specific product then you should know about it inside out. Additionally, you should not only think about the product but also what is the scope of the same in the market.

On doing so, you can get a crystal clear idea regarding what sort of feedback and popularity your product will get. You ought to be ready to furnish with productive guidance to the development group so that your product doesn't need to endure at any point in time.

3. An awesome storyteller
If you need to be an amazing product proprietor then you ought to undeniably know the strategy of simply slicing the user's story into the product backlog and conveying it to the developers. Likewise, a standout amongst the most exclusive responsibilities of yours ought to be to figure out what can transform the story into a product feature that will in-turn have the capacity to entertain the clients.

A by and large and helpful stream diagram of splitting a user story is mentioned beneath.
Just take a glance over: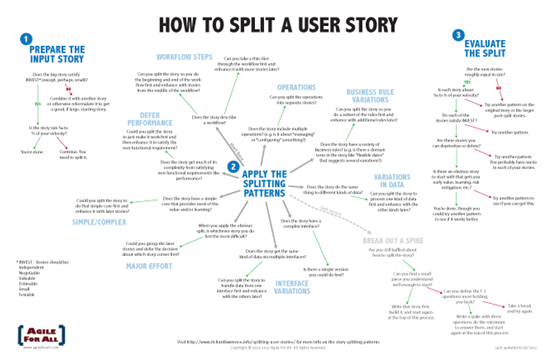 4. Extremely communicative
The best product proprietors are fundamentally natural communicators. So, if you need your name to be considered as one among them then you ought to absolutely know how to leverage a sound correspondence so that you can get your point across and give supportive and undiluted guidance to the development team.
You ought to be absolutely astounding about speaking and understanding both the customer's and developer's dialects. Thus neither the developers nor the clients will feel chafed to converse with you.
5. A great issue solver
On the off chance, you can't deal with a contention smartly then PO is certainly not the correct designation for you! Truly, with regards to building up a product, there emerge many clashes filled circumstances which are needed to be settled out without hurting anybody and thus coming up with a decent solution. The issues usually emerge when individuals battle about potential resources and furthermore do awful politicking.
So, as a product owner, you should have the capacity and strength to engage when things gets troublesome. You need to collaborate so that you can limit the negative viewpoints as far as possible and also you must be an excellent arbiter.
6. An agile individual
When you are the proprietor of any product, at that point sticking into certain things and convictions stoutly is not something that you ought to do. Rather, you should be able to examine, comprehend and acknowledge the facts that are pointed out by the members of your group. Consequently, you will come up with just the best elements regarding your product.
If you are sufficiently flexible then it will give solace to others while discussing different issues with you. What's more, you will undoubtedly have the capacity to take the advantage of their expertise. Likewise, you should have the capacity to control your outrage if any previously unknown impediments or constraints come up suddenly.
Final Word
So, if you are working as a product owner yet at the same time have not built up the skills that are discussed above, then simply make a move soon! Also, there are numerous other different qualities that you ought to incorporate into your nature like being fun and sensible, loaded with focus and functionality etc for being a successful product owner.
But, as I feel the previously listed ones are extremely compelling, so I came up with an explanation of the same!
Hope you will also find these potent enough!