All new knowledgehut.com! What's new?
By
Abhinay Singi
Welcome to KnowledgeHut's new website! Here's a quick walkthrough of what's new and how you will benefit. For starters, we've incorporated intuitive user experience. This means that the interface is very easy to use, and you'll find that it focuses on what's important. You can readily access information about KnowledgeHut services and solutions, and can browse based on your interests. The website also boasts a clean design and intuitive and consistent site-wide navigation system with improved menu functionality that directs you to the information most relevant to you. The new website is interactive and gives better access to courses we offer, our trainers, course curriculum and training schedules.  Our current and prospective customers will find our new self-learning and training management portal well accessible to their course purchases with progress tracking, upcoming schedules of live and virtual training, resources delivery and support system. For our trainers, we have introduced a self-servicing platform to create training sessions and upload eLearning courses, which will be offered to customers with a revenue sharing module and enrolment dashboard. You can create your profile and the listing showcases best rated profiles with trainer details and professional experiences. Our popular blog has received a much-needed facelift enabling you to sign up for weekly updates, and access the articles that matter to you through smart topic filters. We hope you find the new website easier to use with a fresh look, and easy-to- access information. We also wish to establish this portal as a source of information for those who visit our site.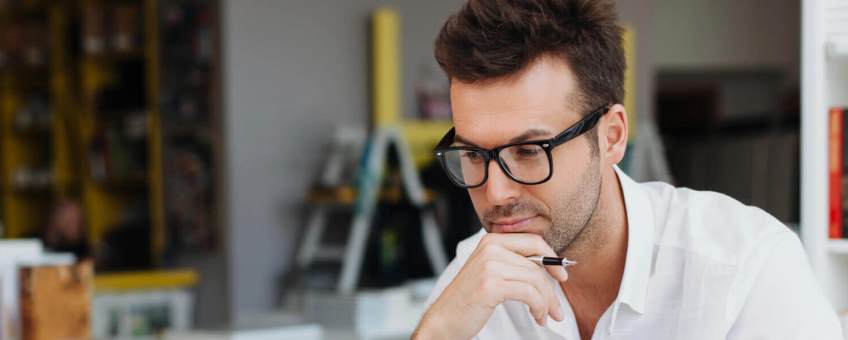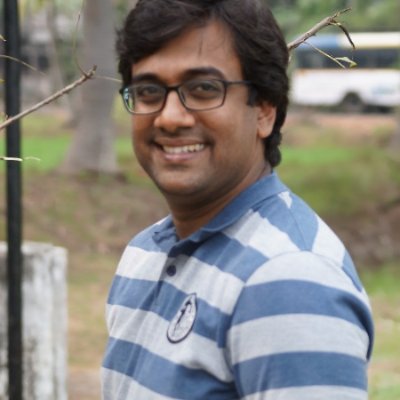 Rated
4.0
/5 based on
20
customer reviews
6-Years Anniversary Celebration
By
KnowledgeHut Editor
We are elated to announce that KnowledgeHut has recently completed 6 years of its glorious journey. Every small step has been worth celebrating. On July 19, 2011, our co-founders- Subbu Reddy, Madarapu Nagaraju, and Manjunath embarked on their journey towards the dream of offering certifications to the IT professionals and making them rightly cut out to survive in the competitive corporate world. On this date, KnowledgeHut has acquired the much coveted position, which can be compared with the world class coaching institutes. On KnowledgeHut's successful journey, Subbu Reddy opines- "These past 6 years have been a period of growth and a learning experience for the three of us as we went through several permutations and combinations, trials and errors till we had the mantra for delivering successful workshops. Today we are proud of the fact that our students can achieve rigorous certifications like the PMP, PgMP, CSM and CSPO after training with us and feel confident taking on tough project-related challenges". Madarapu Nagaraju appears equally inundated with the success so far. "We have come a long way from 2011 when we started off with just 5 courses and 20 trainers. Today we have a presence in over 150 countries and conduct more than 240 courses with 500 trainers. It is overwhelming to see that we have been able to positively influence more than 50,000 customers who have gone on to land lucrative jobs after training with us", he adds. It is evident that there has been a staggering growth in the number of employees in the span of 6 years. This enhanced employee strength has built the roadmap to KnowledgeHut's success. The above graph presents the company's growth in India against the years 2011 to 2017. It is interesting to note that the growth rate in India has seen a spike by 156% in the period between  2016 to 2017.The above graph gives a clear idea of the company's global growth between the years 2011-2017. It can be seen that the growth rate was very high in 2012-2013 and showed a steady rise after 2015. KnowledgeHut's unique journey has been a brick-by-brick progress and has entailed years of channeled efforts. It started with only 4 employees and today, its business has proliferated,  with  more than 200 employees and in around 150 countries. All these years, KnowledgeHut has appended useful training courses on Project Management, Agile Management, Big Data and Hadoop, Finance and Business Management among others. The company's commitment in bestowing world class coaching and industry calibrated training standards has paved the way to the series of milestones achieved. These are equally appreciated by the renowned industry leaders. Today, the Project Management Institute (PMI)®, EC-Council, APMG International Scrum Alliance, Scaled Agile Partner, CompTIA, DevOps, PEOPLECERT, Scrum Alliance, GARP and others are all the accredited bodies of KnowledgeHut. The primary aim of the company has been to equip the professionals with all possible accoutrements to tackle on-job challenges. Today's ever changing face of businesses demands deeper knowledge, quality, and on-time delivery. Customers, stakeholders, and organizations are always looking out for continuous and improved delivery. The best means to achieve the same is to attend training sessions and taking certification programs, something KnowledgeHut has achieved successfully. The company has tuned well with the heartbeat of the market and started offering courses on forthcoming technologies. Apart from the popular courses like CSM, CSPO, CSD, MSP, PRINCE2 and ITIL certifications, KnowledgeHut offers training on programming languages like Angular.js, HTML/CSS, PHP, MYSQL and others, IT Security, Digital Marketing, Finance, Information Technology and Soft Skills training. These have been the major stepping stones to the company's success. KnowledgeHut's endeavours in terms of business growth and partnerships have created ripples in the e-learning industry. It became a Silver partner with Scaled Agile Academy in June 2017, an ICAgile Member Training Organization in February 2017, formed a partnership with Scrum.org in March 2017, became a Registered Education Provider (R.E.P.) of DevOps Institute (DOI) in August 2016 and has attained all the major milestones. There exists an incredible synergy among the trainers and the other valuable resources of the company, that has made this possible. KnowledgeHut will continue its journey towards innovating the new ways of learning, delivering its excellence to the aspirants and lending a hand to achieve professional goals. Alongside the classroom training, we have virtual, e-Learning and corporate training mediums available as per the professionals' schedules. Naveen Kumar Singh, a Head of Agile Consulting, KnowledgeHut India, also renowned as a Scrum facilitator, have steered the company in the proper direction throughout these 6 years. Below is the list of some of the eminent trainers of KnowledgeHut around the world. Our three founders have a split vision for the future and always aspired for a digital space for their creative ideas. "Like a melting pot for knowledge and educational services", says Manjunath. He adds "This will generate new business and enhance our global presence online, while also providing professionals with a platform to meet and greet like minded individuals and network for better opportunities." KnowledgeHut's 6th-year anniversary celebration is a solemn procession of efforts and dedication of the trainers and staffs who have spent their quality time to provide the best services and meet more expectations of the ever evolving IT world.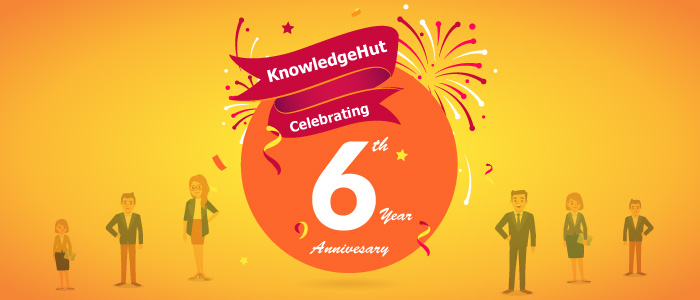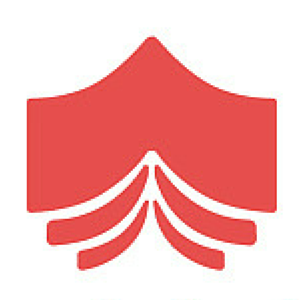 Rated
4.0
/5 based on
20
customer reviews
KnowledgeHut Partners With Scrum.org To Deliver Professional Scrum Training
By
KnowledgeHut Editor
In March, 2017, KnowledgeHut succeeded in taking its Professional Scrum course stature to a brand new level by entering into a partnership with scrum.org. The company has recently joined the Scrum.org Professional Training Network (PTN) for enabling a rich learning experience. This has marked its first major step towards imparting a superior quality training to the SCRUM professionals. Our versatile team of professionals and industry experts has helped us reach this coveted milestone. We congratulate our existing Professional Scrum Masters on this new achievement and earnestly hope to see an unparalleled growth in the count and quality of our ardent trainees in the years to come. This partnership is expected to change the face of software delivery altogether. The rigorous training processes under the current trainers at KnowledgeHut will only become better with this grand initiative. About Scrum.org  Scrum.org is the hub and an unmatched repository of online resources, certifications and training materials that can help enhance the fertility of knowledge in Professional Scrum. Everywhere across the globe can one find Professional Scrum trainers from scrum.org, transforming the careers of millions of software professionals. We are proud to announce that our valued Professional Scrum Trainers- Naveen Kumar Singh (Head-Agile Consulting), Sanjay Saini and Hiren Doshi have made it possible for KnowledgeHut to attain this milestone. Benefits of scrum.org  Scrum.org is solely oriented towards equipping the IT professionals with certifications, tools and trainings. These add unique dimensions to the realm of software development and scale the current software employees to professionals of corporate stature. KnowledgeHut's partnership with scrum.org is aimed at jointly expanding as a global network for superior software delivery. This enhanced platform will enable both the organizations to build a stronger resource base and widen the range of opportunities. Post-collaboration, a significant rise in the number of certified Scrum Masters is expected. This is mainly attributed to the fact that on being certified once, one can claim to be a Professional Scrum Master for the rest of his/her career. There is absolutely no need to pay extra charges to remain certified or keep proving the already acquired knowledge. Once certified, not only do you have a constant access to all the training materials and relevant information on scrum.org, but also rest assured to be updated with the latest news and happenings from time to time. Register and start learning  KnowledgeHut's popular courses from scrum.org, namely- Professional Scrum Master (PSM), Professional Scrum Foundation (PSF), Professional Scrum Product Owner (PSPO) and Professional Scrum Developer (PSD) have seen a heightened quality by virtue of this collaboration. The partnership has been constructive not only for the growth of our organization, but also for the incoming IT aspirants opting for our courses. KnowledgeHut is shortly going to organize conferences on Scrum and Agile, in association with Scrum.org. To stay updated with all our courses, please visit https://www.knowledgehut.com/.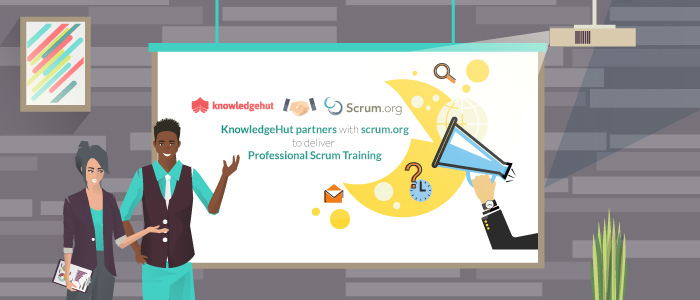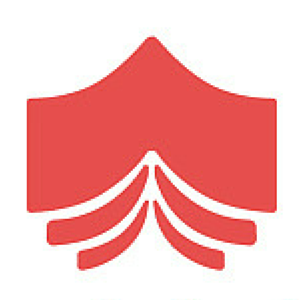 Rated
4.0
/5 based on
20
customer reviews