How to become a Full Stack Pro
By
KnowledgeHut
Full stack developers are in high demand in the software development industry. These developers understand all aspects of the development process including user experience and data maintenance. Hiring full stack developers reduce the need to hire too many resources for product development. In this article, we have explained the concept of full stack development and how it can benefit businesses. Full Stack Development has come to the picture as none of the organisation would like to invest a lot by hiring software development services from different developers. Understanding the increased competition in the market. Front-end development Front-end development consists of the entire user-facing parts of software development. It is the responsibility of the Front-end developers to implement visual elements like how the software or an app will look, interact and operate with the user. Back-end development Back-end development is responsible for making a program function well. The developers who work at back-end spend a lot of time creating and working with databases. To develop a user-driven software, you need both. Full stack developer is the one who is pro in both the technical domains. Also, they understand every aspect of development including front-end, back-end, database queries and various operating systems. Such high-skilled developers are recognized as "developer generalists" as they can develop any complex application from scratch and understand how each technical layer interacts with the other. Technical Skills 1. Programming languages A skilful full-stack developer must be proficient in multiple programming languages like JAVA, C#, Ruby and PHP. It is crucial to be a master in the language syntax and be familiar with how to design, structure, test and implement the programming codes. 2. Development frameworks and third-party libraries Development languages are generally accompanied by a good development framework like Node.Js, Express.JS, Hibernate, Python Django, Java Spring, MyBatis and PHP Thinkphp. Therefore, it is good for the full stack developers to understand the development frameworks and third-party libraries. 3. Front-end technology For the development of a product, front-end technologies are necessities. The full-stack developer needs to have some basic knowledge of front-end technologies such as HTML5, CSS3 and JavaScript and should study the frameworks such as JQuery, LESS, SASS, AngularJS, or REACT. 4. Database and cache Every software product needs a database to store the data. A full stack development expert should understand the concepts of the databases and know how to interact with it seamlessly. MongoDB, MySQL, Redis, Oracle are some popular databases that are being used by the developers to develop the backend for dynamic applications. 5. Basic design ability When it comes to basic design utility, it is crucial for full stack developers to understand the basic principles and skills of prototype design, UX and UI design. It is very important a Full Stack Developer to understand all the following technology stacks that are key to software development Backend Architecture Microservices: It allows the business functionality to be split up into independent services. The microservice architecture can help businesses automate in-house processes in a short period. It is the perfect option for every size of companies who wish to automate their business operations and efficiently realize its value. Blockchain platforms: Using the blockchain platforms for developing dApps have benefited top companies like IBM and Oracle. Following are the blockchain platforms, helping you to choose the right one for your project: Hyperledger: Hosted by Linux Foundation, Hyperledger is an open source project, offering toolsets, frameworks and projects for developers to build and experiment using blockchain technologies. Ethereum: It uses a proof-of-work (PoW) algorithm, known as "Ethash," which needs more memory to make it hard to mine. You can get the dApp built on Ethereum for streamlining your business operations. Hedera: Hedera is the public hashgraph network, governed by a council of renowned enterprises and organizations, across multiple industries. The Hedera Hashgraph platform provides the distributed consensus in a new form, which is trusted, secure and does not need an intermediary. Mobile app development React Native: It allows to build the application using Javascript. The native approach, React Native can speed up the process of development and create compelling mobile apps.Rather than offering a slow user experience that's not useful for a platform, it provides all the advantages of a native application. Xamarin: Xamarin has been referred to be the best choice for full-stack developers who want to build cross-platform portability that integrates an app to all three mobile platforms, i.e., iOS, Android and Windows.Therefore, it minimizes the time, saves money and efforts of the developers when it comes to the development of mobile application. Cordova: Also known as PhoneGap, it allows developers to build a mobile app and then wrap it in the framework that can be installed as an application across several mobile device platforms without a lot of extra efforts. SWIFT/Obj.C: These both are programming languages that can be used to code the Apple software products under iOS, tvOS, CarPlay, macOS, watchOS and Linux (only for Swift) operating systems. Also, these languages have different APIs and frameworks. JAVA/Kotlin: A statically-typed programming language is offering full compatibility with JAVA, allows writing less code, can compile to JavaScript source code while having readable syntax. Back-end and Framework Technologies Node.JS: Built on Chrome's Javascript runtime that can create scalable network applications faster than ever. The open-source cross-browser environment, Node.JS has been built to seek the attention of worldwide developers. Express.js: It is an open-source framework for Node.Js can be used to simplify the development with a set of tools, packages, plugins and features. Express.js with Node.js can be used to develop APIs for single and multi-page, hybrid mobile and web apps. PHP: An open source platform that allows rapid creation of prototypes and websites. The programming language can be used to develop user-friendly websites for small or big enterprises in less time and budget. Python: Python is based on a high-level dynamic programming language that can offer a plethora of business benefits. Since it can easily interact with other languages, you can get the freedom for future upgrades. Python development is highly suitable for customizing larger apps as the language comes with various features such as scalability, special libraries, extensibility and easy readable syntax. Laravel: One of the top PHP frameworks, Laravel can offer enhanced security to the data as well as users. It can help limit unauthorized users from accessing any paid services or something crucial to the business. Front-end Technologies Front-end refers to the development of the web pages and user interfaces for websites or applications. It implements the design, structure, behavior and animation of everything that you experience visually on the screen while using the site, web applications and mobile apps. BootStrap: It is a front-end framework, that supports the creation of dynamic websites and applications. It is a highly preferred front-end framework that allows fast and easy ways of building a website. If you want to develop an application, it is crucial to consider Bootstrap as it helps save the coding efforts and offers a lot of commonly used Cascading Style Sheets (CSS) functionalities, by default. React JS: A javascript library that is perfect for building the amazing user interfaces. Its development is known for delivering high-performance client's and server-side's rendering. AngularJs: When it comes to developing the browser, web-based applications and mobile apps, Angular JS is perfect for the development of all types of apps. Angular JS, developed and maintained by Google developers has been known for its flexibility. HTML/CSS: These are the basic building blocks used to design and development of websites. It enables you to add content and styles to your project site. It is the building block of any digital content today on the internet. Javascript: JavaScript has been the most popular scripting language for a long time. It enables you to perform quick actions on the client side itself without the need for a response from the server side. This vastly improves the user experience and efficiency of the website or application. Database Technologies Database technologies grab details and store, organize and process it in an easy way that allows users to find the required data quickly. MySQL: It is free to use an open source database, offering easy database management by connecting it to the software. Since it is a robust, scalable and reliable solution, providing advanced benefits such as data security, on-demand scalability, high performance and complete workflow control, it is widely used in small or medium-sized applications. MongoDB: It is a free, open-source and distributed database at its core. Having sharding and scaling features, MongoDB can help enterprises to maintain and customize database development to a large extent. PostgreSQL: Being one of the most advanced open source databases, it offers endless development opportunities to enterprises. It can be widely used in large-scale applications or websites. DynamoDB: Amazon web service was introduced as one of the most prominent NoSQL cloud databases. DynamoDB has a flexible schema and is scalable, which allows users to quickly change how data is structured and can run various queries against it. Cloud Services Amazon Web Services (AWS): It is known to be a secure cloud services platform offering deployment tools, database storage, content delivery, computing power and functionality solutions. These services can aid enterprise applications by increasing flexibility, reliability, lowering the IT costs and offering scalability. Microsoft Azure: It helps to increase the business agility as it offers a host of application building blocks and services, allowing users to customize the cloud as required. Google Cloud Platform (GCP): Google offers a suite of public cloud computing services known as GCP. A range of hosted services for computing, applications development and storage, which run on the Google hardware are included in the platform. The GCP services can be utilized by cloud admins, enterprise IT professionals and developers through a dedicated network connection. Version Control System (VCS) and Debugging Version control can help record changes to a file or set of files over time, enabling you to recall specific versions later. Following, are some of the version control systems: GIT: Most favored and widely used distributed version control system, GIT performs robustly and reliably as compared with other VCs. It also helps maintain the integrity of source code. GIT ensures to have an authentic history of the source code. Full-stack developers or development company can use GIT for developing the projects as it offers excellent performance, security, flexibility and functionality. Xdebug: Released in 2002, Xdebug is a PHP extension, which provides profiling and debugging capabilities. Subversion: It is a centralized version control system which means the history of the version is stored in a central server.Devops It is the combination of tools, cultural philosophies and practices, which enhances the enterprise's ability to deliver services and apps at high speed. The great speed allows companies to offer better service to their clients and compete effectively in the market. It is the practice of operations that allows the developers to participate together in the entire lifecycle of the service, from design to development and production support. DevOps enables developers and operations teams to offer high speed, reliability, security, scalability and regular updates to their customers. In ConclusionBecoming a Full Stack Developer has its own advantages including the knowledge of both front-end and back-end. The developer can be in-charge of the project and ensure fast and timely delivery of the project.
Rated
4.5
/5 based on
45
customer reviews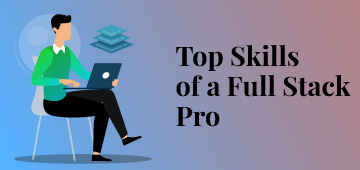 How to become a Full Stack Pro
Full stack developers are in high demand in the so... Read More
How to Build Large-Scale Web Applications
By
KnowledgeHut
Identifying the right architecture for your web product is crucial. It should be scalable and be able to handle high loads, especially if you're making a functional website, online booking service, or an e-commerce solution. You would have noticed on the days of the Big Sales by some of the e-commerce sites, the websites and web apps don't manage to withstand such huge influxes of users and lose a lot of money. People get annoyed when they are made to wait for a long while for the web page to load or fortheir transaction to be finally approved. It is common for people to stop doing business with the company that provided them with poor customer experience. Slow page and partial content loading, crashes, random errors, disconnection with the Internet are possible consequences of the lack of a high load architecture. That's why the creation of a software system that can handle high loads matters. Even if your web project is rather small, at some point there may be an influx of users or you may need to elastically scale. Some facts about high load:A high load begins when one physical server becomes unable to effectively carry out data processing If one instance simultaneously serves 10,000 connections – it is high load Highload is about a simultaneous service of thousands and millions of users If you deploy a web solution on AWS (Amazon Web Services), Microsoft Azure, or Google Cloud Platform, you're maintaining a high load architecture Consequences of a high load: Slow or endless page loading Random errors Disconnected connections from the web server Partial content loading Reduced user audience activity Customer losses For these reasons, getting the project architecture right is paramount. Without happy customers, there is no success or profit. To implement scalable web applications, we need to understand the principles of developing high-performance software solutions. Basics of building high-performance large-scale web applications 1. Dynamics and Flexibility Be prepared for periodic changes to your project. Some minor product features may start gaining popularity when no one expects. Or you may need to add various features. Or you may decide to promote your application and attract customers. Whatever be the reason, it would be prudent to elastically scale and handle high loads. When developing large-scale web solutions, focus on flexibility as it will enable you to easily make changes and extensions.  2. Gradual project growth While it is difficult to predict the audience size for the years to come, it is necessary to focus on scalability. The same goes for the app architecture. Gradual solutions are the basis for successful software engineering. If you are running a new product, there is no sense to instantly provide an infrastructure that can withstand millions of users and simultaneously process their multiple requests. Use the cloud to host new projects, as it allows them to reduce the cost of the server, facilitate their management, and easily deploy applications. In addition, many cloud hosting services offer private network services, enabling software developers to safely use servers in the cloud and make the system scaling. 4 main steps to scale up a web solution:Load analysis Determination of the areas which are mostly affected by the loads The transfer of these areas to individual nodes and their optimization Load analysis How to develop a large-scale web project architectureA new software solution is run on a single server, running a web server, database, and the solution itself. Instead of building a large complex project from the very beginning, focus on the product scalability and choose a powerful server that will be able to handle high loads if necessary. This approach will help you save time and reduce development costs. Here are some ways that will help you make high-performance scalable web applications. Database separation Most often, it's the first node which is under load is the database. Each request from the user to the application is generally from 10 to 100 database queries. Database branching on a separate server will increase its performance and reduce the negative impact on other components (PHP, Nginx, etc.). Database migrationIn some cases, moving the database to the other server can be a problem for the working web solution. You should make the following things to effectively migrate it: Use a simple solution – place an announcement about the planned work on the site and make a transfer. It's better to do it at night when the user audience activity is minimal. Use replication to synchronize data from one server to another. After configuration, you should change the database IP address in the application to the new server. And then – turn off the old server. Separation of a web server Hereafter, separate the web server, which allocation to a separate node will allow to leave more resources for the application. In speaking of the example with PHP, you should configure the product deployment to both the Nginx server and the PHP server, representing backend.Then, Nginx itself will give the static files, and the PHP server will only be occupied with scripts processing. Keep in mind that if you use file loading, you will need to allocate the file storage to a separate node. Use several backendsWhen the load increases, a web application starts working more slowly. At some point, the reason will lie already in the implementation itself. To avoid such issues, you should use several PHP backends. When installing backends, make sure they have the same configuration. Use Nginx to balance the load between them. When you start using several backends, requests from the same user will be sent to a different server. This will require a single repository for all sessions. You can choose, for instance, Memcache. Also, you should connect cache servers. Memcache will independently distribute the load between all the servers by using a constant hashing algorithm. Task queues and DNS balancingTask queues enable to asynchronously perform heavy operations, without slowing down the main application. While the queue server will be receiving tasks from the web solution, other servers will be handling them. If the average number of tasks in the queue will grow, increase the number of servers to balance the load. DNS supports balancing based on Round Robin, allowing to specify multiple IP addresses of receiving web servers, called frontends. Here you need to install several identical frontends so that DNS will give different IP addresses to different clients. This way, you will ensure balancing between the frontends. File storagesFile uploading and processing usually occurs on the backend side. Having several backends is totally inconvenient and inefficient, as software engineers have to remember on which backend they upload each file. Moreover, they can reduce backend performance. To avoid such difficulties, you should use separate servers for loading, storing, and processing files. You can make it in the following way: Define a separate subdomain for the file server Deploy Nginx on the server and a small application that can store files and process them Scale by adding new servers and subdomains (for example, images1, images2, images3, etc.) Transfer the file load to the client-side so that the form will send a request to a certain server While there is no big deal to create an application, the proportionality scales across servers as traffic flow grows. Load balancing, 90% cached, a reliable content delivery network, and so on – and you have a high load architecture. However, cost-effectiveness is the key. If it's a database, choose a high-scalable database before beginning the project development. Or you can use several databases, for instance, one for writes and one for reads (CQRS). Defining and solving such performance issues in advance, without a dramatic increase in infrastructure costs is an effective practice of ensuring high load.
Rated
4.5
/5 based on
45
customer reviews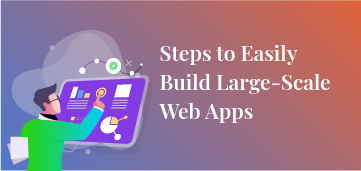 How to Build Large-Scale Web Applications
Identifying the right architecture for your web pr... Read More
Why Enterprises Should Adopt a Mobile-first Strategy?
By
KnowledgeHut
There are over three billion smartphone users worldwide and this number only seems to be growing in the upcoming years. About 204 billion app downloads occurred on smartphones in 2019 worldwide and 62 percent of smartphone users had made at least one purchase on their respective devices. Industry experts are of the view that mobile apps alone will generate up to $188.9 billion in revenue in 2020. Clearly, a superior mobile experience has become a clear-cut business imperative today and the quality of mobile experience a user enjoys while viewing a company's website could make or break one's business. According to a survey by Tealeaf, 85 percent think that a company's website when viewed on a mobile device should be as good or better than its desktop website. Bearing these facts in mind, businesses today are quick to embrace a mobile-first approachThis is the reason why businesses today are embracing the mobile-first approach when it comes to creating their online presence. What is the mobile-first approach?Advocated by Google in 2010, the mobile-first approach is when businesses create a user experience on mobile devices that's both effective and gratifying. Google recommended this approach to businesses in 2016, because many internet users were searching for Google on their mobile devices. They wanted to kickstart mobile-indexing of sites and hence suggested businesses to create mobile-friendly sites with a good user experience.  Simply put, a mobile-first approach is a design strategy where prototyping of the smallest screen (mobile in this case) is done first followed by designing for the larger screens. Mobile-first business strategy as a competitive advantageHaving a solid mobile-first strategy can help enterprises tap into their customer base as smartphones have become the No.1 digital tool for both revenue and business growth today. Below are some major reasons why businesses simply can't do without a mobile-first approach: Gives businesses a competitive edgeAccording to a study by BI Intelligence mCommerce would occupy about 45 percent of the total US eCommerce market this year,  Only 16 percent of US merchants have a mobile shopping channel. Despite a study by BI Intelligence that claimed that mCommerce would reach occupy about 45 percent of the total US eCommerce market this year. Therefore, any consumer-centric business right from the retailers to service providers must adopt a mobile-first strategy to stay ahead of cutthroat competition. Greater customer experience, reach and retentionSmartphones enable enterprises to widen their reach to target customers. When a customer is pleased with the mobile experience, customer retention also increases. Customers are quick to leave a business that offers poor customer experience in favour of competitors who offer a much superior experience. About 57 percent customers claimed that they were not likely to recommend a business to their peers if the mobile experience was bad. Therefore, a good mobile experience is a sure-shot way to ensure customer loyalty. Newer revenue channelsEnterprises will get to explore multiple ways to expand their revenue through this approach. A variety of monetization strategies like in-app purchases, gamification upgrades, and premium capabilities or membership perks can make way for better profitability for businesses. Unparalleled access to dataData collected from mobile app usage can help enterprises predict customer behavior and derive valuable insights. These findings could in turn help frame effective data-driven decisions. The advent of AI-enabled mobile-user experience has also made it possible for faster complaint resolution. According to an MIT Technology Review Report, about 90 percent of companies now using AI for troubleshooting customer issues.  Widens local search visibilityBacked by Google, the local search intent has garnered a lot of attention. As most of the online searches happen on smartphones, having a mobile-first strategy will boost the Google ranking as well as the local search visibility of a business. This could even lead to greater footfalls and sales. Boosts cost-efficiency through an MVP approachThe mobile-first strategy demands an MVP approach. Enterprises don't have to spend a bomb to get an app made through the MVP approach. Mobile-focused tools, backend systems that support mobile applications and a capable in-house team of skilled full stack developers are all an organization needs in an MVP approach. This means with minimal investment but maximum returns.Paves way for future innovationsSince, mobile-first businesses are agile and dynamic, they can serve as fertile grounds for further innovation. No matter the challenges or the competition, a sophisticated mobile-first strategy could really keep enterprises one step ahead of the game.With so many advantages, a mobile-first approach seems to be an indispensable business strategy. To maximize the benefits of adopting this strategy, apply these simple principles.The new business imperative Tech giants like Google and Facebook have long embraced the mobile-first approach. Leading organizations have prioritized the mobile-first approach as an integral part of their digital transformation strategies. Now that mobile has revolutionized industries worldwide, enterprises are left with no choice but to embrace it.Being a mobile-first business also means that enterprises must prioritize building a workforce capable of rising to the demand of this initiative. Enterprises that want to become leaders in their respective niches should make mobile-first strategy their prime priority.
Rated
4.5
/5 based on
0
customer reviews