Most of the organizations start their Agile journey with a small team. Once they get success with the methodology that they are implementing in the organization, the need for scaling to the larger organization becomes quite evident. The Scaled Agile Framework is the widely used framework for addressing the scaling challenges at the enterprise level.
SAFe®️ not only provides the practical guidance but also encourages the Lean-Agile Mindset leaders to implement a comprehensive set of values and principles to aid the organizational changes. In the case of organizational transition, it is difficult to adopt new things at a glance. Team members should have in-depth knowledge of SAFe®️ practices, leadership style, and culture. Firstly, let's see what is Scaled Agile Framework (SAFe®️).
What is SAFe®️?
Scaled Agile Framework (SAFe®️), is an organization-scale development methodology, developed by Scaled Agile, Inc. SAFe®️ guides enterprises in scaling lean and agile practices to the larger organizations. Also, it helps enterprises to develop and deliver the product faster. SAFe®️ incorporates fast delivery, a collaboration between the team members, and alignment for several Agile teams. Also, SAFe®️ yields quality, productivity, employee engagement, customer satisfaction, time-to-market, improved business agility, and more.
What is new in SAFe®️ 4.6?
Scaled Agile Inc., a certifying body of the Scaled Agile Framework (SAFe®️) recently announced the latest version of SAFe®️, SAFe®️ 4.6 with the help of the whole Scaled Agile team and SAFe®️ Contributors. The SAFe®️ 4.6 version has underlined the introduction of 'Five Core Competencies' of the Lean Enterprise. The purpose behind incorporating those competencies is mainly to make the SAFe®️ organizations build a truly Lean Enterprise in a Lean way.
Here are the names of the five core competencies introduced newly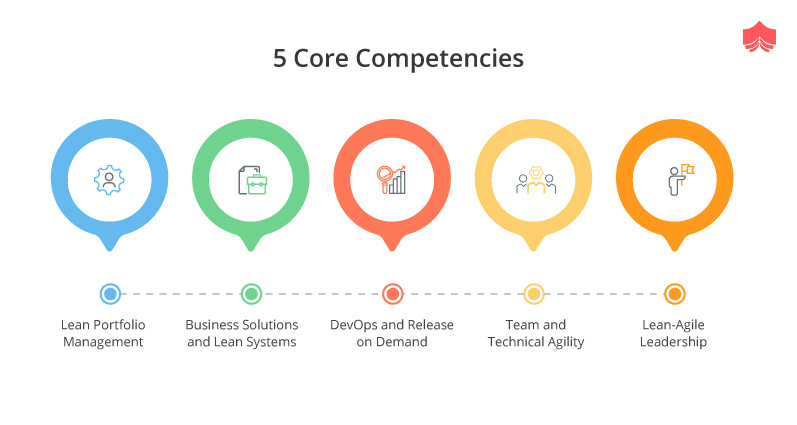 1. Lean-Agile Leadership
This competency explains how Lean-Agile leaders can drive organizational change by positively influencing the individuals in the team to reach their highest potential. The Lean-Agile leaders achieve this by learning, exhibiting, and coaching the Lean-Agile mindset, core values, principles, practices & features of SAFe®️.
2.Team and Technical Agility
The Team and Technical Agility competency explain the required critical skills and Lean-Agile principles and practices to produce the high-performing teams. The aim behind creating the high-performing teams is to produce high-quality, well-designed technical solutions in order to stay updated with the current and future business needs.
Team agility – enables high-performing organized Agile teams to operate with the fundamental and effective Agile principles and practices.
Technical agility – provides Lean-Agile technical practices to create high-quality, well-structured technical solutions that can add value to the current and future business needs.
3. DevOps and Release on Demand
This competency explains how the DevOps principles and practices allow the enterprises to deliver value (completely or partially) any time to meet the customers' needs. The DevOps and Release on demand competency adds-on the comprehensive and thorough level of guidelines on implementing a full continuous delivery pipeline.
4. Business Solutions and Lean Systems Engineering
This competency focuses on how enterprises can develop large and complex solutions and cyber-physical systems using a Lean-Agile flow-based, value delivery-model. This model helps in developing the best of the activities necessary to specify, design, construct, test, deploy, operate, evolve, and ultimately decommission solutions.
5. Lean Portfolio Management (LPM)
The Lean Portfolio Management (LPM) competency explains how an enterprise can implement Lean approaches to strategy and investment funding, Agile portfolio operations, and Lean governance for a SAFe®️ portfolio.
Benefits of Leading SAFe®️ 4.6 certification



Traditional corporates can embrace Lean-Agile practices easily
Organizations can scale from medium to larger organizations
With the SAFe®️ 4.6 version, organizations can deliver value fast
Also, enterprises can easily navigate the digital disruptions
This latest version is helpful in addressing the latest market trends and technologies
Organizations can easily address the changing customer needs
Accreditation Body for Leading SAFe®️ 4.6




Scaled Agile, Inc. (SAI) is the leading provider of SAFe® courses. SAI uplifts the career growth of an individual by offering various role-based courses and certifications. Scaled Agile, Inc. is a knowledge base for enterprises to adopt Agile.
Who can take Leading SAFe®️ 4.6 course?
Executives and Leaders, Managers, Directors, CIOs, VPs, Development, QA, Infrastructure Management, Program and Project Managers, Product and Product Line Management, Portfolio Managers, PMO, Process Leads, Enterprise, System, Solution Architects
Pre-requisites for Leading SAFe®️ 4.6 course



Anyone can take up Leading SAFe®️ 4.6 course, regardless of experience. However, following prerequisites are endorsed for the individuals to attend the SAFe®️ 4 Agilist (SA) certification exam:
5+ years' experience in software development, testing, business analysis, product, or project management
Experience in Scrum


SAFe®️ 4 Agilist Certification Exam Details



Exam name: SAFe®️ 4 Agilist exam
No. of Questions: 45 MCQs
Exam delivery: Web-based (single-browser)
Exam access: Get access upon completion of the Leading SAFe®️ course
Exam duration: 90 mins (1.5 hours)
Passing Score: 34 out of 45 (75% passing score)
Salary of the Certified SAFe®️ 4 Agilist
The average salary of a Leading SAFe®️ 4.6 certified individual is $68,667 per year.
Key Learnings of SAFe®️ 4 Agilist course



After the Leading SAFe®️ 4.6 certification training, candidates will be able to-
Combine Lean, Agile, and various Product Development shapes
Scale the Lean and Agile development in the organization
Manage the development of the larger solutions
Bolster a Lean-Agile change/transformation in the enterprise
What will aspirants get after passing the SAFe®️ 4 Agilist certification exam?
SAFe®️ Agilist certificate
A SAFe®️ 4 Agilist digital badge to promote your achievement online
One-year membership with Scaled Agile Inc.(SAI), which give access to the SA Community of Practice
A SAFe®️ Agilist certification usage guide with SA certification marks
Access to a variety of learning resources to support certified professionals during their SAFe®️ journey
SAFe®️ 4 Agilist Certificate Renewal
SAFe®️ 4 Agilist Certificate expires in 1 year from the original date of certification earned. The renewal fee of SAFe®️ 4 Agilist certificate is $100.
Develop your Agile skill set which is in demand today and enable your organization to succeed in an ever-evolving digital market with SAFe®️ 4 Agilist (SA) certification!