A Quick Guide to Project Management
By
KnowledgeHut
The demand for project managers has seen a rise like never before with the influx of global transformation and multiple development projects. The Project Management Institute (PMI) predicts that on an annualized basis, employers will need to fill nearly 2.2 million new project-oriented roles each year through 2027 to meet the anticipated demands of the industry. Here's a quick guide to project management covering the essentials to get you started.
Rated
4.5
/5 based on
4
customer reviews

A Quick Guide to Project Management
The demand for project managers has seen a rise li... Read More
Project Management: What's Trending in 2020
By
KnowledgeHut
Project management is the practice that is used to initiate, design, execute, control, and close a team's work in order to reach specific objectives and fulfil specific success criteria at the specified time. The main challenge of project management is to achieve all project objectives within the given limits.A decade ago, managing projects was difficult and challenging. It was difficult to set clear goals with less project management tools and projects were being managed by smaller teams with simpler projects.Fast forwarding to 2020, the scenario is completely different as Project Management seems like a phoenix rising from the ashes. The teams are no longer small, nor are the tasks, and the goals are defined with a proper system.The project management industry is quickly evolving, keeping pace with advanced technologies, tools, and the latest trends.Today, we will discuss the top 5 Project Management global trends in 2020.1. Artificial Intelligence (AI) & Automation Will Impact ProjectsArtificial Intelligence has had a very positive impact on projects. According to a PMI report, software development, aerospace, healthcare and financing all implement Artificial Intelligence in their way of managing projects.The first thing project managers need to do is take AI into account in project management and then learn how to utilize it for successfully completing projects.Using AI in automating data will make it easier to handle projects than before. Moreover, you can form positive business relationships with your team members and clients, resulting in proper coordination and transparency.It's quite common to witness poor estimates and unknown external factors pushing the deadline. Artificial intelligence can calculate the duration, cost and progress of a project properly and predict realistic project schedules.2. More Project Managers Will Incorporate Hybrid Project ManagementEvery project is created differently and differs in methodology and execution. No wonder the concept of hybrid project management is becoming increasingly popular and with every passing day, many Project managers and Scrum masters are combining more than one methodology.According to PMI reports, Hybrid project management aims to combine standard project management techniques with the agile methodology.When the hybrid model, such as combining a traditional approach is implemented with an Agile process, team members from different points of view and work styles will collaborate and achieve more flexibility, dedication, and productivity in their own way.Project managers are inclining to this flexible approach of projects in the current year. A combination of agile and traditional methodologies is best suited in a multi-project environment, where complex parts are executed using agile, and a traditional method is used for the simpler parts.3. Managing Projects Will Become Easier with Emotional Intelligence (EI)It seems strange, but project success is related to humans understanding and realizing emotions. How? According to PMI.org emotional intelligence can strongly predict performance no matter what job you do. It allows clients, team members, sponsors and management to interact with each other with clarity, handle challenges efficiently and make committed choices to act strategically and swiftly. EI is now an essential technology for a successful business outcome.Understanding the emotions of the team members and dealing with different personalities ensures that the project keeps progressing at a smooth and constant pace. This is an invaluable leadership ability for project managers around the world.Therefore, it becomes more important than ever to learn about emotional intelligence and what drives people to predict future project success.4. Remote Working is on the RiseThe trend of working remotely is now extremely common and this will go on in future too. There are a lot of advantages when people work remotely. It offers more flexibility and saves a lot of time as you don't need to travel to your workplace. The costs to the project and company get further reduced leading to the development of talent. According to the results of a survey by Wrike, 83% of respondents work remotely every day for at least one to two hours. 43% of them reported that they work remotely now, more than they did a couple of years ago.When working remotely, projects will be managed by:Setting up daily, stand-up meetings and calls to stay updated on the progressHaving your team members keep you updated on any project changes or updatesUsing online collaboration tools such as Microsoft Planner to collaborate with team members and never miss out on any changes or updatesDoing quarterly individual assessments in a yearThe future of project management will witness a steep rise in next-gen project managers, project management offices, and more focus stepping up cybersecurity. Project managers should pay attention to these trends to successfully lead their teams.5. More Jobs Will be Available for Project ManagersProject managers are involved in every possible industry. According to 'The Project Management Institute (PMI) report' last year, the project management labour force is predicted to grow by 33 percent in over 11 countries by 2027. There will be a wide range of jobs for project management and these are estimated to grow over the next 10 years. Some of them are in industries like: Management and Professional ServicesManufacturingFinance and InsuranceInformation Services and PublishingConstructionUtilitiesOil and GasBy 2027, nearly 88 million professionals will be required in project management-oriented roles. The first in the race to hiring are China and India forming more than 75 percent of the total project management-oriented employment.The report further stresses that project managers are key in delivering successful projects and products. Acting otherwise can potentially create loss of nearly US$208 billion in GDP over the 10 years in the 11 countries examined.With the new trends of 2020, project management will be playing a major role in fastening product development with its new technologies, and in turn, increasing workflow efficiency. Owing to its exponential growth, multiple job opportunities will be created and staying on top of the latest trends will give one the leverage to make the most of such changes.
Rated
4.5
/5 based on
2
customer reviews

Project Management: What's Trending in 2020
Project management is the practice that is used to... Read More
How to Collaborate Better in a Project Team
By
KnowledgeHut
For every successful Organization, conversation between the teammates matters a lot. They need to share the current status of their work. The successful discussion within teams results in Team Work. If teamwork implies the success in implementing the project, we cannot give the credit to a particular person in the team. It is best to call it a "team victory". If your project team or the entire organization is facing a problem in collaboration, it is time to plan for a well-connected platform to exchange ideas and iron out the differences. This can help generate the extra push to execute the necessary changes for making collaboration as an integral part of the Team collaboration, Project Management, and Communication. Here are the six more tips to keep your virtual team on track. Here are some key points to be followed in order to bring the project teams under one roof. 1. Decentralizing and Analyzing the Collaboration platform Management Establishing centralized management over the collaborative platforms can be problematic. So, it is better to analyze how the organizations can decentralize the platform management and move it away from the teams and departments. If you are going to decentralize the management over the collaboration platform, it is important to provide the following support- There should be trained Managers/Administrators who have a knowledge of administrative tools and other features Define the policies and the procedures for the decentralized site management, including the rules about the "Team supporting" which will start, instead of ended IT support. Provide the feedback approach for working teams, where the Managers across the organization can learn from each other. 2. Centralize Team Task Management in the Cloud If some of the important tasks are lagging behind, then it is important to centralize your team tasks, under centralized task management. This is a form of collaboration in which the team members follow, choose and comment on tasks. There are various Collaboration Management sites depending on the tasks. Huddle and Sharepoint are the two popular sites having the essential task management features. Similarly, if you want to move to social task management features, Asana and Producteev are the best options. 3. Move one email-based workflow to the Collaboration Platform Organizations should have at least one email-based workflow to the Collaboration platform. Later you can move for more email-based workflows to the platform, depending on the team's needs. Huddle and SharePoint Online have workflow features that do not need any programmer, and ensure that those who are having access to the document are working with the same version. 4. Move One Email Group Communication to the Collaboration Platform It is better to keep your information on the cloud. Whether it is a contact list, new benefits announcements or important project documents, you should post these important things in the social stream. Everyone will be benefited after getting this information in an assembled form. 5. Make Collaboration more Social When organizations bring their collaboration platforms together with the enterprises that are having social technologies, a tool like "Tibbr" can be used to move your organizational team away from the e-mail inbox. 6. Integrating your platform with MS-Office MS Office users can save and check out documents from the platform. This is one of the best features in some collaboration platforms. MS-Office helps to save the documents directly from an application to the SharePoint site, using the File menu's Share Option. Mentoring the team members on these applications will help achieve more productivity and security for the team's docs. 7. Change collaboration platforms If your current platform is not meeting your potentiality or budget targets, you definitely should go for the changing collaboration platforms. Apps like Office 365, Huddle, Glip, Wrike, and Teambox allow free access for some period. So go ahead and try to figure out which one is suitable for you. With all these techniques, customized according to your business requirements, you can improve your team productivity and obtain more Return on Investment (ROI).
Rated
4.0
/5 based on
20
customer reviews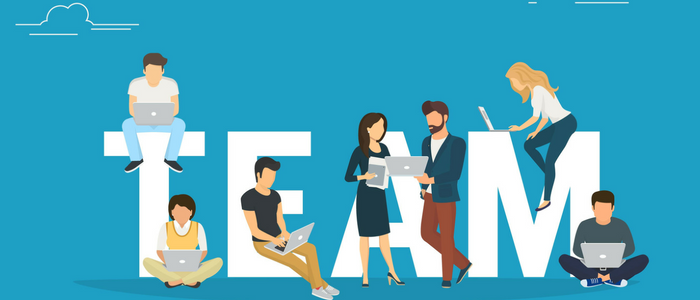 How to Collaborate Better in a Project Team
For every successful Organization, conversation be... Read More