How to Get the Best Out of Your Machine Learning Course
By
KnowledgeHut
As a programmer, you understand well how a program works: it runs based on certain commands and statements written by you. However, some smart people asked whether it would be possible for a program to learn things depending upon past experiences and improve its decision-making ability to enhance its overall performance.This is the most fundamental and simplified version of the idea of Machine Learning.What is Machine Learning?The term "Machine Learning" was coined by American Pioneer, Arthur Samuel. Arthur defined Machine Learning as "the field of study that gives computers the ability to learn without being programmed explicitly".In simple terms, Machine Learning is the science of getting things done using intelligent machines. It is a subset of Artificial Intelligence. It teaches a computer system to make precise predictions when some data is given as input. A Machine Learning model can make predictions by answering questions like whether a piece of fruit in a picture is an orange or mango, whether an email you received is spam or not, or recognizing speeches in a YouTube video for generating captions.A Machine Learning algorithm is fed with data and information in the form of observations and real-world interactions. It studies the data available and improves its learning over time in its own way until the algorithm can make decisions and predictions.The applications of Machine Learning are widely used in several sectors ranging from science, telecom, healthcare, production, and so on.How to learn and grow in Machine Learning?If you want to become an expert in Machine Learning, you need to follow several steps which require you to invest a significant amount of time to learn about the principles behind it and acquire a firm grasp on it. The steps to learn Machine Learning in the most efficient way is described below.Understand the basicsMachine Learning is a deep domain technology and before you get started with ML, you need to spend a couple of weeks grasping the "general and basic knowledge" about the field of Machine Learning.In the beginning phase, you should become well aware of the detailed and correct answers to the following questions:What is Machine Learning?What is the capability of Machine Learning?What are the merits of learning Machine Learning?What are the limitations of Machine Learning?What are the applications of Machine Learning?After you have gathered the fundamentals, you can head on to the other related domains which are often associated with Machine Learning: Analytics, Data Science, Big Data, and Artificial Intelligence.If you want to become an expert, you need to interpret the finer details of all the topics mentioned earlier. Try to understand the concepts in your own specific manner so that you can explain it in a simple way to just about anyone.Recommended exerciseWrite a blog about "The Basics of Machine Learning" on any blogging website. Your article must answer questions about Machine Learning considering that it is asked in an interview.Learn StatisticsData plays a very important role in the field of Machine Learning. In your Machine Learning career, you will have to spend most of your time working with data. This is where statistics comes in picture.Statistics is a field of mathematics that deals with the collection and analysis of data and also explains how you can present your data efficiently. It is a prerequisite for understanding Machine Learning deeply.Though it is said that you can achieve to be a Machine Learning expert without any such expertise in statistics, it is also considered that you cannot completely avoid statistical concepts when the question is about Machine Learning and Data Science.The concepts you need to learn in the domain of statistics are –Significance of StatisticsData Structures and VariablesBasic principles of ProbabilityProbability DistributionsHypothesis TestingRegression modelYou can also gather information about the Bayesian model and its various concepts which tend to be an essential part of Machine Learning.Recommended exerciseAs an exercise in Statistics, you can create a list of references for each topic mentioned above which will explain them in the easiest manner and then put it out in a blog.Learn Python or RIf you want to become a master in any programming language, it could well take an eternity. However, in your quest of becoming a Machine Learning expert, you need to get familiar with learning a language. Experts say this it is not too difficult.There are numerous languages like Java, C, C++, Scala, Python, R, etc. by which you can implement your Machine Learning algorithms. However, Python and R are the most popular languages, and learning one can certainly make it easy to learn the other.Most of the experts prefer Python since it is easier to build Machine Learning models in this language than any other programming language. While Python is best for writing code related to Machine Learning, but when it comes to managing a huge amount of data for a Machine Learning project, experts suggest R.Python also offers certain libraries that are specifically built for Machine Learning like Keras, TensorFlow, Scikit-learn, etc. Thus, it can be said learning both Python and R can be an upper hand in your journey of becoming a Machine Learning expert.Learn Machine Learning concepts and algorithmsNow that we have covered the prerequisites, let us reach out to the heart of Machine Learning. Algorithms are an important part in the world of programming. You need to learn about all the algorithms particularly designed for Machine Learning and the applications of these algorithms in your projects.Machine Learning is a wide field of study and algorithms act as the bread and butter in your journey of learning it. Along with Machine Learning algorithms, you should also know about the types and building blocks of Machine Learning:Supervised LearningUnsupervised LearningSemi-supervised LearningReinforcement LearningData PreprocessingEnsemble LearningModel EvaluationSampling & SplittingLearn about all the concepts in detail such as what do they mean and why they are used in Machine Learning.Create Learning modelsThe most fundamental idea of any Machine Learning model is that the model is given a large amount of data as input and the corresponding output is also supplied to them. Here, we will take into consideration the two common Machine Learning models - Unsupervised learning model and Supervised learning model.Unsupervised learning is a Machine Learning technique where the model works on its own to discover information. It uses unlabeled data and then finds the internal pattern in the data to learn more and more about the data itself. It can be used in a situation where you are given data about different countries as input and you need to find out the countries similar to each other based on a particular factor like population or health.Some of the concepts you need to learn about Unsupervised learning algorithms are –What is Clustering?What are the types of Clustering?What are Association rules?A supervised learning algorithm is a Machine Learning algorithm that takes place in the presence of a supervisor or a teacher. The training dataset is well labeled, and this learning process goes on until the required performance is obtained. It is useful in a situation where you need to identify if someone is likely to acquire a disease depending upon factors like lifestyle and habits.Some of the concepts you need to learn about Supervised learning algorithms are –What are Regressions?What are Classification Trees?What are Vector Machines?Recommended exerciseAs an exercise on learning models, you can take a certain dataset and create models with the help of all the algorithms you have learned. Train and test each of the models to enhance their performance.Participate in competitionsData Science competitions provide a certain platform to interact and compete in solving real-world problems since most data scientist's work is theoretical and they lack the skill of working with real-world data.Competitions are the best place to learn and augment your skills in Machine Learning and they also act as an opportunity to enhance boundaries and promote creativity among the brightest minds. The experience you gather from these competitions will help you to develop the most feasible solutions while working with big data.Some of the most popular data competitions to practice Machine Learning algorithms are listed below:KaggleInternational Data Analysis Olympiad (IDAHO)TopcoderDataHack and DSATMachine HackLearn about deep learning modelsDeep Learning is a subfield of Machine Learning which is more powerful and flexible since its process of learning considers the world as a series of concepts where each concept is explained with some other simpler concepts.The popularity of Deep Learning is because it is power-driven by a huge amount of data. Smartphone assistants like Google Assistant or Siri were created with the help of deep learning models. They also helped global companies to build self-driving cars.Machines in this era can perform all the basic things that a human can perform like see, listen, read, write, and even speak to deep learning models. They are also a great influence on enhancing the skill set of people working on Artificial Intelligence.Some of the topics you can cover to gather detailed insights about deep learning models are –What are Neural Networks?What is Natural Language Processing or NLP?What is TensorFlow?What is OpenCV?Recommended exerciseCreate a model that can identify a flower from a fruit.Learn about Big Data technologiesBig Data refers to the large volume of structured and unstructured data that business giants use for analyzing insights to make better decisions. A massive amount of data is used in day-to-day applications and managing such a huge amount of data is possible because of Big Data.Big Data uses analytical techniques like Machine Learning, Statistics, Data Mining, etc. to perform multiple operations on a single platform. It allows storing, processing, analyzing, and visualizing data with the help of different tools.Big Data technologies provide meaning to the machine learning models that have been around for decades. The models now have access to a sufficient quantity of data that can be given as input to the Machine Learning algorithms so that they can come up with outputs useful to organizations.They have found applications in different sectors starting from Banking, Manufacturing, and to different Tech industries.Learn about the following concepts in Big Data to enrich your knowledge about the technologies used:What is Big Data and its ecosystem?What is Hadoop?What is Spark?Recommended exerciseAs an exercise, install a local version of Hadoop or Spark and upload data to run processes. Extract the results, study them, and find different ways to improve them.Work on a Machine Learning projectFinally, working on a Machine Learning project is very crucial as it helps to demonstrate your knowledge and skills on the subject. Since you are a beginner, start with a sample machine learning project like a social media sentiment analysis with the help of Facebook or Twitter.  Some of the topics you can cover under this section are:How to collect, clean, and prepare data?What is Exploratory Data Analysis?How to create and select a model?The steps you need to follow while working on a Machine Learning project are:Deciding what problem, you want to solve.Deciding the required parameters.Choosing the correct training data.Deciding the right algorithms.Writing the code.Checking the results.Advanced Machine Learning coursesThe Internet has a plethora of different sources and materials where you can start learning Machine Learning. Some of the most popular courses on Machine Learning along with Certifications are:Stanford's Machine Learning CourseHarvard's Data Science CourseMachine Learning by fast.aiDeep Learning Course by deeplearning.aiEdx Machine Learning CourseGet started with the FoundationsMachine Learning is an expanding field and having a set of skills on Machine Learning is an investment for the future.You can establish a firm foundation with the Machine Learning with Python course, where you will study machine learning techniques and algorithms, programming best practices, python coding, and more. This foundations course is intended to help developers of all skill levels get started with machine learning.Machine Learning is an area where learning will never stop and if you plan your journey of becoming a Machine Learning expert in a well-rounded manner, you will indeed realize the next steps to rapidly propel your learning curve.
Rated
4.5
/5 based on
2
customer reviews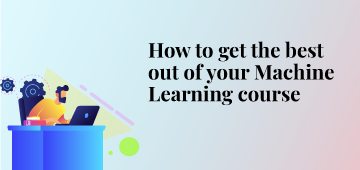 Trending Specialization Courses in Data Science
By
KnowledgeHut
Data scientists, today are earning more than the average IT employees. A study estimates a need for 190,000 data scientists in the US alone by 2021. In India, this number is estimated to grow eightfold, reaching $16 billion by 2025 in the Big Data analytics sector. With such a growing demand for data scientists, the industry is developing a niche market of specialists within its fields.  Companies of all sizes, right from large corporations to start-ups are realizing the potential of data science and increasingly hiring data scientists. This means that most data scientists are coupled with a team, which is staffed with individuals with similar skills. While you cannot remain a domain expert in everything related to data, one can be the best at the specific skill or specialization that they were hired for. Not only thisspecialization within data science will also entail you with more skills in paper and practice, compared to other prospects during your next interview. Trending Specialization Courses in Data Science One of the biggest myths about data science is that one needs a degree or Ph.D. in Data Science to get a good job. This is not always necessary. In reality, employers value job experience more than education. Even if one is from a non-technical background, they can pursue a career in data science with basic knowledge about its tools such as SAS/R, Python coding, SQL database, Hadoop, and a passion towards data.  Let's explore some of the trending specializations that companies are currently looking out for while hiring data scientists: Data Science with Python Python, originally a general-purpose language, isan open-source code and a common language for data science. This language has a dedicated library for data analysis and predictive modeling, making it a highly demandeddata science tool. On a personal level, learning data science with python can also help you produce web-based analytics products.  Data Science with R A powerful language commonly used for data analysis and statistical computing; R is one of the best picks for beginners as it does not require any prior coding experience. It consists of packages like SparkR, ggplot2, dplyr, tidyr, readr, etc., which have made data manipulation, visualization, and computation faster. Additionally, it also has provisions to implement machine learning algorithms. Big Data analytics Big data is the most trending of the listed specializations and requires a certain level of experience. It examines large amounts of data and extracts hidden patterns, correlations, and several other insights. Companies world-over are using it to get instant inputs and business results. According to IDC, Big Data and Business Analytics Solutions will reach a whopping $189.1 billion this year. Additionally, big data is a huge umbrella term that uses several types of technologies to get the most value out of the data collected. Some of them include machine learning, natural language processing, predictive analysis, text mining, SAS®, Hadoop, and many more.  Other specializations Some knowledge of other fields is also required for data scientists to showcase their expertise in the industry. Being in the know-how of tools and technologies related to machine learning, artificial intelligence, the Internet of Things (IoT), blockchain and several other unexplored fields is vital for data enthusiasts to emerge as leaders in their niche fields.  Building a career in Data Science  Whether you are a data aspirant from a non-technical background, a fresher, or an experienced data scientist – staying industry-relevant is important to get ahead. The industry is growing at a massive rate and is expected to have 2.7 million open job roles by the end of 2020. Industry experts point out that one of the biggest causes for tech companies to lay off employees is not automation, but the growing gap between evolving technologies and the lack of niche manpower to work on it. To meet these high standards keeping up with your data game is crucial. 
Rated
4.5
/5 based on
0
customer reviews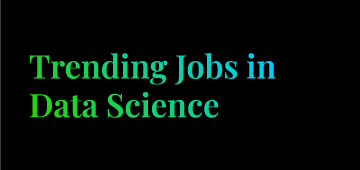 10 Mandatory Skills to Become a Data Scientist
By
KnowledgeHut
The data science industry is growing at an alarming pace, generating a revenue of $3.03 billion in India alone. Even a 10% increase in data accessibility is said to result in over $65 million additional net income for the typical Fortune 1000 companies worldwide. The data scientist has been ranked the best job in the US for the 4th year in a row, with an average salary of $108,000; and the demand for more data scientists only seems to be growing. Who is a Data scientist? A data scientist is precisely someone who collects all the massive data that is available online, organizes the unstructured formats into bite-sized readable content, and analyses this to extract vital information about customer trends, thinking patterns, and behavior. This information is then used to create business goals or agendas that are aligned to the end-user/customer's needs.  This outlines that a data scientist is someone with sound technical knowledge, interpersonal skills, strong business acumen, and most importantly, a passionate data enthusiast. Listed below are some mandatory skills that an aspiring data scientist must develop. 10 Mandatory Skills to Become a Data Scientist Technical Skills  Programming, Packages, and Software Since the first task of data scientists is to gather all the information or raw data and transform this into actionable insights, they need to have advanced knowledge in coding and statistical data processing. Some of the common programming languages used by data scientists are Python, R, SQL, NoSQL, Java, Scala, Hadoop, and many more.  Machine Learning and Deep Learning Machine Learning and Deep Learning are subsets of Artificial Intelligence (AI). Data science largely overlaps the growing field of AI, as data scientists use their potentials to clean, prepare, and extract data to run several AI applications. While machine learning enables supervised, unsupervised, and reinforced learning, deep learning helps in making datasets study and learn from existing information. A good example is the facial recognition feature in photos, doodling games like quick draw, and more. NLP, Cloud Computing and others Natural Language Processing (NLP), a branch of AI that uses the language used by human beings, processes it and learns to respond accordingly. Several apps and voice-assisted devices like Alexa and Siri are already using this remarkable feature. As data scientists use large amounts of data stored on clouds, familiarity with cloud computing software like AWS, Azure, and Google cloud will be beneficial. Learning frameworks like DevOps can help data scientists streamline their work, along with several other such upcoming technologies. Database knowledge, management, and visualization A collection of information organized to easily access, manage, and update the data is called a database. Data scientists must have a strong database knowledge and use its different types to their advantage. Some examples include relational databases like SQL, distributed database, cloud database, and many more. Once this is expertise is established, analyzing the data, database management, and data visualization are also important skills.  Domain knowledge  Domain knowledge about the domain in which data is to be analyzed and predictions will be made is important. One can harness the true power and fullest potential of an algorithm and data only by having specific domain language. Instead of waiting to analyze the data, the goals itself can be shaped towards actionable results with the help of domain knowledge.  Non-technical Skills Communication skills As explained above, once the raw data is processed, it needs to be presented understandably. This does not limit the job to just visually coherent information but also the ability to communicate the insights of these visual representations. The data scientist should be excellent at communicating the results to the marketing team, sales team, business leaders, and other stakeholders. Team player This is related to the previous point. Along with effective communication skills, data scientists need to be good team players, accommodating feedback, and other inputs from business teams. They should also be able to efficiently communicate their requirements to the data engineers, data analysts, and other members of the team. Coordination with their team members can yield faster results and optimal outputs. Business acumen  Since the job of the data scientist ultimately boils down to improving/growing the business, they need to be able to think from a business perspective while outlining their data structures. They should have in-depth knowledge of the industry of their business, the existing business problems of their company, and forecasting potential business problems and their solutions. Critical thinking Apart from finding insights, data scientists need to align these results with the business. They need to be able to frame appropriate questions and steps/solutions to solve business problems. This objective ability to analyze data and addressing the problem from multiple angles is crucial in a data scientist. Intellectual curiosity  According to Harvard Business Review, data scientists spend 80% of their time discovering and preparing data. For this, they must always be a step ahead and catch up with the latest trends. Constant upskilling and a curiosity to learn new ways to solve existing problems quicker can get data scientists a long way in their careers. Taking data-driven decisions Data science is indisputably one of the leading industries today. Whether you are from a technical field or a non-technical background, there are several ways to build up the skill to become a data scientist. From online courses to bootcamps, one should always be a step ahead in this competitive field to build up their data work portfolios. Additionally, reading up on the latest technologies and regular experimentation with new trends is the way forward for aspirants.  
Rated
4.5
/5 based on
0
customer reviews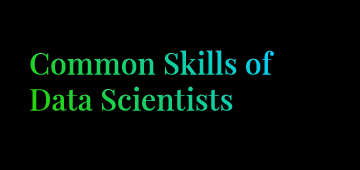 10 Mandatory Skills to Become a Data Scientist
The data science industry is growing at an alarmin... Read More