Top 10 Things To Know About Leading SAFe® 4.5
By
KnowledgeHut
In today's fast-paced environment, organizations need a procedural framework that could fundamentally help their profitability. Many regard Agile framework as the main path for an effective enterprise development, a quick accomplishment of business objectives and fulfillment of client needs. It is difficult to understand the complete methodology at a glance, so organizations have initiated applying the Agile methodology to the team members gradually.  In case of organizational change, it is hard to adopt the new things at once. Team members need a thorough knowledge of the SAFe® practices, also it requires building new practices, leadership styles, and culture. SAFe® quickens Lean-Agile change with the new Implementation Roadmap, which guides endeavors consistently. Agile Transitioning from Traditional methods of software development:                                                              Fig. Project success rates statistics Today, the Agile system is progressively discovering its place in software development ventures over the world. According to the State of Agile survey,  88% of the companies have adopted the Agile methodology, only 38% are implementing Agile practices for more than 75% of their projects.  Here are the steps involved in Agile transitioning that will help you in smoothly transitioning from traditional methods: 1.Agile Awareness- This is the first step toward Agile adoption to spread the awareness of the Agile methodology. The basic step in transitioning to Agile is skipping what has been learned by you in years of the traditional approach of working. 2.Agile training- Providing training to the team members helps them to be familiar with the Agile practices and they will be more openly accept the changes. 3.Choosing a right approach- Before making a transition to Agile, it is best to abstain from completing a project 100%. Instead, organizations can make an incremental progress by choosing a trail aspect by selecting the Agile mode. This will lower the risk of transitioning from traditional approach to Agile approach. 4.Redefining the roles of the team- In an Agile team, team members should be familiar with their roles and the processes they need to implement in the project. This will make an easy transition.  5.Automating test processes- Automation testing is the key feature of an Agile methodology. While implementing automation, developers need to discuss with the testers wherever necessary for setting up the automation process. Looking for a quick overview of #SAFe? Check out our most popular download: https://t.co/Iw7rVXSK6U pic.twitter.com/oPEExo8mUY — Dean Leffingwell (@Deanleffingwell) October 31, 2017 What is new in SAFe® 4.5?  Leading SAFe® 4.5 version is also known as SAFe® for Lean Enterprises, as it provides a better way of raising an alignment and execution over the entire organization. Here are the benefits of upgrading to SAFe® 4.5. 1. SAFe® 4.5 is more lean and agile, more configurable and cultivates speedier innovation and learning. It enables organizations to confer better and faster business outcomes. 2. SAFe® 4.5 is made to support all types of development environment. It supports from simplest to the toughest development environment. It has come up with four new configurations-  Essential SAFe® - an initial phase which starts just after realizing the benefits. Portfolio SAFe®- adds portfolio level, strategy and investment funding, guidance on Agile programs, and Lean governance as a scenario. Large Solution SAFe® - for building large systems that involve Agile Release Trains and Suppliers Full SAFe® - for the largest firms those are seeking the benefits of the Lean-Agile enterprise.   3. SAFe® 4.5 is better configured to match the organizational needs. It permits companies to perform the following very easily: Use the Lean Startup Cycle and Lean User Experience(Lean UX) to test ideas faster. Using Scalable DevOps and Continuous Delivery Pipeline, organizations can deliver more quickly.  With Lean Portfolio Management (LPM) and Lean Budget, enterprises can simplify governance and improve portfolio performance. 4.  SAFe® 4.5 has provided a guide, which is called 'SAFe® Implementation Roadmap'. This guide contains 12 series articles that escorts the crucial steps that an enterprise can implement to achieve long-term goals, based on the change management techniques for getting success early in the project.  5. The more interesting and useful thing about SAFe® 4.5 is that it is completely backward compatible. All you need to do is adopt advanced principles of SAFe® 4.5, reserving the old practices to its original position. 6. SAFe® 4.5 has come up with more innovations with Lean Startup and Lean UX. This coordination helps the organizations in commencing investments to form Minimum Viable Product(MVP). Additionally, feedback is carried out from the customers in order to form valuable decisions rapidly. 7. SAFe® 4.5 is built-up with the combination of Lean 'hypothesis-build-measure-learn' and Scalable DevOps & Continuous Delivery delivers more inventive solutions energetically. Being a major organization, you can enhance several solution components withSAFe® 4.5.  8. SAFe® 4.5 maximizes the speed of product delivery, from initial phase to delivery, and from customer feedback to required improvements, offering a build-measure-learn feedback cycle. 9. SAFe® 4.5 is more upgraded with the feature of quickest delivery using Scalable DevOps and Continuous Delivery Pipeline. 10. SAFe® 4.5 always emphasizes on simplicity. While implementing SAFe® in the entire organization, it allows working with unnecessary workflows and approval procedures that create bottlenecks.   Reasons to Upgrade to SAFe® 4.5: Organizations were seeking a specific path to gain faster results in fewer efforts. The current version (SAFe® 4.0) was inefficient to manage this challenge.  So, to overcome this challenge, Scaled Agile Inc. has introduced SAFe® 4.5, the most improved version of SAFe® 4.0. It is a decision made after the field research of 1.5 years. The field research consists of the users' feedbacks and lots of implementations. Finally, the decision has made about SAFe® 4.5 is that it is leaner, more Agile, and easily understandable and better at getting faster results as compared to its predecessors. About SAFe® Agilist Certification: When it comes to Agile, you definitely cannot achieve everything overnight. The first vital step is to get laser-focused. The SAFe® Agilist (SA) certification can be the best way to do it. The SAFe® Agilist certification cost ranges from Rs. 20,000 to 24,000.  SAFe® Agilist Certification value-  On completion of the SA training, you will- Learn how Lean, Agile, and Product Development flow form the SAFe® foundation. Learn how to apply SAFe® to scale Lean and Agile development in the enterprise. Identify and apply Lean-Agile mindset and principles. Learn to coordinate the development of large solutions. Learn to enhance your Lean-Agile leadership skills. Benefitted with 16 PDUs and 16 SEUs. Summing it up We all know that switching to other methodology in an organization is difficult. As it needs to adopt new changes, leadership styles and the methods. Just to make the transition easy, SAFe® works on Lean-Agile transformation with Implementation roadmap that guides on each critical steps to the organizations. The above-mentioned changes will help you to get an overview of the newest changes to the present framework.
Rated
4.0
/5 based on
12
customer reviews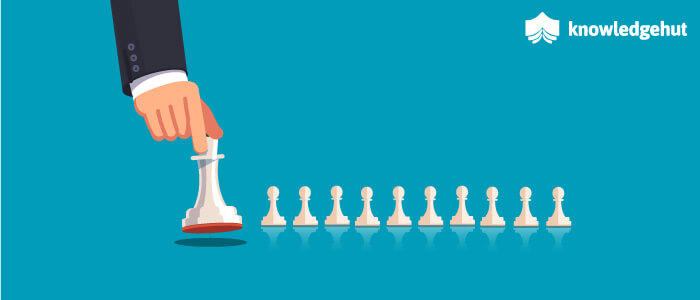 SAFe® Agilist Certification Vs PMI-ACP®: Which Certification Should You Choose?
By
KnowledgeHut
The competition for jobs is getting tough in today's world. Whether you are a job seeker, corporate employee, or a consultant, you should keep your skills up to date in a fast-paced, online world. Agile has become the standard of project management very fast in today's world, specifically in the IT and service field. Most of the project management professionals have adopted Agile techniques, tools, and concepts to deliver the projects successfully that has never been seen before.If you want to make a career in Agile or want to make a career shift then Agile certification can be an added advantage. You might be in confusion as to which certification you should do, as there are different types of Agile certifications available. SAFe® Agilist and PMI-ACP® are the two most in-demand IT certifications today that will increase your career growth and salary.  In this post, we will discuss both the certifications and help to choose a career that best suits you.SAFe® AgilistLarger organizations are struggling with Agile, especially the well-established enterprises who are trying to adopt Agile and shift their way of doing things. SAFe® is one such example that provides best practices for adopting Agile at an organizational level and SAFe® certification covers every aspect of Agile from architecture, governance, funding, integration, and roles. Holding a SAFe® certification proves your proficiency and hands-on experience and shows your knowledge and skills in real-time implementations.SAFe® Agilist could be a perfect choice for you if you want to be part of different teams in the adoption of SAFe® and willing to be part of enterprise Agile. Scaled Agile is something different to standard Agile knowledge which is required for Agile change agents, managers, and executives for leading a lean-agile change initiative in large-scale enterprises. This is also essential for those executives who have already implemented Agile principles and practices at small-scale enterprises and now want to take it to the next level.Leaders of Lean-Agile change initiative can learn how to build a Lean-Agile Mindset and implement the SAFe® principles and practices to support Agile Teams, Program Portfolio Management, and Teams from this SAFe® 4 Agilist (SA) course. SAFe® Agilist certification demonstrates your efficiency of leading the Scaled Agile Framework adoption in an enterprise context.PMI-ACPPMI-ACP® certification could be an ideal choice for those who have been applying Agile values and principles in their day-to-day project work and who want to shift to a leadership role. To apply for  the PMI-ACP® certification, applicants must have at least 2,000 hours of working experience on project teams and 1,500 hours of working experience with Agile methodologies or on Agile project teams. Applicants should also complete 21 hours of Agile training and need to pass the exam.The PMI-ACP® is close to the mid-level CSP that is offered by the Scrum Alliance. Enterprises that are shifting to an Agile context and applying different Agile techniques are more interested in recruiting individuals with PMI-ACP® certification.PMI-ACP® could be a right choice if your enterprise is looking forward to adopting Agile framework in order to achieve high-end project goals. It not only covers Scrum framework but also includes XP, Kanban, Lean, and other frameworks. The PMI-ACP® certification exam is more difficult when compared to the basic Scrum Master certifications and individuals must take online or classroom training before going to attempt the exam.Let's see the key differences between SAFe® Agilist and PMI-ACP®:It is important to look at the career opportunities before selecting the particular course. Think of various factors such as job security, responsibility, stress, income, and other benefits while choosing a profession.Just choosing a certification that is best for you doesn't lead to the success you deserve. Choosing the best training provider will have a huge impact on the effectiveness of a course. Compare course outlines of different institutes and find the best training provider that will guide you in the right direction of the particular course chosen. You can also visit the institutes and attend some of the demo sessions to understand their approach to training. KnowledgeHut is a Registered Education Provider and offers both SAFe® Agilist and PMI-ACP® training classes across the country by experts who have years of industry experience.
Rated
4.5
/5 based on
25
customer reviews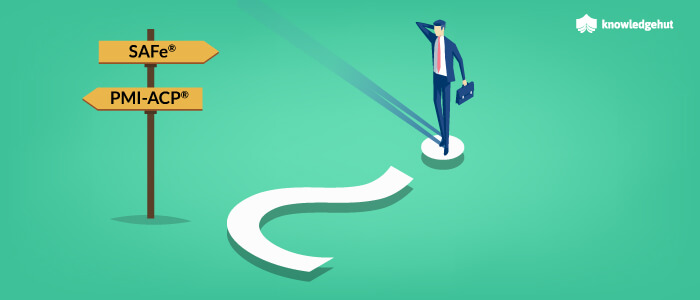 SAFe® Agilist Certification Vs PMI-ACP®: W...
The competition for jobs is getting tough in today... Read More
Reasons to Get Updated to Leading SAFe® 4.6 Certification in 2019
By
Deepti Sinha
SAFe®️ is an agile framework for software development which encourages alignment, collaboration, and delivery across large numbers of agile teams. It was developed by Dean Leffingwell, leveraging three major bodies of knowledge: agile software development, lean product development, and systems thinking. It offers a simple, lightweight experience for the development team. The entire framework is distributed into four sections Team, Program Level, Large Solution, and Portfolio. The scalability and configurability provided by SAFe®️ framework support organizations to deliver new products, services, and solutions in the shortest sustainable lead time, along with the best potential quality. It orchestrates alignment, collaboration, and delivery for various Agile teams ensuring every team is focused on the same goal.With the increase in success rate for the organizations turning towards scaling, the need for them to equip themselves with the right tools, techniques, and people became their top priority. As we all know, from our experience, 'people' parameter is crucial for the success of any project or any organization. There has been a sharp upswing in the demand of certified professionals with the needed skills. The organizations are now turning to people who can demonstrate skills and qualities that can help them adopt the change smoothly. They are now looking into specific areas such as SAFe®️ Agilist who can understand the whole system, who can work with the teams and help out at the different levels in delivering a quality product that can add value to the customer. Most of us have already seen how SAFe®️ 4.5 works and its benefits, a good part is, now we have SAFe®️ 4.6 which highlights the introduction of the Five Core Competencies of the Lean Enterprise. Before looking at the advantages of Leading SAFe®️  4.6, we will see the new features in Leading SAFe®️  4.6.In addition to the core competencies, this updated version in Leading SAFe®️ includes new government guidance, which describes a set of success patterns that help public sector organizations implement Lean-Agile practices. Mastering the core competencies enables enterprises to successfully respond to volatile market conditions, changing customer needs, and emerging technologies. Let's look at the advanced topics in SAFe®️ 4.6:Source Lean-Agile LeadershipLean-Agile Leadership lies at the very foundation of the framework defining how the Lean-Agile leaders will go about and endure the organizational transformation, to achieve this, they might need to create an environment of learning, exhibiting, teaching, and coaching SAFe®️'s Lean-Agile Mindset, values, principles, and practices. Among the five competencies being introduced, Lean-Agile Leadership forms the root of the framework. The lean-agile leadership comprises of managers, leaders, and executives who can drive the change and also to continuously work around the improvement needed. These leaders will base their working model on the core values as stated by the scaled agile framework which is alignment, built-in quality, transparency, and program execution. The leaders embrace the SAFe®️ Lean-Agile mindset which is the combination of beliefs, assumptions, and actions of leaders and practitioners who embrace the concepts in the Agile Manifesto and the SAFe®️ House of Lean. These leaders are the torch-bearers for the organizations in the transformation journey, making it clear where they are and where they need to go.Team and Technical Agility"Continuous attention to technical excellence and good design enhances agility."—Agile ManifestoWhen we talk of making a team the high-performing, we need to understand what all is required in their transition, maybe some critical skills, principles, and practices to support current and future business needs. Let's first understand what is team agility - cross-functional, responsible, and dedicated to collective goals, they have all the skills necessary to define, build, test, and deploy value in short iterations. Now, talking about it in terms of scaling, these teams become part of Agile Release Train (ART), these trains have necessary people to drive towards the solution. They plan, integrate, demo, deploy, release, and learn together.This was about the team functioning, now let's move to technical agility, which is, "defines the Agile software engineering principles and practices teams use to deliver solutions quickly and reliably. This includes the Lean-Agile values and principles, eXtreme Programming (XP) practices, Behavior-driven Development (BDD), Agile modeling, built-in quality, proven approaches and patterns for object-oriented software design, and more" – Scaled Agile.DevOps and Release on Demand"It is not the strongest of the species that survive, nor the most intelligent, but the one most responsive to change." —Charles DarwinDevOps is the recipe of traditional values, practices, and tools that upsurges an organization's capability to provide product and services at high velocity: progressing and refining products at a quicker speed as compared to organizations using traditional software development and infrastructure management processes. This swiftness permits organizations to better help their clients and compete more successfully in the market. The benefits of DevOps include speed, rapid delivery, reliability, scaling, improved collaboration, and security. SAFe®️ talk about the 'CALMR' approach and is grounded in five concepts - Culture, Automation, Lean flow, Measurement, and Recovery. Each concept serve as the foundation pillar for DevOps and in turn, helps with the continuous delivery pipeline. Release on demand is the method through which new functionality is deployed into production and released immediately or incrementally to Customers based on demand. ARTs and Solution Trains can continuously explore user value, integrate and demo value, deploy to production, and release value whenever the business needs it."Showing a strong success and visible benefits is key to getting others to agree to try your way of doing things."—Frederic Rivain Business Solutions and Lean Software EngineeringDefinition as per Scaledagile – "The Business Solutions and Lean Systems Engineering competency describes how to apply Lean-Agile principles and practices to the specification, development, deployment, and evolution of large, complex software applications and cyber-physical systems."Earlier when the organizations followed the traditional approach, the cycle time from the birth of an idea to its delivery took enormous time, most of the times the originator of the idea or the teams working on it went for a complete change, it even sometimes took a lifetime(Phew). Now, we can understand why there were late deployments, budget going over the bounds and issues with quality. This typically consequences in higher than expected maintenance and operations expense, poorer returns, and other business complications.To deal with it, Scaled Agile Framework gives the direction of building up large-scale solutions in a flow-based, value delivery-focused model, driven by Lean and Agile principles. The principles provided by Scaled Agile Framework relate directly to the development of all kinds of large and complex systems. They have embedded Lean-Agile values and principles to make sure the customer gets the right value at the right time with the best quality.Lean Portfolio Management"We don't have to be smarter than the rest. We have to be more disciplined than the rest." – Warren BuffettLean Portfolio Management (LPM) is one of the Five Core Competencies of the Lean Enterprise and it rests at the Portfolio level. This area focuses on how an organization can embrace Lean approaches at the strategic, financial level, Agile portfolio operations, and Lean governance. The Lean Portfolio Management function carves out its way through a series of three collaborations—strategy and investment funding, Agile portfolio operations, and Lean governance— this enables the organization's ability to accomplish current obligations consistently and enable innovation by building on the foundation of the four other core competencies. LPM is the process of running a program and product portfolios by applying the concept of lean thinking. This result-oriented method delivers high-quality work by prioritizing and managing the work in the Lean portfolio. It increases the speed of planning and reporting processes and eliminates the time-consuming governance.Features of LPM include:Prioritization of the most valuable and critical activitiesTimely inspections and validation of workQuick delivery of high-value work without interruptionsTask alignment with the company's objectivesIn my point of view, this is one of the finest framework developed so far which takes care of the components that other frameworks missed incorporating. It truly focuses on people and product, bringing both of them to rise in terms of skills or qualifications. With this new addition, the agile teams can enhance the way they work and also THEMSELVES. It takes care of all the levels in the framework, enriching every stage with the refined thought process and Lean-Agile way of working. Starting at the team level and working up towards the Portfolio is truly amazing, along with an emphasis on a value being delivered, it also works on creating a healthy environment for the agile teams to deliver the best of quality. It has the best practices embedded with the framework to support both the stakeholders and the teams by building a Continuous Delivery Pipeline and DevOps culture. Scaled Agile Framework is a large knowledge base of demonstrated principles, competencies and practices, that are assimilated together to help bring about cultural change in organizations, which means the teams will deliver faster, more frequently, on time and on budget. Whether you believe it or not, SAFe®️ has some truly convincing case studies which prove its claims!!I have experienced how SAFe®️ helps organizations scale tremendously, I have witnessed the culture shift and the mindset change and with this new version, I can say, go for it, it will really benefit the way you think and the way you work. With the refined version, you will get to see a new way of delivering the best quality.This upgrade is the need of time! I would like to end this with a lovely quote,"Quality debt focuses on the impact of implementation and quality decisions on the end user and business; how those decisions affect their ability to do their day-to day-job."— Jordan Setters
Rated
4.5
/5 based on
13
customer reviews