Scrumban- The Best of Scrum and Kanban
By
KnowledgeHut Editor
Scrumban is a blend of Scrum and Kanban. Scrumban is an Agile methodology, created to help the existing Scrum teams in exploring Lean and Kanban concepts in the organization & also Scrum and kanban is deciding new agile benchmark in organization. But, why is there a need of merging Scrum and Kanban methodologies? The discrete syllables "Scrum" and "ban", are enough to describe the several phases of transition from Scrum to Kanban. Basically, Scrumban is an Agile management framework, that is implemented when the teams opt for Scrum as the working way and use Kanban methodology as a magnifying glass to view, understand and carry out continuous improvement in the work.   Today, many organizations are experiencing some issues with the Scrum methodology, so they steer their way of working to the Kanban methodology. But some of the enterprises have discovered an optimized means of clubbing the methodologies forming 'Scrumban', as a new way for the teams to follow.   Why are teams merging Scrum and Kanban?   The need of combining these two concepts is due to the cons of both the technologies. Let us see the disadvantages of Scrum and Kanban methodologies. Cons of Scrum: Scrum works according to the emphatic guide. 'Sprints must be time-boxed to a month or less', as mentioned in the the Scrum guide. This rule is deccelerating the working pace of the teams.  Each sprint should result in a potentially releasable product at the end of each increment. Scrum teams are asked to deliver the software- designed, coded and tested to the stakeholders, in a very short span. This causes more 'anxiety' among the team members. Scrum teams have to entirely commit to the customers' requirements. In case they fail to achieve the high-priority target, they might have to decide to add some technical debts to solve the time-boxed problem. Cons of Kanban: Kanban provides a very linear technique of work. It was firstly used in the car manufacturing line, which was successful as well. So, it is believed that the Kanban can only be used in the systems which have repeatable processes.  Kanban is not very useful in complex systems like software development process as the software needs change at each and every point.  Merging Scrum and Kanban Corey Ladas was the first to coin the term "Scrumban". According to him,  "Scrum can be a useful scaffold to hold a team together while you erect a more optimized solution in place. At some point you can slough off the cocoon and allow the pull system to spread its wings and take flight."    In one of the article, Corey suggested that the time-box principle, mandated by the Scrum, is no longer necessary. In a recently released book, Ajay Reddy stated- "Although Scrumban has evolved as a framework over the years, it has no definitive guide or definition. In fact, as highlighted early in this book, several "authoritative" sources disagree about what Scrumban actually represents".   There are a few changes made in the practices of 'Scrumban over Scrum'. Let us look at those changes: Added some specialized teams and functions Self-organization concept, but with some specific boundaries Applied the policies explicitly in the working styles Queuing theory and the laws of flow are applied   Let us see that how Scrumban is distinct from a Kanban method, as follows: Organized around the teams Prescribed a proper framework for the teams to work instead of just specifying a technique as in Kanban Realized the value of time-boxed iterations Focuses on continuous improvement techniques   The team needs a proper structure and a set of practices as a starting point of any project. Comparatively, Scrum is prescribed more than the Kanban technique. Newly formed teams usually benefit from the structured framework. Those teams who like structure and continuous improvement by the Scrum but want continuous flow which is provided by Kanban can go for the Scrum/Kanban hybrid i.e. Scrumban. Large enterprise framework viz., Scaled Agile Framework (SAFe) and Disciplined Agile Delivery (DAD) make use of the both models- Scrum and Kanban.   We provide both Scrum training & Kanban Training
Rated
4.0
/5 based on
20
customer reviews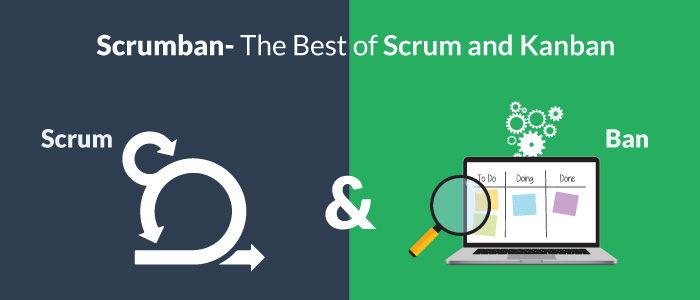 Scrumban- The Best of Scrum and Kanban
Scrumban is a blend of Scrum and Kanban. Scrumban ... Read More
Incident Management Nuances In Agile & ITIL
By
KnowledgeHut Editor
Agile incident management is not yet ready to hit the market as organizations are still uncertain of using Agile methodologies to manage the happenings in the IT organizations. Most of the organizations concentrate on the common approach called IT Service Management (ITSM), COBIT and ISO standards. According to the 11th annual state of Agile report by Versionone, "60% of the Agile teams are not yet practiced on the Agile methodology, while 80% of respondents said that their organization is at or below a 'still maturing' level". What is Incident Management? Incidents are the unforeseen impediments in the IT workflow. In case the service functionality fails to give an output, it can also be referred as an incident. Incident management consists of a set of activities of process areas like- Analyzing the source of distractions in the IT lifecycle Applying corrective measures to resolve problems in IT services and operations Implementing precautionary measures to avoid incident recurrence Closing an issue after resolving an error Incident Management is the ITSM process area that merely focuses on managing and escalating the incident to restore normal service operations at defined service levels. Incident Management does not have to do anything with problem resolution. The activities that come under Incident Management process are: Detecting and recording an incident Classifying the incident and providing initial support Investigation and review Resolution  Closing the incident Incident ownership, observing, tracing, and communication Carrying out incident framework management Evaluation of incident framework management How can Agile Incident Management relate to ITIL Incident Management? If the Agile methodology is incorporated into an incident management process, it will not only automate the lifecycle progress but also reduce the escalation rate of incidents in an organization. An Agile incident management consists of steps like- Lifecycle Management, Data Collection, Association, Description, and Adaptability. On the other hand, an ITIL incident management process consists of steps like inputs, identification, logging, classification, prioritization, initial diagnosis, escalation, investigation and diagnosis, resolution, and closure.  ITIL is known as the most-practiced framework in the world, that can be clubbed with the Agile methodology to get a modern tactic to incident management. Referring a thousand pages of documents in an urgent situation takes more time and might need a number of resources in the management process. After applying a set of Agile principles to carry out a 'planning' process from Agile Manifesto, Agile incident management can give the quality products. Iterative cycles: Instead of drawing the same plan for the complete process and clinging to the same, it can be formed in bits which are added when required. This plan can be followed till the requirement is fulfilled. Once it is done, the process is ready to move to the next iterative cycle. Ready for the variant environment: The incidents are unpredictable, but a plan always needs to be prepared beforehand. To be ready with flexible situational updates is an optimized way to handle an incident. According to customer's' feedback, Agile teams will be ready to cope with the changing environment and market demands. Collaboration: The Planning process includes the stakeholder's opinion and participation of the team members. The plan can be changed by frequent discussions with all the parties. Open discussions allow team members to not only focus more on the project but also work collaboratively. Direct Communication: Meetings are considered as a formal part of the project and reading huge documents is not a good idea. Instead, face-to-face communication clarifies the critical matters and solves the issue rapidly and more effectively. . Conclusion: Incidents can arise at any time. So keeping your plans ready is a step towards effective incident management. Adopting changes to avoid occurrences of such incidents can be productive. All organizations can go for Agile methodology to ease their work. Unfortunately, every issue can not be solved by Agile, as it is used for software development process. So you can club Agile methodology with incident management and experience a smooth-operating workflow.   
Rated
4.0
/5 based on
20
customer reviews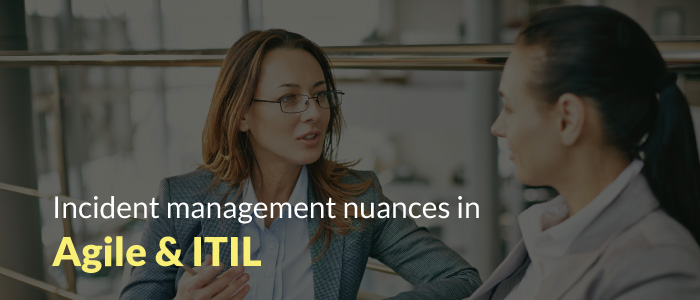 Incident Management Nuances In Agile & ITIL
Agile incident management is not yet ready to hit ... Read More
Best ways to implement Leading SAFe 4.5 in organizations
By
KnowledgeHut Editor
SAFe stands for Scaled Agile Framework. This framework is mostly used by the corporate bodies which need to scale from smaller organizations to larger ones. So SAFe is also known as an enterprise-scale development methodology. This framework was coined by Dean Leffingwell. It is an 'information base' which is freely available, and allows you to apply Lean-Agile practices at an organization level.   Scaled Agile Framework (SAFe) is referred as the Agile framework for software development. It renders an ease of operation for the development team. SAFe 4.5 is the most updated version introduced to match the needs of the organizations. This version consists of some new features as follows:  Fastest delivery with scalable DevOps and Continuous delivery  Quick testing using the Lean Startup cycle and User Experience (UX)  Improved Portfolio performance with Lean Portfolio Management (LPM) and Lean Budgets Additionally, SAFe 4.5 allows organizations to transform from the traditional approach to Lean-Agile methodology with the new Implementation Roadmap. Implementation Roadmap of SAFe 4.5 is a guide for the organizations. Reasons to switch to SAFe 4.5: ●  The updated version of SAFe 4.5 supports the range from simplest to the most critical development environment. SAFe 4.5 is able to mould according to the organizational needs. SAFe has four new   configurations as follows:  1. Essential SAFe - an initial phase which starts just after realizing the benefits. 2. Portfolio SAFe - adds portfolio level, strategy and investment funding, guidance on Agile programs, and Lean governance as a scenario. 3. Large Solution SAFe - for building large systems that involve Agile Release Trains and Suppliers 4. Full SAFe - for the largest firms those are seeking the benefits of the Lean-Agile enterprise.   ● SAFe 4.5 works by integrating Lean Startup Cycle and Lean UX, which creates an environment to form Minimum Viable Product (MVP). It fosters quick innovation. ● SAFe 4.5 has concentrated on the feature of rapid delivery using the techniques like Scalable DevOps and Continuous Delivery Pipeline. ● SAFe 4.5 has provided a guide in the form of a 12 article series, given a name as 'SAFe Implementation Roadmap'. Based on the Change Management technique in the organization, the roadmap       guides on the critical steps that an organization can take to achieve long term goals.  ●  SAFe 4.5 is completely backward compatible. In SAFe 4.5, you just need to adopt the advanced principles, keeping old versions in place.                                                                                                  How is SAFe 4.5 Implemented? SAFe Implementation Roadmap provides guidance to the organizations in the form of a twelve-article series which describes effective strategies and a set of activities to implement SAFe at an organizational level. Let me illustrate the 12-article series below-   Reaching the tipping point.  Train Lean-Agile change agents  Train Executives, Managers and Leaders  Create a Lean-Agile Centre of Excellence  Identify Value streams and ART's  Create the Implementation plan  Prepare for ART Launch   Train Teams and Launch ART   Coach ART Execution   Launch More ARTs and Value Streams  Extend to the Portfolio   Sustain and Improve SAFe is a pivotal framework as it helps to achieve business benefits at an organizational level. In order to understand the outcomes of Leading SAFe implementation, organizations must embrace and understand the Lean-Agile principles. Based on the Change Management strategies in the organization, the SAFe Implementation Roadmap guides on the critical steps that an organization can follow to achieve long term goals.   
Rated
4.0
/5 based on
20
customer reviews