How ITIL Can Help You Stand Out
By
Joyeeta Bose
In this age of specialization, you need to look into the matter of precision and perfection. Whatever you are training, whether if you are a manager or you are an Information Technology expert, the correct procedure of management and understanding the importance of the proper provision is the key to success. From house to the workplace, with productive managing capacity, you will be undoubtedly successful and achieve your goal.In today's world, equipping oneself with correct knowledge and certification is very crucial to achieve a significant career path. The work culture has become an arena of ultimate growth and development of both the employees and the organization as a whole. With constant evolution and innovation, the work environment has seen some significant transition in the method of functioning that was never seen before. An individual who is on the verge of making a successful career must know how to build up a secure network and attend the training for all the newer changes that are occurring with every passing day. Mere acquiring a degree year ago suddenly becomes backdated as there were some more unique innovations in the meantime. He or she must also start analyzing his or her capacity to intake and tap the knowledge to their advantage.The facets of training in ITILITIL implementation can take your organization to the next level of functioning. Whether you are focusing on operational cost reduction or increase in customer satisfaction, ITIL would always seem like a viable option.  The ITIL training is one such training apart from your traditional degree that will help you to know about the management of the Information Technology deployment in the integrated environment. The application of the ITIL was first introduced in an integrated and highly functional environment of the cabinet office of UK government. Nowadays, every organization around the world is implementing the goodness of ITIL in every field to take the foundation and organizational capability to all the next level. You need to learn all about the ITIL from the foundation level. The ITIL Foundation is a framework that will help you to improve the field of quality and innovations with active nurturing of the frame and making the service efficient in all the organization.Taking a particular reason in the practicality of the management that will help you to know implement in the real-time scenario. In the training of the implementation of ITIL, you will learn all about utilizing the available resources that will help you to deploy all the guiding principle that govern the ethics and efficient management of the organization. In the training of ITIL, you will learn all about the maximizing of overall trade and final output of your organization. ITIL learning will help you to become better IT and project manager. Due to its undisputed usage, nowadays, every government and non-government organization are hiring the professionals or training its existing professional for implementing ITIL scenario. Information Technology Infrastructure is that body of knowledge and a set of best practices that can be facilitated for the purpose of best service management. In short, the purpose of ITIL training can be jotted down at the following point:ITIL solves problems with enduring and effective answersIt has the ability to convert creative ideas and concepts into services for a wide range of customersITIL training would ensure that an organization learns from successes and failures so that they can manage new challenges and various types of opportunities.ITIL training also helps an organization to control costs and risks that can otherwise destroy the value created by the service.  Benefits of training in ITILProceeding to the interests in the career that you will get with ITIL, here are top reasons to consider a reliable certification in the field of ITIL:The implementation of the holistic deployment of efficient analyzing and managerial services, ITIL certification in your resume is the direct key to land you a higher paying job compared to the non-ITIL certified. You can land up a position as IT architects or ITIL program managers with a six-figure salary in top-notch MNCs. Watch the following video for ITIL interview questions and answers.ITIL as a course, just like any other course, is divided into five levels, ranging from the Foundation Course to the Master Level course. Every level is focused on honing a unique level of skill and decision-making practices step by step as you advance to the end of the course. Attending each of the class by heart will not only help you to achieve the desired target but also make you understand the skill set that requires best practices in the industrial scenario ensuring your promotion.ITIL will help you to make more confident about the practices and skill sets that are required for the overall growth and development of the company you are working for. Naturally, it will help you to develop your career to next level.Case Study:Have you ever wondered what do Microsoft, Boeing, and IBM have in common? These companies are all global organizations which have a large employee force. Interestingly, despite being global and possessing a huge number of employees, they are still able to deliver great service to their customers. One of the key reasons behind the successful sustenance of these companies for a long period of time lies in their ability to leverage the benefits of the ITIL framework. People who have an ITIL certification are always in high demand because they know how to use the ITIL framework to the advantage of the business you are associated with.For instance, if you are a professional who has gained the ITIL certification, you stand the chance of gaining better skills. An ITIL certification would always help you to stay relevant in the fast-evolving IT world. An ITIL certification would always help you to build a stable IT certification. The detailed knowledge would also help you to acquire reliable resources with the help of which you can maximize the business strategies.Thus, you can now see the reason why ITIL is in demand among all the companies. If you are right now associated with an MNC, then you can go for the ITIL training as soon as possible.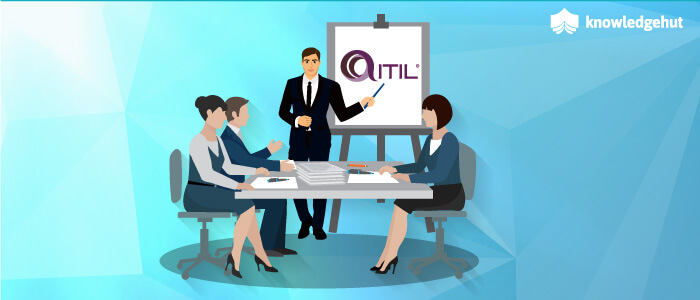 How ITIL Can Help You Stand Out
In this age of specialization, you need to look in... Read More
The ITIL Framework and It's Processes
By
KnowledgeHut
You've got ITIL® questions. We've got ITIL answers. Recently, a group of learners, due to complete their engineering degrees in computer science caught up with John Dell, one of our expert ITSM trainers and authors, seeking advice on careers in ITSM. This blog is an account of the conversation which will serve ITIL aspirants well. The learners opined that they were not very keen on programming and would like to explore what other options exist in the IT sector. They were about to graduate and were not sure there is much opportunity outside programming in IT. John clarified that firstly, the IT sector does not revolve only around software development. The IT industry is vast and presents plenty of opportunity. He suggested they start by carrying out a quick SWOT analysis for themselves.  Majority of the learners cited that communication, good analytical and testing skills and leadership skills were their strengths;incidentally, coding and design were not particularly strengths for this group. The group recognized that IT support and the IT service industry would open up several opportunities, while programming and core software development were not areas that appealed to them. Based on this basic SWOT analysis, John suggested that the students considerjobs related to Service management. Jumping into whatITIL is all about and how it couldpropeltheir career.  IT Management mainly involves Software Development & Management, IT Infrastructure Management, and IT Service Management. The ITILFramework refers to set of best practices, guidelines, methodologies designed by industry experts to align their IT Services with customer and business strategic goals. So, this framework provides uniform and consistent guidelines to all IT industries to define their IT Service Management processes.  Why is there a need for a consistent framework? When asked whether each IT companycan come up with their own framework and design for IT service management, John answered that they actually can. He further elaborated with an illustration -  Company A provides support to Company X and Company B provides support to Company Y. Here, A and B are Service providers and X and Y are service consumers. They have not adhered to any service management framework.  Both service providers, A and B, have unknowingly made many mistakes and faced lots of challenges in providing support to their consumers, X and Y.  After a couple of years, once the project is completed, A and B have not exchanged notes, nor learnt from each other's mistakes. Six months down the line, B commits the samemistakes that A earlier had and vice versa. In such a scenario, would service consumers X and Y ever come back to A and B again? Not likely. When mistakes repeat,service consumersor customers will not be happy and may not return to with the project again. To avoid such a scenario, what such companies could do is to connect with each other and sharelessons. Such an initiative would avoid many bottlenecks and arrest many recurring challenges. John explained that companies, understanding the importance of consistent process, have embraced lessons from the industry and continually improvise their processes for better customer experience. While it may not be feasible to connect with every other company and collect their lessons and best practices in real time, not with standing that companies may or may not share that information, there is a need for a common forum or entityto collect best practices and lessons across the IT industry and formulate aframework. Such a framework formulated for the IT Service industry is called the ITIL framework. Why is this framework called ITIL? ITIL stands for Information Technology Infrastructure Library. When asked why it was referred to as a 'Library', John explained that it is a set of practices for Information Technology Service Management (ITSM) that focuses on aligning IT services with the needs of the business.  As it is a set of practices best practices and lessons from the service industry, it is referred to as a "library".  Significance ofITILin theService Industry Johnwent on to explain that there were plenty of reasons for the ITIL framework: ITIL framework helps to align the IT solutions with business strategic goals  It helps to set the realistic, achievable and predictable service goals  It ensures efficient service delivery and improves customer satisfaction  It reduces costs through improved utilization of resources  It defines consistent IT roles and improves communication through standardized terminology It improves planning and continual improvement due to regular measurement and monitoring What is meant by continual improvement? John addressed the question with a use case: Company A is the Service Provider and Company X is the Service consumer.  Company A and Company X are in legal contractual agreement. Company A agrees to provide N services to Company X for the next 2 years. One of the agreed services is to resolve all High priority incidents within 4 hours. After a year of experience, Company A (Service Provider) becomes very good knowledge in resolving incidents within 2 hours and this has been verified as well.  Now, Company A (Service Provider) submits a proposal to Company X (Service Consumer) to improvise the High priority incident resolution time by 2 hours instead 4 hours. The contractual document is amended. Company X (Service consumer) agrees to pay an additional amount for the improvisation of service to Company A (Service Provider). This is a good example of continual improvement.  Continual improvement results in improvising service will always increase the customer satisfaction index, says John. History of ITIL In the year 1989, the UK Government's Central Computer and Telecommunications Agency (CCTA) developed the first version of ITIL to unite IT systems in an efficient and cost-effective way.  Collecting best practices from all government agencies and private sector companies across Europe, the CCTA came up with an initial standard framework. History of ITILITIL soon grew to a 30-volume catalogue, providing a collection of all IT best practices that focused on and catered for client and business needs. In the year 2000, CCTA change into OGC (Office of Government Commerce, UK). The same year, Microsoft also adopted ITIL as the foundation for developing their Microsoft operations and framework (MOF). This version was focused on making ITIL more accessible and arranged the 30-volume framework into nine related categories.  In the year 2007, ITIL was expanded and reorganized as an IT service management lifecycle, known as ITIL Version 3 (ITIL V3).  Thisversion covers the initial conception, development, transition, operations, and improvement of a service.  ITIL V3 views the activity of managing service as a lifecycle, which is a shift in focus from the individualized process/function view of the previous version.The service lifecycle concept has further evolved since.  In the year 2011, AXELOS released a revision of ITIL that resolved errors and inconsistencies with V3. This is the updated version of the 2007, referred to as ITILv3 updated. In this version,the ITIL service lifecycle contains 5 stages:  ITIL Service Strategy,  ITIL Service Design,  ITIL Service Transition,  ITIL Service Operation and  ITIL Continual Service Improvement.  This forms the basis for all ITIL best practices across the globe. Since 2013, ITIL has been owned by AXELOS Ltd – a joint venture between Capita Plc and the British Government's Cabinet Office. In the year 2019, due to the Industry 4.0 revolution, the current version of ITIL was launched. V4 has more practical guidance on how to use ITIL in an organization which embraces digital journey. This makes it easier for organizations to align ITIL with DevOps, Agile, and Lean work methods. With V4, ITIL adopted more of a holistic philosophy towards service management, making it broader and more inclusive for the modern IT environment. Having developed a good understanding of the evolution of ITIL, the students learnt about how the best practices which originated from a few European companieswere continuously improvised and revised tonow become a global acceptable Service management framework across the globe. How ITIL works The students now wanted to go deeper and asked how ITIL could help the organization to achieve its strategic goals. John explained that following ITIL practices helps organization achieve their strategic goals by: Ensuring quality of IT services meetsService consumer's expectations and needs EnsuringService consumer can use IT services whenever and wherever they are needed Ensuring organizations can improve Customer satisfaction by building and maintaining positive business relationships Ensuring that organizations maximize value for money from their service providers Allowing organizations to benchmark their IT services and maximize ROI Allowing organizations to demonstrate and quantify the actual value of the services they provide Allowing organizations to forecast, influence, and respond to demand IT services in a cost-effective manner depending on fluctuating demand situations Allowing organizations to minimize IT service disruption Stages of ITIL and the purpose of each stage By now, the students were very keen and eager to know about the different lifecycle stages defined in ITIL V3 and its purpose. John went on to explain that ITIL has five stages. The following table helps explain each stage and its purpose:S.NoITIL StagesPurpose1Service StrategyThe Service Strategy stage provides guidance on how to design, develop, and implement IT Service Management. This is the core of the Service Lifecycle. This phase mainly focuses on understanding and defining the market. Also defines the needs of the customers2Service DesignIn the Service Design stage, strategies generated in Service Strategy stage are turned into action. Services and processes are designed, and plans are implemented to have a better service management.3Service TransitionThe Service Transition stage ensures that the new changes and modifications are efficiently incorporated in the service lifecycle without disrupting the other existing services or processes. It is carried out in a well-coordinated manner using cost-effective measures and resources. Through service transition, the design built is tested and implemented in the lifecycle in a productive manner4Service OperationThe Service Operation stage provides guidance on day-to-day business operations. The goal is for the IT department to keep things running smoothly, reliably, efficiently, and cost-effectively. The activities and processes in this phase ensure that services are delivered to customers at the agreed Service level agreement with minimal interruptions and disruptions. Service Operation focuses on providing value to both service consumer and the service provider.5Continual Service ImprovementThe Continual Service Improvement stage focus on improving the current service to the Service consumers. Continual Service improvement focus on progressive monitoring and controlling of services. Key performance indicators must be in place to determine whether the service is running optimally, and the service owner must ensure that the service complies with the strategic targets linked to the IT serviceJohn went on to explain that the outcomes of the Continual Service Improvement become the inputs for Service Strategy. Identified improvements will help to revise the strategic goals and targets.  Explaining what was meant by Key Performance Indicator, John defined it as a quantifiable measurement for measuring any strategic goal. This is generally agreed between Service consumer and Service Customer in the legal contract, he added. The difference between ITIL®V3 and ITIL®4  Digging deeper into the difference between ITILv3 and ITIL4, John explained that ITIL4 was the latest version. The two may need to be prioritized depending on the case, he pointed out.  S.NoITILv3ITIL41IT defines life cycle approachIt defines Service Value system-based approach2This version does not talk about 4-dimension model.This version emphasises the importance of 4-dimensions for a holistic service management.3ITIL V3, with its 26 service lifecycle processes, functions and other guidance arguably also describes how the components and activities in the organization work together.ITIL 4 and the Service value system take a more holistic approach, providing organizations with a flexible operating model that supports different work approaches. ITIL 4 presents 34 practices as "sets of organizational resources designed for performing work or accomplishing an objective".4There are no guiding principles under ITILv3The ITIL 4 guiding principles are universal recommendations that can guide organizations in many situations, such as "work holistically" and "keep it simple and practical".5ITIL V3 covers governance under service strategyThe governance component of the ITIL 4 service value system is about directing and controlling the organizationWhat are the different certifications available in ITIL? Explaining the available certifications in ITIL, John elaborated using the following table to help the students to understand the different certifications under ITIL.  (Source: Axelos). S.NoLevelsPurpose1ITIL 4 Foundation LevelThe ITIL 4 Foundation certification is designed as an introduction to ITIL 4 and enables candidates to look at IT service management through an end-to-end operating model for the creation, delivery and continual improvement of tech-enabled products and services.2ITIL 4 Managing ProfessionalThe Managing Professional (MP) stream provides practical and technical knowledge about how to run successful IT enabled services, teams and workflows.3ITIL 4 Strategic LeaderITIL 4 Strategic Leader demonstrates that the you have a clear understanding of how IT influences and directs business strategy.4Master LevelTo achieve the ITIL Master certification, you must be able to explain and justify how you have personally selected and applied a range of knowledge, principles, methods and techniques from the ITIL Framework and supporting management techniques, to achieve desired business outcomes in one or more practical assignments.Getting started Concluding, John summarized that to get started all one needs to do is to talk to professionals to understand how the work they do contributes to creating value for customers. If everybody thinks about what they do in these terms, then the next step will be much easier. The IT world we live in is becoming more and more service based by the day and there is great opportunity. Industry leaders have seen ITIL in action and have bought into it. Most major global corporations run their services on ITIL®, and such IT professionals are in great demand.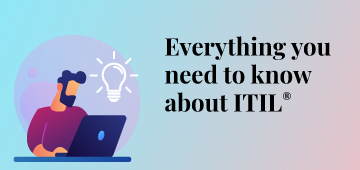 The ITIL Framework and It's Processes
You've got ITIL® questions. We've got ITIL an... Read More
Top 5 ITIL® Trends to Watch Out for in 2021
By
KnowledgeHut
The emergence of ITIL® (Information Technology Infrastructure Library) framework brought information technology in alignment with the business needs of an organization. Over the years, it has benefited organizations of all sizes, along with government bodies and universities, to operate in an efficient manner to achieve their respective goals.The biggest highlight of 2019 in ITSM (Information Technology Service Management) was the launch of ITIL® 4. With ITIL 4, IT professionals will be able to usher digital transformation in their organisations, which in turn promotes work efficiency.Before we explore the upcoming trends in ITIL and ITSM in 2020, let us understand what these terms stand for.Information Technology Service Management (ITSM)ITSM refers to the organizational activities, processes, policies, and procedures carried out to implement, improve, and support IT services.Information Technology Infrastructure Library (ITIL)ITIL®, the most popular approach to IT Service Management (ITSM), focuses on aligning IT services with the needs of business with a set of best practices.Let's dive into the exciting ITIL® trends to look out for in 2020!1. Adoption of AI-supported ITIL® PracticesAI and ML will revolutionize the way ITIL® practices were conventionally done. This will lead to two major changes in the way businesses and professionals work: automation of routine tasks and use of data analysis to serve both current and future industry trends.Although AI adoption or automation could take away of lot of jobs across industries, the deployment of ITIL® methodologies will make processes hassle-free in various business scenarios.2. Better Customer Experience and EngagementAny successful business today offers top-notch customer experience. In 2020, ITIL® will help businesses customise their products and services so that they can live up to the specific expectations of their customers. Organizations will be able to deliver superior customer experience by following ITIL 4's 7-step continual improvement model. It's proven to benefit any enterprise that has customers (businesses or individuals) to serve. By establishing the right processes and boundaries, ITIL 4 will enhance both transparency and user experience while driving organizations to success.3. Collaboration of DevOps and ITIL®Traditionally, ITIL® is concerned with the smooth functioning of ticketing systems. When a ticket is raised, conflict resolution is carried out through a series of steps, often by different people/teams. On the other hand, DevOps aims at automating the entire process of ITIL®. This will help solve significant challenges in configuration, release and deployment management processes.In 2020, the collaboration of DevOps with ITIL® practices will make workflows more efficient. Any unnecessary dependency on personnel will be eliminated, thus driving business solutions faster.4. Better Employee SatisfactionA recent report on employee engagement claimed that companies with engaged employees have 81 percent higher customer satisfaction. Most employees who feel engaged at work, stated that recognition of their work was the primary motivator. ITIL 4 upholds the need for achieving this workforce enablement through research-based strategies. Companies who haven't already embraced ITIL 4 in this regard would have to adopt it for enterprise success, at least this year. Adoption of cloud-based services, giving employees the flexibility to work remotely and developing processes that are conducive to their well-being are some recommendations by industry experts. After all, happy employees play a key role in customer satisfaction.5. Higher Information SecurityIn the digital age, all companies across sectors have an online presence. Transfer of data is also happening at an alarming rate but isn't always free from security threats. While information is crucial for an organization's success, its security and privacy should be of paramount concern too.In 2020, information security will be high on priority for all ITIL 4 practices. All ITIL® operational processes will occur in conjunction with universal security standards. In any business, ITIL® Information Security Management (ISM) will ensure that information security across all its services will be in complete alignment with IT and business security. This will prevent any potential risks, threats and losses. This will not be a one-time process but a continuous one.The Way Forward in 2020Enterprises that embrace ITIL 4 consistently across the organization, right from the management to the workforce, stand to benefit the most in 2020. There is a huge potential waiting to be realized in the IT space and staying abreast of the latest trends in ITIL will ensure increased work efficiency while reducing costs.

Top 5 ITIL® Trends to Watch Out for in 2021
The emergence of ITIL® (Information Technology In... Read More