Are you still trying to figure out a way to start preparing for your PMP® Exam? Fret not! This blog will guide you with some best practices that you should adopt while preparing for your PMP® exam. This will surely help you to successfully clear your PMP® certification exam.

Every PMP® certification aspirant differs from one another in terms of experience and expertise. Similarly, every person has got a unique learning habit. Therefore, you should get your own study plan which is based on your personal learning likes and needs. But this doesn't mean that you should get worried about developing the study plan as you can find a plethora of resources to cater the needs of exam candidates, both online and offline which allows you to come up with a plan which fits your specific needs, style of learning, and individual circumstances.


6 best practices for your PMP® Exam preparation
Usually, most of the successful PMP® candidates spend long hours preparing for their PMP® certification exam. So, you should make sure that you have plenty of time to prepare for your PMP® exam. You can adopt the following best practices to prepare for your PMP® certification exam:
1.Review the PMP® Examination Content Outline
PMP® Examination content outline is an important document which will help you to do well with your PMP® exam. You should go through this document which is published by PMI® to find the following information:
Break up of questions as per the Process areas
List of skills, tasks, and knowledge which are required as per PMI's Role Delineation study.
Going through this credible document will give you a high-level idea of what all get covered in the PMP® exam. You should go through this once you feel that you have attained a reasonable command on the content covered by PMBOK® Guide or any other study guide which you are referring in order to ensure that you avoid any unwanted surprises while appearing for your PMP® certification exam.
2.Take up a formal study course offered by any accredited Registered Education Provider (R.E.P)
Project Management Institute (PMI) has approved a few organisations to offer project management training in order to establish a global network of quality education providers to help all the Project Management Professional (PMP®) credential aspirants and credential holders.
Enrolling yourself in a PMP® training course is one of the best ways to prepare for your certification exam. The reasons are as follows:
These courses provide tailor-made PMP study materials and best practices for the PMP exam.
They give you a quick start in getting a grasp of various project management concepts, formulae, terminology, and other key inputs which help you to prepare for your PMP exam.
You can also get the 35 contact hours certificate by taking up these training courses which is necessary for you to be eligible for the PMP® exam.
3.Come up with a study plan
You should start treating your PMP® certification as a project and prepare a plan which covers all the activities that would help you to get PMP® certified. But the core element in this plan is to have a well-defined study plan. You should break your study sessions into smaller chunks and prepare a study plan which includes timelines to read PMBOK®, practice mock tests, study various materials etc.
4.Review the latest edition of PMBOK® Guide and self-study books published by other reputable training organisations
No matter whatever reference material you want to study in order to prepare for your PMP® certification exam, the PMPBOK® Guide is the recommended study material for all the PMP® aspirants. The page number 61 of the guide contains a table that shows the relation between 13 Knowledge Areas and 5 Process Groups with 47 processes. It further explains how these are applicable to project management.
As a candidate, you should be thorough with this table and draw this table on a piece of paper in 5 minutes while appearing for your exam. The same can be used as a reference in answering the 200 exam questions. Other than the PMBOK® Guide, you can also review other study guides published by R.E.P.s and other reputable training organisations.
5.Get ready for your exam by practicing Mock Tests
Do you want to check the status of your PMP® certification exam preparation? You can do that by taking PMP mock tests. These can help you to map the gaps in your project management knowledge. You can take a test and review the results to find the areas that you need to work on.
Focusing on answering the questions by sitting at a place for four hours is not a piece of cake. Taking full-length mock tests helps you to prepare for such a physically daunting and mentally straining process. However, it is a very important drill for your PMP® certification exam. So, it's better to take up these mock tests and prepare well for your big day.
6.Study group
Studying in a group can prove to be quite helpful while you are preparing for your PMP® certification exam. Catch up with the like-minded PMP® aspirants to know about new tactics and get benefited in other ways by being a part of the study group. Few of the benefits are as follows:
Studying in a group is the best escape from the monotony of studying alone.
You can surely overcome the areas which you are struggling with.
Helping others will also boost your confidence.
Sharing project management experiences with others help you to crack the scenario based questions which is the trickiest part of the PMP® certification exam.
It further helps you to stay on course and helps you to motivate each other in the group.
The biggest advantage of studying in a group is that it forces you to study on a regular basis and makes the preparation activity a part of your routine.
Tips and tricks to prepare for your PMP® exam
You need to study numerous materials in order to crack your PMP® certification exam. But do you have access to the right books and materials? Every person has his or her own way of learning. The following ways will surely help you to become efficient in your study and get equipped with all the knowledge that you need to crack your PMP® exam:
If you have access to the workshops conducted by PMI then that would be a big benefit for you. This will also help you to receive the bundle of 35 credit hours which are necessary to qualify for your PMP® application procedure. Attending a PMP® boot camp gives you access to numerous benefits. Few of them are:
1.Review everything which you need to cover on the exam
Everybody is oblivious about what he or she is going to encounter during the PMP® certification exam. Whatever you will find in the exam is sure to be geared from the PMBOK®. This means you should be thorough with the PMBOK® guidelines to get PMP® certified at one go. But the PMBOK® consists of only 75% of what you will see in the exam. What about the rest? You need to seek for a PMP instructor's guidance in order to fill the gap in learning to qualify your PMP® certification exam.
2.Review how to study for the exam
As discussed, the PMBOK® guide is a great resource for your PMP® certification exam. At times, even if the questions are lengthy with a situational circumstance, you need to bring it down to a rule that needs to be comprehended. Further, there are certain focus areas on which you need to invest more of your study time than others. It is always better to seek guidance from a professional rather than guessing what you should study.
3.Informal questions
If you lack the idea of how to implement cost, schedule, or risk structure, then it's a great opportunity for you to understand it. You should learn to shed light on practical application using fundamental examples.
You should change your study methods to prepare well for a continuously evolving exam process like the Project Management Professional (PMP)® exam. These days, this exam is based on PMBOK® Guide 6th edition and is a lot harder than it was in the past. The 4 partially correct choices which are provided for all the questions make it even confusing and raise the level of complication for the candidate.

The following tricks are surely going to help you in shaping up your exam:
Get aligned with the exam dynamics by spending 30 minutes every day on a free exam simulator.
Follow the rule of 85%. Keep practicing mock exams until you score at least 85% in all the model exams. This indicates that you are ready to face the PMP® certification exam.
Another important trick is to understand the 'ITTO TRICK Sheet of 49 processes' which you can find in the PMBOK® guide. This will really prove helpful to you in mapping all the processes inputs, outputs, tools, and techniques.
In order to rightly utilize the 12 minutes after the exam, you need to read and memorize the Formula Trick Sheet. You need to print and paste the same on your desk in order to practice it every day because writing this after 4 hours exam will surely help you to track the questions and save significant time.
You need to read and memorize the PMPBOK® 6th Edition 49 Process Chart. Print and paste the same on your desk and practice it every day until you can draw the chart within 8 minutes.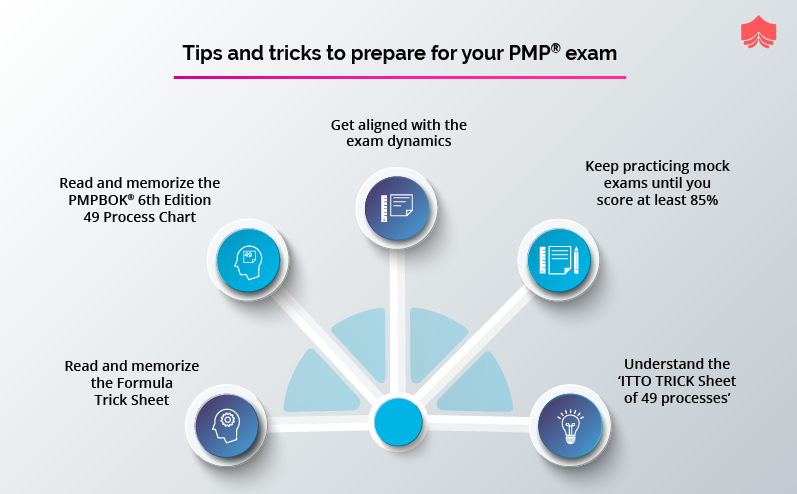 To wrap it up
When you begin with your preparation for PMP® certification, you should remember that attaining the PMP® certification shows your commitment to the profession of project management and demonstrates your credibility to earn more as well as raising the value of your resume above the non-certified professionals. Keeping these points in mind will surely help you to avoid getting discouraged during your certification process.
You can also learn more about PMP® certification here
This blog throws light on a few best practices along with some tips and tricks to smoothly proceed with your PMP® journey. It is important for you to set a standard time for your studies other than having a thorough understanding of the PMBOK® guide. So, start clearing your calendar to fit in your daily study time as PMP® needs a lot of thorough studies and is not an easy path to success.