Scaled Agile® has released its most current version SAFe® 4.5 on 22 June 2017. With the advent of a new version of SAFe®, SAFe® 4.5 has revamped with the exciting new features around Continuous Delivery, Lean UX and Lean Startup, Configurability, Implementation Roadmap, and Scalable DevOps.

SAFe® 4.5 is also known as- SAFe® for Lean Enterprises. It provides a better way to improve alignment and implementation of Lean-Agile practices across the entire organization. After implementing SAFe® 4.5, the organization felt that SAFe® 4.5 is leaner, more Agile and an easily configurable framework that promotes better business results, faster innovation and improvements.

This newly configurable SAFe® 4.5 framework is the outcome of research from several implementations, feedback from the customer's advancements in the knowledge base whereupon SAFe® is built. It can be configured as per your enterprise's needs. The new version of SAFe® 4.5 allow companies to:
Update and test the ideas rapidly using the feature called Lean Startup cycle and Lean User Experience (Lean UX)
Deliver faster using Scalable DevOps and the Continuous Delivery pipeline feature
Simplify governance and manage portfolio performance with the feature Lean Portfolio Management (LPM)
Shape as per the enterprise requirements
Execute SAFe® faster and successfully with the Implementation Roadmap
If a company wants to scale its Agile teams, then the SAFe® framework is there to meet the associated challenges. The revamped features in Scaled Agile Framework (SAFe®) like Lean Startup and Lean UX, Lean portfolio Management (LPM), and Lean Budgets help to update and execute the strategy more quickly to get faster business outcomes. Whereas the features like Scalable DevOps and Continuous Delivery supports the 'build-measure-learn' cycle implementation for faster delivery.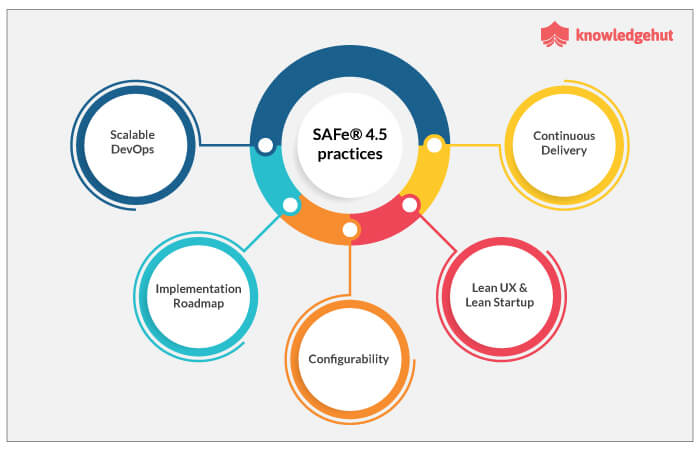 We, as a whole, realize that organizational change is easier said than done. It requires embracing new practices, leadership styles, and culture. SAFe® quickens Lean-Agile changes with the new Implementation Roadmap, which guides organizations consistently. To be aware of these latest features, you can attend the SAFe® certifications. With the advancement in SAfe® features, there must be an update in the SAFe® 4.5 certification. Let us check out how to update the certification to the SAFe® 4.5 version.
The goal of the course:
The objective of this course is to furnish you with the skills required to lead Lean-Agile transformation at the organization scale. The goal of the course is to provide a deep understanding of the SAFe® principles, educating Lean thinking and embracing Agility, plan, build and implement the Agile Release Train (ART) and values, apply the SAFe® 9 Lean-Agile principles, construct the larger systems in the Lean-Agile environment and impart knowledge on how to execute the Agile portfolio. It also aims at training candidates on the necessary leadership skills and help them understand how to lead the next generation proficient employees smartly.
Expertise Level:
The expertise level needed to attend the SAFe® 4.5 certification training is-
Intermediate to Advanced level
Key Learnings:
An in-depth overview of the SAFe® principles
How to embrace Lean-Agile thinking
How the project is build using Lean, Systems Thinking, and Agile
Nine SAFe® principles for Lean-Agile development at an organizational level
What is Team level, Program level, Large Solution and Portfolio level
Implementing Agile Release Train
Implement Program Increment
Building large systems in the Lean-Agile environment
Manage Agile portfolio efficiently
Who can attend the course?
Below is a list of professionals who are eligible for attending the course-
Executives, Managers, Consultants, Leaders, Program Managers, and Agile Change Agents;
Anyone in an enterprise-level software development environment looking to achieve the business benefits of advancing Agile beyond a few teams or projects.


Course Prerequisites:
Following are the prerequisites for taking up the Leading SAFe® 4.5 training-
5+ years of experience in software development, testing, business analysis, product or project management;
Experience in Agile development
Lessons covered in SAFe® 4.5 training course:
We are listing the most important lessons covered in the SAFe® 4.5 training course. It must, however, be noted that the overall course is not limited to the following-
Introduction to Scaled Agile Framework (SAFe®)
How to embrace a Lean-Agile Mindset
SAFe® principles
Implementing ART
How to plan a Program Increment?
How to explore, execute, and release value?
Empowering a Lean portfolio
Building the larger solutions
How to lead the lean-Agile enterprise

Update in the exam pattern:
There is no major update in the Leading SAFe® 4.5 examination pattern as of now.
Requirements for attending the SAFe® 4.5 certification course:
Since SAFe® 4.5 is backward compatible, so there is no need for formal training before taking the Leading SAFe® 4.5 certification.
Certification Update cost:
There is no cost to update to SAFe® 4.5 for individuals who have a SAFe® Community Platform membership.
What if people (SAFe® Program Consultant (SPC) and SAFe® Program Consultant Trainer (SPCT)) are already certified prior to SAFe® 4.5 release?
SPCs and SPCTs are automatically permitted to train on courses like Leading SAFe®, SAFe® for teams, and SAFe® Product Owner/Product Manager (PO/PM)
If SPCTs are SAFe® 4 certified, then they are directly permitted to coach on implementing SAFe®.
SPCs and SPCTs are urged to finish the Course Delivery Enablement (CDE) for each course they intend to train. They are additionally urged to finish- What's New in SAFe® 4.5 training which is available by means of SAFe® Community Platform.
Concluding Thoughts
The developing interest in making a career in SAFe® and the proven advantages found after embracing Leading SAFe® 4.5 implementation in all the business areas add all the more durable values to the Leading SAFe® 4.5 certification. As SAFe® 4.0 will be accessible until June 2018, in this way, it is smarter to reap the benefits by updating your SAFe® certification to Leading SAFe® 4.5.

This might turn out to be the next big career move you are looking for!