Value Proposition of Agile Development
By
Abhinav Gupta
Value Proposition of Agile Development The benefits of Agile development have been extolled extensively across the web and almost every one of us is well aware of those benefits. Some of the inquisitive members have taken the efforts to research and study the Agile development framework to understand why those benefits are the products of this framework under discussion. I have no intention of going in that direction since it requires a detailed discussion that is possible in a classroom setting [reach out to your KnowledgeHut support to ask for one].   Through this article, I want to discuss the value propositions of Agile development with you i.e. in essence means, how the benefits of Agile play out for you on the ground during the execution time. What are those actual in-hand benefits that you and your team will reap because of the good thing in Agile development called Value proposition? That is what I want to share with you.   Visibility: The first value proposition that we are going to discuss is "Visibility". The visibility to the product owner, project sponsors, managers, and engineering team about the current state of the project or product development and whether  we are headed in the right direction or not. Unlike waterfall model, where visibility is highest during requirement gathering phase then suddenly everything goes black and behind curtains with no idea about building the right thing, then suddenly we ship the product with the highest visibility. Alas, that is too late to correct anything if things have gone in the wrong direction. The value brought by Agile in this matter is that visibility remains high at all times; it slightly dips for a week or two during actual development, but it again picks up; so on an average, it remains consistent and at a higher level than waterfall model. This can be easily understood through the means of this graph where the dotted line shows how visibility into the project direction suddenly dips during the execution phase, but it remains constant for Agile.   Adaptability: The word adaptability refers to the ability to accept changes or changing business scenarios and move forward in the new direction with the same vigor and enthusiasm. In any project, adaptability is highest since the project is being kicked off, requirements are being collected so any direction, request or change can be easily accommodated. But things start to change in a traditional waterfall model soon enough and adaptability goes down considerably from the design stage and becomes lowest during shipping. Because once those things are finalized then there is no way to change them without starting all over again. Whereas in the Agile mode, though adaptability remains highest during the initial phase, it continues to hover around the same range through the project duration since every sprint is a chance to pick up something new or change direction as per business need. As you will see in the below diagram, adaptability looks  like this:   Business Value: How your project or product is delivered at the end or at regular intervals, and how it will help the business or your project owner is considered as business value. Because business does not get any value from your project until you deliver something that can be used by end consumers. Needless to say, business value is always available to be consumed at the end of project cycle or rather we should at the time of shipping. The shipping can be at regular intervals [as in the case of Agile] or in the end [as in case of traditional development methods]. In this sense, both Agile and Waterfall sound similar to us but in reality, they are not. Because they vary in the way of delivering business value. Since waterfall believes in shipping in the end or when the product is completely ready, so business value shoots up from 0 to highest suddenly towards the end. That part is obvious. Let us see how it evolves for Agile methodology. Here in Agile, we start delivering incremental versions of the product from the first sprint; so Business value starts getting generated from Sprint 1 and continues to go up until the last sprint or the time when product owner asks us to stop. This is clearly reflected in the graph shown below. Risk This is a remarkably interesting aspect of value proposition for any development model. We all want to avoid risks somehow; sometimes we succeed and sometimes we fail miserably, and our worst nightmares come true at those times. It is not my intention or objective here to dive into many ways to cut risks, but instead, analyze the concept of risk and how it varies according to the development model being followed by the team. It is a common sense that risk is highest in the initial phase of the project since we are dealing with the utmost unknown at that time. Any wrong action or decision by us will lead to failure and a complete wastage of resources. As we progress and start building something, the risk continues to go down and becomes 0 when we ship it. Because either we have succeeded by then or we have failed utterly. Agile allows us to cut down risks faster than the traditional methods because the visibility is maintained at a high level throughout, so if something is going wrong then it is addressed immediately, owing to high adaptability. If we pause and analyze for a while, we understand that high visibility, high adaptability and ability to deliver from early in the game allows us to have minimal risk score through the project rather than working hard for 1 year then finding out that you built something that was not required in first place. That is how Agile development helps us manage risks effectively as long as we execute Agile properly. Conclusion So, as we saw here, any development methodology, related to software field or manufacturing or service-based industry can be analyzed over 4 value proposition parameters, namely: Visibility, Adaptability, Business Value and Risk. In the above post, through means of graphical analysis, we compared Agile development methodology Versus Traditional waterfall and found that Agile development is much better to be followed in recent times with a condition that it has to be executed correctly. You can read my other blog post about "10 deadly myths of Agile and Scrum" whereby I have explained how wrong implementation of Agile and Scrum harms us more than benefit us. With this thought in mind, I take your leave and I hope that next time when you explain to your stakeholders about the need to use Agile, you have a better and stronger story to tell. All the best!
Rated
4.0
/5 based on
20
customer reviews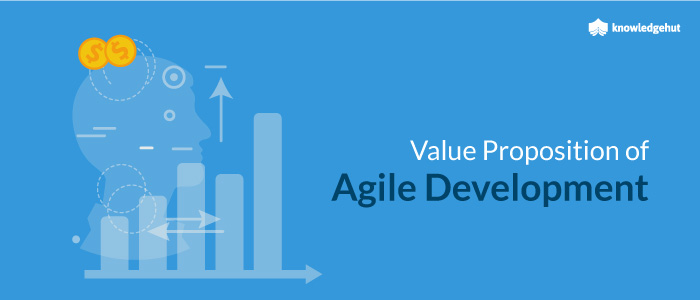 Value Proposition of Agile Development
Value Proposition of Agile Development The be... Read More
How To Pass Leading SAFe® 4 Exam ?
By
KnowledgeHut Editor
Scaled Agile Framework is a roadmap that leads the organizations in implementing the Lean and Agile Practices. SAFe® includes the three foundational bodies of knowledge that are System Thinking, Lean Product Development, and Agile Software Development. It helps the organizations to improve themselves according to the business requirements, deals with challenges involved in developing and delivering ideal software and systems within a specified time. SAFe® practices are essential but, sometimes they can be complex and entail some challenges. It might be easy to deal with such challenges and move your enterprise towards SAFe® practices by becoming a professional SAFe® Agilist. Passing a SAFe® Agilist Certification exam proves that you are an expert in implementing Agile and improving the project you want to get involved in.Here, in this article, we will guide you through your Leading SAFe® 4 exam preparation.Firstly, the 2-day Leading SAFe® 4.6 training is the most crucial part of this certification. Join the course and ask all the doubts you have during the workshop without any hesitation. Make a note of all the important things which will be helpful for future references. After completing the course successfully, you should pass the exam to obtain SAFe® Agilist Certification.Exam DetailsFormat of the examThis is a web-based, timed, and closed book exam that will be conducted in English and delivered in the format of multiple choice questions. Upon completion of the Leading SAFe® training, candidates will get access to the exam within the SAFe® Community Platform. Candidates will have 90 minutes to finish the exam once it starts.The exam consists of 45 questions in total and you must answer a minimum of 34 questions correct out of 45. You can take the exam at any time and the fee for the first attempt will be included in the course registration fee only if the exam is taken within 30 days of course completion.Retake policy of the examIf the certification exam is not cleared in the first attempt, you can retake the exam again and again, but each retake costs $50.You can take the second attempt immediately after the first attemptYou need to wait for a minimum of 10 days to retake the exam for the third timeA minimum of 30-day wait is required to retake the exam fourth timeCandidates are not allowed to retake the exam, once they got a minimum passing score of 76% unless there are updates announced to the exam.Exam preparationThe exam is specifically designed to analyze the skills and knowledge of a particular candidate. Develop a study plan before going to take the exam.Here are a few important points you should remember-You should gain both practical and theoretical knowledge in order to pass the exam successfully.The course materials are more helpful to prepare for the exam and we at KnowledgeHut offer course materials authored by the Scaled Agile Academy. These materials can be used for referring the concepts that are presented during the training.Take the practice tests that are designed with the same level of difficulty, time duration, and the same number of questions. You can take the exam without any additional cost. The practice tests once completed, let's you know the chapters you should study more in pink color. Study those topics again.  As a preparation, on scaledagileframework.com, on the big picture (framework) click on the words if have confusion/not sure and read the guidance article. It makes you prepare well for the main certification exam and boosts your confidence level.Choosing a right path takes you to important destinations in your career. Becoming a SAFe® 4 Agilist is a career path for many and it requires an excellent range of skills. The best institute guides you towards a bright career. So, choose the right and best institute that is authorized to do so and can help you reach your goals.
Rated
4.0
/5 based on
2
customer reviews

How To Pass Leading SAFe® 4 Exam ?
Scaled Agile Framework is a roadmap that leads the... Read More
CSM®️ or PSM™ - Which Certificate Is More Valuable?
By
Frederik Vannieuwenhuyse
What is Scrum?The source of a correct definition of Scrum is the official Scrum Guide, authored and maintained by Jeff Sutherland and Ken Schaber. Scrum has its roots in software development, but nowadays Scrum is applied in several contexts and industries.From the Scrum Guide:"Scrum is a framework for developing, delivering, and sustaining complex products. Scrum is not a process, technique, or definitive method. Rather, it is a framework within which you can employ various processes and techniques. Scrum makes clear the relative efficacy of your product management and work techniques so that you can continuously improve the product, the team, and the working environment."The latest update to the Scrum Guide also lists possible uses for Scrum:- Research and identify viable markets, technologies, and product capabilities;- Develop products and enhancements;- Release products and enhancements, as frequently as many times per day;- Develop and sustain Cloud (online, secure, on-demand) and other operational environments for product use; and,- Sustain and renew products.Origin of ScrumScrum is a process framework that has been used to manage work on complex products since the early 1990s. Ken Schwaber and Jeff Sutherland worked on Scrum until 1995, when they co-presented Scrum at the OOPSLA Conference in 1995. This presentation essentially documented the learning that Ken and Jeff gained over the previous few years, and made public the first formal definition of Scrum.The Scrum Guide documents Scrum as developed, evolved, and sustained for 20-plus years by Jeff Sutherland and Ken Schwaber.  Both, Jeff Sutherland and Ken Schwaber were present at the event when the Agile Manifesto was written.Scrum was one of the several lightweight processes presented at that gathering in 2001. The Scrum Alliance - a non-profit organization promoting Scrum, was also founded in 2009.Throughout the years Scrum has evolved, and in fact, has been become simpler, but therefore not more easy to apply and practice. In case you're interested, you can look at the Scrum Guide revision history, and see the changes since 2010. To me personally, the beauty of Scrum lays in its simpleness, although some people would advocate they still find Scrum too complicated in terms of process.Scrum Alliance vs Scrum.orgIn 2001, Ken Schwaber left the Scrum Alliance and found Scrum.org. There was a bad impression of the Scrum Master about implementing a Scrum in the organization. The Scrum Masters misinterpreted that the 2-day Scrum Alliance CSM®️ certification course is enough to certify them as a Scrum Master.  Even organizations took amiss that those who attended 2-day training are the Scrum experts.The PSM™  certification of Scrum.org is different than CSM®️ certification. For PSM™ certification, attending a workshop is not mandatory. But, it is little harder to clear the PSM™  assessments which at least assures a precise level Scrum understanding. Note: The Scrum.org assessments are based on the Scrum Guide (fabricated by Ken Schwaber and Jeff Sutherland).Let's see these two certifying bodies in details and figure out the difference between the Scrum Alliance and Scrum.org.Scrum Alliance- The CSM®️ certifying BodyFounded in 2001, Scrum Alliance® is the largest membership and certification organization in the Agile community. The Scrum Alliance is a non-profit organization and is governed by the Board of Directors. The Scrum Alliance has certified more than 750,000 practitioners worldwide, clearly contributing a lot to the spreading of Scrum worldwide. But, the Scrum Alliance is not simply a company providing training. The Scrum Alliance also organizes twice a year a global gathering and several regional gatherings and supports agile community events.From the Scrum Alliance website:"Scrum Alliance's vision is to "Transform the World of Work" with a mission to guide and inspire individuals, leaders, and organizations with practices, principles, and values that create workplaces that are joyful, prosperous, and sustainable."Scrum Alliance certificationsAs there are 3 roles in Scrum, the Scrum Alliance offers 3 entry-level (foundational) certifications - there are CSM®️ (Certified Scrum Master), CSPO (Certified Scrum Product Owner), and CSD (Certified Scrum Developer). Next, you could apply for a Certified Scrum Professional (CSP), after indicating your practical experience with Scrum.Recently, the Scrum Alliance has changed the certification path and added an "advanced" certification and course. Today, the Certified Scrum Professional is specific for either Scrum Master, Product Owner, or Developer.These are the certifications:- Certified Scrum Master: CSM®️ --> Advanced CSM®️ --> CSP-SM- Certified Scrum Product Owner CSPO --> Advanced CSPO --> CSP-PO- Certified Scrum Developer (CSD)Next, you can obtain so-called "elevated" certifications, which involves a more rigorous screening and test to validate your knowledge, experience.The elevated certifications target to be an accredited trainer or coach:- CST (Certified Scrum Trainer) - people with this certification can provide official training in Scrum, on behalf of the Scrum Alliance. Trainers go through a rigorous process of co-training, and an application in order to pass the bar of becoming a CST.- CTC (Certified Team Coach) - to be recognized and accredited as a coach on the team level- CEC (Certified Enterprise Coach) - to be recognized and accredited as a coach on the enterprise levelThe coaching certifications involve more than Scrum, but agile & lean coaching in general.The Scrum Alliance also provides an Agile Leadership track - this is relatively new and split into two levels:- Certified Agile Leadership I- Certified Agile Leadership IIThe Agile Leadership courses increase your leadership effectiveness and learn how to be a better leader, no matter what your role.The Scrum Alliance provides also "extended" continuing education, courses.The Scrum Alliance is taking a broad view of how to transform the world of work (e.g. also applications of Scrum outside IT).Scrum.org- The PSM™  certifying BodyIn 2002, Ken Schwaber with others founded the Scrum Alliance and set up the Certified Scrum accreditation series.  Ken Schwaber left the Scrum Alliance in late 2009 and founded Scrum.org which oversees the parallel Professional Scrum accreditation series.On the Scrum.org website, there's a page called "Why Scrum.org?" explaining Ken Schwaber's motivation to separate from the Scrum Alliance and found Scrum.org. These are the motivations as formulated by Ken Schwaber:- I would create a new organization, Scrum.org, to continue developing and sustaining the Scrum Developer program.The program would lead to assessments and certifications based on a body of knowledge.- I would also redevelop a new, more advanced version of the Scrum courseware. This courseware, called Scrum-In-Depth, would focus on how to use Scrum in advanced circumstances. I would publish the Scrum body of knowledge on Scrum.org and formulate beginner, intermediate, and advanced assessments and certifications based on this body of knowledge.- I would form a new group of Scrum Trainers who welcomed openness and transparency.Scrum.org  aims to improve the Profession of Software Delivery and targets its courses and certifications in that area. The Scrum Alliance focuses on Scrum, and takes a broader view, as the Scrum Alliance's slogan is to "transform the world of work".Scrum.org certificationsThe certifications provided by Scrum.org are similar to the certifications of the Scrum Alliance. The certifications are called "Professional" The certification path is as following:- Professional Scrum Master: PSM™  level I --> level II --> level III- Professional Scrum Product Owner: PSPO- Professional Scrum Developer: PSD- Scaled Professional Scrum (SPS), based upon Scrum.org Nexus framework for scaling Scrum- Professional Scrum with Kanban (PSK I): to validate knowledge of how Scrum Teams can use Scrum with Kanban ability to support value creation and delivery. Kanban is a lean method to streamline work. Scrum has its foundations in lean, so it does make a lot of sense for teams to learn and apply Kanban. In fact, agile & lean are blending philosophies.- Professional Agile Leadership (PAL-I): Agile Leadership trackThere's an optional (non-mandatory) PAL-E (Professional Agile Leadership - Essentials). The workshop provides a foundation for the role that leaders play in creating the conditions for a successful agile transformation.In summary,In a comparison to Scrum Alliance, remember the following practical points when you consider one or the other certification:Scrum.org certifications have no expiration date.Scrum.org certifications can be obtained by taking an online test. Physically attending a classroom course is not required.Scrum.org offers "open assessments" which are interesting for anyone to validate your Scrum knowledge, regardless of if you intend to get certified or not.To know more about various Agile and Scrum certifications and paths to learning these certifications to make a career move, you can refer certification pathway.Choosing between the best Scrum Master Certifications: CSM®️ vs PSM™ Agile and Scrum are today's latest trends. Not only IT-based organizations but also non-IT organizations hire individuals who know the concepts of Scrum framework and its applications. Scrum is the Agile framework, focuses on the complex projects.Initially, the Scrum framework was used for software development, but today it is used as any other projects to get the fastest results. So, there is a rising demand for Agile-Scrum professionals in the organizations.CSM®️ and PSM™  are two major Scrum Master certifications. CSM®️ stands for Certified Scrum Master. CSM®️ is a certification issued by the Scrum Alliance. CSM®️ is a first (entry-level) certification for the Scrum Master. PSM™  stands for Professional Scrum Master. PSM™  is a certification issued by Scrum.org. PSM™  and PSM™  both are the entry-level certifications for the Scrum Master.    PSM™  by Scrum.org has a different approach than CSM®️ by Scrum Alliance in the following ways:- According to Scrum.org, there's no need to attend a class, to be able to take an online test to get certified. A practice assessment is available online, called "Scrum Open"- According to Scrum.org, a certification is a proof of knowledge and therefore has no certification dateLet's see the differences between the CSM®️ and PSM™  in the tabular form.Certified Scrum Master (CSM®️)FeaturesProfessional Scrum Master (PSM™)50 multiple-choice questions, usually with four possible answersExam PatternNumber of Questions: 80Format: Multiple Choice, Multiple Answer and True/FalsePassing score: minimum 69%Passing gradePassing score: minimum 85%The test is taken anytime after attending the courseThere's no time limitExam durationTime limit: 60 minutesEvery 2 yearsCertification renewal durationNo expiration (Lifetime certification)Fee: $1295 per attemptCertification costFee: $150 per attemptThere's no practice exam available. In general, after attending and learning during a two-day CSM course, you should be able to pass the exam without issues.Level of the examDifficulty: Intermediate$119,040  per yearSalary$100,500 per yearFinal ThoughtA search on "Scrum Master", in the job title with as prerequisite "Certified Scrum Master" gives more than 1000 jobs results. If you want to get an idea what companies and organizations ask in terms of Certified Scrum Master Course, you can have a look at the AgileCareers website (by Scrum Alliance). (there are mainly USA based jobs listed)This is all about the comparison between the CSM®️ and PSM™  and various certifying bodies like Scrum Alliance and Scrum.org that offer these certifications.In the end, knowledge matters whether it is CSM®️ or PSM™  certification. Both certificates have the same value in the job market. Also, both the programs are highly compatible. It is very crucial what you earned during the certification process and the trainer will definitely help you to make the difference there.
Rated
4.5
/5 based on
19
customer reviews