How to install Apache Spark on Windows?
By
Ravichandra Reddy Maramreddy
Apache Spark is a fast and general-purpose cluster computing system. It provides high-level APIs in Java, Scala, Python and R, and an optimized engine that supports general execution graphs. It also supports a rich set of higher-level tools including Spark SQL for SQL and structured data processing, MLlib for machine learning, GraphX for graph processing, and Spark Streaming.In this document, we will cover the installation procedure of Apache Spark on Windows 10 operating systemPrerequisitesThis guide assumes that you are using Windows 10 and the user had admin permissions.System requirements:Windows 10 OSAt least 4 GB RAMFree space of at least 20 GBInstallation ProcedureStep 1: Go to the below official download page of Apache Spark and choose the latest release. For the package type, choose 'Pre-built for Apache Hadoop'.The page will look like below.Step 2:  Once the download is completed unzip the file, to unzip the file using WinZip or WinRAR or 7-ZIP.Step 3: Create a folder called Spark under your user Directory like below and copy paste the content from the unzipped file.C:\Users\\SparkIt looks like below after copy-pasting into the Spark directory.Step 4: Go to the conf folder and open log file called, log4j.properties. template. Change INFO to WARN (It can be ERROR to reduce the log). This and next steps are optional.Remove. template so that Spark can read the file.Before removing. template all files look like below.After removing. template extension, files will look like belowStep 5: Now we need to configure path.Go to Control Panel -> System and Security -> System -> Advanced Settings -> Environment VariablesAdd below new user variable (or System variable) (To add new user variable click on New button under User variable for )Click OK.Add %SPARK_HOME%\bin to the path variable.Click OK.Step 6: Spark needs a piece of Hadoop to run. For Hadoop 2.7, you need to install winutils.exe.You can find winutils.exe from below pageDownload it.Step 7: Create a folder called winutils in C drive and create a folder called bin inside. Then, move the downloaded winutils file to the bin folder.C:\winutils\binAdd the user (or system) variable %HADOOP_HOME% like SPARK_HOME.Click OK.Step 8: To install Apache Spark, Java should be installed on your computer. If you don't have java installed in your system. Please follow the below processJava Installation Steps:Go to the official Java site mentioned below  the page.Accept Licence Agreement for Java SE Development Kit 8u201Download jdk-8u201-windows-x64.exe fileDouble Click on Downloaded .exe file, you will the window shown below.Click Next.Then below window will be displayed.Click Next.Below window will be displayed after some process.Click Close.Test Java Installation:Open Command Line and type java -version, then it should display installed version of JavaYou should also check JAVA_HOME and path of %JAVA_HOME%\bin included in user variables (or system variables)1. In the end, the environment variables have 3 new paths (if you need to add Java path, otherwise SPARK_HOME and HADOOP_HOME).2. Create c:\tmp\hive directory. This step is not necessary for later versions of Spark. When you first start Spark, it creates the folder by itself. However, it is the best practice to create a folder.C:\tmp\hiveTest Installation:Open command line and type spark-shell, you get the result as below.We have completed spark installation on Windows system. Let's create RDD and     Data frameWe create one RDD and Data frame then will end up.1. We can create RDD in 3 ways, we will use one way to create RDD.Define any list then parallelize it. It will create RDD. Below is code and copy paste it one by one on the command line.val list = Array(1,2,3,4,5) val rdd = sc.parallelize(list)Above will create RDD.2. Now we will create a Data frame from RDD. Follow the below steps to create Dataframe.import spark.implicits._ val df = rdd.toDF("id")Above code will create Dataframe with id as a column.To display the data in Dataframe use below command.Df.show()It will display the below output.How to uninstall Spark from Windows 10 System: Please follow below steps to uninstall spark on Windows 10.Remove below System/User variables from the system.SPARK_HOMEHADOOP_HOMETo remove System/User variables please follow below steps:Go to Control Panel -> System and Security -> System -> Advanced Settings -> Environment Variables, then find SPARK_HOME and HADOOP_HOME then select them, and press DELETE button.Find Path variable Edit -> Select %SPARK_HOME%\bin -> Press DELETE ButtonSelect % HADOOP_HOME%\bin -> Press DELETE Button -> OK ButtonOpen Command Prompt the type spark-shell then enter, now we get an error. Now we can confirm that Spark is successfully uninstalled from the System.

How to install Apache Spark on Windows?
Apache Spark is a fast and general-purpose cluster... Read More
Top In-demand Jobs During Coronavirus Pandemic
By
KnowledgeHut
With the global positive cases for the COVID-19 reaching over two crores globally, and over 281,000 jobs lost in the US alone, the impact of the coronavirus pandemic already has been catastrophic for workers worldwide. While tourism and the supply chain industries are the hardest hit, the healthcare and transportation sectors have faced less severe heat. According to a Goldman Sachs report, the number of unemployed individuals in the US can climb up to 2.25 million. However, despite these alarming figures, the NBC News states that this is merely 20% of the total unemployment rate of the US. Job portals like LinkedIn, Shine, and Monster are also witnessing continued hiring for specific roles. So, what are these roles defining the pandemic job sector? Top In-demand Jobs During Coronavirus Pandemic Healthcare specialist For obvious reasons, the demand for healthcare specialists has spiked up globally. This includes doctors, nurses, surgical technologists, virologists, diagnostic technicians, pharmacists, and medical equipment providers. Logistics personnel This largely involves shipping and delivery companies that include a broad profile of employees, right from warehouse managers, transportation-oriented job roles, and packaging and fulfillment jobs. Presently, Amazon is hiring over 1,00,000 workers for its operations while making amends in the salaries and timings to accommodate the situation.  Online learning companies Teaching and learning are at the forefront of the current global scenario. With most of the individuals either working from home or anticipating a loss of a job, several of them are resorting to upskilling or attaining new skills to embrace broader job roles. The demand for teachers or trainers for these courses and academic counselors has also shot up. Remote learning facilities and online upskilling have made these courses much more accessible to individuals as well.  Remote meeting and communication companies The entirety of remote working is heavily dependant on communication and meeting tools such as Zoom, Slack, and Microsoft teams. The efficiency of these tools and the effectivity of managing projects with remote communication has enabled several industries to sustain global pandemic. Even project management is taking an all-new shape thanks to these modern tools. Moreover, several schools are also relying on these tools to continue education through online classes.  Psychologists/Mental health-related businesses Many companies and individuals are seeking help to cope up with the undercurrent. This has created a surge in the demand for psychologists. Businesses like PwC and Starbucks have introduced/enhanced their mental health coaching. Mental health and wellness apps like Headspace have seen a 400% increase in the demand from top companies like Adobe and GE.  Data analysts Hiring companies like Shine have seen a surge in the hiring of data analysts. The simple reason being that there is a constant demand for information about the coronavirus, its status, its impact on the global economy, different markets, and many other industries. Companies are also hiring data analysts rapidly to study current customer behavior and reach out to public sentiments.  How to find a job during the coronavirus pandemicWhether you are looking for a job change, have already faced the heat of the coronavirus, or are at the risk of losing your job, here are some ways to stay afloat despite the trying times.  Be proactive on job portals, especially professional networking sites like LinkedIn to expand your network Practise phone and video job interviews Expand your work portfolio by on-boarding more freelance projects Pick up new skills by leveraging on the online courses available  Stay focused on your current job even in uncertain times Job security is of paramount importance during a global crisis like this. Andrew Seaman, an editor at LinkedIn notes that recruiters are going by the 'business as usual approach', despite concerns about COVID-19. The only change, he remarks, is that the interviews may be conducted over a video call, rather than in person. If the outbreak is not contained soon enough though, hiring may eventually take a hit.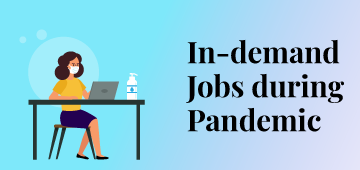 Top In-demand Jobs During Coronavirus Pandemic
With the global positive cases for the COVID-19 re... Read More
Apache Kafka Vs Apache Spark: Know the Differences
By
Shruti Deshpande
A new breed of 'Fast Data' architectures has evolved to be stream-oriented, where data is processed as it arrives, providing businesses with a competitive advantage. - Dean Wampler (Renowned author of many big data technology-related books)Dean Wampler makes an important point in one of his webinars. The demand for stream processing is increasing every day in today's era. The main reason behind it is, processing only volumes of data is not sufficient but processing data at faster rates and making insights out of it in real time is very essential so that organization can react to changing business conditions in real time.And hence, there is a need to understand the concept "stream processing "and technology behind it. So, what is Stream Processing?Think of streaming as an unbounded, continuous real-time flow of records and processing these records in similar timeframe is stream processing.AWS (Amazon Web Services) defines "Streaming Data" is data that is generated continuously by thousands of data sources, which typically send in the data records simultaneously, and in small sizes (order of Kilobytes). This data needs to be processed sequentially and incrementally on a record-by-record basis or over sliding time windows and used for a wide variety of analytics including correlations, aggregations, filtering, and sampling.In stream processing method, continuous computation happens as the data flows through the system.Stream processing is highly beneficial if the events you wish to track are happening frequently and close together in time. It is also best to utilize if the event needs to be detected right away and responded to quickly.There is a subtle difference between stream processing, real-time processing (Rear real-time) and complex event processing (CEP). Let's quickly look at the examples to understand the difference. Stream Processing: Stream processing is useful for tasks like fraud detection and cybersecurity. If transaction data is stream-processed, fraudulent transactions can be identified and stopped before they are even complete.Real-time Processing: If event time is very relevant and latencies in the second's range are completely unacceptable then it's called Real-time (Rear real-time) processing. For ex. flight control system for space programsComplex Event Processing (CEP): CEP utilizes event-by-event processing and aggregation (for example, on potentially out-of-order events from a variety of sources, often with large numbers of rules or business logic).We have multiple tools available to accomplish above-mentioned Stream, Realtime or Complex event Processing. Spark Streaming, Kafka Stream, Flink, Storm, Akka, Structured streaming are to name a few. We will try to understand Spark streaming and Kafka stream in depth further in this article. As historically, these are occupying significant market share. Apache Kafka Stream: Kafka is actually a message broker with a really good performance so that all your data can flow through it before being redistributed to applications. Kafka works as a data pipeline.Typically, Kafka Stream supports per-second stream processing with millisecond latency.  Kafka Streams is a client library for processing and analyzing data stored in Kafka. Kafka streams can process data in 2 ways. Kafka -> Kafka: When Kafka Streams performs aggregations, filtering etc. and writes back the data to Kafka, it achieves amazing scalability, high availability, high throughput etc.  if configured correctly. It also does not do mini batching, which is "real streaming".Kafka -> External Systems ('Kafka -> Database' or 'Kafka -> Data science model'): Typically, any streaming library (Spark, Flink, NiFi etc) uses Kafka for a message broker. It would read the messages from Kafka and then break it into mini time windows to process it further. Representative view of Kafka streaming: Note:Sources here could be event logs, webpage events etc. etc. DB/Models would be accessed via any other streaming application, which in turn is using Kafka streams here. Kafka Streams is built upon important stream processing concepts such as properly distinguishing between event time and processing time, windowing support, and simple (yet efficient) management of application state. It is based on many concepts already contained in Kafka, such as scaling by partitioning.Also, for this reason, it comes as a lightweight library that can be integrated into an application.The application can then be operated as desired, as mentioned below: Standalone, in an application serverAs a Docker container, or Directly, via a resource manager such as Mesos.Why one will love using dedicated Apache Kafka Streams?Elastic, highly scalable, fault-tolerantDeploy to containers, VMs, bare metal, cloudEqually viable for small, medium, & large use casesFully integrated with Kafka securityWrite standard Java and Scala applicationsExactly-once processing semanticsNo separate processing cluster requiredDevelop on Mac, Linux, WindowsApache Spark Streaming:Spark Streaming receives live input data streams, it collects data for some time, builds RDD, divides the data into micro-batches, which are then processed by the Spark engine to generate the final stream of results in micro-batches. Following data flow diagram explains the working of Spark streaming. Spark Streaming provides a high-level abstraction called discretized stream or DStream, which represents a continuous stream of data. DStreams can be created either from input data streams from sources such as Kafka, Flume, and Kinesis, or by applying high-level operations on other DStreams. Internally, a DStream is represented as a sequence of RDDs. Think about RDD as the underlying concept for distributing data over a cluster of computers. Why one will love using Apache Spark Streaming?It makes it very easy for developers to use a single framework to satisfy all the processing needs. They can use MLib (Spark's machine learning library) to train models offline and directly use them online for scoring live data in Spark Streaming. In fact, some models perform continuous, online learning, and scoring.Not all real-life use-cases need data to be processed at real real-time, few seconds delay is tolerated over having a unified framework like Spark Streaming and volumes of data processing. It provides a range of capabilities by integrating with other spark tools to do a variety of data processing.  Spark Streaming Vs Kafka StreamNow that we have understood high level what these tools mean, it's obvious to have curiosity around differences between both the tools. Following table briefly explain you, key differences between the two. Sr.NoSpark streamingKafka Streams1Data received form live input data streams is Divided into Micro-batched for processing.processes per data stream(real real-time)2Separated processing Cluster is requriedNo separated processing cluster is requried.3Needs re-configuration for Scaling Scales easily by just adding java processes, No reconfiguration requried.4At least one semanticsExactly one semantics5Spark streaming is better at processing group of rows(groups,by,ml,window functions etc.)Kafka streams provides true a-record-at-a-time processing capabilities. it's better for functions like rows parsing, data cleansing etc.6Spark streaming is standalone framework.Kafka stream can be used as part of microservice,as it's just a library.Kafka streams Use-cases:Following are a couple of many industry Use cases where Kafka stream is being used: The New York Times: The New York Times uses Apache Kafka and Kafka Streams to store and distribute, in real-time, published content to the various applications and systems that make it available to the readers.Pinterest: Pinterest uses Apache Kafka and the Kafka Streams at large scale to power the real-time, predictive budgeting system of their advertising infrastructure. With Kafka Streams, spend predictions are more accurate than ever.Zalando: As the leading online fashion retailer in Europe, Zalando uses Kafka as an ESB (Enterprise Service Bus), which helps us in transitioning from a monolithic to a micro services architecture. Using Kafka for processing event streams enables our technical team to do near-real time business intelligence.Trivago: Trivago is a global hotel search platform. We are focused on reshaping the way travellers search for and compare hotels while enabling hotel advertisers to grow their businesses by providing access to a broad audience of travellers via our websites and apps. As of 2017, we offer access to approximately 1.8 million hotels and other accommodations in over 190 countries. We use Kafka, Kafka Connect, and Kafka Streams to enable our developers to access data freely in the company. Kafka Streams powers parts of our analytics pipeline and delivers endless options to explore and operate on the data sources we have at hand.Broadly, Kafka is suitable for microservices integration use cases and have wider flexibility.Spark Streaming Use-cases:Following are a couple of the many industries use-cases where spark streaming is being used: Booking.com: We are using Spark Streaming for building online Machine Learning (ML) features that are used in Booking.com for real-time prediction of behaviour and preferences of our users, demand for hotels and improve processes in customer support. Yelp: Yelp's ad platform handles millions of ad requests every day. To generate ad metrics and analytics in real-time, they built the ad event tracking and analyzing pipeline on top of Spark Streaming. It allows Yelp to manage a large number of active ad campaigns and greatly reduce over-delivery. It also enables them to share ad metrics with advertisers in a timelier fashion.Spark Streaming's ever-growing user base consists of household names like Uber, Netflix, and Pinterest.Broadly, spark streaming is suitable for requirements with batch processing for massive datasets, for bulk processing and have use-cases more than just data streaming. Dean Wampler explains factors to evaluation for tool basis Use-cases beautifully, as mentioned below: Sr.NoEvaluation CharacteristicResponse Time windowTypical Use Case Requirement1.Latency tolerancePico to Microseconds (Real Real time)Flight control system for space programs etc.Latency tolerance< 100 MicrosecondsRegular stock trading market transactions, Medical diagnostic equipment outputLatency tolerance< 10 millisecondsCredit cards verification window when consumer buy stuff onlineLatency tolerance< 100 millisecondshuman attention required Dashboards, Machine learning modelsLatency tolerance< 1 second to minutesMachine learning model trainingLatency tolerance1 minute and abovePeriodic short jobs(typical ETL applications)2.Evaluation CharacteristicTransaction/events frequencyTypical Use Case RequirementVelocity1M per secondNest Thermostat, Big spikes during specific time period.3Evaluation CharacteristicTypes of data processingNAData Processing Requirement1. SQLNA2. ETL3. Dataflow4. Training and/or Serving Machine learning modelsData Processing Requirement1. Bulk data processingNA2. Individual Events/Transaction processing4.Evaluation CharacteristicUse of toolNAFlexibility of implementation1. Kafka : flexible as provides library.NA2. Spark: Not flexible as it's part of a distributed frameworkConclusionKafka Streams is still best used in a 'Kafka -> Kafka' context, while Spark Streaming could be used for a 'Kafka -> Database' or 'Kafka -> Data science model' type of context.Although, when these 2 technologies are connected, they bring complete data collection and processing capabilities together and are widely used in commercialized use cases and occupy significant market share.