LeSS Vs SAFe: Which Certification Should You Choose And Why?
By
KnowledgeHut Editor
Agile and Scrum development is a trending technology in the IT industry. This approach delivers continuous iterations of a project on a timely basis.  The key concepts of Agile and Scrum methodology are as follows:-  Team management  Deliver high-quality products with short iterations  Best practices in the organizations. Pure Agile works with the following principles and frameworks. Most of the IT companies adapt to use Agile approaches to meet enterprise's demand either in a large-scale or complex project. These approaches follow a systematic framework that incorporates best practices in large-scale implementation. For Scaled development projects, it involves 100 to 1000 team members to inherit the Agile techniques like Scrum and XP that doesn't make effective management of progress in the project. So, by this result, we led to the development of various frameworks and strategies for the adoption of Scaled Agile frameworks.  We have a few Scaled Agile frameworks such as SAFe, LeSS, or Nexus, Spotify which have become popular nowadays. In this article, we look for a quick comparison between two leading frameworks for scaled Agile approaches for large software development projects. Large-Scale Scrum (LeSS) Scaled Agile Framework (SAFe 4.5) Brief Introduction to LeSS Large-Scale Scrum (LeSS) LeSS is a framework to Scale Agile software development for multiple teams. The acronym indicates less artifacts, less process, and fewer roles. It plays on top position among all the Scrum principles such as cross-functional and self-managing teams, investigations. LeSS provides simple systematic rules and instructions in incorporating Scrum in the large projects. This framework scales up with less process compared to single-team Scrum. LeSS includes practices, principles for organizational structure Queuing theory, lean waste and more Theory of constraints Bas Vodde and Craig Larman introduced Large-Scale Scrum (LeSS), the scaling model. Two Agile Scaling frameworks: In 2002, the coach and trainer Craig Larman wrote about the Agile and iterative development model. Most of them thought that Agile methodology fits for smaller groups. They both got interested in developing scrum towards large teams. So in 2005 they had to build a team to work with clients to scale up the Scrum processes. Now, we have two frameworks which have been adopted by the large-scale projects. The two LeSS frameworks are Smaller LeSS and LeSS Huge. Smaller LeSS: It applies to smaller companies with less team members  LeSS Huge: It works for larger companies with at least thousands of team members for one product  Rules of LeSS It focuses on the overall retrospective for each sprint, to maintain focus on delivery of a product. LeSS frameworks apply effectively to small projects with 2-8 members in a team. Structure and Principles of LeSS Good team for a good organizational structure. The team focuses on being cross-functional, self-managing, co-located and long-lived. Scrum Master should focus on working on the adoption of Less. SM is responsible for performance with LeSS adoption. Focus towards development teams, product owner and organizational practices. It has to look over the entire team, not for one project team.  Scrum Master is dedicated to full time working and can serve up to 1-3 teams. LeSS offers Scrum roles of product owner for up to 8 teams. In this framework, PO doesn't have direct contact with the end customer. Team members will contact the end-users regarding their requirements but PO will look over the priorities over a success with 8 members of Scrum team. Scrum Master should be continuously making increments to achieve perfection of the end product. LeSS keeps the Scrum attributes-roles, sprint meetings are same with additional advantage to scale the work. Roles of management  In LeSS, managers may be involved or may not be. But if they involve, their roles may most likely change. They may divert their focus to improving the value delivery of a product instead of managing the day-to-day product work. Manager's role is to enable continuous development of product delivery by practices. Encourage the team members with experiments of adding skills. Business benefits of LeSS LeSS offers the roles of Scrum, the product owner is one among all who has to understand framework overview and principles One product owner and product backlog are enough for the delivery of a product. LeSS principles, procedures, and adoption in managing the success of the product.  Defines the product and its roles, and the cost of implementation is "less" in LeSS. Certifications:- No matter which scaled Agile approach you want to opt for your project, it depends on the size of the company, large-scale organization, and team size. This certification training covers all the principles, guidelines and rules of LeSS. The individuals who have basic knowledge of Scrum can attend the training and have a chance to get certified. Coming towards SAFe In the above, we have discussed how LeSS framework functions in the organization. Moving on we will discuss the SAFe framework in the development projects of an organization. Before proceeding with the detailed discussion on SAFe, let us see the LeSS vs. SAFe trends in the past 5 years.  Scaled Agile Framework(SAFe)   The Scaled Agile frameworks (SAFe) helps business individuals to address the significant challenges by spreading and delivering enterprise software systems in shortest intervals. The individuals can get free online knowledge to build their software systems with their success patterns.  SAFe was first developed by Dean Leffingwell's in his books to enhance large enterprises to set with highly structured and prescriptive methods. Its intention was to scale the enterprises with Agile and Lean practices for large-scale Agile teams to meet large organization's strategic goals. Comparison of SAFe and LeSS from experience at Nokia. Key contrast: program execution vs customer-centric learninghttp://t.co/6pUfn12smE — Martin Fowler (@martinfowler) March 25, 2015 This framework provides:  Artifacts Collaboration Follows centralized strategy with a reasonable approach  Core values: The four basic values of SAFe is to guide the organization addressing more common problems.  Those are listed below- Alignment       It deals with business priorities and IT outcomes, stakeholder commitments, plans Transparency      It entails plans, focus, strategy, progress, and workflow Build-in quality      It maintains and practices the continuous support, innovative products Program Execution     It monitors, executes, and the continuous organization plans to improve the product. Principles of SAFe: SAFe is based on nine permanent principles, underlying Agile and Lean practices. These ideas and commercial concepts inspire the practices and roles of SAFe. Economical point Delivering the value within time, budget plans, risk, and development cost defined. System thinking Understand the workplace of a system, purpose of the system at client environment Assume variation, maintain options Traditional design and its practices made in single design, serve with design options and multiple requirements, make future adjustments for long-term projects. Build fast with incremental and integrated learning cycles Develop series of short iterations, have customer review and risk mitigation. Objectives and milestones for evaluation of working systems Business owners, customers, and developers have their response in investments to get economic benefits and their experience shows an effect to design and meet the challenge. Reduce team size, limit work and visualize, manage length in series Resize the team to facilitate fast and reliable flow, amount of work in limit and make the process to less demand, reduce the wait time for new capabilities by having the queue. Applying metrics, synchronize with cross-domain plans Cadence provides a measure for the development team, synchronization causes multiple perspectives to be understood, integrated and resolved. The Motivation of knowledge workers with permanent unlock Purpose and Providing autonomy, with minimal constraints that lead to employee engagement in higher levels results in better outcomes for customers. Devolution of decision making Reduces delays, fast delivery, improves and enables feedback faster and creates innovative solutions related to local knowledge. Configurations of SAFe: We have four configurations in SAFe which provide more configurable and scalable approach to the full range of development environments. These are illustrated below. Essential SAFe It is the basic building block for all SAFe configurations that trace critical elements needed to meet the major benefits of a framework with simplest starting point of implementation. Here program levels and the team forms an organizational structure known as Agile Release Train(ART). Large solution SAFe The large solution safe deals with the biggest challenges where multiple agile releases are necessary but don't require portfolio-level considerations. These require additional artifacts, roles, and coordination enterprises. Portfolio SAFe  Portfolio SAFe helps align portfolio execution to the enterprise strategy, by the way of Agile development. It helps in providing the business agility through various principles and practices. Full SAFe Full SAFe supports the enterprises which maintain large integrated solutions, were requires hundreds of people or more, and includes all levels of SAFe. Spanning Palette The spanning palette is applicable to a specific team, program, large solutions. It helps the organizations to apply the elements which are only important and needed. Different types of SAFe : We have two major types of SAFe 4.0 implementation- implementation with 3-Level SAFe and 4-Level SAFe. 3-Level SAFe is for small projects in business organizations with a team of 100 individuals, that doesn't require the special collaboration. As the name itself indicates, it has three levels of SAFe- Program, Team, and Portfolio. 4-Level SAFe requires many 100s to 1000s of individuals to obtain solutions to develop, maintain and deployment. The 4-Level SAFe includes an additional level as value stream between the Portfolio Levels and Program for larger organizations. Evolution of SAFe SAFe has evolved with business and continuous process to increase its work demand. The future versions of the framework will increase our commitment towards developing industry, resulting in effective experience with scaled Agile and Lean practices. We have a few versions of SAFe, those are listed below-  1.0 SAFe 2.0  3.0 Lean product development systems thinking 4.0 Full SAFe 4.5 Latest version of SAFe  4.5.1 Leading SAFe Certifications: SAFe training makes the individuals to obtain a deep understanding of concepts that boost their career growth. This certification course deals with every principle in the Agile manifesto with its frameworks.   Benefits in Business: No predefined metrics in this stage, if we adopt a SAFe framework Discussing with team levels about products-retrospective Productivity-estimated time and effort to release a product The time to market will be based on the status of a report with the variation of workflows. Differences between LeSS and SAFe Conclusion: LeSS and SAFe are essentially Scaled Agile frameworks that help enterprises level up. All frameworks look similar but in reality, we choose the best framework that is suitable for the project based on the product. In this article, comparison of LeSS and SAFe describes their roles, principles, team, portfolios, and processes.  Choose the best framework for your project and experience ultimate productivity in your team.
Rated
4.0
/5 based on
41
customer reviews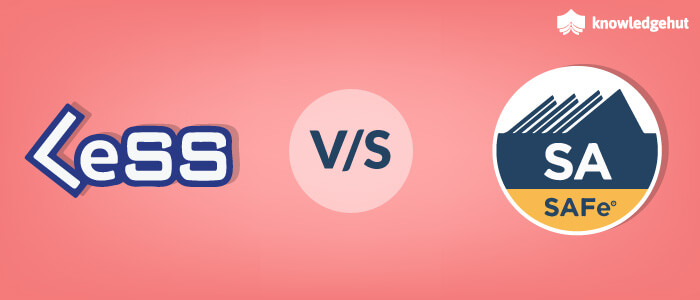 Top Tools And Techniques For A Better Product Vision and Discovery
By
Ritesh Mehrotra
Understanding the customer needs and developing a product which helps fulfill those needs, defines the usability of the product. With varied perceptions of the underlying problems, assumptions over customer behavior and cognitive bias for a solution, it may get cumbersome to determine the right product that delivers value.To develop a usable product, it is important for all involved in product discovery to collaborate and develop a common vision, strategic goals and shared understanding. A meaningful product discovery helps to map problems to potential solutions, and potential solutions to expected results.In this article, we will discover ways that can help teams with determining the key objectives and developing a common vision for the product. Opportunity canvasCreated by Jeff Patton; author of book "User Story Mapping" and inspired by Marty Cagan's work on Opportunity Assessment template, the Opportunity Canvas is an exploration and collaboration tool that brings all related information in a single canvas view. Be it a product idea, a new feature in your existing product or a problem with an unexplored solution, the opportunity canvas enables you to collaborate, discuss and assess the opportunity at hand.When to use it?Opportunity canvas is a useful at the time of product discovery. In your quest to explore and develop an understanding of certain business processes and customer needs, opportunity canvas can be a great starting point. As a product discovery tool, the opportunity canvas could be drawn on a whiteboard or printed on a sheet, as convenient. The ideas could be filled in with sticky notes, pictures, workflow, and text.Who should be involved?Anyone who can contribute to the opportunity and product discovery. In case you are following the Scrum framework, this could be represented as an interaction between the Product owner, development team and any other invited Stakeholders.How to use?Decide a place, a few markers, sticky-notes, papers, whiteboard, and all that you need to express your thoughts. Bring in the people who could contribute or hold a stake in your solution and begin from the first section till the end as indicated in the canvas template. If you have drawn the opportunity canvas on a bigger board, you can paste your sticky-notes.The below infographic shows the product roadmap to deliver a high-quality product successfully.Section 1: Start with a problem or the ideaYou have a problem to solve, that may be impeding your business; manual work, product issues, inefficient processes, customer retention & growth challenges or disruptive competition. Start with it. OR You have an idea that offers something new to your customers, which they haven't experienced as yet. You believe your solution idea is disruptive and may change how the things are structured. Start with that.Section 2: Users and CustomersIdentify users and customers; describe their challenges that you are trying to address through this opportunity. The user and customers can either be the same group of people or different depending on the product. In general, customers are users who pay a cost for certain desired services e.g. premium accounts; unlike users who may be interested in basic or free offerings.Identify the type of users and their distinct goals. Section 3: What solutions exist today?Discover what happens today. How users are working around the given problem. This will highlight the limitations of the current solution and as you discover this, you may come across more problems that may be hampering your customersSection 4: Business ChallengesThe challenges faced by users and customers are likely to impact your business. Persistent issues may disengage the users from your product and services. They may open opportunities for competition; which is a risk of losing business.In the case of manual and time consuming repeatable efforts to serve customer needs, your staff may be constantly engaged in firefighting and have little opportunity to innovate and improve; it's a growth risk. Discover how different challenges faced by customers are hurting your business?Section 5. How will users use your solution?As you discuss the problems and challenges or ponder upon an idea, you will discover potential solutions. In this section, think about how the user will interact with this potential solution? How will this solution impact the user behavior? And how do you expect users to benefit from it?Section 6. User MetricsHow do you know if a given solution works well or not? Defining user metrics will help set objectives to measure the usability of the product. Based on the user behavior as gathered in the Section 5 above, think about the indicators that will help measure the degree of acceptance of your solution. How will you know that users find value in your solution?For example:You may want to know if your product is engaging the customers i.e. indicated by how much time they spend on your product and if they revisit or;If the lead time of a customer request will significantly reduce by using your product i.e. time spent to complete a task vs expected time in a future state with your solutionSection 7. Adoption StrategyThink about how customers will discover your solution. What channels may draw customers to your product. For instance, it could be either referral from existing customers or marketing through media. If your solution is for internal usage of the organization, think about how you will help users to migrate from their existing methods to a new solution.Section 8. Business benefits and metricsOnce the users have adopted your solution; what impact is it likely to make to your business? And what are the parameters to measure that? The solution may be expected to generate outcomes like direct revenue growth through an increase in customer base; or remedy a loss-making business process.Section 9: BudgetThis section helps you evaluate and compare the proposed solution to any alternatives, based on economic feasibility. What are the implications of not addressing the problem? If the proposed solution is applied, what benefit it may bring to business in monetary terms? What budget may an organization allocate to experiment, learn and validate any assumptions about the proposed solution?At the end of this exercise, you may expect some of the following outcomesA high-level roadmap for your productA Shared understanding of the problem and solutionStrategic goals for the businessIdentified users and customersAlternative approachesA vision of a solutionOnce you have gathered your thoughts and have developed a shared understanding, it's useful to summarize it and form a vision that group can stick and look up to in the course of building the solution.Vision statementA concise, compelling and unambiguous vision helps the team to remain focused on its product goals. A vision should define the product objectives, its intended customers, value proposition and differentiating factor from competitor's product, or a predecessor product or workflow that you intend to replace.The elevator pitch mentioned in Geoffrey Moore's book "Crossing the Chasm", is a popular template to define a product vision.TemplateConstituentsTarget customerDefine the target customer for your product. If you have used an opportunity canvas to explore your users and customers, those will go here.ProblemSummarize the core challenges faced by the customer.Product nameWrite the name of the product. You don't need to spend too much time on choosing a name at the beginning. Just put an identifier codename.Product categoryDefine the type of the product. A website or a mobile application or service, as applicable.Key benefitsMention the key features of your product that align with the value desired by the target customers.AlternativeName and comparable feature of a product that you are competing against. In case your product is meant for internal consumption and replaces either a manual process or a legacy application, describe that here.Key differenceExpress how your product is different from the competition and highlight the benefits.ExampleSummaryIn summary, the tools like Opportunity canvas and Vision statement help all involved in product discovery to identify customers, define key objectives and measurable outcomes through collaboration and shared understanding. The opportunity canvas takes you through a journey to explore and discover the challenges and solutions, and helps you define a product roadmap. The vision statements, on the other hand, lets you summarize your key objectives in a concise, unambiguous way to keep you focused.Hope you enjoyed reading the article. Please share your views and feedback.
Rated
4.0
/5 based on
2
customer reviews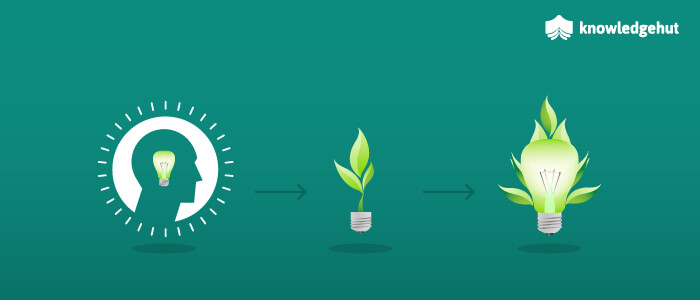 What Are The Main Differences Between CSM & PSM Certification?
By
Richard Paul
Agile and scrum are the two dynamic tools ruling the software industry nowadays, most of the IT-based organizations and companies are looking to hire candidates who are familiar with all agile and scrum stuffs, framework, and applications. A latest article published by Forbes Magazine says that IT professionals with certifications are earning an average of $17,000 more per year than the median IT certification salary. From an employee perspective, certifications let you demonstrate additional qualifications on your resume in addition to getting hired faster. The demand for certified agile scrum professionals is more, Certified Scrum Master (CSM) and Professional Scrum Master (PSM) are the two most important certifications for the scrum master to enhance his career further better. Before getting into all about these certifications, let me take you to the world of Scrum,  What is Scrum and it's framework Scrum can be defined as the iterative framework or work management system which helps to meet the most objectives in an appropriate manner. Scrum has a wider scope and not only limited to the workshops or seminars, it is a full-time profession. Scrum masters are those who create scrum frameworks for the organizations, CSM and PSM are the two certifications for scrum master. Many people ask about the these. Let's get into the origin of these two. It was the time during the 90s when the engineers in the companies were failing to deliver the right results, the companies then felt of finding a new way through which they can decrease the production as well as increase the productivity, Ken and Jeff are the two software engineers came up with this iterative framework and later in 2002 they found scrum alliance and set up Certified scrum master (CSM) and Professional scrum master (PSM). Now let's get into briefly about the certifications and how they will help to boost up your career. Let's us not forget the below quote. CSM Vs PSM Certification Both the CSM Certification and PSM certifications focus on software development which has got their own importance and wider scope and each is different from the other. Got confused don't worry let me explain in detail about these, which one is the better? Which will add more value to your career, which one should you go for? Let us see in detail. How to get certified? As far as CSM is concerned, CSM is just like any other diploma or degree program where you have to be enrolled in the institution and have to attend the classes and all the assignments. In the end, you have to pass the CSM test, and you have only two attempts at taking the test. On the other hand, PSM is entirely different from CSM. There is no need to attend any classes for this program neither any test for the PSM 1 and PSM 2 both. What is the passing grade? For CSM, you have to secure at least 69% marks or 24 out of 35 to get through the Certified Scrum Master program which is very low as compared to PSM. In PSM, the passing criteria are quite tough. You would get 80 questions and have to complete it in only 60 minutes. You have to be accurate in the answers because only those attendees with the final marks of 85%+ will pass the test and will get the Professional Scrum Master certificate. What is the exam format?   The exam format of CSM is quite simple. The test paper of CSM is only based on multiple choice of question and they also allow you enough time to fill it twice. On the other hand, there are two levels in the Professional Scrum Master Certification program. One is PSM 1 which is also based on the multiple choice questions and the other one is PSM 2 which is also not only based on MCQ's but you also have to write an essay in it.  How difficult is the exam: This is the question that almost every student asks. The Certified Scrum Master program test is relatively easier than the PSM 1 and PSM 2. The reason behind is the weekly classes and the tests that you have attended on these classes prepares you for the final exam. However, PSM doesn't have any scheduled classes systems, that is why students find hard to pass the exams. Moreover, the PSM 2 is much harder to pass as compared to the PSM 1, that is why people always leave the PSM program after taking PSM 1 certificate. How much does it cost?   There is no standard fee of CSM. The CSM is attached to the course, and many different institutions offer this certificate program. However, the general fee of CSM starts from the US$400 to US$2,500 based on the tuition fee. Since there is only one body that offers Professional Scrum Master Program that is why they have a standard fee of PSM. The PSM 1 only US$100 and the PSM 2 cost only US$500. Moreover, the students of PSM also given one free attempt for the PSM 1 exam for the assessment.  What is the Renewal Duration? You have to renew your CSM credential after every two years. The first two years from you get the degree, the fee of the credential would be added in the tuition fee.  Later on, you have to renew it by paying only $100 every two years. This fee is subjected to change on the authority of the institute from where you get your CSM degree. On the other hand, there is no need to renew your PSM credentials. Once you got this, this is yours for all of your life, and no one can take it from you. How consistent is the both program's content? Because many institutes are providing CSM program that is why the program content varies from institutes to institutes and trainer to trainer.  Whereas PSM has only one body, and all the teachers of that body follow only one content. However, the interpretation of the trainers may vary.   What is the reliability of the Program content? Because the program content in the CSM varies from trainer to trainer, that is why it is hard to keep the reliability of the program content at its top. Every Scrum trainer creates its own program content and also its interpretation. That is why it is impossible to maintain the monotonous or the quality of the program content.  Whereas only one body provide Professional Scrum Master program and their trainers follow only one content, that is why the reliability of the PSM program is at its highest, and there is no comparison between CSM and PSM contents. Last Words: Both of the programs are highly compatible, and both have their own importance. CSM may look back in the race but its originality and the history of this program makes it equal to PSM. However, aspects like no renew, content reliability and the tuition fee of PSM makes it a better choice to take if you want to be a Professional Scrum Master with the certificate. Go ahead, reach your destination. All the best.  
Rated
4.0
/5 based on
4
customer reviews