11 Reasons Why You Should Do CSM® Training Today
By
Shweta Iyer
A hardworking team stands on the success of the Agile project. Scrum Master is the only responsible person to stand behind the hardworking team and put Scrum processes on a right track.Definition of the Scrum MasterThe Scrum Master acts as an facilitator to an Agile development team. Scrum is a framework that implements the Agile methodology. The team members become self-organized and allow changes quickly to accord the Agile principles. The Scrum Master manages the process in exchanging the information.According to the State of Agile report 2018, the top five reasons for implementing Agile are:75% Accelerate software delivery64% Enhance ability to manage changing priorities55%Increased productivity49% Improved business/IT alignment46% Enhances software qualityBut, there is nothing to worry about as these shortfalls can be declined by becoming a professional in Scrum and the chances of finishing a project successfully within a time can be improved as well.Nowadays, organizations across various industries started implementing the Agile methodology. Considering these benefits of Agile like delivering quick results along with the reduction in the budget by performing endless iterations, organizations are paving their way towards successful Agile implementation.The reason to get the Scrum Master Certification (CSM) is the rising popularity of the Agile and Scrum certified individuals in the IT industry as well as in non-IT sectors. A widely pursued IT certification is the CSM certification, that is being recommended across all the industries. However, you need to know the basic concepts of Agile and Scrum methodologies to gain a CSM certification.If you are implementing Agile in your project and is being broadly used in your organization then Certified Scrum Master (CSM) deserves to be your first choice as it entails the Scrum fundamentals. This matters a lot in case if you are playing any role from the Scrum team member.Below is the graph from Google trends, representing the rising demand for CSM certification between the year 2017-2018. Following Scrum best principles and practices requires a thorough understanding of its concepts and values that can be obtained through credentials such as the Certified Scrum Master (CSM)—a course that provides professionals with knowledge and skills that help them in the long run.Why you should do the Scrum Master Certification (CSM)?In reality, we know that certifications provide an additional value once we acquire some experience. The CSM certifications act as an add-on to your career. Listed below are the reasons to get your Scrum Master Certification and the advantages of pursuing the CSM training:1) Have a strong knowledge of ScrumIf you are not familiar with Scrum, knowing about the certification will educate you with the required skills to utilize it effectively. If you are in the initial stage of using Agile methodology for your project, the CSM certification will provide you the basic knowledge.2) Update your mindsetTo work with the Agile methodology with Scrum effectively, we need to develop an Agile mindset. The Agile mindset is a key factor for the teams to achieve successful Agile and self-sustaining approach. Industry-oriented certification and training will benefit this kind of mindset. As a member of Scrum team, you will think in an Agile way, that will lead to a decrease in disagreements, more successful projects and a better team collaboration.3) Knowledge of Scrum ArtifactsThis certification includes the concepts like the product backlog, sprint backlog, burndown charts etc. which are the pillars of a Scrum project. These Scrum concepts will be an advantage for the organizations to deliver the project in iterations.4) Be admissible and catch your marketThe certifications will provide you an in-depth practical knowledge to improve your career. It makes you relevant and marketable in your field. CSM certifications will improve your career growth across any organization or industry that engages with Agile values. This certification proves that you have an Agile mindset and knowledge of Agile concepts.5) CSM certification benefits your organizationIt is difficult for any organization to adopt a new methodology as it affects the entire structure of the organization including:ProcessesManagementPeopleClientsIn this regard, it is quintessential for all the customers to achieve some tangible and real benefits in the early stage with self-managing teams and incremental iterations. If you are not a certified member, you might miss the opportunity to establish yourself as a Scrum master in your organization.6) Influence your organization to adopt Agile your organization already has well-trained Agile professionals, the management would be more comfortable to invest in adopting the Scrum methodology. The CSM certification shows the management that you have the knowledge to work with Scrum and implement its approach.7) Strengthening teamworkWe have a few organizations that consider Scrum master certification for different departments over different people. This certification generally has a positive result when it comes to working with your peers. As a certified Scrum Master, you will have the potential to build and strengthen the core understanding of Scrum while working together with your peers. With multiple Scrum experts along with all departments, the organization gets benefited with Scrum experts in all departments with an instance of knowledge that can lead to the successful execution of Agile and Scrum methodologies.8)  Establish your basic Scrum knowledge to peersThe Certified Scrum Master (CSM) certification shows your efforts and knowledge of Scrum that makes you capable of working within the organization. You don't need to waste your time to show your credibility in your workplace, your certification speaks about that. 9) Join the society of scrum expertsOnce you are a Certified Scrum Master (CSM) you will earn the stature to mingle with a society of authorized Scrum experts committed to ensuring continuous improvements with an Agile approach. Scrum Alliance is an authenticated site that has Scrum features in a global network. This community will actively provide knowledge in a way to discover events and provide instructions.10) Qualified employees get success in projectsIf your Agile project is successfully done then a team member of certified Scrum Master will benefit from a huge reward. And also, the clients would recognize the potential value of a Scrum team that work together to apply Scrum in a productive way.11) One more feather to your career cap?Certification indicates a sign of honor. If you are being a part of the management, allowing employees to get certified proves your acumen and commitment to enhancing their skills.Who should take up the CSM course?Certified Scrum Master training is helpful for everyone who wants to become smart in implementing Scrum in their organizations. Doing a certification course in Scrum strengthens the Scrum Master's experience.This learning event is highly productive and effective for both leaders and members. As the course is completely revolving around the Scrum Master role, individuals who are planning to take up this role will get benefited more from this course.There is one reputed company in Denmark that sends all the employees from receptionists to senior management to the Scrum training, in order to make them knowledgeable about Scrum concepts and enhance operations throughout their company. There is no such fixed set of the target audience for the Scrum Master Certification course. It is designed not only for Scrum Masters but also for the complete project or product delivery teams and anyone interested to work with the Agile teams. The target audience can be a-Software EngineerProduct ManagerProject ManagerTeam LeaderBusiness AnalystDevelopment team memberTesters, etc.Conclusion These are many key benefits for obtaining Certified Scrum Master (CSM) training. Unless we have a basic knowledge of the responsibilities of the Scrum Master, we can't move to the advanced levels in CSM. In the end, Certification is the best platform that will help you to become an Agile Leader. Click here If you are really curious to know about each and every certification in detail towards your Agile leadership journey.
Rated
4.0
/5 based on
4
customer reviews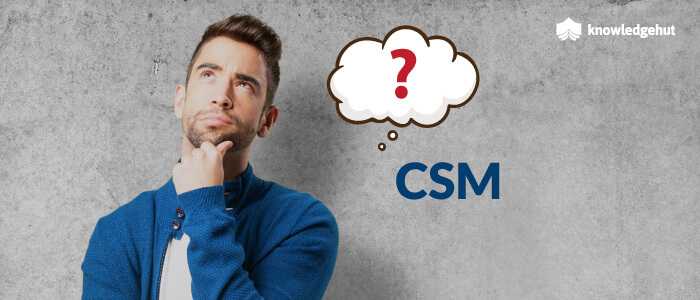 Career Prospects In Agile Management & Project Management
By
KnowledgeHut Editor
Running the project without effective project management tactics is just like sailing the ship without captain. In absence of qualified project management experts, what will hold the client and team together to make the end performance fit in the client's frameworks? Without an efficient project management team, it becomes a nightmare to deal with ups & downs, catastrophes, and clashes in any project. The cut-throat competition in every field doesn't allow taking chances. As the businesses all across the world are accepting this fact, the demand and importance of project management experts are going high rapidly. And, when we define the career in project management, we can't avoid thinking about Agile management training.    The Role of Agile Methodology in Project Management:   Agile methodology is a defined process to manage the project by breaking it into several stages (iterations) and collaborating with stakeholders to ensure peak performance at every stage; the Insights of critique and stakeholders for each iteration are respected as the guide map to proceed further.  Making necessary changes at right time saves resources besides helping in delivering the quality project within budget and time frame. The high potential career in Agile management can be judged just by going through Agile's four principles:  Interactions over tools and processes  Working software over comprehensive documentation Collaboration with client  Responding to suggested changes  7 Benefits of Agile Management Most Experienced By Businesses:  Agile is more than just a software development methodology; over the years, it has become the ideology to guiding the principles for every size businesses. The reported increasing demand of certified Agile managers is expected to follow the same trend in the coming years because more and more businesses are realizing the benefits Agile management for successful project completion. The more in common 7 benefits of Agile management that support the career potential in Agile project management are – Better product quality Higher customer satisfaction Improved collaboration More relevant metrics Improved performance visibility Better project control and predictability Reduced risk Personality Traits of a Successful Agile Project Manager: The Agile manager works as a coach and facilitator for the team helping each member to improve the performance. The agile manager is more focused on the development process, while the product owner is more focused on the values. The 7 most important personality traits that contribute to flourishing your career as competent Agile manager are –  Excellent communication & facilitation skills Ability to understand product owner's requirements Ability to design the best solution Ability to solve the problems promptly Ability to understand team's weaknesses and capabilities Understanding of business values Analytical skill How to Start Career in Agile management & Project Management: To become a certified professional in Agile management and project management, you need to take on objective oriented training course. Project managers, procurement managers, contract officers, managers, administrators and any other professional looking to brighten the growth prospects are the ideal candidates for Agile and project management courses. The premier knowledge training companies provide the variety of courses for Agile management & Project Management:     Agile Management Courses:  Agile and Scrum Training                                    Agile Delivery and Consulting Training Agile Leadership Skills Training Course             Agile PMP Training Agile User Stories Training                                 Agile Project Management  Project Management Courses:  CAPM Certification Training                               Change Management Training Financial Management Training                         Contract Management Training  Leadership & Communications Training             PfMP Certification Training  Most of the professional courses in project management and Agile management are designed as the short term training. Each certificate received after interactive training enhances your credibility as the project manager or project leader. Today, most of leading businesses in every sector are facing complex challenges on diverse grounds like quality improvement, innovation, strategy implementation, and cost cutting etc; therefore, hiring the efficient trained project managers has become essential to survive and remain in the race. You after obtaining the project & Agile management course completion certificate become the man they need.        
Rated
4.0
/5 based on
20
customer reviews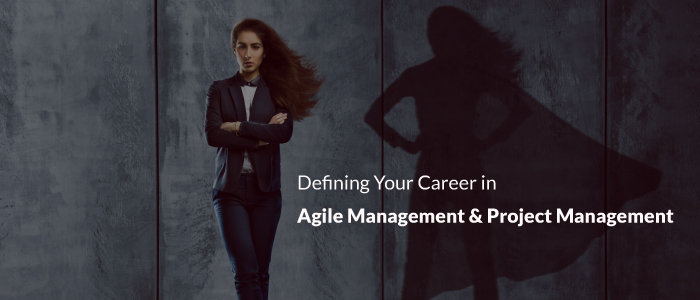 What Are The Main Differences Between CSM & PSM Certification?
By
Richard Paul
Agile and scrum are the two dynamic tools ruling the software industry nowadays, most of the IT-based organizations and companies are looking to hire candidates who are familiar with all agile and scrum stuffs, framework, and applications. A latest article published by Forbes Magazine says that IT professionals with certifications are earning an average of $17,000 more per year than the median IT certification salary. From an employee perspective, certifications let you demonstrate additional qualifications on your resume in addition to getting hired faster. The demand for certified agile scrum professionals is more, Certified Scrum Master (CSM) and Professional Scrum Master (PSM) are the two most important certifications for the scrum master to enhance his career further better. Before getting into all about these certifications, let me take you to the world of Scrum,  What is Scrum and it's framework Scrum can be defined as the iterative framework or work management system which helps to meet the most objectives in an appropriate manner. Scrum has a wider scope and not only limited to the workshops or seminars, it is a full-time profession. Scrum masters are those who create scrum frameworks for the organizations, CSM and PSM are the two certifications for scrum master. Many people ask about the these. Let's get into the origin of these two. It was the time during the 90s when the engineers in the companies were failing to deliver the right results, the companies then felt of finding a new way through which they can decrease the production as well as increase the productivity, Ken and Jeff are the two software engineers came up with this iterative framework and later in 2002 they found scrum alliance and set up Certified scrum master (CSM) and Professional scrum master (PSM). Now let's get into briefly about the certifications and how they will help to boost up your career. Let's us not forget the below quote. CSM Vs PSM Certification Both the CSM Certification and PSM certifications focus on software development which has got their own importance and wider scope and each is different from the other. Got confused don't worry let me explain in detail about these, which one is the better? Which will add more value to your career, which one should you go for? Let us see in detail. How to get certified? As far as CSM is concerned, CSM is just like any other diploma or degree program where you have to be enrolled in the institution and have to attend the classes and all the assignments. In the end, you have to pass the CSM test, and you have only two attempts at taking the test. On the other hand, PSM is entirely different from CSM. There is no need to attend any classes for this program neither any test for the PSM 1 and PSM 2 both. What is the passing grade? For CSM, you have to secure at least 69% marks or 24 out of 35 to get through the Certified Scrum Master program which is very low as compared to PSM. In PSM, the passing criteria are quite tough. You would get 80 questions and have to complete it in only 60 minutes. You have to be accurate in the answers because only those attendees with the final marks of 85%+ will pass the test and will get the Professional Scrum Master certificate. What is the exam format?   The exam format of CSM is quite simple. The test paper of CSM is only based on multiple choice of question and they also allow you enough time to fill it twice. On the other hand, there are two levels in the Professional Scrum Master Certification program. One is PSM 1 which is also based on the multiple choice questions and the other one is PSM 2 which is also not only based on MCQ's but you also have to write an essay in it.  How difficult is the exam: This is the question that almost every student asks. The Certified Scrum Master program test is relatively easier than the PSM 1 and PSM 2. The reason behind is the weekly classes and the tests that you have attended on these classes prepares you for the final exam. However, PSM doesn't have any scheduled classes systems, that is why students find hard to pass the exams. Moreover, the PSM 2 is much harder to pass as compared to the PSM 1, that is why people always leave the PSM program after taking PSM 1 certificate. How much does it cost?   There is no standard fee of CSM. The CSM is attached to the course, and many different institutions offer this certificate program. However, the general fee of CSM starts from the US$400 to US$2,500 based on the tuition fee. Since there is only one body that offers Professional Scrum Master Program that is why they have a standard fee of PSM. The PSM 1 only US$100 and the PSM 2 cost only US$500. Moreover, the students of PSM also given one free attempt for the PSM 1 exam for the assessment.  What is the Renewal Duration? You have to renew your CSM credential after every two years. The first two years from you get the degree, the fee of the credential would be added in the tuition fee.  Later on, you have to renew it by paying only $100 every two years. This fee is subjected to change on the authority of the institute from where you get your CSM degree. On the other hand, there is no need to renew your PSM credentials. Once you got this, this is yours for all of your life, and no one can take it from you. How consistent is the both program's content? Because many institutes are providing CSM program that is why the program content varies from institutes to institutes and trainer to trainer.  Whereas PSM has only one body, and all the teachers of that body follow only one content. However, the interpretation of the trainers may vary.   What is the reliability of the Program content? Because the program content in the CSM varies from trainer to trainer, that is why it is hard to keep the reliability of the program content at its top. Every Scrum trainer creates its own program content and also its interpretation. That is why it is impossible to maintain the monotonous or the quality of the program content.  Whereas only one body provide Professional Scrum Master program and their trainers follow only one content, that is why the reliability of the PSM program is at its highest, and there is no comparison between CSM and PSM contents. Last Words: Both of the programs are highly compatible, and both have their own importance. CSM may look back in the race but its originality and the history of this program makes it equal to PSM. However, aspects like no renew, content reliability and the tuition fee of PSM makes it a better choice to take if you want to be a Professional Scrum Master with the certificate. Go ahead, reach your destination. All the best.  
Rated
4.0
/5 based on
4
customer reviews